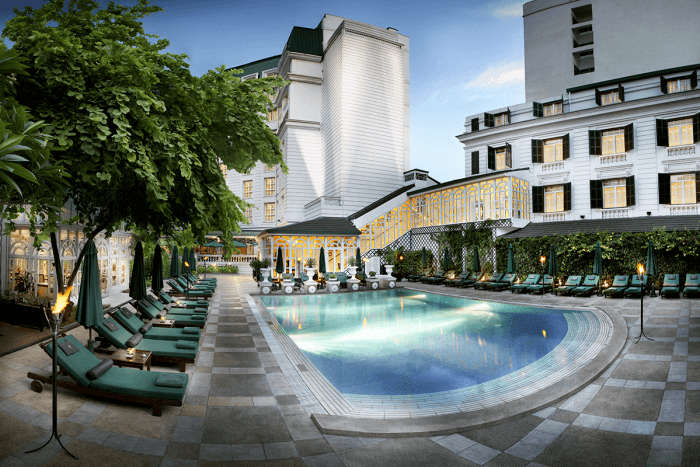 Overview
When it comes to scheduling trips, the question of where to accommodate can be a fiddly one. In order to cater to the needs of travelers, the city of Hanoi is adorned with wide assortment of lavish and luxurious hotels. There is no dearth of 5 Star Hotels in Hanoi and thus travelers can enjoy a blissful stay. These hotels reflect luxury and comfort at their best and thus attract elite travelers across the world. These hotels are destined to match travelers' desire and thus always exceed their expectations.If travelers wish to spend their vacation amidst medley of culture, cuisine and clubs then Hanoi is perhaps the best destination to choose. This place is well known for its magnificent museums, captivating culture, luscious lakes, scintillating beauty and a vibrant nightlife. This breathtaking capital of Hanoi welcomes the travelers with open arms. This city is an entertainment hub where travelers can find amusement at every nook and corner. In addition to this, Hanoi serves as a shopping paradise. A tour around its shimmering shopping malls is an experience worthy to undergo.
From history lovers and cultural buffs to shopaholics and party animals – Hanoi is a one stop destination for all. Travelers can easily find royal 5 Star Hotels in Hanoi where they can experience the height of luxury. Be it for a short or extended stay, these hotels offer travelers with utmost comfort and convenience.
Special Experiences
5 Star Hotels in Hanoi are an oasis of calm and comfort in this bustling city. All these hotels are well-appointed to offer special and delightful experience to the travelers. Some of the hotels in Hanoi such as InterContinental in Hanoi Landmark72 offer butler service to their guests so as to add a touch of royalty. If travelers are on their romantic vacation then they can book hotels like Apricot Hotel as this is a couple friendly hotels. The rooms of these hotels are tastefully designed and offer panoramic city and lake views to the guests. JW Marriot Hotel Hanoi is one such property which feature Jazz club where guests can enjoy their nightlife. Tennis court and playgrounds are available in top 5 Star Hotels in Hanoi where travelers can spend their leisure time to the fullest. Some hotels have lush green garden where guests can enjoy some tranquil time.
Facilities
5 Star Hotels in Hanoi comprise state of the art facilities and impeccable services to make memorable stay. A list of facilities offered by these hotels includes upscale rooms with polished wooden furnishings, free Wi-Fi, dining areas, room service, mini-bars, tea and coffeemakers, spa and sauna, laundry service, daily housekeeping service, kitchen and balconies, gym, outdoor and indoor pool, parking, hot tub, well equipped conference rooms, ballrooms, playground, ballrooms and a lot more. Some of the best 5 Star Hotels in Hanoi Vietnam such as Lotte Hotel Hanoi, JW Marriot Hotel, Hotel Nikko Hanoi etc have fully equipped fitness center where Guests can continue their workout schedule. A convenience store and business center is available in some hotels to facilitate the guests.
Dining
If travelers have an ardent desire to enjoy phenomenal dining experience, they must stay at 5 Star Hotels in Hanoi and savor super delicious cuisines. These hotels offer both local and international cuisines to satisfy the gastronomic needs of the travelers. From local, Japanese, Chinese to International, French, Italian and Vietnamese – these hotels have everything to offer. Breakfast is complimentary in almost all 5 Star Hotels in Hanoi so that guests can begin their day with finger licking food. Apart from exceptional dining, one can enjoy a relaxed evening with their friends and loved ones in the on-site bar. The bards have friendly bartenders and well-stocked bars to cater to the travelers' needs.
FAQs
Q1. Is there any pet friendly hotel in Hanoi?
A. Yes. Hanoi Daewoo Hotel is one such property that allows pets inside the hotel premises.
Q2. Is parking facility available in 5 Star Hotels in Hanoi?
A. Yes. Parking facility is available in all 5 Star Hotels in Hanoi such as Hotel De L'Opera Hanoi, Hilton Hanoi Opera and a lot more.
Q3. List some 5 star hotels in Hanoi Vietnam with Hot Tub facility.
A. A list of 5 Star Hotels in Hanoi with Hot Tub facility includes Hanoi Daewoo Hotel, Hotel Nikko Hanoi, Pullman Hanoi, Hilton Hanoi Opera and a lot more.
Q4. Do travelers have to pay for using Wi-Fi facility in best 5 Star Hotels in Hanoi?
A. No. Wi-Fi facility is available at free of cost and thus travelers can use the same without paying any additional charge.
Q5. What payment modes are accepted in these hotels?
A. Cheques, debit card, credit card – American Express, Mastercard and VISA and cash are some of the payment modes that are accepted in 5 star accommodations in Hanoi.
Hanoi is a magical and charming city and thus magnetizes tourists from all over the world. This city entertains both leisure and business travelers equally and thus it boasts plenty of lavish accommodations to cater to the elite travelers. Some of the well known 5 Star Hotels in Hanoi are Sheraton Hanoi Hotel, Pullman Hanoi, Hilton Hanoi Opera, Movenpick Hotel Hanoi, Pan Pacific Hotel, Hanoi Daewoo Hotel, JW Marriott Hotel, Melia Hanoi, Somerset Grand Hanoi, Hotel Nikko Hanoi, Apricot Hotel, Lotte Hotel Hanoi, Hanoi Grand Plaza Hotel and a lot more. These refined hotels are an epitome of luxury and class. If travelers want to enjoy lavish and royal staying experience in the Vietnamese capital Hanoi then book any of these hotels right away and collect the lifetime memories to cherish. It is advised to book 5 star hotels in Hanoi Vietnam in advance so as to avoid last minute hiccups.