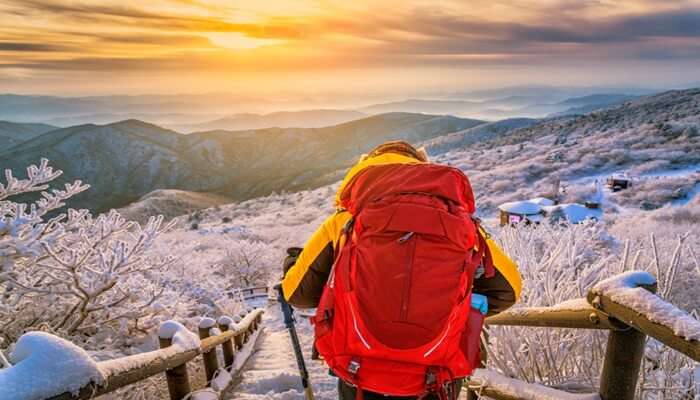 Seoul is one of the most popular cities in the world and with its growing fondness, it is becoming one of the top tourist destinations as well. The city is the biggest in Korea and has a lot of attention from every traveler and tourist. Seoul has a perfect blend of old and new together with skyscrapers and K pop coexisting with beautiful ancient royal palaces. There is a lot that one can do when visiting the city but if you have an inkling towards adventure then you are in for a treat. Hiking in Seoul is something that every local has access to and enjoys thoroughly, thanks to their transportation system. There are several trails that can be hiked on and can be enjoyed for their utmost beauty.
Best Time To Visit
Seoul is truly a beautiful country that offers the best of nature in every direction you go. But both spring (March to May) and Fall (Mid September to early November) turns this city into something like a wonderland. Spring is dominated by the color pink as it is the time for the cherry blossom to bloom and the whole place turns pink and white. The weather becomes pleasant and ideal for you to spend outdoors. While during fall, you can see the city turning all yellow, red and orange with a slight nip in the air with beaming sun.
Must Read: 9 Most Electrifying Seoul Festivals To Be Explored In 2022
Five Hiking Places In Seoul Korea
Here's a list of the most gorgeous and famous hiking trails in Seoul where you can embark on a blissful adventure with your loved ones. Take a look!
1. Namsan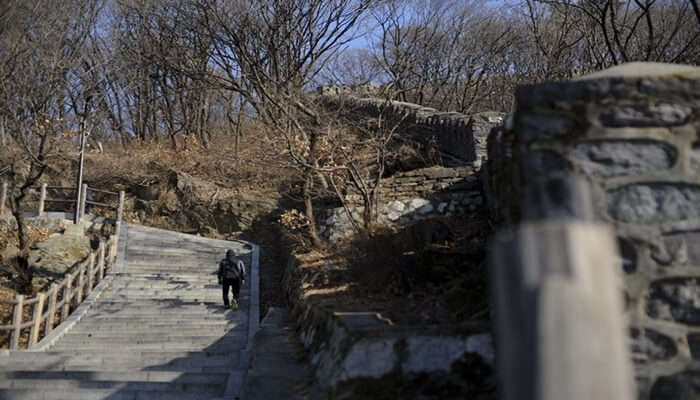 A small hike that is surrounded by beauty in abundance, Namsan is perfect for casual walkers. It is located in the heart of the city and provides a gorgeous view. If you decide to go in the evening, having dinner at the N Seoul Tower is a must where you can get a panoramic view of the whole place as it is located on top of the hike.
Suggested Read: Rejoice Your Hearts By Shopping In Seoul On An Excursion To South Korea
2. Dobongsan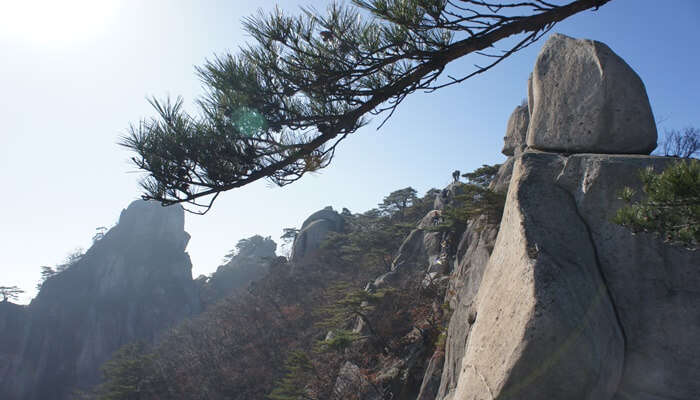 There are trails that you can choose, but hiking in Seoul Bukhansan is something that most hikers aspire as it has multiple trails each with a stunning and captivating view to
Located in the middle of Bukhansan National Park, hiking in Dobongsan is something that all you hardcore hikers would love to do. It is situated at a height of 740 meters and is one of the most difficult hikes but of course the most rewarding too. Since it is difficult to do, there is far less crowd than any other hike trails. There are a densely forested area as well as rocky terrains with a magnificent view all around. The various terrains of this place make it the hardest hiking in Seoul Korea.
Suggested Read: 7 Places To Visit In Autumn In Seoul To Chase This Year's Fall Colors
3. Seoraksan

This is one of the highest peaks in Seoul situated at the height of 1708 meters and is a favorite of many mountaineers. There are multiple starting points and depending on the one you choose, this hike can be done within 3 hours.
Suggested Read: 8 Highly Interesting Things To Do In Seoul For An Amazing Vacay In South Korea
4. Songnisan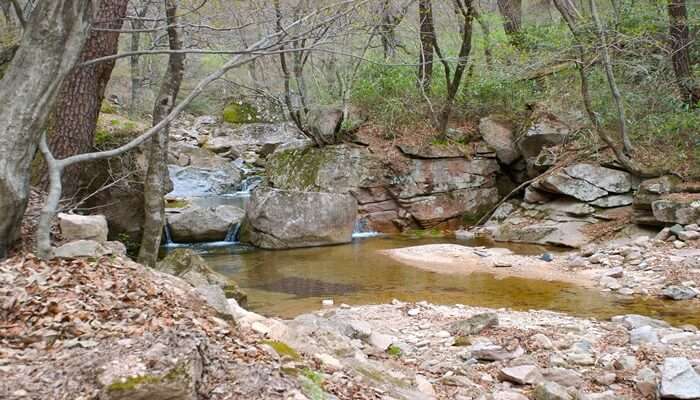 There are so many hikes that give a stunning view of the landscape but Songnisan is truly a magical place to hike. Known for the good-looking mountains that stand here tall, Songnisan is one of the favorite places. If you go here in autumn you would be awestruck by the beauty of the places the leaves turn all red and orange. One of the most beautiful views from here is the lovely cloud-shrouded Mujangdae. This trail is best to tick off your mountain hiking in Seoul.
Suggested Read: 15 Seoul Cafes That Cater To Every Tourist In Every Way
5. Naejangsan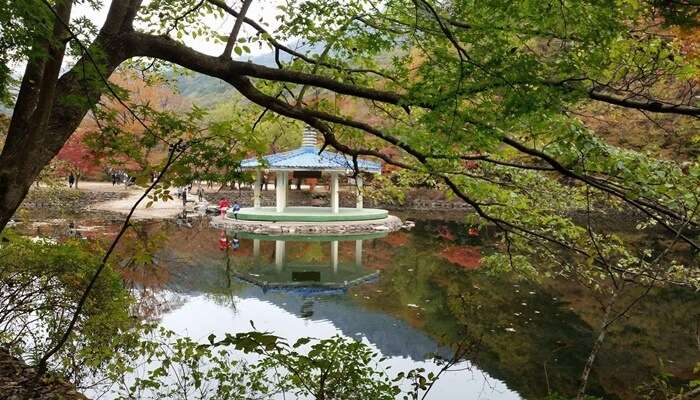 The highest peak of Narjandsan is Sinseobong at b763 m. The most common trail that hikers usual take can be finished in 3 hours and consists of some of the most wonderful views.
Suggested Read: 6 Interesting Places To Visit In Seoul For A Spellbinding Trip To South Korea
Packing List For Hiking in Seoul
While you prepare for your hiking around Seoul make sure to pack these essentials that will really make it comfortable for you.
Hiking Shoes
This is no brainer. When planning to trek or hike, make sure that you pack the most comfortable shoes that will make it more comfortable for you. A good pair of shoes will not let your feet feel the uneven terrain of the hike. You would want to purchase sturdy shoes the ones that go a long way.
Lightweight clothes
Do not forget that while you are hiking near Seoul, you would be working out like crazy and burning a lot of calories, which also means that you would sweat. Hence make sure that your clothes are lightweight that dry up super easy.
Rain Jacket
Whether you visit Seoul during spring, summer, winter or autumn, you would see rains pouring every now and then. Especially when you go on hikes into the mountains. Packing a light rain jacket would be a great thing to do so that you are not stopped by the rains.
Daypack
Pack yourself a small daypack that has all the mandatory everyday needs like first aid kit which consists of medicines, ban-aids, knick-knacks to eat when hungry and small swiss knife.
Waterbottle
Whether you are easy hiking in Seoul or not hydrating yourself is a must. Therefore make sure you are carrying a bottle of water during the hike.
Jacket
If you are hiking in Seoul during autumn you would want to do yourself a favor and pack a slightly warm jacket that keeps you protected from the cold during the trail.
Suggested Read: 6 Best Places To Visit In Suwon For An Eventful South Korea Holiday
Tips That You Need To Know
Do not forget to pack sunscreen
No matter what season you are planning to visit Seoul, do not forget to pack sunscreen as the sun is always harsh and strong here.
Hike in the morning
Since all the hiking sites are easily accessible, it is better that you start your hike early in the morning to avoid the rush as well as to protect yourself from the sun and humidity.
National Parks are extremely cheap
While deciding on a location to hike, always remember that hiking in national parks doesn't have any entrance fee or are very cheap. Hence you can choose one of these places.
Camping and Swimming is a no-no in most of the national parks
There are strict rules that say that you cannot camp in any random location in the national parks but only in established mountain shelters. Apart from this, no not swim in any of the water bodies no matter how hot or tempted you get. All you can do is submerge your hands and feet in them.
Mobile service
One of the best things about Seoul is that you would always have a phone signal even though the weather is really bad or you are hiking in the remotest of the locations. All you need is a south Korean sim.
Soju Shots
Traditions are fun and so is this one related to hiking. This might be one of the most important hiking tips that you may come across. Before starting your hike take a shot of Soju for luck and next when you reach the top as a congratulatory shot.
Further Read: Top 10 Reasons To Visit South Korea & Have A Blast With Your Family In 2022!
Seoul is not just a massive city with stunning modern architecture all around but the whole city is surrounded by densely forested mountains that are appealing to every eye. There are so many places for hiking in Seoul that will you can go to and each one of them equally beautiful. Plan your trip to Seoul with TravelTriangle and invest your one day in hiking which will be truly rewarding for you.
People Also Read