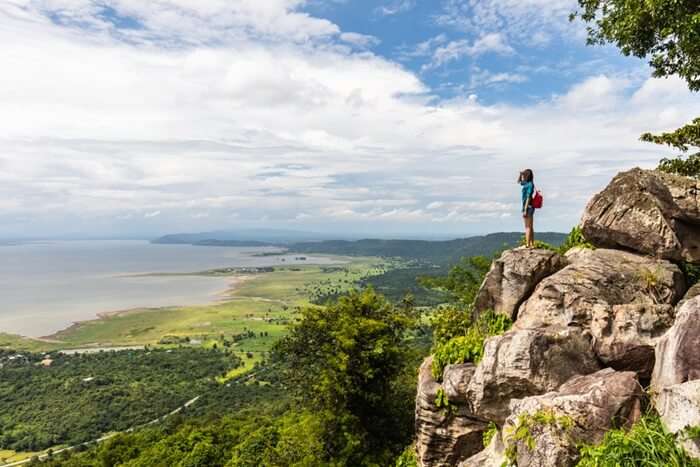 Done with the hustle and bustle of New York City? Need some fresh air? There are a number of escapades a few miles off New York City with creeks, waterfalls, cliffs marshes, and hawks, with a vast canvas to put your feet on and sights to capture forever. There are some hiking trails near the Big Apple which are very popular for weekend trips. Have a look at the ones listed below, the best places for hiking near New York.
7 Best Places For Hiking Near New York
Hiking and camping is always a lot of fun, especially when done as a group activity. so, head to these places with a bunch of friends and have a wonderful time.
1. Appalachian Trail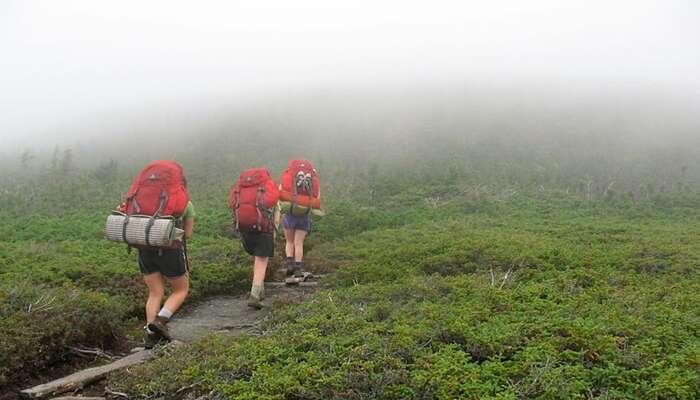 The Appalachian National Scenic Trail is known as the longest hiking trail situated between Springer Mountain in Georgia and Mount Katahdin in Maine in the Eastern United States. The trail is about 2,200 miles long and touches almost 14 states which are Georgia, North Carolina, Tennessee, Virginia, West Virginia, Maryland, Pennsylvania, New Jersey, New York, Connecticut, Massachusetts, Vermont, New Hampshire, and Maine. Exciting no? The trail is maintained by the National Park Service, United States Forest Service and a non-profit organization named the Appalachian Trail Conservancy. Each year, more than 2 million people come here for hiking. For the beginners who are looking for easy trek routes, the village of Greenwood Lake Recreation Park offers a good respite. There is also a chance of sightings of deer, bear, and elks here. Keep your cameras ready.
Must Read: 10 Lavish New York Resorts For Timeless Luxury & Indulgence In 2019
2. Buttermilk Falls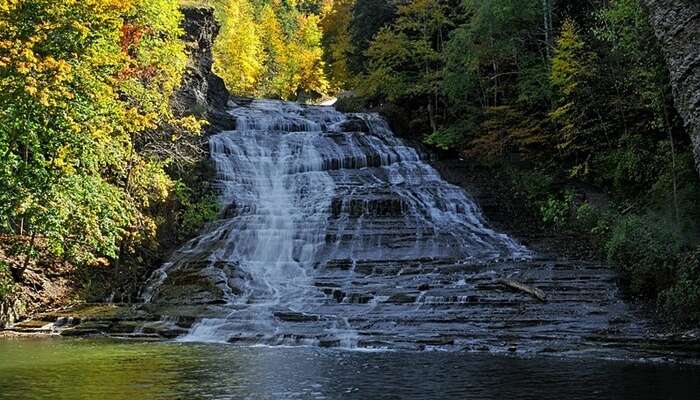 Image Source
The frothy appearance of the falls gives it this unique name. The state park is located at south-east of Ithaca, New York and has around ten falls. The nature trails in the park include the George trail which follows the Buttermilk creek at its 600 feet fall and the Rim trail looping around the other side of the creek in a 1.5 miles stretch. There is also the Bear trail which ends at the Lake Treman. The scenic beauty of the fall attracts painters trying to reflect the scenic beauty in their paintings. So, get your canvases ready and head here to capture the beauty of these falls. The nearby Edward Hopper House Art Center is an additional attraction here.
Suggested Read: 15 New York Restaurants: The Culinary Capital Of The World (2019)
3. Palisades Interstate Park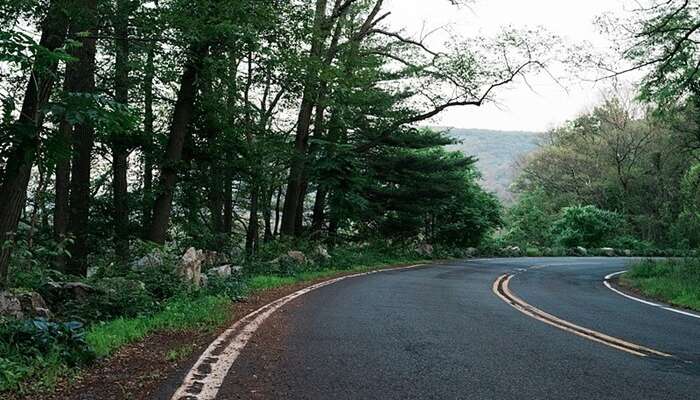 Image Source
Barely 30 minutes car drive from Manhattan, the Palisades Interstate Park in New Jersey is a getaway which allows the hikers a beautiful view of the Palisades cliffs and hawks flying over their heads. There are more than 30 miles of hiking and skiing trails, a boat-launching ramp, a cliff-top parkway that overlooks the riverfront and many other attractions. Pick up your backpack and head here this weekend!
Suggested Read: 10 Best Theme Parks In New York That Are Perfect For The Adrenaline Junkie In You
4. Harriman State Park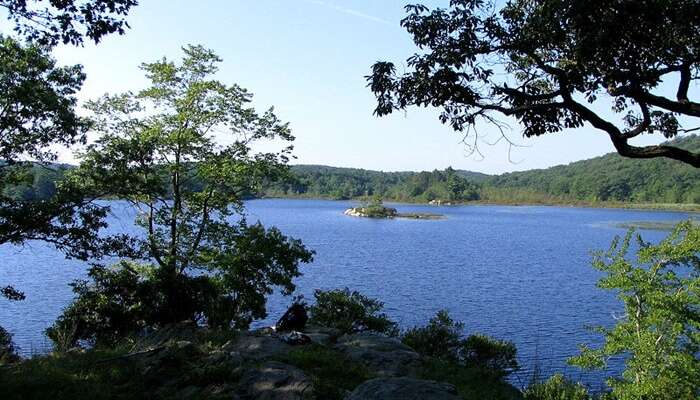 Image Source
The second largest state park in New York State, Harriman State Park is located in Rockland and Orange Counties. It comprises of 31 lakes, over 200 miles of hiking trails and many camping areas for hikers. The other attractions here are boating and biking. The park is maintained by volunteers from New York – New Jersey Trail Conferences. There are some reserve forests around the park which make sightings of wild animals an added attraction here. Are you ready for a thrilling weekend?
5. Clarence Fahnestock Memorial State Park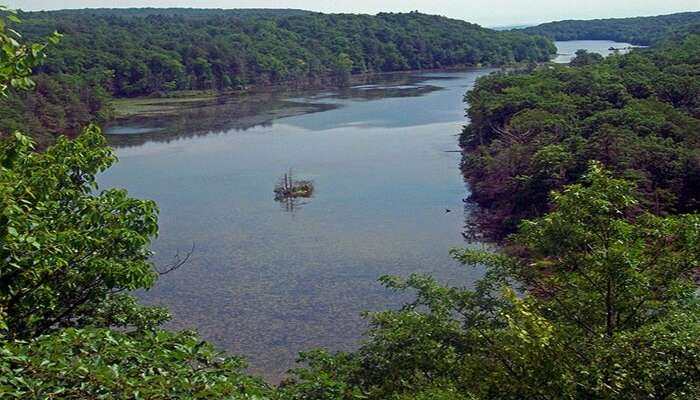 Image Source
Also known as Fahnestock State Park, it is a beautiful getaway for nature lovers and adventure enthusiasts. It has an area of around 14,000 acres and is located in Putnam and Dutchess counties of the New York State. It houses a lot of hiking trails, a beach on Canopus Lake and offers fishing, camping and swimming opportunities to the hikers. A weekend here would be both thrilling and fun-filled. So, head here if you are looking for trails for hiking near New York City.
Suggested Read: 10 Best Homestays In New York For The Most Luxurious Staycation!
6. Jamaica Bay Wildlife Refuge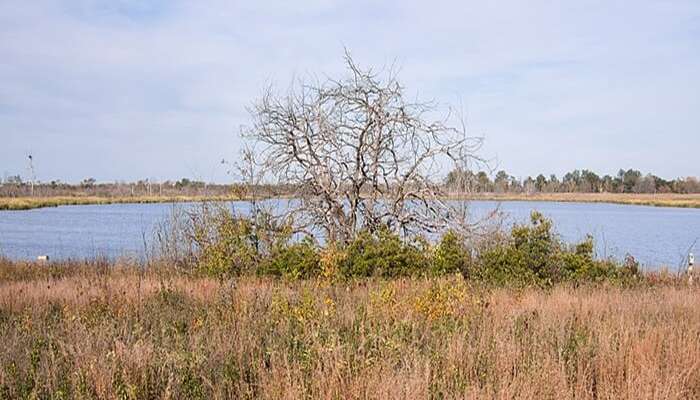 Image Source
This is the only wildlife refuge in New York managed by the National Park Service and is composed of open water and intertidal salt marshes of the Jamaica Bay. Very near to the JFK International Airport, yet unknown to many people, it offers an excellent variety of flora and fauna, both marine and terrestrial. It is a prime location for sighting migratory birds and is a habitat for more than 330 bird species, reptiles, amphibians and 60 species of butterflies.
Suggested Read: Bryant Park In New York Is Opening Early This Winter! Ready To Eat, Shop & Repeat?
7. Storm King State Park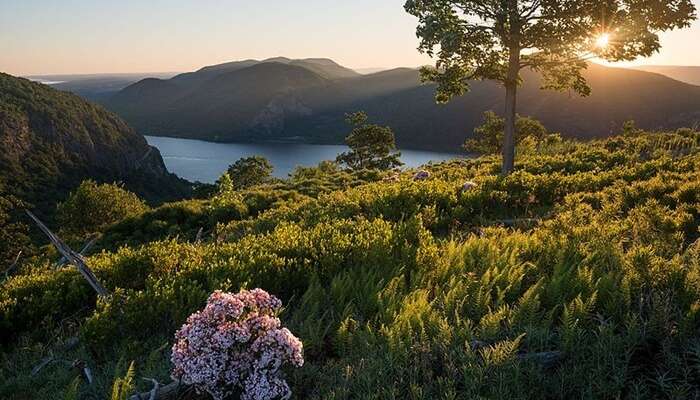 Image Source
A 1972 acre state park in Orange County, New York the Storm King State Park has an added attraction for the visitors which is the Storm King Art Center as well as the excellent view of the Storm King Mountain. At the summit of the hike, one can look down at the scenic beauty of the Hudson and Catskill valley. The park is somewhat underdeveloped except for some limited parking and trails. It also offers seasonal deer hunting. After the adventure, you can pamper yourself with local delicacies like burgers, fries, and milkshake at Woody's in Cornwall.
8. Black Mountain Loop Trail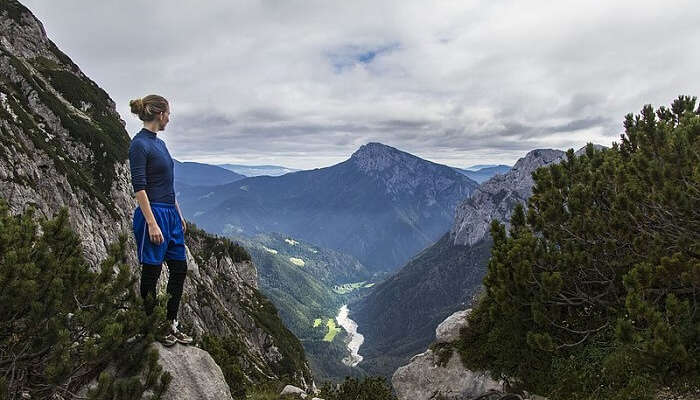 Black Mountain Loop Trail is a part of more than 200 hiking trails in Harriman State Park. The first part of the trail requires climbing up with all your energy which might make you feel exhausted but the views it holds at the top of this is trail is worth it. This 8-mile long trail will take you through moss-covered roads, bridges, wide streams, and pine forests.
Suggested Read: Visit These Beautiful Beaches Near New York City For A Fun Filled Vacation
9. Fire Island National Seashore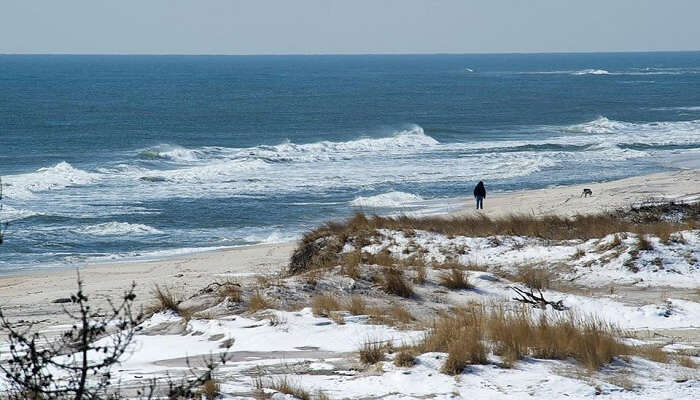 Fire Island National Seashore (FINS) is a 26 miles trail where you can see the beauty of vast ocean along with lush dunes, and bay shoreline. You will find different kinds of insects during this trial and several terrestrial and marine animals on the Fire Island. For one of the best hikes near New York, trek along this trail that will not exhaust you instead will bring a wave of freshness.
10. Stairway To Heaven Trail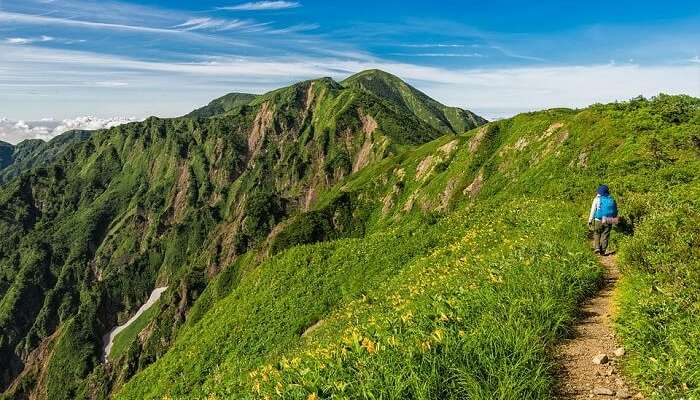 Stairway to heaven is one of the best hiking trails in New York as the views from this trail gives you those wow moments that will be etched in your heart forever. The trail gives you a chance to go through a suspension bridge, rocky climb, wildflower fields, and cow pastures that will definitely make you forget about all your worries. Wait no more and head out for hiking this weekend!
Further Read: 7 New York Museums To Get A Glimpse Into The Art, Science, And History Of The City
These are some of the adventurous delights New York State offers to you. Don't wait! Pack your bags and get exploring these thrilling trails for hiking near New York. Book your tickets to the US with TravelTriangle and have an adventurous time at these parks and other hiking sites nearby!
Frequently Asked Questions
Q. What is the best hike in the Adirondacks?
A. There are several hikes that you can opt for in the Adirondacks like Mount Colden, Mount Marcy, Big Slide Mountain, and Rocky Peak Ridge but the best one is the Cascade Mountain trail.
Q. How long does it take to hike Mt Marcy?
A. The summit is at a height of 5,343 and it takes around seven hours to complete the hike of Mount Marcy.
Q. What is the easiest high peak to climb?
A. The Cascade Mountain trail is considered as the easiest hike with best views.
People Also Read:
Hiking In Los Angeles Hiking In Hungary Hiking in Greenland
---
Looking To Book A Holiday Package?
Book memorable holidays on TravelTriangle with 650+ verified travel agents for 65+ domestic and international destinations.
---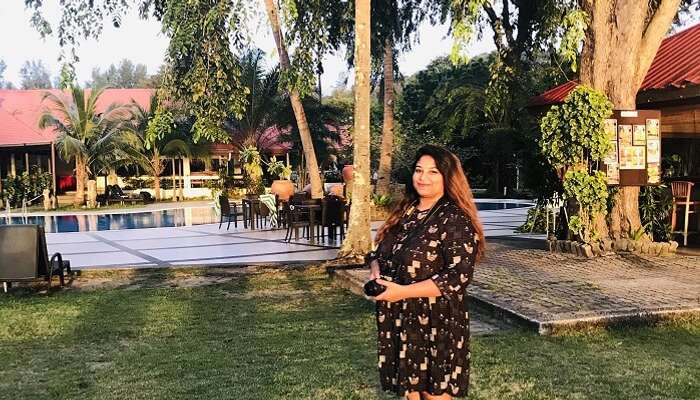 Comments
comments