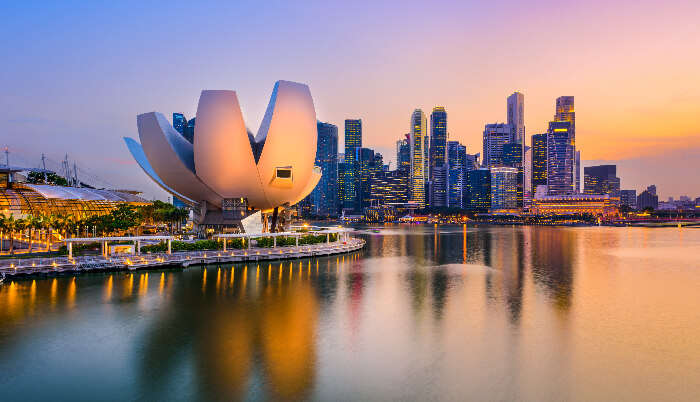 Singapore is one of Asia's top destinations and a melting pot of culture, modern infrastructure, Michelin star restaurants, and friendly locals. Despite being a vibrant island city, there is a long list of things to do in Singapore without spending a penny. Yes, you read that right! There are plenty of free things to do in Singapore and places to visit in Singapore for free that are as fun as the ones you'd do spending the hard-earned moolah around. And we list exactly what we promise without any attempts to disguise the costs involved.
But mind you, our list of best things to do in Singapore on a budget is not exhaustive. These are just a few handpicked ones of many, many free things to do here that you should not miss.
25 Top Free Things To Do In Singapore
Here's a list of the 18 fun free things which you do on your Singapore and finally enjoy the budget trip that you always dreamed of. Start scrolling!
1. Open Air Cinema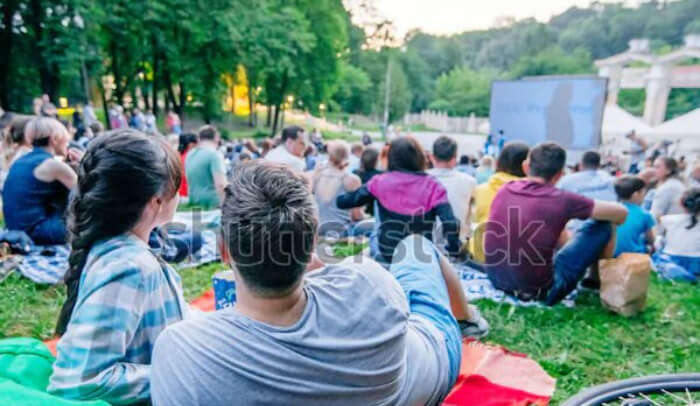 Watching a classic on a giant outdoor screen with a lot of strangers – does it sound like your idea of fun? If yes, Movie Mob should be the first among the things to do in Singapore on a budget. It takes the concept of drive-in movies to a whole new level, and allows you to pick the flick too. Look out for updates on location and timings on their Facebook Page.
What's Exclusive: You get to choose the movie.
Suggested Read: 11 Water Sports In Singapore That Will Get Your Adrenaline Pumping
2. Live Music At Esplanade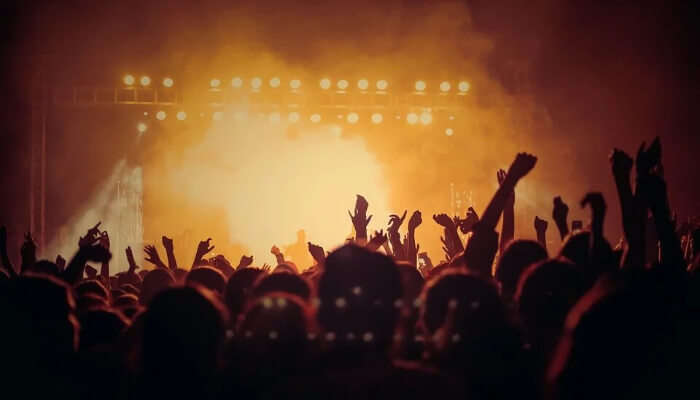 Of all the free things to do in Singapore, this one is most suited for musical souls. Catch live concerts at the Esplanade for free and mingle around with kindred spirits. With endless performances and dance routines, you will not have a dull moment here. Full of vocals, recitals, music and happy chatter, this place will make you feel alive. Don't miss out on Esplanade Roof Garden and Music Library, which are, of course, free too.
What's Exclusive: Free rooftop garden and live music.
Preferred time: Night. The creative visuals and expansive views are best in the dark.
PS: Please note that the concerts are paid if the performing artists are high profile celebrities.
Suggested Read: Famous Drinks In Singapore: 12 Lip-Smacking Beverages To Quench Your Thirst
3. Singapore Festivals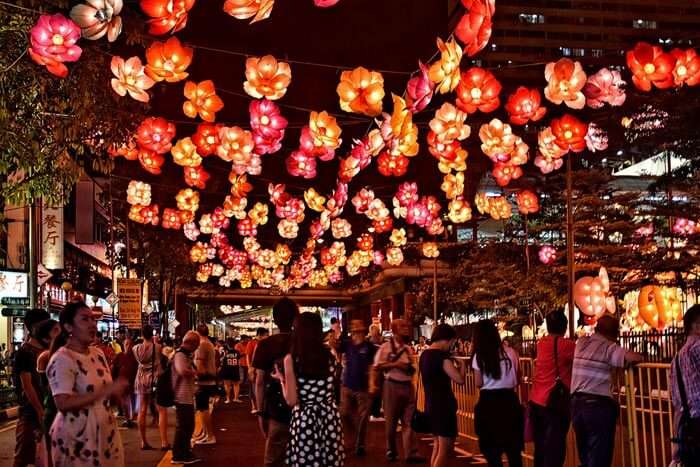 Colorful, vibrant, crowded, and hip – such is the scene of festivals of Singapore. Enjoy various festivals and carnivals and enjoy their fun celebrations. Don't miss among Singapore festivals are the Lunar New Year, Deepavali, Hari Raya Puasa and Mid-autumn festival. Indulge in hearty celebrations with food, lights, laughter, and fireworks. Make sure you plan your trip around a major festival in Singapore so that you do not miss out on the fun!
What's Exclusive: Meet new people and make some amazing friends.
Suggested Read: Taking A Well-Deserved Break: Our Corporate Trip To Singapore
4. MacRitchie Treetop Walk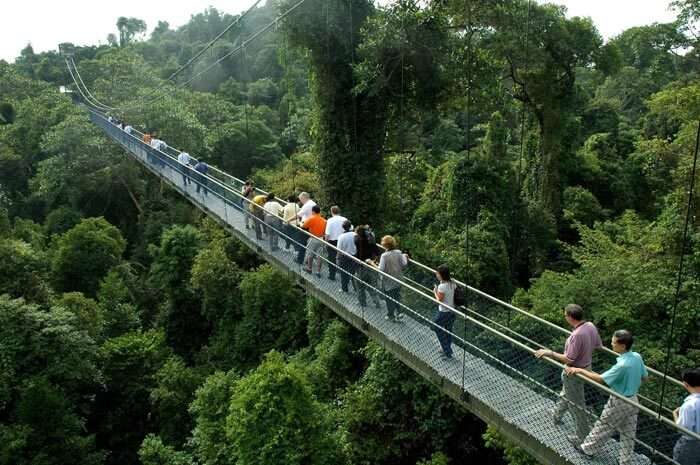 Walk among the trees and wildlife living on them, on the MacRitchie suspension bridge. Sounds cool, right? Check out the dynamics on the tree tops super closely. And the best part, it is totally free.
What's Exclusive: Walk among the animals at the canopy level and observe their lives.
Preferred time: Morning or Evening. Afternoons can be very hot at the upper level.
Suggested Read: 8 Awesome Restaurants Near Jurong Bird Park For Your Singapore Vacay
5. Free Market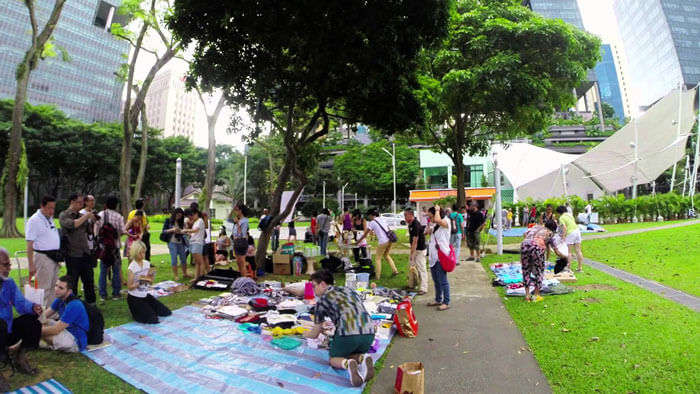 Image Credit: James Tann for Youtube
Ever heard of Free Market? No, it's not a typo. Yes I mean free, and not flee. Places to go in Singapore without spending money or free things to do in Singapore are still digestible. But, free market is a whole new level. Grab anything you want at the market and acquire it at zero cost. However, repay the kindness with your own free wares to sell. Trust, you can safely leave your wallet at home. You would not require it here.
What's Exclusive: Well, I guess free market in itself is exclusive enough.
Look out for updates on the location and time of this market at their Facebook page.
Suggested Read: Rooftop Bars In Singapore: 6 Glittery Hubs To Party All Night In The City Of Skyscrapers
6. Southern Ridges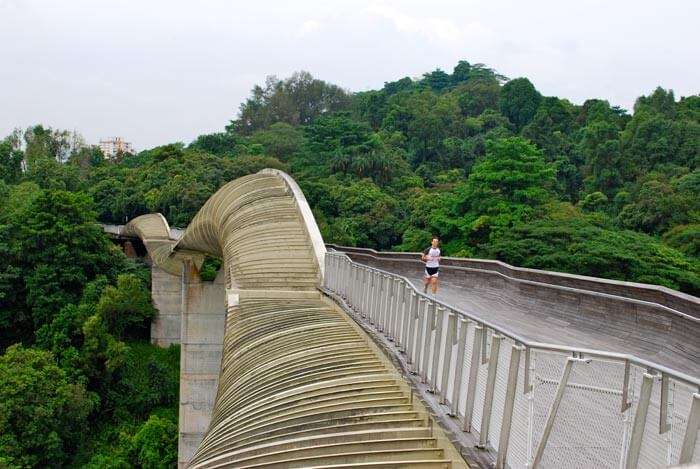 The trail is stretched between Mount Faber and National University of Singapore (NUS). Not an arduous walk, it is suitable for people even with mild medical conditions. Breathtaking views and perfect places for selfies, makes this place popular among people of all age groups. Carry extra water bottles and do not buy plastic bottles. You can refill them at various places in Singapore, even the restaurants you visit.
What's Exclusive: 10 km trail with panoramic views.
Preferred time: Any time of the week is apt to stroll on these ridges. Surely, a good thing to do in Singapore for free.
Suggested Read: 54 Remarkable Places To Visit In Singapore Where A Wandering Heart Finds Peace
7. Kite Flying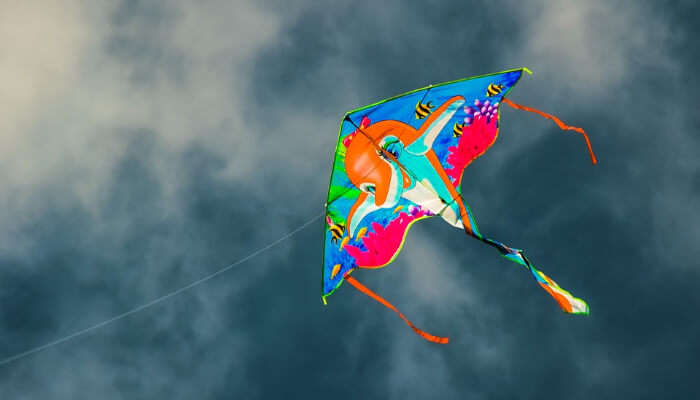 Image Credit: Dimitrisvetsikas for Pixabay
Marina Barrage is among the good places to visit in Singapore for free. Chill with your friends, fly a kite or two, or just hang out and watch others. No matter how many people try to be there at once, the huge grassy land will be able to accommodate all. Put your desi kite-flying skills to use in this unconventional and definitely unusual kite-flying experience.
Preferred time: Activities are going on here all the time.
What's Exclusive: Kiting is a popular choice for many among other things to do in Singapore for free.
Suggested Read: Go Berserk With Fun At Universal Studio Singapore With These 11 Must-Have Experiences
8. Fish Baiting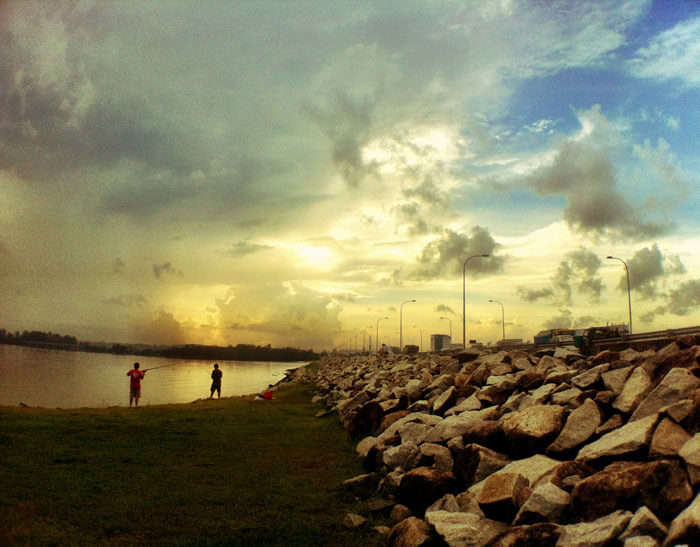 The tranquility and calmness of this place is magical. Think about all the free things to do in Singapore and fishing at Yishun Dam is the most refreshing one for sure. Enjoy some me-time bait good old fish. The density of fish here is high and importantly, you can be assured that the fish are not from fishy (:-P) water. What else could you possibly ask for on your Singapore getaway, right?
What's Exclusive: A good fishing spot.
Preferred time: Start at dawn
Suggested Read: 10 Picture-Perfect Singapore Islands For An Enchanting Vacation
9. Picnic At Chek Jawa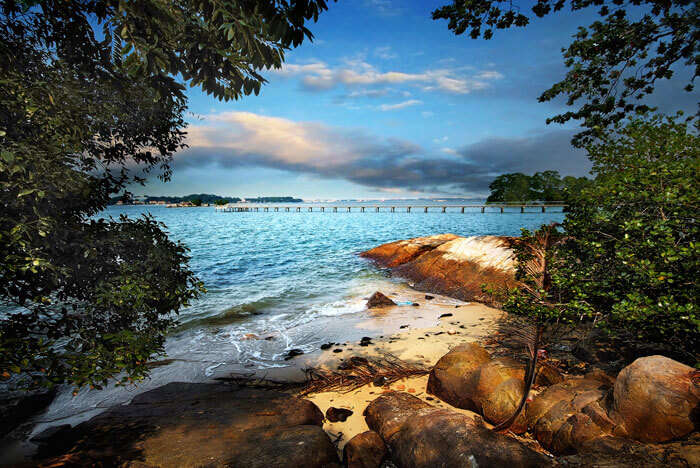 Reminisce about your childhood and have an outdoor picnic at Chek Jawa. The serene environment teamed with rich biodiversity makes picnicking at this spot, one of the top free activities to do in Singapore. Pack your picnic baskets with everything fun and lots of food and beverages. And hey, don't forget to carry loads of sunscreen; you don't want a bad tan for sure!
What's Exclusive: Getaway to serenity.
Preferred time: Dusks and dawns
Suggested Read: Things To Do On A Family Trip To Singapore And Malaysia
10. Photos With Merlion Statues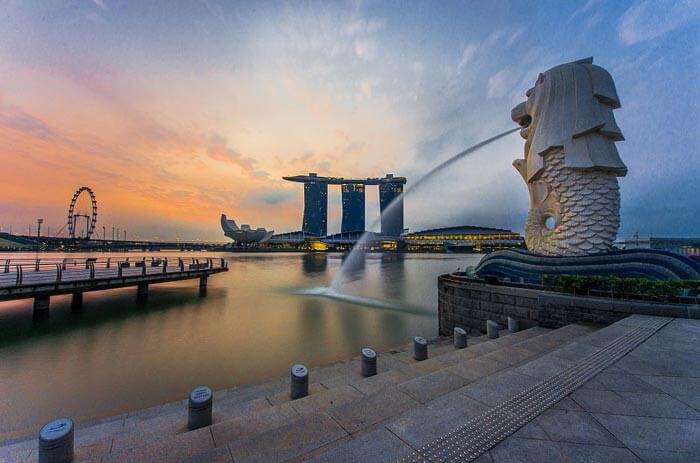 Now, now, did you know how many Merlions adorn the city of Singapore? Well, it's 8 in number. Go and hunt these down and pose for a picture with all of them. Now this is what I am talking about when I say free stuff to do in Singapore. Explore, traverse, and enjoy! And the best part – your pictures of Merlion will look fabulous on your Instagram feed!
What's Exclusive: Exhilarating hunt for all 8 Merlions.
Preferred time: Any time of the day.
Suggested Read: 10 Things To Do In Tampines That Will Make Your Trip To Singapore Worth It
11. Hiking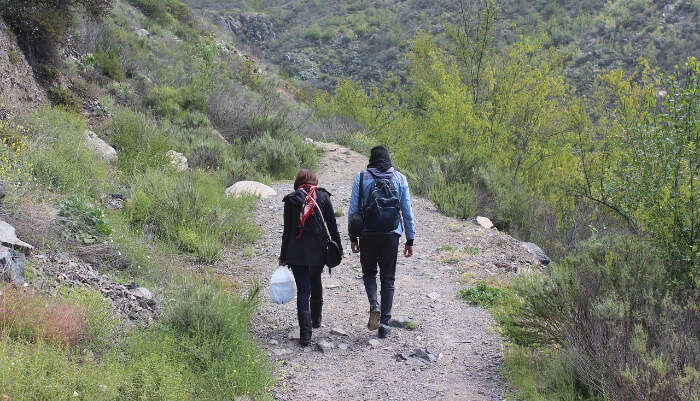 Hiking is among the most popular free things to do in Singapore. And when the trail is of Mount Faber, then it's an experience of its own. Stretched landscapes, murals beneath the platform, and a large variety of flora and fauna pump in a lot of beauty. It's a great place to visit for nature lovers, couples, and trekkers owing to the endless natural beauty.
What's Exclusive: Stunning aerial view of Singapore's Skyline from the top.
Preferred time: trek during the day. The Skyline is extraordinarily beautiful at dusk.
Suggested Read: Singapore Street Food Guide: What To Eat At The Best Places To Pamper The Foodie In You
12. Wall Doodling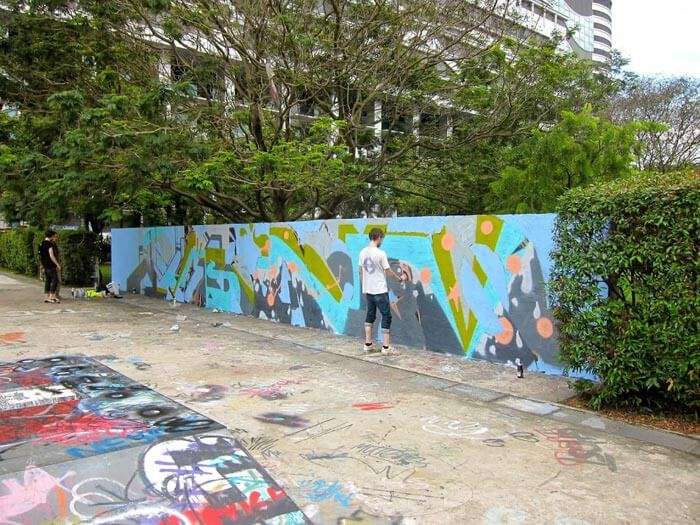 Imagine painting a wall with your creative graffiti in broad daylight, without the fear of getting caught by a cop. Yeah, it is perfectly legal to doodle on walls, display your graffiti art on the city space and perform skateboard stunts at this free attractions in Singapore. In fact, Singapore is among the only countries in the world that allows doodling on walls and lets its artistic population showcase their creativity wherever they feel like!
What's Exclusive: Enough space for novice and experienced Graffiti artists, and Skateboarders.
Preferred time: Indulge in these free activities in Singapore from dawn-to-dark, to feel utterly liberated.
13. Gardens By The Bay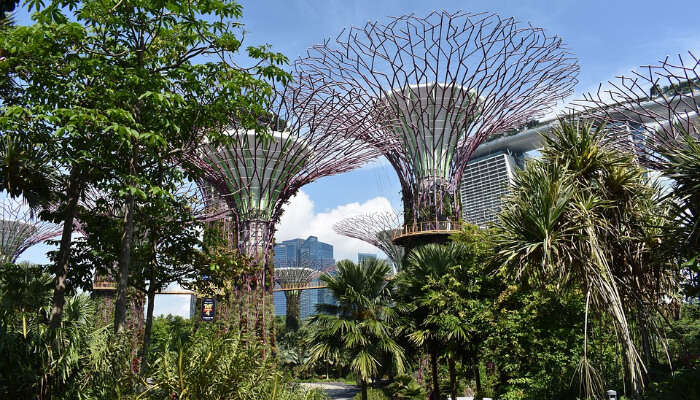 Image Credit: Scottbentley for Pixabay
These gardens are the most green of free attractions in Singapore. A great example of human's creativity and scientific knowledge, they look fantastic with waterfront views and varied collection of exotic flowers and plants. The best time to visit them is after sunset, when the gardens are all lit up with multi color lights and can be seen from far off!
Preferred time: Night. When the monstrous Super Trees aglow with their acquired solar energy, it is truly a sight to behold.
What's Exclusive: Man-made gardens.
Note: Admission is free to only a few gardens, namely, Sun Pavillion, Supertree Grove, Dragonfly & Kingfisher Lakes, Far East Organization Children's Garden, World of Plants, Heritage Gardens, and Bay East Garden.
Suggested Read: Singapore In Decembe: Guide To Weather, Places To Visit And Events
14. East Coast Park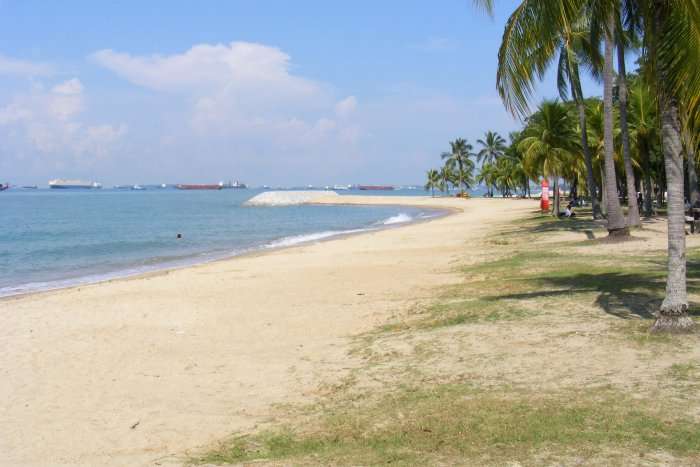 This 15 km stretch of beach which is famously known as the East Coast Park is a great place to chill and destress yourself, which is why it is considered to be one of Singapore's top attractions. You can swim, read a book, or just enjoy solitude. There are also a few fun rides and activities for kids such as Marine Cove Playground, rock climbing, digital game stations, and more. This free experience would surely add value to your vacation in Singapore.
What's Exclusive: Experiences like swimming and rock climbing.
Preferred time: During the day or evening.
15. Singapore Symphony Orchestra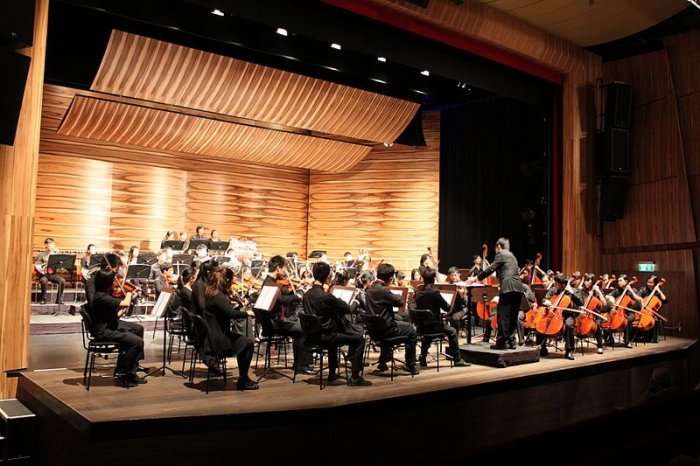 If orchestra concerts are something that you've always wanted to attend but never could because of the ticket prices, fret not because your moment is right here. As part of a community outreach program, the Singapore Symphony Orchestra hosts free concerts at different institutions, halls, and gardens. What's best is though you can also bring a picnic basket along!
What's Exclusive: Atmospheric soothing ambience.
Preferred time: Earlier than everyone else of the specific date of the event.
Suggested Read: This Adorable Couple Made The Most Of Their Singapore Itinerary Of 6 Days
16. Temples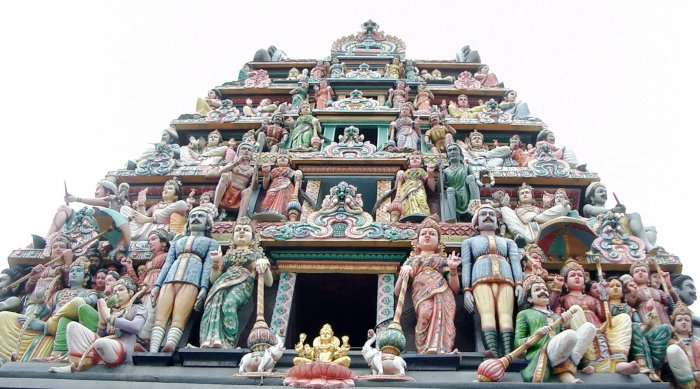 Located in the heart of Chinatown, the colorful Sri Mariamman Temple is the oldest Hindu temple that you can visit for free. Not just this, but there are also a ton of other temples in Singapore where you can visit and admire the carvings. These places are perfect for enjoying a peaceful afternoon or a soothing evening, especially if you're traveling with your family.
What's Exclusive:Centuries-old carvings and paintings.
Preferred time: Opening hours of the temple.
17. Sultan Mosque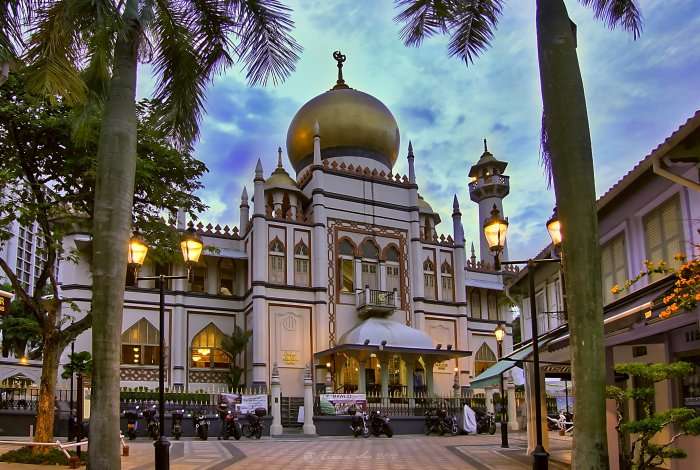 Being Singapore's oldest mosque, this picturesque mosque is a must-visit on your trip. Not just the Muslim heritage, but you can also learn and witness the charming lifestyle in this Arab district during your free tour here. Remember to check for the timings though before you plan your visit. Needless to say, this is one of the most enriching free things to do in Singapore.
What's Exclusive:Insight into Muslim heritage.
Preferred time: Anytime apart from prayer times.
Suggested Read: 5 Major Rivers In Singapore That Will Please Your Eyes And Heart
18. ION Orchard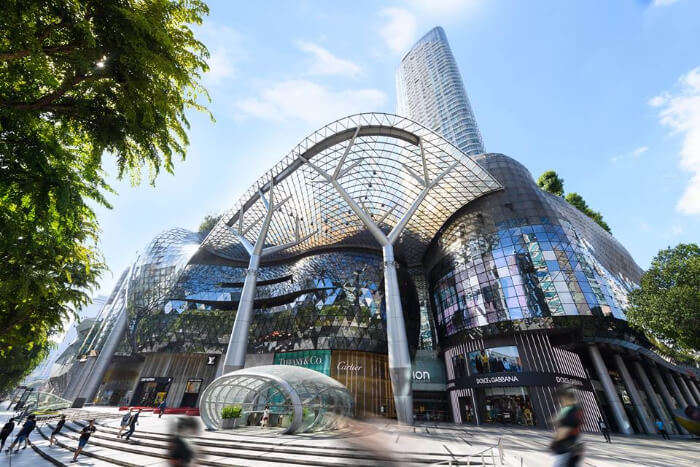 ION Orchard Shopping Mall is one of the best free places to visit. Established on 21 July 2009, the mall feature 335 food and retail outlets. The stylish and futuristic design of the mall makes it an architectural wonder. Head hear to catch all the latest fashion designs and trends and to indulge in some elaborate and detailed window shopping experience. This place can totally help you capture mind-boggling pictures for your Instagram. And if you decide to switch on your real shopping mode, you may even get a chance to visit the ION Sky tower in the ION Orchard Shopping Mall. This observation deck of the sky tower offers you some splendid and breathtaking views of the city. For every $20 spent here, you would get a ticket to the ION Sky tower.
What's exclusive: A grand shopping mall in Singapore.
Preferred time: Anyday between 3 to 6 PM
19. Fort Canning Park Hill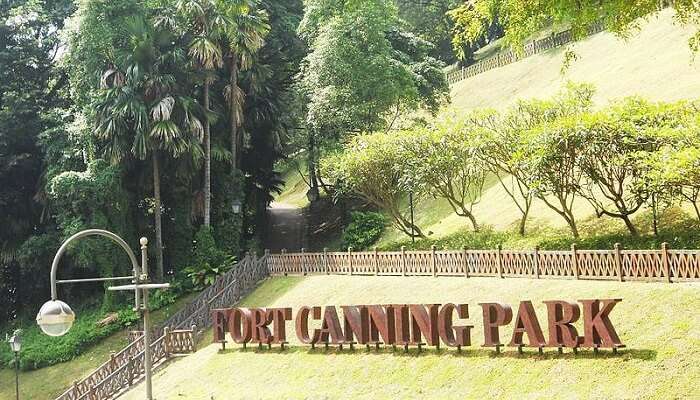 Image Source
The charming and historically significant Fort Canning Park is among the best Singapore tourist places located right in the centre of Singapore. Close to Orchard Road as well as Clarke Quay, this lush green space is absolutely free for those who wish to climb to the top of the hill here for awesome views of Singapore. It's a popular place among joggers, dog-walkers, history geeks, and nature lovers who want an instant escape from the city life. Also, since the park is home to various types of plants, trees, flowers, and other attractions, it'll surely make a great place for a nature walk, one of the most unusual activities in Singapore!
What's Exclusive: Rare plant species, views
Preferred time: Early morning
Suggested Read: Villages In Singapore: Ones That Were, One That Remains, And One That's Awaited
20. Singapore Botanic Gardens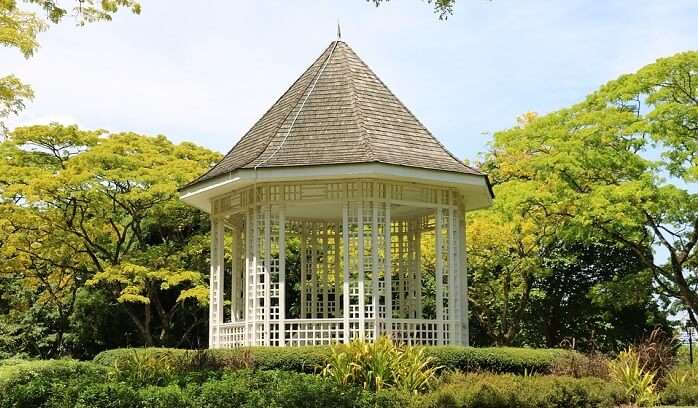 The Singapore Botanic Gardens houses the famed National Orchid Garden where you will come across over 1,000 species of orchids and 2,000 hybrids, making this the world's biggest display of tropical orchids. It's one of the biggest Singapore attractions with lush green lawns, marvelous ponds, and well-pruned garden trails is the ultimate Singapore retreat that won't even ask you to leave the city and travel far! You can even spot a number of beautiful birds here including pied hornbills, spotted wood owls, crimson sunbirds, stork billed kingfishers, geese, ducks, and black swans.
What's Exclusive: Birdwatching, posh restaurants inside the gates
Preferred time: Early morning and dusk
21. Marina Bay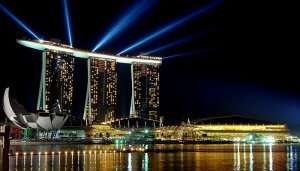 Oh no, we're not asking you to stay or dine at the ultra-luxurious resort. We're only asking you to be there for their spectacular light show that opens daily at 8 PM and goes on till 9 PM (or 11 PM on weekends). The Spectra is a fabulous Light And Water Show that is designed to impress all and does that job brilliantly, making it one of the finest Singapore tourist attractions. Throwing multicoloured laser beams from its three towers, as well as shooting water fountains which are lit up, it easily makes up for one of Asia's largest light and water shows. Make sure you get to the Event Plaza in Promenade, the best place to catch this show, before 8 PM when you're there.
What's Exclusive: Sound and light show
Preferred time: 8 PM
Suggested Read: 8 Things To Do During Christmas In Singapore For A Dazzling Experience
22. Sisters Islands Marine Park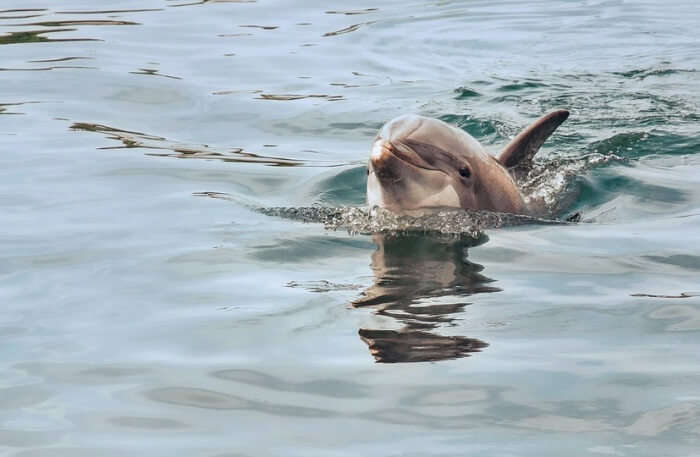 Unlike other places in Singapore, you'll find clear blue water here that is perfect for swimming and snorkeling, making it one of the most thrilling Singapore points of interest. But while a round of snorkeling may require you to shed a few mullahs, watching wild dolphins play in this water in the afternoon will be absolutely free, and a lifetime experience in itself! You can simply set up a picnic under the shady palm trees here and watch the beautiful surroundings till its time for these majestic beings to pop and say hello! It'll surely be one of the most fun things to do in Singapore with kids.
What's Exclusive: Dolphin spotting, swimming, snorkeling
Preferred time: Afternoon
23. Buddha Tooth Relic Temple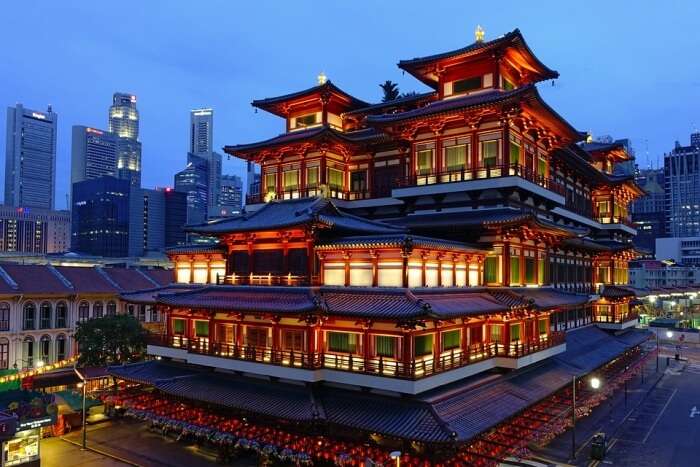 The architecture of this peaceful Buddhist temple is the first thing that will blow your mind! The exterior of one of the finest Singapore tourist places in Singapore is known to project sheer majestic charm inspired by the Tang dynasty. An amalgamation of buddhist influences and Chinese architecture, this is the most famous place of worship here that offers a cultural experience unlike any other place. From glancing at the sacred tooth relic of Lord Buddha to watching devotees chanting in the large hall, this place will instill a sense of calm and peace in you.
What's Exclusive: The evening prayers
Preferred time: Dusk
24. Bukit Timah Mountain Bike Trail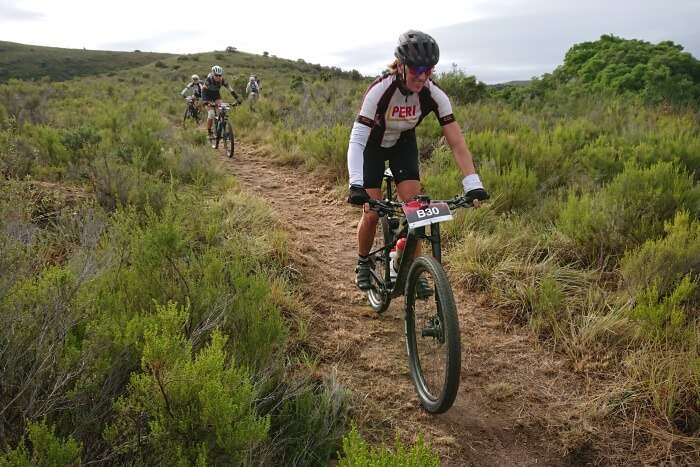 Surely one of the best Singapore attractions for adventure seekers will be the Bukit Timah Mountain Bike Trail owing to that one absolutely free and thrilling activity it offers – mountain biking. Get your adrenaline pumping as you make your way down the rough terrain here through 6 km of fun and thrills. This long and sturdy trail has recently undergone restoration and is now perfectly safe for bikers to embark on a dauntless adventure. It has plenty of vigorous climbs and downhill slopes which makes it lure in experienced bikers every now and then.
What's Exclusive: Mountain biking, hiking
Preferred time: All day
25. Changi Point Boardwalk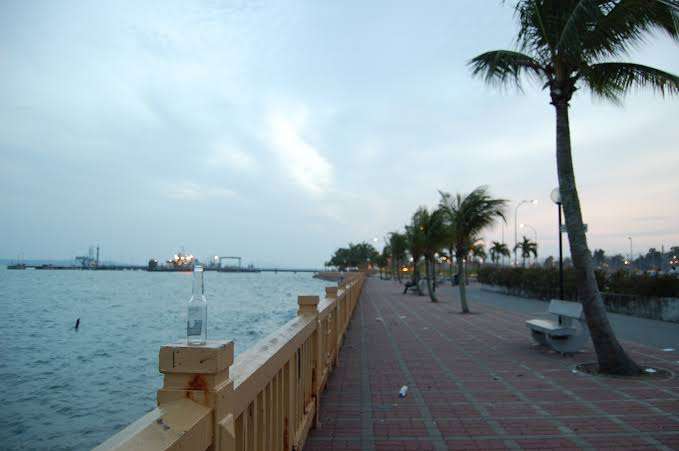 Image Source
This is amongst the top Singapore tourist attractions that lets people take a leisurely stroll along the Changi coastline while basking in the glorious sunset views at the same time. It'll be the perfect place for a secluded date where you can both gaze at the colors of the sky while the sun dips into the sea. The westernmost portion of the boardwalk is the most photogenic and will give some great snaps against the scenic backdrop of the vast open sea and towering old trees, especially at dusk.
Further Read: 14 Ethereal Festivals In Singapore That Will Force You To Ditch Yours
Surprised, aren't you? After reading these free things to do in Singapore if you're planning a quick vacation to this island city, then plan your personalised Singapore holiday with TravelTriangle and enjoy the perks of these freebies while in the city.
Disclaimer: TravelTriangle claims no credit for images featured on our blog site unless otherwise noted. All visual content is copyrighted to its respectful owners. We try to link back to original sources whenever possible. If you own the rights to any of the images, and do not wish them to appear on TravelTriangle, please contact us and they will be promptly removed. We believe in providing proper attribution to the original author, artist or photographer.
Please Note: Any information published by TravelTriangle in any form of content is not intended to be a substitute for any kind of medical advice, and one must not take any action before consulting a professional medical expert of their own choice.
Frequently Asked Questions About Free Things To Do In Singapore
What are the free things to do in Singapore for couples?

There are plenty of free things to do in Singapore for couples, some of which include: 1. Attending a live gig at Esplanade 2. Watching a show at an Open Air Cinema 3. Attending festivals 4. Visiting the Free Market 5. Walking in the Gardens By The Bay

Is it safe to visit SIngapore during Covid times?

Yes, Covid is one of the best destinations where you can visit during Covid. Make sure to abide by all the government protocols. Stay masked at all times when out, keep sanitizing your hands at certain intervals, and maintain social distancing whenever required.

When is the best time to visit Singapore?

The best time to visit Singapore is during the months of February to April. During this time the temperature ranges from 24°C to 32°C. Tourists can experience beautiful weather during this time along with the festivities of Chinese New Year, Singapore International Jazz Festival (March), Affordable Art Fair and World Gourmet Summit (April).

What can you do in Sentosa for free?

You can go birdwatching, chill at Tanjong Beach, play beach sports at Siloso Beach, and explore Fort Siloso, if you wish to enjoy activities in Sentosa for free.

What should I buy in Singapore?

There is a variety of unique things you can buy on your trip to Singapore: 1. Local kitchenware 2. Coconut Jam (Kaya) 3. Orchid perfumes & jewelry 4. Local beer 5. The famous Singapore sling bottle 6. Durian products

Where can I buy cheap things in Singapore?

You can head to places like Sungei Road Thieves Market, Bugis Street, Lucky Plaza for cheap shopping in Singapore.

Is Singapore safe at night?

Yes, Singapore is absolutely safe at night. However, you should take basic precautions like taking care of your belongings and avoiding dimly lit or secluded areas at night.

Which are the best traditional delicacies I can try in Singapore?

While visiting Singapore, you can gorge upon delicacies like Bak Chor Mee, Bak Kut Teh, Ban Mian, Cendol, Char Kway Teow, Chicken Rice, and Chwee Kueh. It is usually advised to eat light at night.
---
People Also Read:
Things To Do In Hong Kong Things To Do In Sri Lanka Things To Do In Philippines