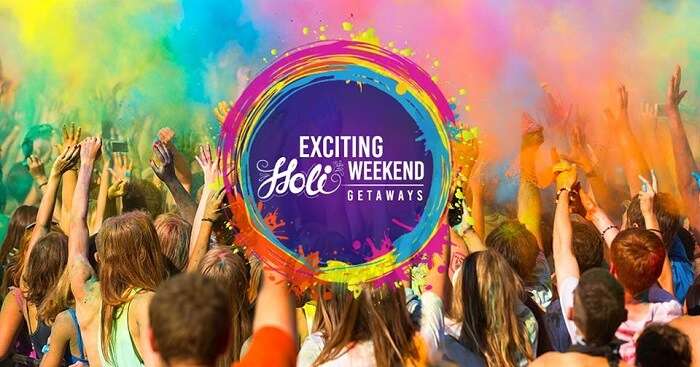 With the three-day Holi weekend on the horizon this year, have you found yourself with no travel plans, but a strong desire deep inside to get away on this short weekend? Some are going home for Holi, but some of us can't. Well, in that case, I have decided to head off to a scenic and fun place this weekend. I'm surely going to make my mini Holi holiday special with my friends; you should do it too.
Sure, some are going to stay back in the comfort of their beds, but only to regret when the long weekend rolls around—don't let that be you! Spend your days in the foothills of the Himalayas—the place you love to call home. Everything you need to know about the best Holi weekend getaways from Delhi in 2022 is right here, my friend.
Top 10 Holi Weekend Getaways From Delhi
The long weekends that come after a hectic week totally deserve to be celebrated. And if you don't know what to plan or where you must go, here are the most popular Holi weekend getaways from Delhi for the year 2022.
1. Jim Corbett National Park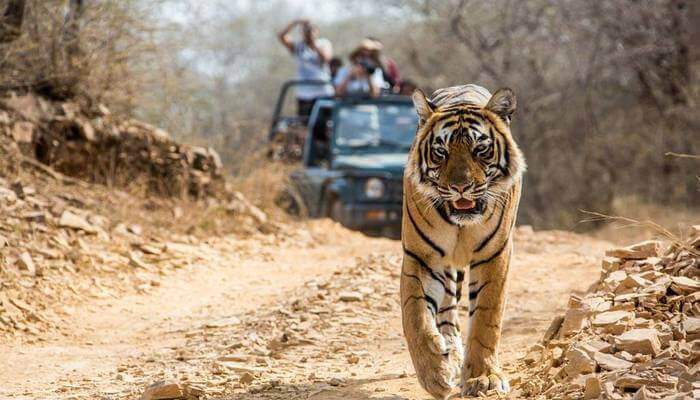 Jim Corbett, what a sight to behold! Expanding along the banks of the Ramganga River, surrounded by Sal forests and the tall grassy meadows—the park rests on the foothills of the Himalayas making it one of the must-have wild experiences in India. I have been there and done that, so here's everything you need to know to plan your weekend trip to Jim Corbett.
What to expect from Jim Corbett National Park?
I'm sure that like many others, the first thing that crosses your mind when someone says Jim Corbett is a tiger lazily walking on the dusty trails inside the park. But the national park is not just about tigers; it houses a record number of 580 types of birds, 488 species of plants, 25 species of reptiles, and 50 species of mammals. These are reasons enough to pay a visit to India's oldest national park.
Jungle Safari: One of my best experiences was to watch the birds of different species hop from branch to branch. I was fortunate enough to witness a Bengal Tiger as soon as we entered the deeper areas of Dhikala Zone. We also saw elephants, sambar deer, dove, Crocodile in the jungle.
Explore Corbett Museum: It's an old bungalow that belonged to the well-known tiger conservationist, Jim Corbett. It's now converted into a museum. The caretakers have safely kept Jim Corbett's memoirs, personal belongings, antiques, letters written by him, and rare photographs.
River Rafting: Oh, boy! River rafting is one such adventure sport that you should try before you die, then why not now? the cold, soothing water of Kosi river literally rejuvenated my soul. It's time you too set yourself free.
Corbett Waterfall: The 66 ft high waterfall is such a wonderful sight that I will remember it for a long time.
Fishing: I'm not a big fishing fan, but it's quite interesting for those who like it, this catchment area of Kosi has many fishing camps.
Best time to visit Jim Corbett
However, the park remains open throughout the year for tourists, but the best time to visit is from mid-November to Mid June, for all the tourism zones of Corbett are open.
How to reach Jim Corbett from Delhi?
Although you can drive from Delhi or travel by train, but traveling by an AC coach is altogether different experience in the month of March when the weather is pleasant. The park is well connected by road, so you can hire/drive a car from Delhi. Ramnagar Railway Station in Nainital district is approx. 68 km from Jim Corbett.
Distance & time taken: 250 km | 5 h
Ideal trip duration
A 1 night/2 days trip is enough to cover the most important parts of Jim Corbett and try all the adventurous activities.
How much the trip will cost?
The cost per person starts from INR 3,899 (2 days and 1 night) including stay, food, transport, jeep safari, a few adventurous activities, sightseeing and more. Travel with a big group of friends to save more.
An Adventurous 2-Day Weekend Retreat To Jim Corbett
2. Kanatal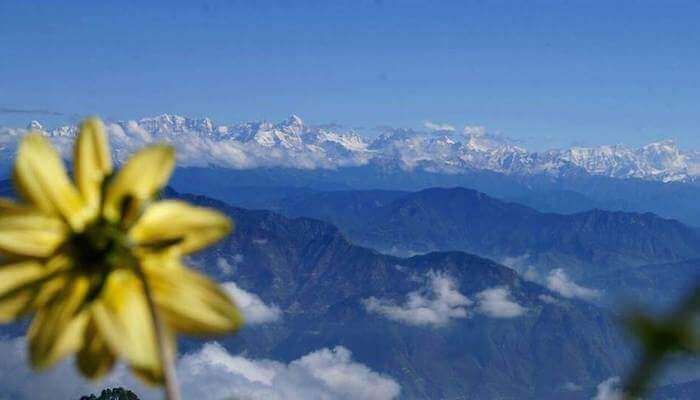 Right in the middle of Shivalik ranges and the tall pine trees resides Kanatal—the place where every tired soul wants to revive itself. This small sun-kissed town, lost in its own world still remains relatively unexplored. So while everybody else is flocking to Mussoorie, you take a detour to avoid the crowd and get lost in the peaceful hills of Kanatal.
What to expect from Kanatal?
Adventure activities: Our group of friends chose to do rock climbing and speed boating. You can also try sky walk, zip line, jet skiing, surfing, rappelling etc.
A walk to the Surkanda Devi temple: I decided to take an easy trek of 2 km to the temple dedicated to goddess Sati at an altitude of 3030 m above the sea level. It was a refreshing experience and not at all tiresome.
A photography walk to Kodai forests: Being an amateur landscape photographer, I find at least one such spot during all my travels. Kodai forest is a sheer delight for photographers and nature lovers. You have to take an easy trek of 6 km through the jungle with the views of incredibly beautiful valleys and natural spring.
A visit to the New Tehri: If you are interested in seeing the Tehri Dam (a piece of beauty), you must pay a visit. You'll see a gigantic dam with stagnant green water and high mountains surrounding it.
Best time to visit Kanatal
The best part of Kanatal is that it has a magical touch that lets you enjoy the place throughout the year.
How to reach Kanatal from Delhi?
You can drive from Delhi to Kanatal, but instead of driving all the way to Kanatal, I would suggest you save your energy to explore the place. Our group took an AC bus from Delhi to Kanatal for an easy and comfortable journey. If you don't get a direct bus from Delhi to Kanatal, you can board a bus to Dehradun. There are many local buses running from Dehradun ISBT to Kanatal.
Distance & time taken: 320 km | 07 h 40 min
Ideal trip duration
To explore the place and try all the exciting activities, 1 night/2 days are more than enough.
How much the trip will cost?
Starts from INR 3599 (2 days and 1 night), including food, stay, and transport. You might have to shell out a little more for adventures activities.
10 Best Sites For Camping In Dhanaulti And Kanatal For An Adventure-Filled Vacation In 2022
3. Lansdowne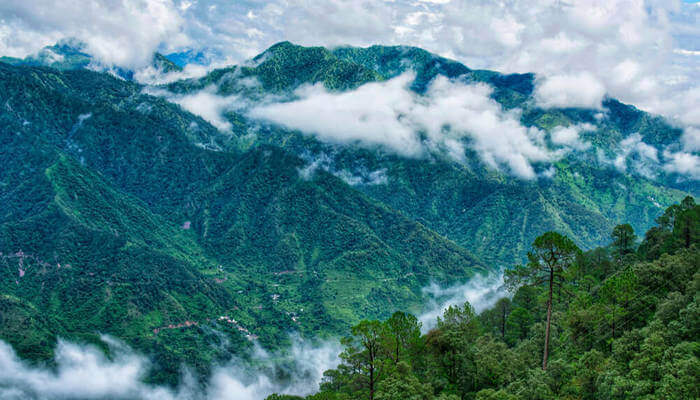 Have you ever experienced pure bliss? It feels like that in Lansdowne. A place completely untouched by commercialization and all the worldly things. People who have been to Lansdowne will agree with me that it's a place to go when all you want for your weekend is peace. Also, trekking and camping in Lansdowne during March-June is an experience you must have.
Why to expect from Lansdowne?
Camping: Our group had already decided to say NO to hotels and yes to camping, and that's what made all the difference. The trip wouldn't have been so memorable without this great decision.
Bhulla Tal: Personally, I liked sitting by the lake and soak in the peace and the music of the birds. But you can take a short, fun boat ride in the tal.
Trek to Snow Viewpoint: If you think traveling to Lansdowne during Holi means no snowfall, then you should trek to the Snow Viewpoint. Although, it's a little tough trek but you can catch a glimpse of snow clad mountains from there.
Watch the mellow Sun setting on the ridge: As cliché as it may sound, I think sunsets are the most beautiful phenomena of nature. You can watch the sky change its colors from blue to red to orange to yellow sitting at the edge of a cliff.
Bird watching: Can't tell you how much I enjoyed watching the migratory birds like ruddy shelduck, red-crested pochard, and common merganser sometimes bathing in a puddle and sometimes on the branches of tall pine trees.
Kalagarh Tiger Reserve: If you are lucky enough, you'll get a glimpse of big cats; if you're not, you have all the beauty of the jungle. I was not lucky enough that day.
Best time to visit Lansdowne
To be honest, you can visit Lansdowne at any time and you will love it. If you are someone who loves the green velvety mountains under the blue sky adorned with clouds, then March to June is the best time for you to visit Lansdowne.
How to reach Lansdowne from Delhi?
Take an AC or deluxe bus from ISBT Kashmiri Gate to Kotdwar. Later, you can take a shared taxi from Kotdwar to Lansdowne which will cost you around INR 100 per person.
Distance & time taken: 260 km | 6 h 20 min
Ideal trip duration
1 night/2 days for that ultimate peace and joy.
How much the trip will cost?
The starting cost for a 2 days and 1 night weekend trip is INR 3299 including food, stay and transport.
55 Hill Stations Near Delhi One Must Visit In 2022 For A Peaceful Getaway!
4. Rishikesh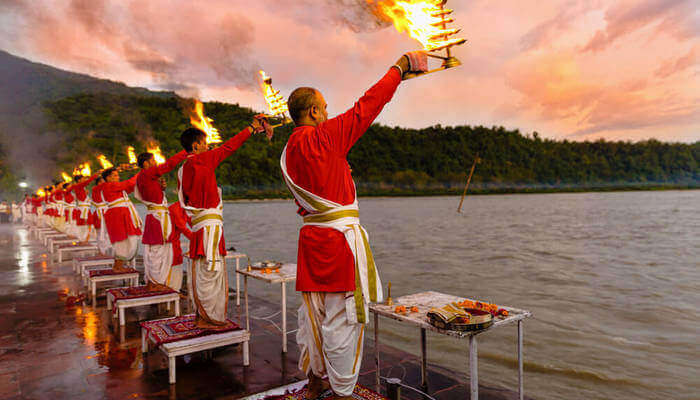 Rishikesh is a land of yogis and meditation, where people from all over the world come in search of peace and enlightenment. It is equally popular for its adventure sports and camping. It is also a budget traveler's paradise, which means it is lively throughout the year. Visit it in during any season and you are sure to fall in love with it.
What to expect from Rishikesh?
Adventure sports: I tried river rafting, kayaking, and flying fox. There were many other sports like rappelling, bungee jumping, flying fox, giant swing, cliff jumping, mountain biking, trekking etc.
Yoga & meditation: No one has ever left Rishikesh without learning a few yoga asanas or meditation tips. It did it too. Just let your worries melt away with meditation.
Triveni Ghat: I asked a flower seller near the ghat about the importance of Triveni Ghat, and I was told that the confluence of the Ganga, Yamuna and Saraswati makes it so important. Don't forget to take a holy dip in it. Also, pay a visit to Rishi Kund and Raghunath Temple nearby.
Shop something: I brought home some souvenirs from Rishikesh. You too can buy wonderful wooden decor items and wall paintings for your home.
Parmarth Ghat aarti: Rishikesh is popularly known for its spectacular evening ghat-side aartis. Oh, boy! You can click the most beautiful pictures during the aarti.
Best time to visit Rishikesh
The best time to got to Rishikesh for river rafting and other activities is March to April and then September to October.
How to reach Rishikesh from Delhi?
One of the best ways to reach Rishikesh from Delhi is by train, but most likely you won't get a confirmed berth at this point of time when everybody is heading to Rishikesh. You can catch an AC bus to reach Rishikesh comfortably.
Distance & time taken: 250 km | 5 h 30 min
Ideal trip duration
A 1 night/ 2 days trip to Rishikesh is enough to soothe your weary mind.
How much the trip will cost?
The cost is as low as INR 3699 (2 days and 1 night), including transport, stay, and food. You might have to spend a little more for sports activities.
38 Ultra Exciting Things To Do In Rishikesh In 2022 With Your Travel Pals
5. Manali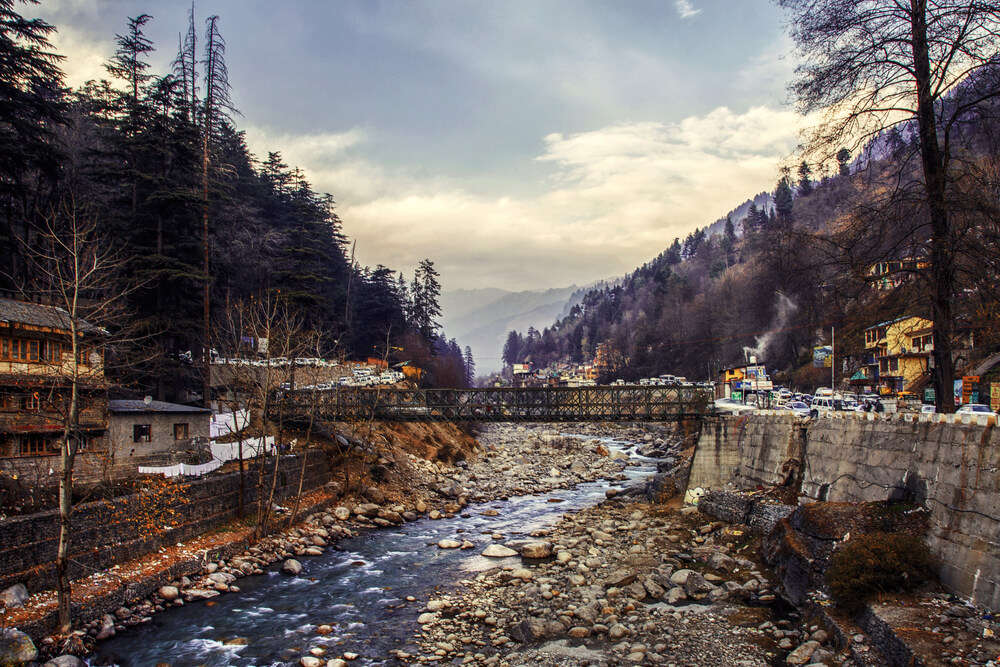 Manali is one of the most popular hill stations in India today. Well, thanks to the choices of activities and nature's bounty, this serves as a paradise for people of all ages, whether you're traveling with your kids or your parents. Holi in Manali means massive fun, amidst sky soaring hills and babbling river streams. Surely, this one is going to be a memory you'll cherish forever.
What to expect from Manali
Shopping: The shopaholic in you will be blissful as you stroll through Manali Market. Don't hesitate to bargain, but also play it smartly
Adventure activities: Let the adrenaline rush while indulging in activities like paragliding and zorbing in the ever-favored Solang Valley
Nature's beauty: Of course, as mentioned, the verdant nature will greet you anywhere and everywhere you go in and around Manali
Treks: Sky's not the limit for an explorer after all! Just take out some time and go on self-exploration in the wooded valleys
Best time to visit Manali
Anytime is the best time to visit Manali, actually. Each season has its own charm. Winter knocks the door with snowfall, making the mountainscape even more enchanting. Monsoon means the landscape turns greener, with more waterfalls popping. Summer acts as a savior from scorching heat in neighboring states like Punjab, Rajasthan, and Delhi.
How to reach Manali from Delhi?
The best option would be by road. The trip becomes economical if you're traveling in a bus. You can opt for self-drive, but please note the route is hilly with sharp turns. If you prefer traveling by air, the nearest airport is Bhuntar Airport, which is approximately 50 km away from Manali.
Ideal trip duration
Manali is perfect for a short getaway or even an extended stay, as there are many places to visit near Manali. Ideally, you should spend 2 days and 3 nights, excluding travel time.
How much will the trip cost?
The 2 days and 3 nights trip to Manali with Travel Triangle will cost you as low as INR 4999.
6. Mcleodganj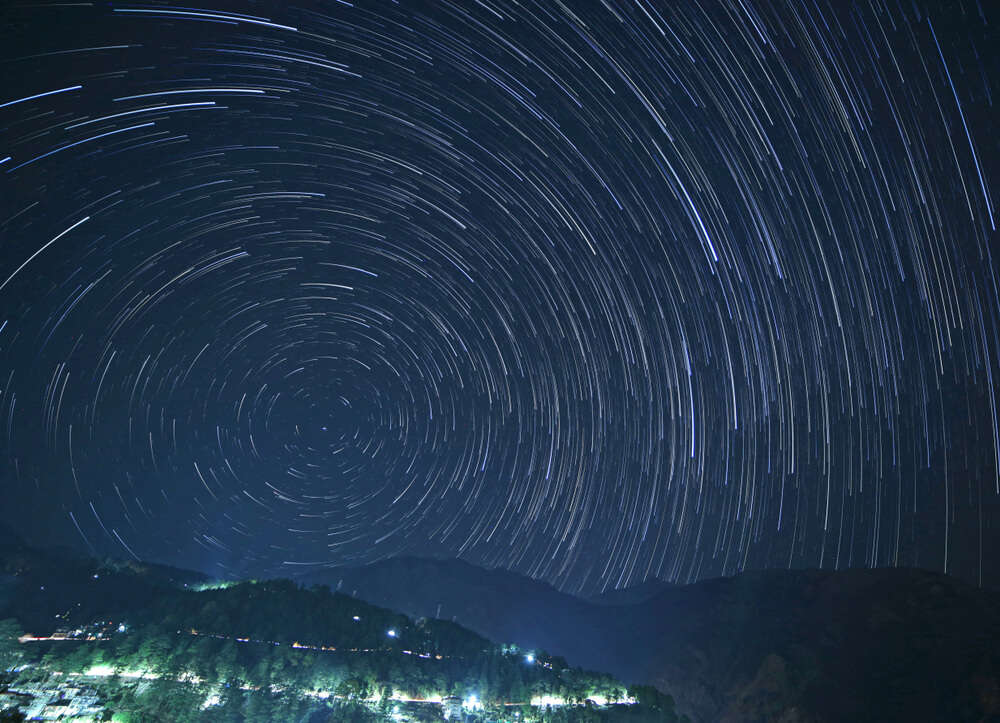 The place Dalai Lama calls home, Mcleodganj in Dharamshala is now popular among tourists across the world. Located in Kangra District in Himachal Pradesh, this place is perfect for trekkers, culture vultures and of course nature lovers. Since this is the gateway to Triund, where people trek to and spend the night camping, it's gaining even more preference by the youngsters. To add cherry to the top, there are quite many cafes to unwind in and savor the delicious Tibetan, Chinese and local flavors.
What to expect from Mcleodganj
Triund trek: Surely, one of the most-talked-about trekking trails in India, this one is a charmer! Don't forget your sports shoes home.
Sightseeing: Take a peek into the history and culture of Dharamshala region as you visit some of the top tourist attractions of Dharamshala like Dalai Lama Temple and St. John Church
Shopping: Wander around the bustling market of Mcleodganj. Shop for Tibetan handicraft or bag some handmade woolens for next winter
Camping: What's better than staying in a five-star hotel? Staying under 5 thousand stars! Yes the camping experience in Mcleodganj is something worth cherishing
Best time to visit Mcleodganj
Much like many places in Himachal, Mcleodganj is a year-round destination, with pleasant summers, snowy winters, and rainy monsoons. Each season is beautiful in its own way. But if you want to ditch tourist crowd, March is the best month to consider.
How to reach Mcleodganj from Delhi?
By road is a preferred way to reach Mcleodganj from Delhi. If you opt for an ac coach, it takes around 10-12 hours to cover the journey. The nearest railway station from Mcleodganj is Pathankot railway station, at a distance of 90 km. It is well connected to major cities like Delhi. If you want to travel by air, the nearest airport is Gaggal Airport, located only 20 km away from Mcleodganj.
Ideal trip duration
A 2 day 1-night trip is ideal if you're going for a weekend getaway. However, you can always plan for a longer stay, thanks to many lovely places to visit near Dharamshala.
How much will the trip cost
You can celebrate Holi in Mcleodganj with Travel Triangle for 2 nights and 3 days. The starting cost of the package is just INR 4999.
Long Weekends In India 2022: Ways To Enliven Your Vacay Vibes Safely In The Post-Lockdown Era!
7. Bir Billing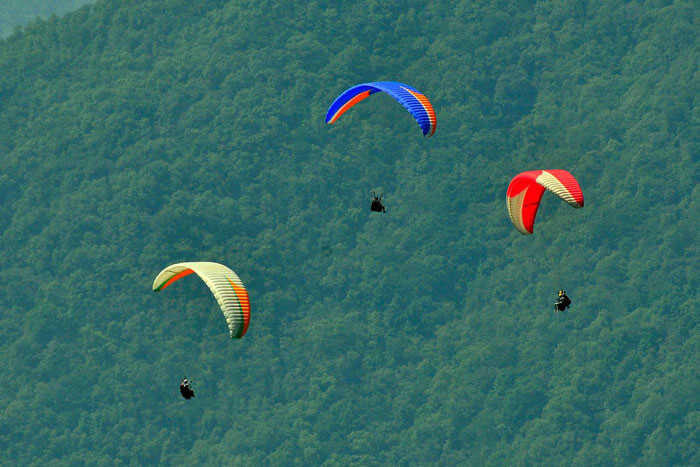 Bir Billing is one of the best places in India for paragliding. Flying amidst the Himalayas is undoubtedly an unforgettable experience. An adventure enthusiast can never indeed have enough of this place.
What to expect from Bir Billing
Paragliding: Fly high and feel like a bird soaring above the Himalayan range. Don't worry about the safety as the gears are of good quality and supervisors are experienced
Trekking: Explore the peaceful surrounding on your Holi weekend getaway to connect with nature and refresh your senses
Sightseeing: Visit the top attractions in Bir Billing, click pictures that are instagram-worthy and will spark envy!
Best time to visit Bir Billing
Since Bir Billing is famous for paragliding, June to October is the best time to visit this place. Particularly March to June is perfect for long flights.
How to reach Bir Billing from Delhi?
Bir Billing is best visited via road, and if you are traveling by bus get off at Baijnath bus stand. For railway travel, Pathankot has the nearest rail head, at a distance of 100 km. Gaggal Airport is the nearest airport to Bir Billing, just 67 km away.
Ideal trip duration
Bir Billing is one of the best weekend getaways from Delhi. So, just a 3 days and 2 nights trip is ideal for someone wishing to visit this place.
How much will the trip cost
The 2 days 1 night long weekend group tour package from Travel Triangle costs INR 6099
8. Kasol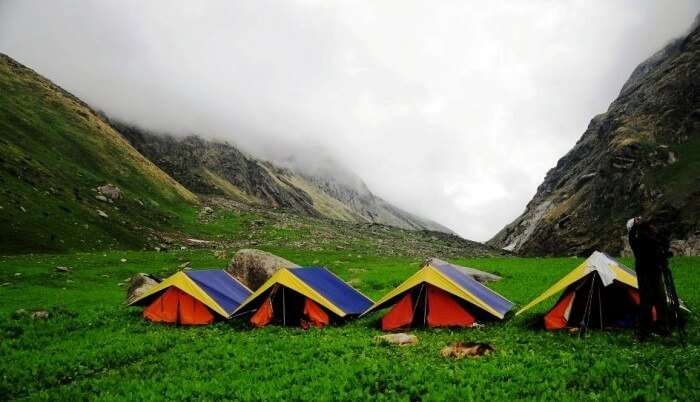 Famed among the young crowd of India and abroad, Kasol is where you can set your spirits free. This beautiful destination is bestowed with nature's bounty, with crystal clear Parvati River meandering through the valleys to elevate the charm of its mountainscape. With many laid-back cafes around, you can spend hours simply relaxing, glancing at the Himalayas. If you are an explorer, you'd never run out of places to set foot on.
What to expect from Kasol
Kheerganga trek: Lose yourself amidst pristine nature, dip your toes or get drenched through and through in Kheerganga River as you trek the surroundings
Shopping: Shop around in local market, where you can get everything from harem pants to hiking gears
Chalala trek: Behold the simple yet beautiful culture of the villagers in Chalal. The traditional dwellings, colorful orchards, and apricot trees are something you will not forget
Cafe hopping: Explore the cafe culture of Kasol, something it's well-known for
Sightseeing: Visit the top attractions in and around Kasol like Gurudwara Manikaran Sahib
Best time to visit Kasol
The best time to visit Kasol would definitely be a time when there is less tourist crowd, as we know the weather stays pleasant almost all around the year and every season is equally enchanting. So, Holi in Kasol is a perfect time, since between March and May there aren't many people around, allowing you to enjoy a peaceful escape.
How to reach Kasol from Delhi?
You can always plan a trip to Kasol from Delhi via road. The journey is about 12 hours long. However, if you wish to travel by air, the closest airport is Bhuntar Airport, located around 30 km away. Pathankot is the nearest major railhead at a distance of 150 km.
Ideal trip duration
Kasol is perfect for both a weekend getaway or extended stay. However, ideally, you must spend 3 days and 2 nights to make the most of your vacation.
How much will the trip cost
The 2 days and 1 night group tour package by Travel Triangle on Holi long weekend starts from INR 5,199
9. Tirthan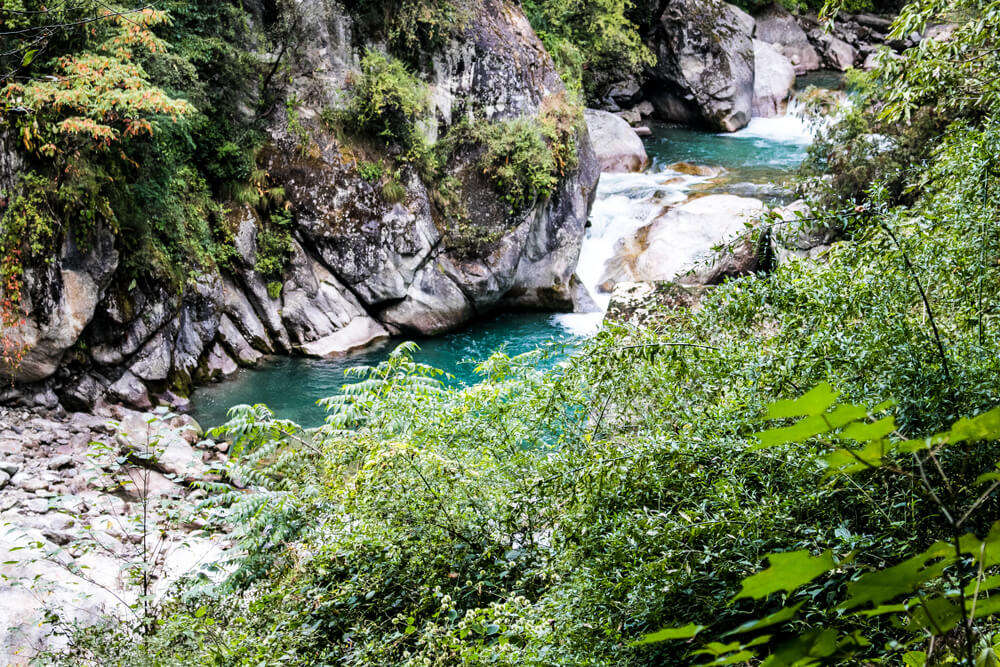 The destination which is slowly finding its way into the bucket list of avid travelers, Tirthan hails with its raw natural beauty, unperturbed. This has to be the choice for anyone longing for a secluded getaway, especially during the Holi weekend 2022. As Tirthan River flows beside it, the trekking trails become more and more intriguing and inviting, convincing you this might be the mirror image of heaven.
What to expect from Tirthan
Waterfall trekking: Merge with the essence of nature as you trek towards a waterfall making your way through the jungles
Stunning vantage points: Visit Jalori View Point and enjoy the views of Kullu Valley covered in mist
Serolsar Lake trek: Relax beside the famous lake of the region, after a lovely trek
Bonfire: The evenings are well spent around bonfire with your favorite music on
Sightseeing: Set foot on some of the most popular tourist attractions of Tirthan, such as Chaini Fort and Gushaini
Best time to visit Tirthan
The best time to visit Tirthan is between March and June, and October and November, as during the mentioned periods the weather stays at its best, though it is always perfect. For someone wishing to see snow head over to Tirthan in January or February.
How to reach Tirthan from Delhi?
The road route from Delhi to Tirthan is the same you follow for Manali. However, for Tirthan you have to deboard before the Aut Tunnel. There are many buses plying between Delhi and Manali, just make sure you get down at the right point. If you are thinking of traveling by air, Bhuntar Airport is merely 50 km away from Tirthan Valley. However, the nearest railway station Ambala is as much as 300 km away. Hence, railway travel is not recommended.
Ideal trip duration
A 3 days and 2 nights trip is ideal for Tirthan, excluding travel time.
How much will the trip cost
The 3 days 2 nights Holi weekend trip by Travel Triangle starts at INR 6499
Corporate Outing Near Delhi: 10 Destinations For A Fun-Filled Weekend With Your Team
10. Binsar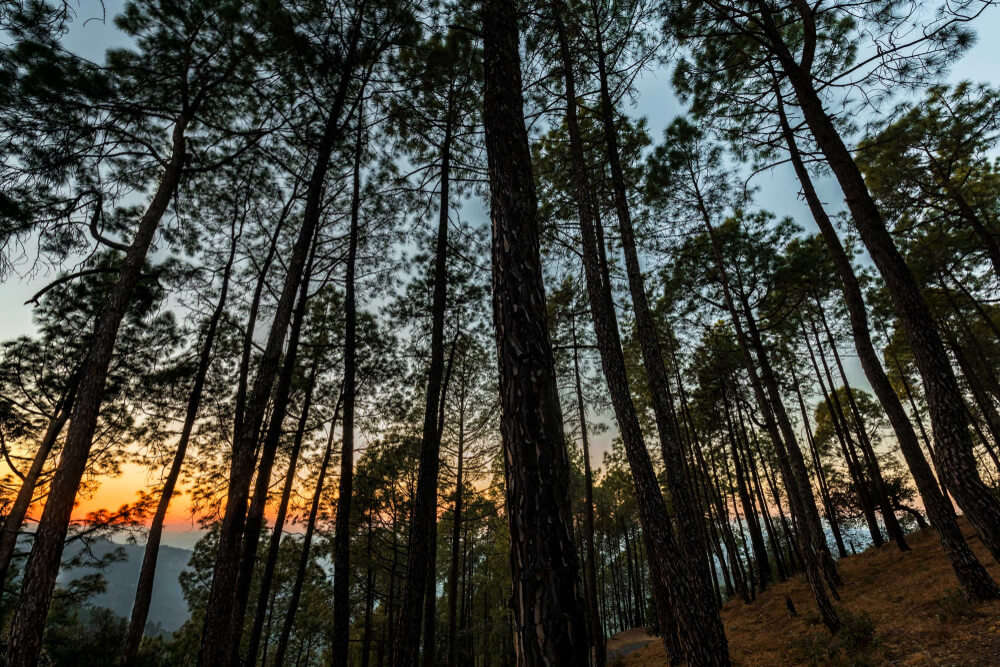 A weekend trip to Kausani will fill you up with energy, so you can come back to the city refreshed like never before. With caves, waterfalls, temple and tea estate, this makes for a perfect escape, regardless of whom you're traveling with, your better half or your parents. The unspoiled nature of Binsar and Kausani makes it worth your while. Both the destinations are just 50 km away from each other. Binsar in Uttarakhand is yet another paradise you can visit with Travel Triangle's Holi weekend 2022 getaway. From Binsar you can enjoy magnificent views of the famous Himalayan peaks like Nanda Devi and Nanda Kot.
What to expect from Binsar and Kausani weekend getaway
Bimal Kot trek: Trek for 3.5 km (one side) through lush environs to reach the point from where you can enjoy spectacular views of famous Himalayan peaks such as Nanda Devi
Shopping: Amble through the local markets at your own pace, shop or maybe interact with locals
Rudradhari Waterfall trek: An ultimate way to merge with nature? Splash around a waterfall!
Bhimtal: Stopover en route Delhi and enjoy the sunset views as you sit beside this popular lake in Uttarakhand
Best time to visit Binsar and Kausani in Uttarakhand
Both Binsar and Kausani are year-round destinations, which means you can come over anytime for a wonderful holiday. March is specifically a perfect time to visit these places since after this month the peak season (April to June) arrives. Also, the weather is pleasant, neither hot nor too cold.
How to reach Binsar and Kausani from Delhi?
Traveling by road is the best way to reach Kausani and Binsar. Firstly, there are many buses plying between Kausani and Delhi, secondly, the travel time is just ten hours. If you are thinking of traveling by train, you'll have to take the train for Haldwani and then board a bus heading to Kausani or Binsar. The distance from the railway station to Kausani is about 145 km.
For those wanting to travel by air, the nearest airport from Kausani is Pantnagar, at a distance of 173 km.
Ideal trip duration: Ideally, you must go for a 3 days 2 nights trip when thinking of covering both Binsar and Kausani.
How much will the trip cost: The 3 days and 2 nights Binsar Kausani group tour package for Holi starts at INR 6099.
10 Awesome Places To Celebrate Holi In India In 2022
The Holi weekend 2022 has to be an unbeatable excuse to travel and these holi weekend getaways from Delhi will also take care of your budget. So without wasting any more time plan a Holi weekend trip, to make this festival of colors even more vibrant and exciting. Happy Holi-days!
For our editorial codes of conduct and copyright disclaimer, please click here.
---
TravelTriangle Holi Weekend Trips Starting @ Rs 3,499/-

---