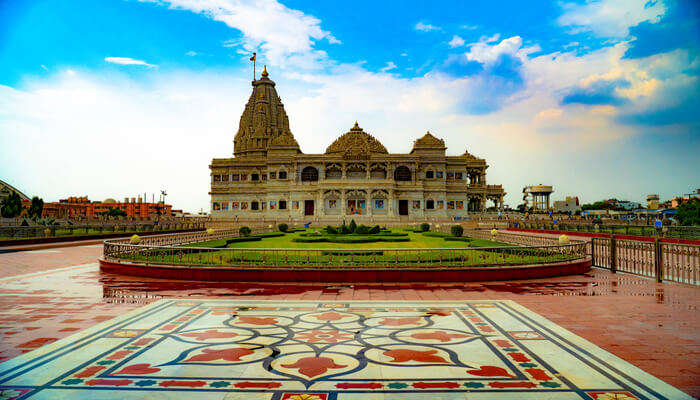 Mathura is considered to be one of India's most sacred lands and is filled to the brim with people seeking spiritual enlightenment at any point of the year. Located about 150 kilometers from Delhi, Mathura is known as Lord Krishna's birthplace and has many historical and religious sites. One of the most famous tourist places to visit in Mathura is Shri Krishna Janmabhumi, as this location is claimed to be the exact place where Lord Krishna was born, and the jail where he was born is now on view for visitors to see. Besides the jail, the Shri Krishna Janmabhumi also has a magnificent temple.
Each nook and cranny of this place's narrow lanes and bylanes still maintains an old-world beauty that belies the city's urbanization. Mathura has a great history that you can only witness by visiting the old-fashioned architecture, the decaying remains of old houses, and the fantastic sociability of the locals who are always willing to show you around.
22 Famous Places To Visit In Mathura
If you want to add charm to your spiritual tour, then these tourist attractions in Mathura are a must-visit. Visit these amazing places to visit in Mathura and make the most of your vacay. These tourist places in Mathura are bound to make your holiday experience more memorable.
1. Govardhan Hill

Govardhan Hill, or Giri Raj, is 22 km away from Vrindavan. It is mentioned in the Holy Bhagavad Gita that Govardhan Parvat is no different from lord krishna itself, according to Lord Krishna. All his worshippers thus worship the hill's simple stones just as they worship his idol. The hill is made of sandstone with a length of 38 km and a height of 80 ft. Many important sites such as Mansi Ganga, Mukharvind and Daan Ghat can be visited.
History tells us that Lord Krishna raised the Govardhan Hill on one finger during his youth to save his Mathura village from heavy rain and thunderstorm. Hence, this hill is considered sacred and is visited in devotion by worshipers on Guru Purnima, Govardhan Puja by walking around the mountain for 23 km barefoot, which is called govardhan prakriya lord krishna asked everyone to worship the hill after Lord Krishna had rescued his village and that's why Govardhan Puja is a day after Diwali. It's a serene spot, and a must experience, certainly!
Time required: 1 to 2 hours
Top 20 Things To Do In Agra To Explore The True Beauty Of Home Of Taj
2. Krishna Janmasthan Temple 

Shri Krishna Janmasthan Temple is situated in the holiest town Mathura, Uttar Pradesh. It is constructed around the prison cell where his wicked uncle Kansa imprisoned the family of Lord Krishna, Mata Devaki and Vasudeva. For the Hindus, the temple is of great significance as it is believed to be Lord Krishna's birthplace. In addition to the prison cell, there are other temples in Mathura region, dedicated to lord Krishna The sacred aura and its simplicity, fill the heart with the certainty, that this is indeed the location, where Lord Krishna manifested himself when he entered the temple.
Destroyed by many kings many times, it was finally built through industrialists help in finance. At the time of festivals like Janmashtami, Basant Panchami, Holi and Deepawali, which are celebrated with great enthusiasm, a visit to the Krishna Janmasthan Temple becomes more appealing.
Location: Mathura – Deeg Marg, near Deeg Gate Chouraha, Janam Bhumi, Mathura, Uttar Pradesh 281001 Time required: 1 to 2 hours
3. Dwarkadhish Temple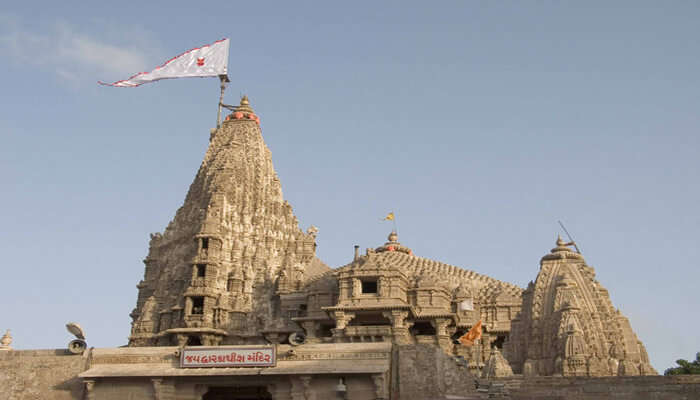 One of the top places to visit in Mathura in one day, Dwarkadhish temple is famous throughout the world for its intricate architecture and paintings. The temple, which was built in 1814, is relatively new but is widely respected. Located within the perimeter of the holy gate of the city, close to the Ghats of the Yamuna River, the temple and its surroundings are a hub of many interesting activities. Every day, thousands of devotees come here to pay their obedience.
A series of exquisite ceiling paintings showing the different aspects of the life of the Lord and the magnificent architectural designs and carvings of Rajasthani architecture makes the complex look even more magnanimous. The black-colored god inside the temple encourages love! The Dwarkadhish temple is currently operated by Vaishnava sect followers (started by Mahaprabhu Vallabhacharya) and is a center for many interesting activities throughout the year, particularly during the Shravan months when the Lord's Idol is put inside a Hindola (a type of swing set). Holi, Diwali and Janmashtami are other important festivals celebrated.
Location: Raja Dhiraj Bazar Road, Mathura, Uttar Pradesh 281001
Time required: 1 to 2 hours
53 Tourist Places In Jaipur To Visit For An Experience Like No Other
4. Radha Vallabh Mandir 

Radha Vallabh Mandir, one of the seven temples in Thakur of Vrindavan, is located near Gautam Nagar on the cliff of Bankey Bihari temple. This temple is the epitome of Radha and Krishna's holy and spiritual devotion, shown in the unique' Ras-bhakti' form. The temple, created by Lord Krishna, has no god of Radha. Alternatively, to indicate her presence, it has a crown positioned next to Lord Krishna. Due to its stunning architecture and beautiful decor, Radha Vallabh Mandir stands out. Moreover, this is among the best places to visit in Mathura for couples.
Location: Vrindavan District Mathura State Uttar Pradesh
Time required: 1 to 2 hours
5. Vishram Ghat

Another one of the best sightseeing places in Mathura is Vishram Ghat. On the banks of the River Yamuna, a sacred ghar located about 5km from Mathura, which is the center to 25 ghats. There is a parikrama that pilgrims take around the ghat. Literally translating to a place of relaxation, Lord Krishna rested at this place after killing the evil demon, Kansa. There is a heavy crowd around the ghat during Bhaidooj for the holy dip. People can also take a boat ride at the ghat.
Time required: 2 hours
24 Fun Things To Do In Delhi On A Trip To The Capital City
6. Kusum Sarovar

A beautiful reservoir made of sandstone and a true remnant of the bygone era, the Kusum Sarovar has a flight of stairs that descend into the pond. According to folklore, the reservoir got its name from one of Radha's dasis, Kusum. It is a great place for taking a dip during summers. One can also find many temples in its vicinity and around it during their trip to Mathura and Vrindavan. The emerald green water is cool and the pond has a floral border, boasting different flowers. It is believed that Radha collected these flowers to make garlands and floral jewelry for herself. Perfect for quiet evenings, you can watch the sunset here.
Time required: 2 hours
7. Nand Gaon 

Around 50 km from Mathura, NandGaon is a quaint town situated in the Nandishwara Hills. It is the home to Krishnaji's adopted parents – Nand Ji and Yashoda Maiyya. There are many temples situated on the top of this hill. Other popular temples here are Nritya Gopal, Nand Nandan, Udhav Kyaro and Gopinath. There is a beautiful lake here called the Pan Sarovar that is much loved by tourists also making it one of the best things to see in Mathura. 
Places to Stay: Nandai Villa, Saffron House, SnehPushp Holiday Home, Rutu Enclave, Beyond Stay Mahua Bagh Murud
Time required: 2 hours
7 Places To Visit Near Rajasthan For A Cultural Holiday Experience
8. Dolphin Water World 

Visiting this water park is one of the most fun things to do in Mathura. Made on 14 acres of land and full of great thrilling slides and roller coasters, Dolphin Water World inaugurated in 2002 and has been one of the most loved tourist spots in Mathura. It has a play area for kids, locker room facilities and is a great recreational center for tourists and people native to the city. Not only kids, but adults can also have a blast here as the rides are age appropriate for all kinds of tourists.
Time required: 3 – 4 hours
9. Birla Mandir 

Situated around 6.5 km from Mathura junction on the Mathura-Vrindavan Road, the peaceful Birla Mandir, also called Gita Mandir, is among the most famous places to see in Mathura. It happens to be a prominent Hindu pilgrimage site that is frequented by devotees and pilgrims year-round. Dedicated to Lord Lakshmi Narayan, this holy shrine has a remarkable architecture that speaks volumes of its magnificence and shows off its exquisite carvings and paintings with pride.
Time required: 2 hours
8 Wonderful Places To Visit In Delhi In June That Will Not Make You Regret Your Decision
10. Jama Masjid Mathura 

Mathura's Jama Masjid was built in the year 1661 by Abd-un-Nabi Khan, who was the then Governor of Aurangzeb. Featuring four minarets and beautiful mosaic plastering along with stunning intricate carvings, this sanctum is bound to leave you spellbound with its beauty, making it one of the many reasons why Mathura is among the finest places to explore near Delhi. Other than its brilliant architecture, the history and peaceful aura of this shrine also makes it one of the most revered tourist places in Mathura.
Time required: 2 hours
11. Radha Kund 

One of the most prominent Mathura tourist places, Radha Kund is tucked near Govardhan Hill in Mathura. It is mostly popular for its pure and sacred water that is believed to contain magical healing powers, making it an important holy site in the city. The Radha Kund dates back to the days of Krishna and Radha and is a symbol of their undying love. It is said that a single dip in the Radha Kund can rid you of your sins and purify your soul, which is one of the many reasons it serves as a significant pilgrimage site for the locals and devotees who come from far.
Time required: 2 hours
18 Best Places To Visit Near Agra For A Weekend Getaway
12. Government Museum Mathura 

Previously known as the Curzon Museum of Archaeology, the Government Museum in Mathura is situated at the Dampier Park. The local people simply like to call it the Mathura Museum, and never get tired of acknowledging that it is one of the finest museums in the country housing an enormous collection of ancient relics, sculptures, coins, and paintings. Other than historical relics and artifacts, what makes it one of the most respected Mathura destinations is its display of discoveries made by celebrated archaeologists in and around Mathura.
Location: Museum Road, Dampier Nagar, Mathura, Uttar Pradesh 281001
Time required: 2 hours
13. Kans Qila 

Nestled on the banks of the Yamuna River, the majestic Kans Qila is an ancient fortress and one of the best places to visit in Mathura in night. As the name suggests, it is dedicated to Kans – Lord Krishna's maternal uncle. Located close to the Krishna Ganga Ghat and Gau Ghat, this huge fort serves as a popular tourist spot attracting a large number of travelers every month with its Hindu-Muslim fusion architecture. Even though it's in a dilapidated state today, Kans Qila doesn't fail to attract history geeks and architecture lovers from across the country. Given its history and charm the places contributes a lot to tourism in Mathura.
Time required: 2 hours
39 Exciting Road Trips From Delhi To Take With Your BFFs
14. Rangji Temple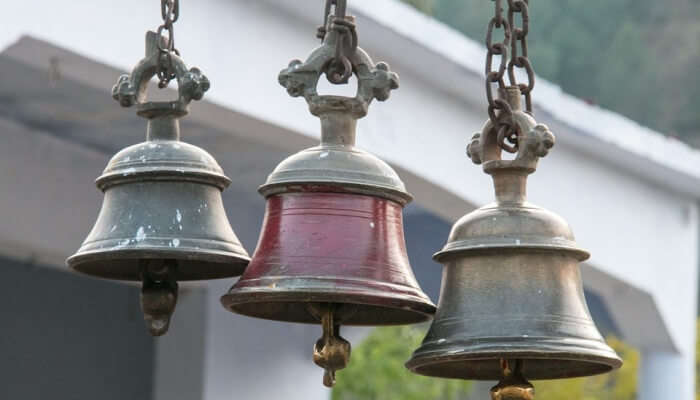 This temple too is considered to be one of the best places to visit in Mathura. Located on the road between Mathura and Vrindavan, this temple has been established as a tribute to Sri Goda Ranagamannar, who is a South Indian goddess as well as Lord Ranganatha who is believed to be a reincarnation of the Lord Vishnu. The temple is admired for its architecture that has been inspired from the South Indian temples.
Time required: 2 hours
15. Kokilavan 

Kokilavan Dham is located at a close distance to Kosi Kalan and is known for Shani Temple, which is devoted not only to Shani Dev but also his guru named Barkhandi Baba. The name of this tourist place in Mathura is based on the fact that it is erected right in the middle of a lush-green jungle. Saturday is known to be the most bustling day of the week.
Location: Kokila Van, Vill Post, Bathain Kalan, Uttar Pradesh 281403
Time required: 2 hours
9 Things To Do In Mathura For An Interesting And Rejuvenating Trip
16. Bhuteshwar Mahadev Mandir

This is one of the most visited temples in Mathura and is established in Garravkendra. Devoted to Lord Shiva, this temple is also believed to be a Shaktipeeth, signifying a mythological story that the ring of Goddess Sati fell here during the time when her body was burning. This is the reason why this place is considered to be sacred.
Location: Bhuteswar, Mathura, Uttar Pradesh 281001
Time required: 2 hours
17. Vaishno Devi Dham

This is one of the most admired temples in Mathura owing to the lifelike idol of Vaishno Devi. Vaishno Devi Dham is more than just a temple. There's a dispensary as well as library established in the temple's complex. The Dham also has two dharamshalas where many devotees come to stay throughout the year.
Location: near jaigurudev temple, Madhavpuri, Mathura, Uttar Pradesh 281004
Time required: 2 hours
16 Temples In Vrindavan: To Closely Observed The Culture Of This Holy City
18. Jai Gurudev Mandir 

This temple is also known by the name Naam Yog Sadhna Mandir. The temple has been built as a symbol of devotion towards Baba Jai Gurudev, who is deeply respected by the devotees. This temple lies between Agra and Delhi on National Highway 2.
Time required: 2 hours
19. Chamunda Devi Temple 

When looking for one of the most visited or admired temples in Mathura, do visit this one for a memorable travel experience. This temple is located on Chamunda Devi Marg. It is quite popular amongst both the tourists as well as locals for all the right reasons.
Time required: 2 hours
6 Resorts Near Mathura For A Luxurious Stay In A Holy Indian City
20. Potara Kund 

Potara Kund is among the popular places to see in Mathura. This is one out of the four kunds in the town of Mathura. It is believed that it is in the pond of this kund where Lord Krishna's clothes were washed. Apart from the mythological aspects, this place is a must visit owing to the awe-striking water tank that has been made with red sandstone.
Time required: 2 hours
21. Dauji Mandir 

Dauji Mandir is one of the most famous places to visit in Mathura. This temple is located close to the southeastern region of the town of Mathura. Apart from the religious reasons, this temple is admired for its historicity. The temple is said to have been established since 5000 years and is dedicated to Lord Balarama, Lord Krishna's sibling.
Location: Mandi Ramdas Road, Mathura
Time required: 2 hours
5 Fun & Frolic Weekend Getaways From Mathura To Refresh Your Weary Soul
22. Iskcon Temple

Image Credit: Rishabh Gaur for Wikimedia Commons
A stunning white-structure and the beautiful idols of Lord Balrama attracts a lot of tourists to Iskcon Temple. This temple is one of the most famous places to visit in Mathura and it is perfect for those who want to relax their weary soul. Visit the temple in the evening and you will a lot of devotees chanting prayers and dancing in the temple. Many foreigners visit the Iskcon temple and attend the morning and evening prayers as this place is surrounded by serenity and a peaceful environment.
Time required: 2 hours
Best Time To Visit Mathura

October to March is the best time to visit Mathura as the weather is pleasant during these months. However, Holi is a brilliant time to visit Mathura to enjoy the special traditions and customs of Barsana, a village in Mathura. Janmashtami, a day to celebrate Krishna's birthday is another important occasion which is very special to experience in Mathura.
Celebrations Of Holi In Mathura And Vrindavan
If you are thinking of going to a destination where you can cam your soul, mind, and body, then Mathura is the places to be. With so much serenity and peace, this destination charms travelers from all over the globe. You must plan a vacation in Mathura and pay a visit to these places. So, wait no more and add these places to visit in Mathura in your itinerary. You are sure to have a lovely time. 
For our editorial codes of conduct and copyright disclaimer, please click here.
Frequently Asked Questions About Places To Visit In Mathura
What are the most popular things to do in Mathura with children?
Mathura has a plethora of temples to visit, however, if you are planning a trip with children there are few activities you can indulge in like, trekking through the Govardhan Parvat, exploring the local food, visit the water park and much more.
What is famous in Mathura?
Famously known as the birthplace of Lord Krishna, Mathura is one of the most-visited pilgrim sites in India. Its old-fashioned architecture and intriguing history captivated vacationers all the more. With attractions like Krishna Janmasthan Temple, Dwarkadhish Temple, Govardhan Hill, Nand Gaon, the destination offers a perfect vacation experience.
What are the top attractions to visit in Mathura?
Some of the best tourist places in Mathura include: 1. Govardhan Hill 2. Krishna Janmasthan Temple 3. Dwarkadhish Temple 4. Radha Vallabh Mandir 5. Vishram Ghat 6. Kumsum Sarovar 7. Nand Gaon 8. Dolphin Water World 9. Birla Mandir 10. Jama Masjid Mathura
What are the best outdoor activities in Mathura?
Govardhan Parikrama, visiting Kusum Sarovar Lake, tasting local cuisine are some of the best outdoor activities in Mathura.
What places can be covered near the Mathura Vrindavan destination?
These are the destinations travellers can visit near Mathura Vrindavan: 1. Taj Mahal 2. Agra Fort 3. Bharatpur 4. Delhi trip including Akshar Dham 5. Fatehpur Sikri
What are some good vegetarian vegan food restaurants in Mathura?
Ammaji's Restaurant, Sagar, Ratna, Bansal Foods, 11 Flowers Rooftop & AC Restaurant, etc are some of the best restaurants in Mathura offering a lovely mealtime.
Which are the best hotels in Mathura?
Some of the best accommodation options in Mathura include Hotel Ganpati Palace, Centrum Hotel by Brijwasi, Madhav Muskan Residency, Hotel Lotus Grand, Hotel Shagun Residency, Hotel Sheetal Regency, The Mansion, and more.
What are the timings of Dwarkadhish Temple?
You can visit the temple from 6:30 am to 10:30 am & 4:00 pm to 7:00 pm during summer and from 6:30 am to 10:30 am & 3:30 pm to 6:00 pm during the Winter season.
People Also Read:
Places To Visit In Parwanoo Places To Visit In Bhuntar Places To Visit In Diu