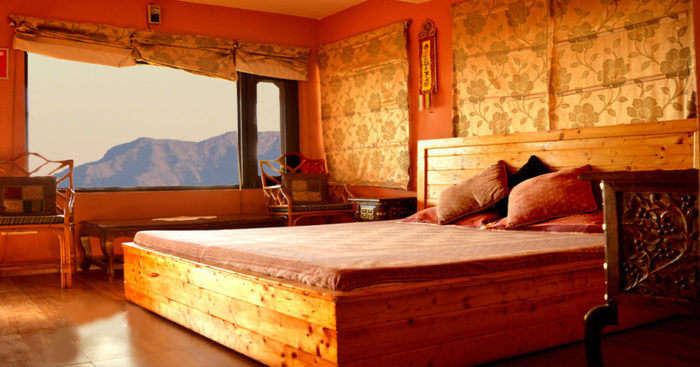 Our choice of accommodation has the ability to make our vacation either too fabulous or just a fail. We must also make sure that our stay exhibits the essence of the place. Kasauli is a lovely hill station in Himachal Pradesh, blessed with nature's abundance and the views of snow-capped hills.
The homestays in Kasauli will please you with delectable food, incredible panorama, sparkling clean floors and all the basic amenities for a comfortable stay. The friendly hosts never fail to add to the beauty of this quaint hill station.
15 Homestays In Kasauli
We have listed down some of the best homestays in Kasauliand its vicinity to add to the beauty of your vacation and to make the planning process hassle-free. Scroll down to explore options fitting different budgets and preferences.
1. Sai Homestay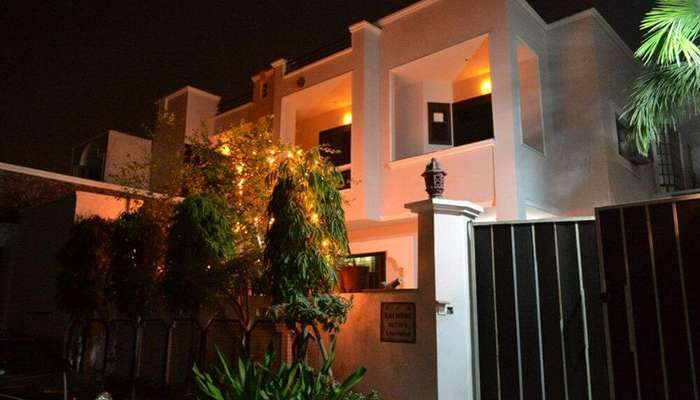 Stunning mountain views, toothsome food, proximity to markets and decorated interiors are some of the perks of your stay in Sai Homestay. Out of all the Kasauli homestays, Sai Homestay is a recently-built homestay with all the modern facilities; while still giving that homely charm amidst snow-capped mountains. The property will certainly add to the fun you are going to have in the little hill town of Kasauli. This pocket-friendly accommodation will make you feel like home while holidaying in Kasauli as its the most budgeted homestays in Kasauli.
Location: 1 Saipuram, Addjoing, 106 M G Shaheed Nagar, Kasauli
Amenities: Well equipped kitchen, Kids friendly, Amazing mountain views, T.V.
Starting price: 1,200 INR per night
Hosted by: Mr. Kamal and his family
Google rating: 4.9 | TripAdvisor rating: 5
Facebook | TripAdvisor Reviews
Must Read: 10 Cottages In Kasauli For Those Seeking Peace & Beauty
2. Sukhmani Homestay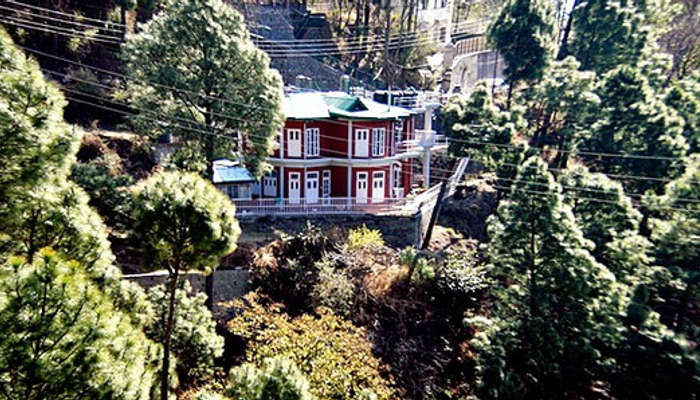 In the league of numerous awesome homestays in Kasauli, Sukhmani Homestay successfully adds to the serenity of this cozy little hill station with its picture perfect setting amidst magnificent mountains and far reaching green lands. Sukhmani Homestay also offers its visitors stunning views of Shimla and Solan Hills. Moreover, with a trained cook who makes scrumptious food, all the foodies are in for a treat at Sukhmani Homestay. The nights just get better here with spacious balconies and incredible mountain views. Undoubtedly, Sukhmani Homestays is one of the best homestays in Kasauli for your stay in Kasauli.
Location: Village Khajret, P.O. Jubbar, Kasauli Tehsil
Amenities: T.v., Music system, Car parking, Fridge, Microwave, Inverter, Room heaters
Starting price: 2,500 INR per night
Google rating: 4.3 | TripAdvisor rating: 4.5
Suggested Read: 7 Things To Do In Kasauli For A Revitalising Retreat
3. Vanshika Homestay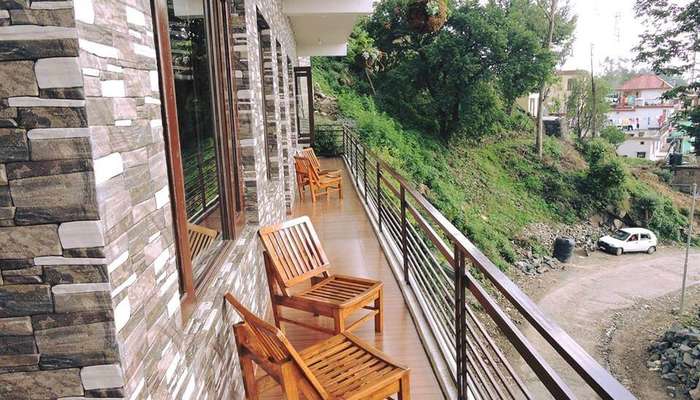 Situated near the very famous Baba Balak Nath Temple, Vanshika Homestay is among the best homestays in Kasauli, Himachal Pradesh. It is an ideal place to stay for people from all walks of life with all the basic essential amenities. Features like cozy-comfortable stays and reasonable prices make Vanshika Homestay stand out of the mob. With heartwarming hosts and relishing delicacies, this homestay has all the powers to steal your hearts. Once here, you will certainly feel like home. This is one of the most preferred homestays in Kasauli Himachal Pradesh as they offer an amazing stay at a very minimal price.
Location: Old Kasauli Road near Baba Balak Nath Temple,Kasauli
Amenities: Rooftop access, Mountain views, Veranda, Parking, Extra Bed (on request)
Starting price: 2,500 INR per night
Google rating: 4.2
4. Yamini Homestay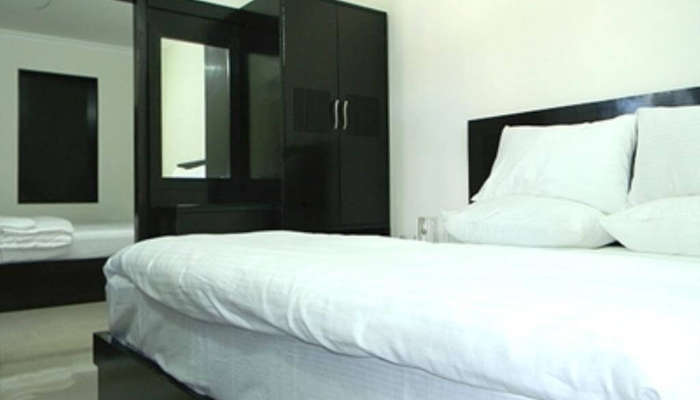 Located at a distance of mere 6 kilometers from the city center of Kasauli, Yamini Homestay is yet another favorite homestay among vacationers out of all the homestays in Kasauli. This cozy homestay provides facilities like car parking, delicious food, clean bathrooms, and free wifi. Pack your bags immediately to explore the unseen in Kasauli with Yamini Homestay. This cozy homestay is a perfect place for people holidaying with family and friends as they have a separate kitchen where you all can indulge in some interesting cooking sessions.
Location: Dharampur, Himachal Pradesh
Amenities: Kitchenette, Free car parking, Free wifi, Mountain views, Room service
Starting price: 3,000 INR per night
Google rating: 3.3
Suggested Read: Auli In Summer: Make The Most Of The Sun, Snow, And Slopes At This Ski Resort In 2021!
5. Lapine Konez Kussowlie Homestay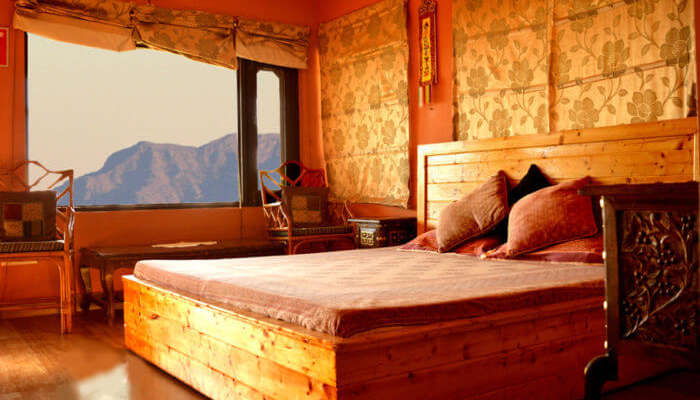 Nestled at an altitude of 1,927 meters, Lapine Konez Kussowlie Homestay is among the excellent heritage homestays in Kasauli. The fact that this is an eco cottage too makes it stand out. From generating solar energy to gardening plants using wastewater and recycling materials to produce organic manure, this homestay has stood up to fight against depleting resources. You would certainly want to stay in here for long, thanks to the beautiful interiors, verdant gardens, delectable food and lovely staff. This accommodation is preferred by couples who are holidaying in Kasauli due to its mesmerizing ambiance.
Location: Major District Road 10, Garkhal – Madhiyana Road, Kasauli
Amenities: Garage, Cots, Satellite T.v., Mountain views, Private garden, Wifi, Terrace/Balcony
Starting price: 3,200 INR per night
Owned by: Ms. Bhavika A
Google rating: 4.7 | TripAdvisor rating: 4.5
Suggested Read: 15 Best Resorts In Kasauli For A Tranquil Getaway In The Peace & Quiet Of Hills!
6. Olive Greens Homestay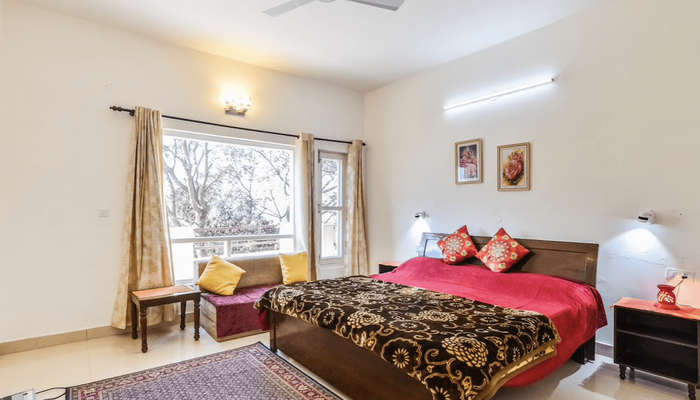 Olive Greens Homestay is one of the famous cheap homestays in Kasauli. After beholding in all the gorgeous sights of Kasauli, come back for a restful stay to relax with unlimited access to Amazon Prime Videos. Olive Greens Homestay also treats its guests with lovely views, blissful mornings, sparkling clean rooms well-equipped kitchens. Staying in this homestay seems the best way to ditch the chaotic life of a city and witness snow-clad mountains. This luxuriating homestay in Kasauli guarantees an awesome vacation to its guests with its exclusive facilities and heart-warming staff.
Location: Garkhal – Madhiyana Road, Opposite to Kasauli Bottom, Kasauli
Amenities: Mountain views, Free parking, Hot water, Microwave, BBQ grill, Internet access
Starting price: 3,900 INR
Hosted by: Guriqbal
Google rating: 3.9
Suggested Read: 15 Best Resorts In Kasauli For A Tranquil Getaway In The Peace & Quiet Of Hills!
7. Bulbul Royal Nest Homestay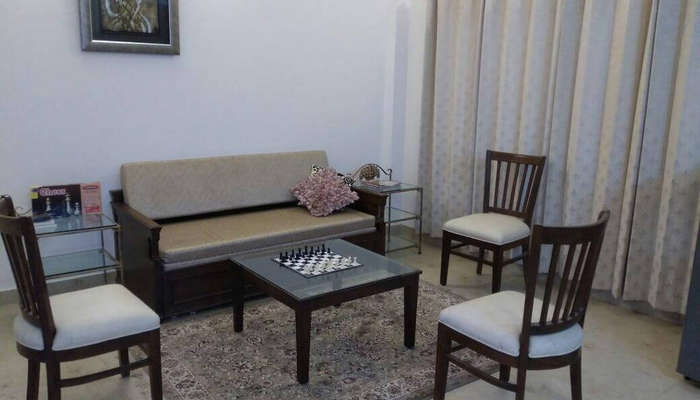 Bulbul Royal Nest Homestay in Kasauli will inevitably give you royal feels in the mountains. This amazing accommodation is famous for its picturesque setting, Bulbul Royal Nest Homestay is among cleanest and the most beautiful homestays in Kasauli. An easy check-in process and 24×7 assistance from the host makes the vacation a hassle-free experience. This homestay has a snooker-pool station in the neighborhood which keeps the guests entertained. If you are looking for nature with comfort amidst the mountains of Himachal, then do hop into this property for a memorable vacation.
Location: Garkhal – Madhiyana Road, Kasauli
Amenities: Free parking, Car rental, Housekeeping, Library, Internet Access, Board games
Starting price: 5,000 INR per night
Hosted by: Brigadier Inderjit Singh (Retd.)
8. Dreamland Homestay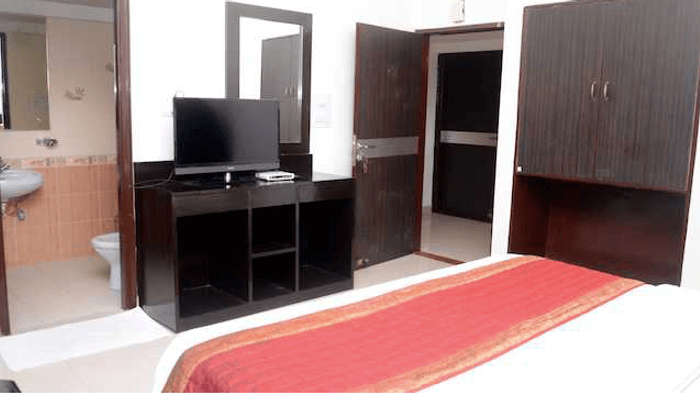 Another place in the store of Kasauli homestays is the Dreamland homestay. Along with a pleasant stay experience, the homestay offers basic amenities as well. Dreamland Homestay is located near the city center of Kasauli. Dreamland Homestay will certainly make your days in Kasauli a memorable affair. Do consider staying here on your next trip to Kasauli for a blissful holiday experience. It is one of the most expensive and luxurious homestays in Kasauli but offers a stunning experience, not to be missed out if holidaying with your significant other.
Location: Near Sai Baba Temple, Kasauli Brewery Road, Garkhal, Kasauli
Amenities: Car parking, Internet access, Room service
Starting price: 10,700 INR per night
TripAdvisor rating: 3.5
9. Whispering Pines Homestay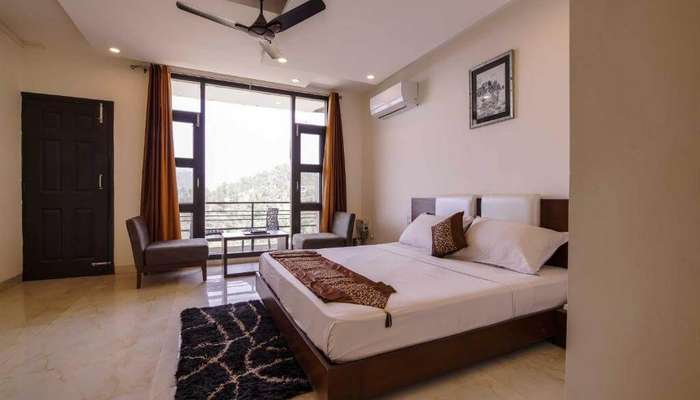 Whispering Pines Homestay is among the favored homestays in Kasauli by all sorts of vacationers. This property offers serene surroundings, cordial staff, pretty interiors and mouth-watering food is what you will experience during your stay here. It is a perfect getaway from the bustling city life, this homestay will indisputably greet you with peace and quality time with your loved ones.
Location: Village Ghardi, Dharampur,Tehsil Kasauli, Kasauli
Amenities: Mountain views, Shuttle service (free), Free car parking, Housekeeping, Internet access, Wheelchair handy
Starting price: 11,300 INR per night
Owned by: Mr. Rajat C
Google rating: 3.6 | TripAdvisor rating: 4
Website | TripAdvisor Reviews
10. StayApart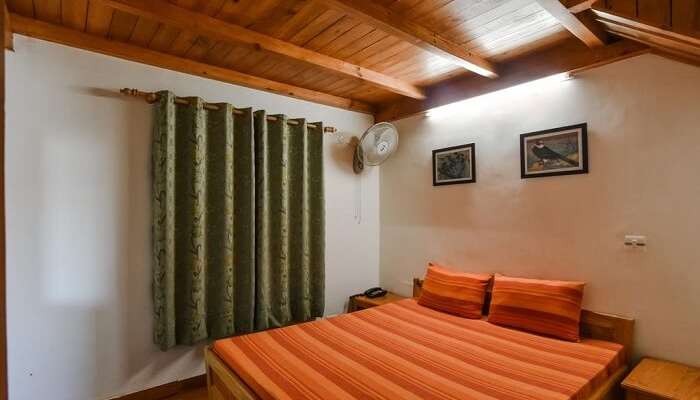 Looking for homestay in Kasauli, Himachal Pradesh? This Stayapart homestay is located at Dochi road and will surely be a perfect delight for you. StayApart is known for its outstanding facilities like WiFi, guest house, furnished rooms, private bathroom, continental breakfast and more. You can also relax at the terrace or the shared lounge and have leisurely hours at your own pace and way.
Location: Dochi Road, Kasauli
Amenities: Free car parking, Mountain views, WiFi
Starting price: 12,000 INR per night
11. Orchid Kasauli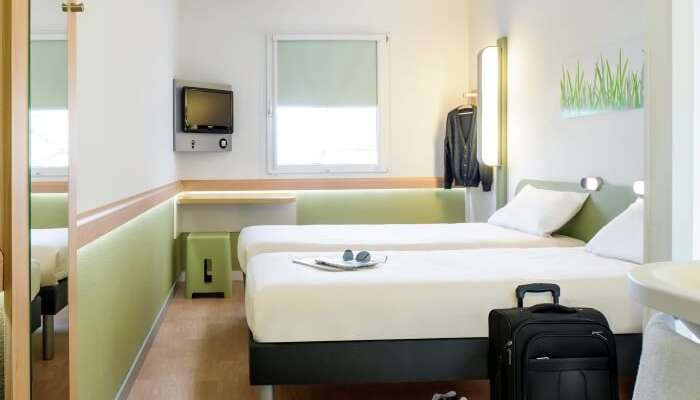 Orchid Kasauli homestay is located in Kasauli at a distance of nearly 26 km from Shimla. This peaceful homestay is located amidst nature's bounty giving a perfect view from the window of your luxuriating room. The gratifying staff of this property ensures that the guests enjoy their vacation to the fullest. This property also provides a free shuttle service to different parts of the town, ensuring the comfortable and hassle-free transfers. If you are planning to go for a pocket-friendly budget then accommodating in this homestay will surely be a smart choice!
Location: Dharampur, Kasauli, Kasauli Tehsil
Amenities: Sun terrace, terrace, breakfast in the room, wifi, free parking, shuttle service, luggage storage.
Starting price: INR 2,400
Google rating: 3.8
Suggested Read: 7 Monuments In Himachal Pradesh For Your Vacay In The Snow Laden State!
12. White Mushroom Valley Homz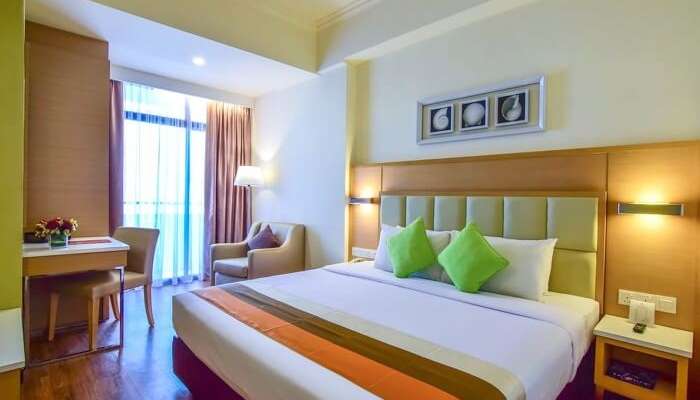 White Mushroom Valley Homz is a family-friendly hotel that offers comfortable stays with luxury at an affordable price. The aesthetics of eclecticism at White Mushroom Valley Homz Kasauli will surely make you fall in love with this enticing accommodation. The property is located at a height of 6,000 feet and has proximity to treks routes and popular temples. One can glance the dynamic and vibrant birds from the terrace and balcony of White Mushroom Valley in Kasauli.
Location: Parwanoo Kasauli Road, Kasauli, Kasauli Tehsil 173204, India
Amenities: Transfers, free parking, indoor play area, wifi, meeting rooms, board games
Starting price: INR 2,557
Google rating: 4 | TripAdvisor rating: 4
Suggested Read: Travel Tips For Himachal Pradesh: 11 Things You Should Know Before Visiting It In 2021
13. 7 Pines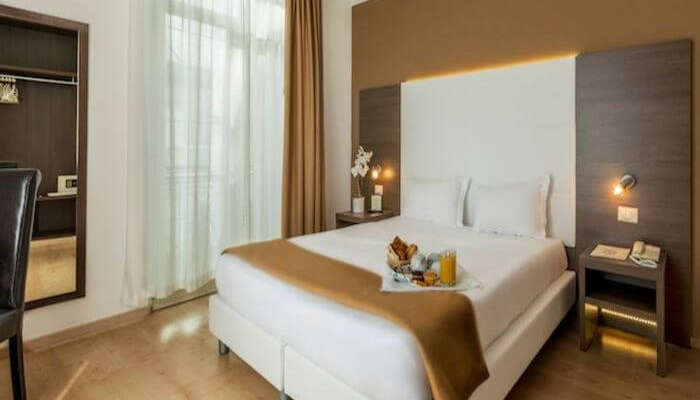 This luxuriating stay is nearly 5.5 hours from Delhi and its colonial ambiance makes it a perfect escape for leisure-seekers. 7 Pines offers elegant and comfortable rooms with separate verandahs giving the sights of mesmerizing hills of Shimla and pristine pine forests. They offer five-type of rooms, that is, hazel standard rooms, pine deluxe rooms, pine superior rooms, cedar executive rooms, and cedar family rooms, each offering an unforgettable stay to their guests.
Location: Jagjit Nagar, Dist-Solan, Kasauli, Kasauli Tehsil
Amenities: Free Wifi, transfers, BBQ, free breakfast, meeting rooms
Starting price: INR 7,877
Google rating: 4.5 | TripAdvisor rating: 4.2
Suggested Read: 7 Best Airbnbs In Himachal Pradesh For One Of The Coziest Staycations Ever
14. The Majestic Cedar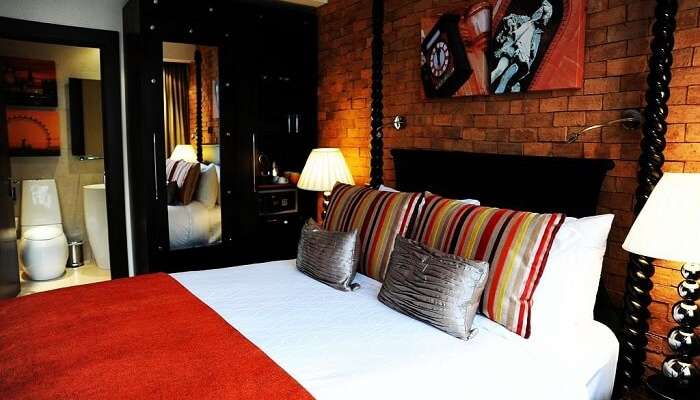 The Majestic Cedar is located on Lower Mall, adjacent to Sunrise Point and purveys the panoramic vistas of Kasauli Hills. This ideal accommodation for groups and families is a delightful retreat for nature lovers. All the rooms at the majestic cedar have a separate balcony giving you a chance to witness the captivating beauty of Kasauli. You can also plan a stay here with your significant other as the ambiance of the property is one of its kinds.
Location: Manki Point Road Lower Mall | Near Sunrise Point, Kasauli, Kasauli Tehsil
Starting price: INR 3,947
Google rating: 4.7 | TripAdvisor rating: 4.5
Suggested Read: 7 Restaurants In Himachal Pradesh That Serve Authentic Himachali Cuisine
15. Seclude Kasauli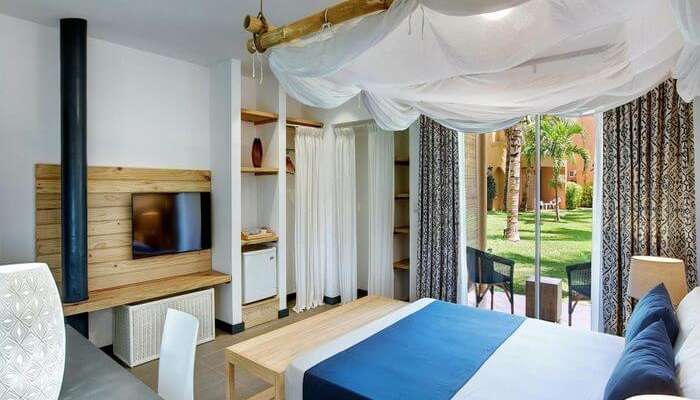 Seclude Kasauli is a three-storeyed cottage comprising nine exclusively designed rooms offering private and gratifying environment. Its proximity to Divine Valley makes is the most preferred accommodation by the wanderers who loves encountering the beauty of nature. This place also has a fully equipped kitchen, giving you an opportunity to cook your own food at your own pace in the mountains of Himachal.
Location: Divine Valley, Solan, Kasauli, Kasauli Tehsil
Amenities: Free parking, free breakfast, books for kids, transfers, wifi, outdoor play equipment for kids.
Starting price: INR 4,719
Google rating: 4.2 | TripAdvisor rating: 4
Further Read: 10 Best Hotels In Kasauli That Offer Incredible Views And Homely Warmth
Wondering where to stay on your next trip to this alluring hill station? Properties mentioned above are carefully designed to cater to all your needs on a vacation. Homestays in Kasauli are a perfect mixture of comfort, homely vibes, cleanliness and luxury, all at budgeted rates. So, get packed and book your trip to Kasauli and kick start your vacation.
Frequently Asked Questions About Homestays in Kasauli
Q. How to reach Kasauli?
A. Reaching Kasauli is not an issue to worry about because of its connectivity to all the major cities across the nation.The nearest airport to Kasauli is located at a distance of 25 kilometres in Chandigarh. There are regular flights from cities like Delhi, Chennai and Kolkata to Chandigarh Airport, from where you can easily hire a cab or taxi to reach Kasauli.
Moreover, there is also a well laid railway network to reach Kasauli and the nearest railway station in Sonwara at a mere distance of 4 kilometres from Kasauli. However, the cheapest way to reach Kasauli is via bus. You can opt for government operated or private buses as per your preference and budget.
Q. What are the famous things to do in Kasauli?
A. Kasauli being a major holiday destination, there is no dearth of things to do in Kasauli. You can go trekking, go for a nature walk, get on the toy train from Dharampur to Barog and savour in Himachali delicacies at various cafes and restaurants here. Also, for the people who'd like to go for a retail therapy, there are a plethora of shops in Kasauli which offer authentic Tibetan products.
---
Looking To Book A Holiday Package?
Book memorable holidays on TravelTriangle with 650+ verified travel agents for 65+ domestic and international destinations.
---
Comments
comments