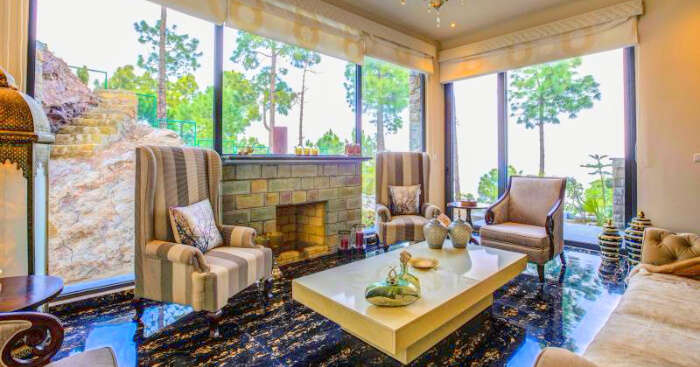 Located midway between Kalka and Shimla, Kasauli is an exciting hill station with lofty hills, valleys and thick alpine woods all around. When you are holidaying in this scenic escape, there are plenty of stay options, to pick from. This time, let's keep aside hotels and resorts and plan a stay in the best cottages in Kasauli. The cottages will not only give you a homelike feel, but their modern amenities and warm hospitality will make the stay worth every bit.
Cottages in Kasauli Hills For All Budget Types
Make sure to plan your stay at one of these finest cottages in Kasauli if you're looking for some relaxation amidst the nature's lap.
1. Pine Homestay – Village Manon, Parwanoo Kasauli Road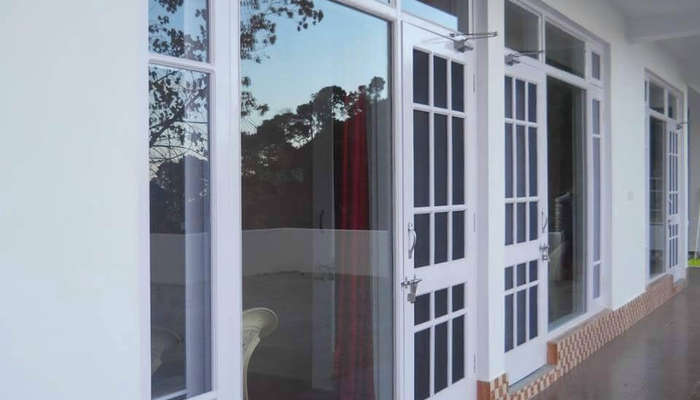 Homelike comfort and world-class facilities are the main highlights of Pine Homestay. Counted as one of the most affordable cottages in Kasauli, this family-run place offers all modern amenities like spotless rooms, hygienic food, and round the clock room service. Here, staying indoor is as rejuvenating as spending time in the lawn and admiring the beauty of lofty hills all around.
Facilities: In-house restaurant, guided nature walks, bonfire on prior request and authentic Himachali food on demand.
Starting tariff: INR 2500/night
Website | Reviews
Must Read: 10 Things To Do In Kasauli In 2021 For A Revitalizing And Rejuvenating Retreat
2. Olive Green Homestay – Garkhal, Madhiyana Road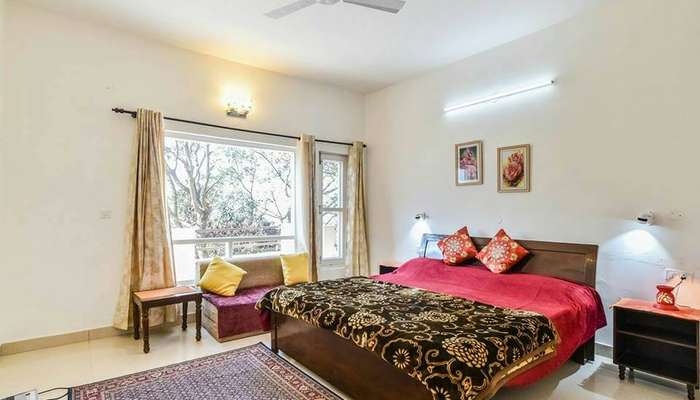 Olive Green Homestay is the ideal place to book, if you are looking for budget cottages in Kasauli. This newly built property has 2 well-appointed rooms with basic amenities and the attached balconies offer panoramic views of the surrounding. There is a sitting lounge, where guests sit back, chitchat or unwind with a book, available in the in-house library.
Facilities: Self-serviced kitchen, internet facilities, room heater, electronic iron, TV with Amazon firestick to stream unlimited Amazon prime videos.
Starting tariff: INR 3,500/night
Facebook | Reviews
Suggested Read: 10 Things To Do In Kasauli In 2021 For A Revitalising Retreat
3. The Attic – Main Cart Road, Kimughat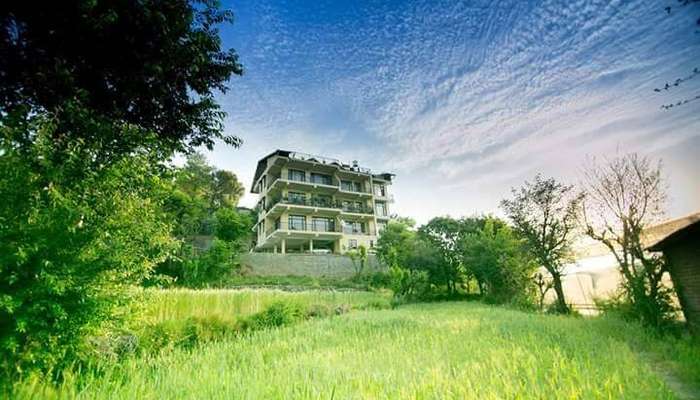 Overlooking Barog, and Kasauli Hills, The Attic is an ideal option for travellers, seeking to relax and unwind. Either you admire the stunning view from the rooms or relax on the recliners on the open terrace and flip through the pages of a book, picked from their stock. Choice is yours!
Facilities: Housekeeping service once a day, bukhari in living room and meals on chargeable basis
Starting tariff: INR 3,500/night
Faceebook | Reviews
Suggested Read: 7 Things To Do In Kasauli For A Revitalising Retreat
4. The Mystic Pines – Nari Mandir Road, Village Chhatiyan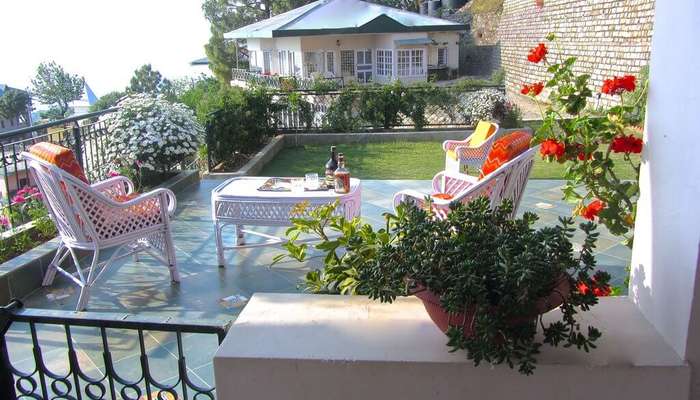 Of all the cottages in Kasauli, Mystic Pines brings you close to nature than no other. Overlooking lush pine woods, this cottage offers 3 sprawling bedrooms, en-suite bathrooms, quick room service and impressive hospitality. Other than all these, Mystic Pines also offer panoramic sunset views over lofty mountains. On prior request, the cottage also arranges for barbeque and bonfire in their private garden.
Facilities: Room service, parking and meals (breakfast, lunch and dinner)
Starting Tariff: INR 3,500/night
Website | Reviews
Suggested Read: 10 Places To Visit In Kasauli In 2021 For Nature Lovers
5. Kashi Villa – Main Cart Road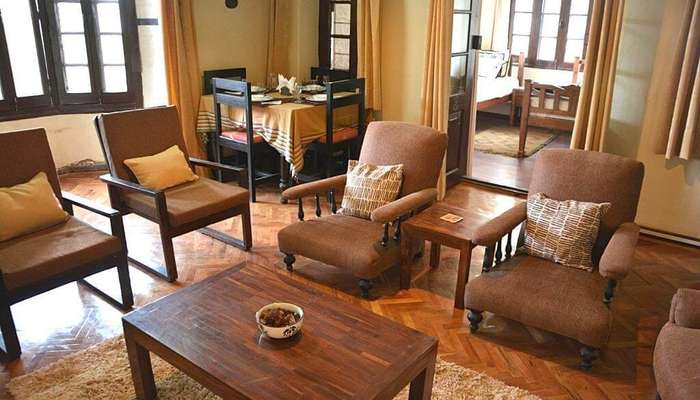 Flaunting sober décor and homelike ambience, Kashi Villa is another Kasauli cottage, located in the heart of the town. This pet-friendly property sprawls over 5 acres and has two suites and one living area and can accommodate up to 6 guests. Offering homecooked food and warm hospitality, this is one home away from home, you would always wish to visit.
Facilities: Private garden, WIFI, barbeque facilities, indoor fireplace
Starting tariff: INR 5,800/night
Facebook | Reviews
6. Rustic Villa – Mohan Mekan Road, Near Kasauli water tanks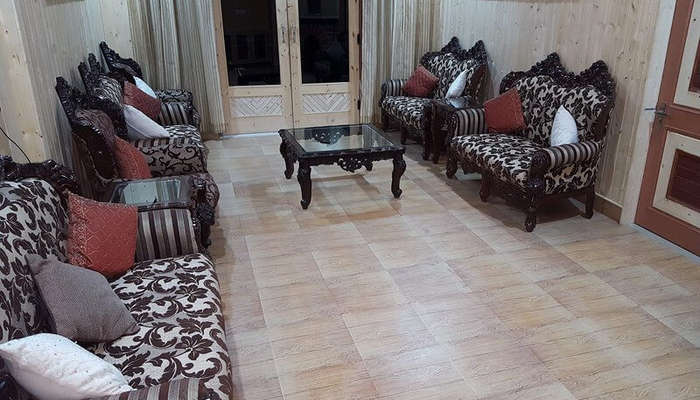 Well-ventilated, clean, and spacious rooms and everyday facilities make this, one of the finest cottages in Kasauli. The classic wooden interior looks stunning while amenities like modular kitchen and home cooked food are surely to win your heart! This one of the finest wooden cottages in Kasauli which will let you enjoy a fancy stay.
Facilities: Complementary breakfast, WIFI, indoor fireplace and private parking facilities
Starting tariff: INR 5,800/night
Website | Reviews
Must Read: 15 Best Resorts In Kasauli For A Tranquil Getaway In The Peace & Quiet Of Hills!
7. The Loft – Near Kasauli Castle Hotel, Kimmughat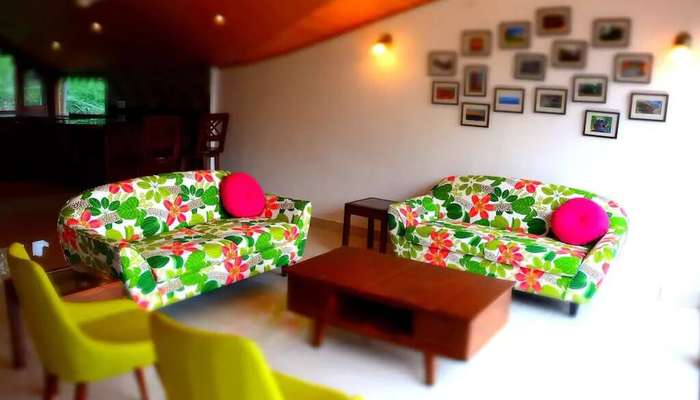 Located near Hotel Kasauli Castle, The Loft is a luxurious villa in Kasauli. It is a 3-bedroom penthouse, with one bedroom located on the attic, promising a jaw dropping view of the hills and valleys. The open kitchen, live barbeque space, private entrance and utmost privacy will surely turn your vacation to a splendid affair.
Facilities: Breakfast, workspace, free yoga class, first-aid kit and free parking in the premises.
Starting tariff: INR 7,500/night
Website
8. The Hermitage – Village Jagjit Nagar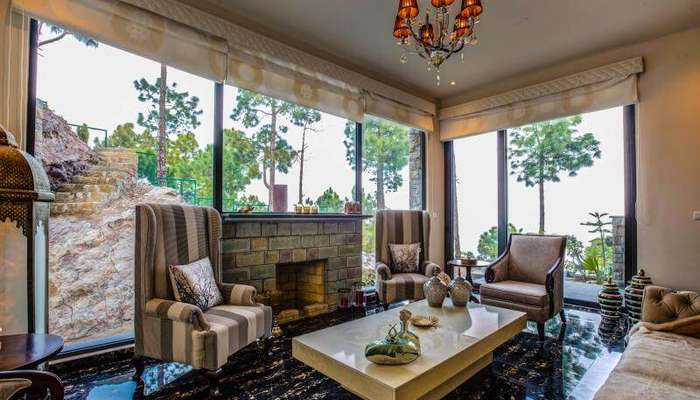 The Hermitage- an exclusive residential villa is one among the best cottages in Kasauli and its sprawling garden, well-designed rooms and artistic interior adds charm to your holiday. The luxury hillside villa is equipped with fantastic facilities like 4 suites, family lounge, recreational area, terrace and balconies. Along with all these, on site housekeeping, spacious parking and prompt room service are additional bonus.
Facilities: Well-appointed kitchen with microwave and refrigerator, pool table, fireplace, indoor games room and library of books and CDs.
Starting tariff: INR 48,000 for the entire villa and INR 12,500 for individual suite.
Website | Reviews
9. Homestead Villa – Lower Mall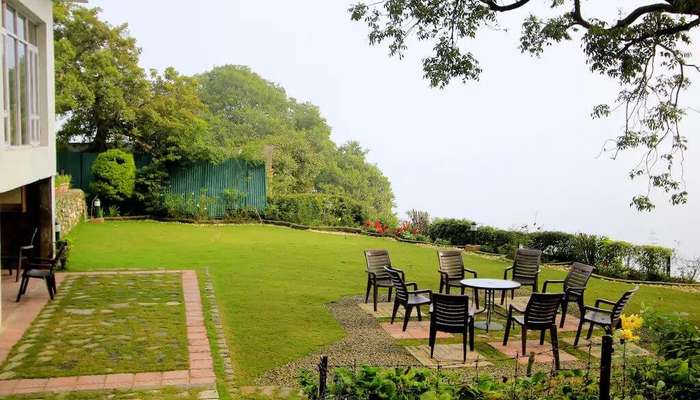 If you are travelling with your family and looking for a nice hideaway in the hills of Kasauli, come to Homestead Villa. This cottage in Kasauli has 5 bedrooms and can accommodate upto 12 people. Moreover, Homestead Villa has a manicured garden which offers stunning views of Garhwal Himalays. Promising absolute serene surrounding and privacy for guests, Homestead Villa, has earned many accolades as one of the most elegant cottages in Kasauli.
Facilities: Caretaker, outdoor dining area, well-equipped kitchen and common lounge area
Starting tariff: INR 29,500 for the entire villa (5 bedrooms)
Reviews
Suggested Read: 10 Best Hotels In Kasauli That Offer Incredible Views And Homely Warmth
10. Windsong Cottage – Village Chabal, Opposite Blossom Hotel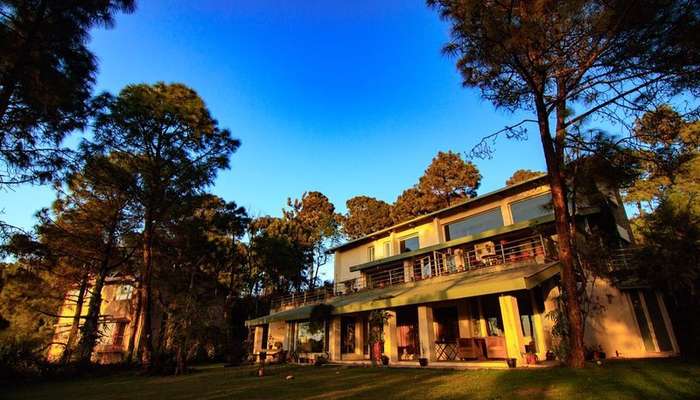 Soak in the aura of nature, during your stay at Windsong- one of the best luxury cottages in Kasauli. This luxury family cottage is available for week long stays like family holidays or honeymoon. With breath taking view of hills and forests, the staff here are dedicated in offering best in class services and hospitality to all its guests. Equipped with 5 well-furnished bedrooms, Windsong Cottage has two well-furnished kitchens for tea, coffee and quick breakfast. Moreover, meals can be arranged on prior notice.
Facilities: Round the clock hot water, wall panel heating facilities, free WIFI and parking facilities.
Starting tariff: INR 35,000/day for the entire bungalow of 5 bedrooms
Website | Reviews
Further Read: 10 Travel Tips You Need To Know Before Visiting Himachal Pradesh
Be it a lazy weekend break or a family vacation, these cottages in Kasauli are just the perfect pick for those who want to get lost in the mountains. So if you're planning a vacation to the mountains of Himachal Pradesh anytime soon then make sure to plan a stay at one of these cottages for a peaceful getaway.
Frequently Asked Questions About Cottages In Kasauli
What are the things to do in Kasauli?
Trekking, Nature Walks, Gilbert Trail, Toy Train Ride, Shopping at Tibetian Market, Taking cable car ride, and visiting monuments are a few things to do in Kasauli for an exciting trip.
How far is Kasauli from Delhi?
The distance between Kasauli and Delhi is about 468 km.
Why is Kasauli famous?
Kasauli is a basically a cantonment town and a popular hill station in Himachal Pradesh that was developed during the British era rule over India and is famous for its colonial-style architecture.
What should be the best time to visit Kasauli?
April to June and then again from September to November are some of the best times to visit this beautiful hill station.
How is the road from Chandigarh to Kasauli?
The best way to reach Kasauli from Chandigarh is by road. Thanks to the excellent roads connecting these places, you can reach Kasauli from Chandigarh in just an hour.
Is there any river in Kasauli?
Kasauli is a beautiful hill station with some of the most amazing views of lush green valleys and everything else that you would wish for on an amazing vacation on a hill station. But there are no rivers and waterfalls around this place. The only river closest to Kasauli is Sadhupul which is around 45 km from Kasauli.
What can I buy in Kasauli?
Kasauli and nearby Parwanoo are famous for its jams, jellies, marmalades made out of apples, plums, peaches and apricots, woolens, Handicraft, and Wines.
Does Kasauli see snowfall?
Yes. If you love snow, you should definitely visit Kasauli between November and March when the weather is extremely cold and the temperature may drop below -4 degree Celcius.
Long Weekend Trips Starting @ Rs 3499/-
Take a trip to spend the upcoming long weekend with your buddies.
✓ Stay at 4 star rating hotels with local sightseeing, meals and transfers.
✓ Travel in AC coach round trip (from Delhi).
✓ All Inclusive Deal– Camping, Jeep Safari & Trekking as per itinerary
✓ Sign up NOW to celebrate the long weekend out of town!
---
Comments
comments