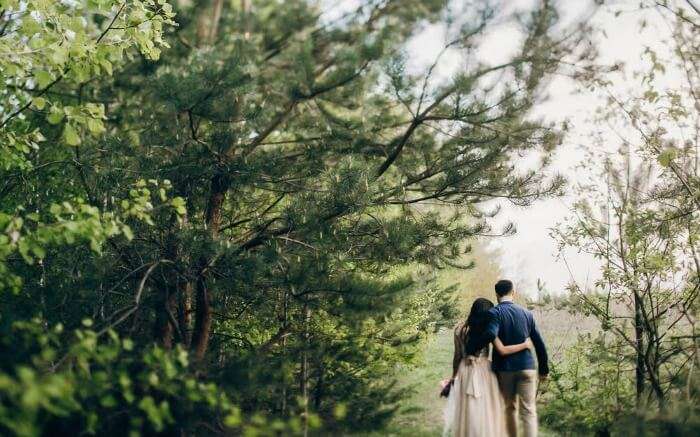 A super tight schedule often leads to a delayed honeymoon, but how about a short yet romantic honeymoon near Pune that needs just 2 – 3 days? So, while you put your long honeymoon plans on hold, just take out a weekend for your much-needed break and visit these beautiful honeymoon places near Pune.
Though a handful, these honeymoon locations are perfect for lovelorn couples to wander through the lush valleys, rejuvenate in a magnificent property, and spend some romantic moments together. Check out the honeymoon places nearby Pune that make a good pick for you.
7 Charming Honeymoon Places Near Pune
Whisk your lover off her feet by taking her to any of these serene and sensuous honeymoon places to visit near Pune! Scroll down and take your pick:
Khadakwasla Dam – Splendid sunsets and serenity
Lavasa – Experience pure bliss
Kune – Scenic backdrop of lush greenery
Karjat – Relax in the tranquil environs
Mahabaleshwar – Most popular weekend retreat near Pune
Dabhol – The pristine seaport town
Palghar – The secret honeymoon hideout
1. Khadakwasla Dam – Splendid Sunsets And Serenity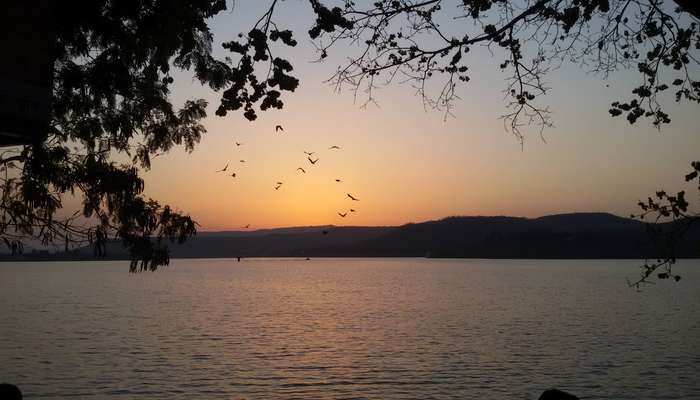 Lakesides will never cease to be romantic and that is exactly why Khadakwasla Dam tops our list of best honeymoon places near Pune. Also, it is not very far and can be reached easily. And while you enjoy the splendid sunsets here, the serenity around will mesmerise you completely. Quaint and lovely stays are easily available at Khadakwasla Dam, making this one of the most sought- places to visit near Pune for honeymoon.
Honeymoon experiences in Khadakwasla Dam: Unfold the mysteries in the ruins of Sinhagad Fort, also known as the Lion's Fort. Watch the sunset from the embankment of the Khadakwasla Lake.
Distance from Pune: 15 km
How to reach: Buses and cabs are easily available for reaching Khadakwasla from Pune. You can also drive.
Where to stay in Khadakwasla Dam: Finding an accommodation near Khadakwasla Dam is an easy task as there are resorts as well as budget hotels around. Wildernest Resort and Savali Resort are among the best and nearest properties from the dam.
Must Read: 8 Most Romantic Restaurants In Pune For An Idyllic Dinner Date In 2019
---
Looking To Book Your Honeymoon Package?
Book memorable honeymoon on TravelTriangle with 650+ verified travel agents for 65+ domestic and international destinations.
---
2. Lavasa – Experience Pure Bliss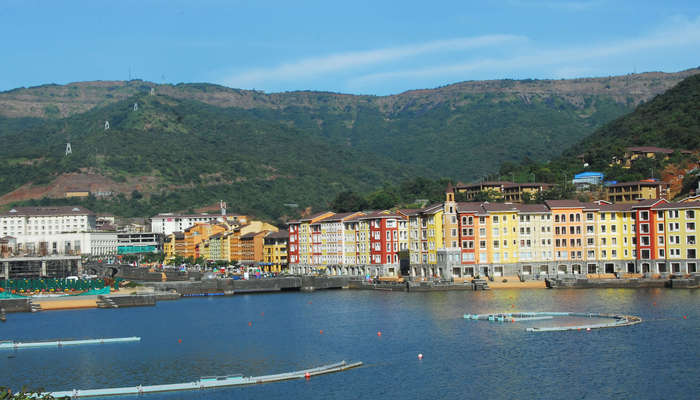 Emerging as one of the best places to visit near Pune for honeymoon, Lavasa is a well-planned private city inspired by Portofino in Italy. Till the time a honeymoon in Italy does not materialize, Lavasa is a great escapade for a romantic weekend near Pune. Here, you have multiple events, tours, eating joints, and options of sports activities!
Honeymoon experiences in Lavasa: Enjoy a soulful stay at the couple suite of the Karvi Spa and rejuvenate with their exclusive therapies. Head to Xthrill Adventure Academy for adventure activities like rappelling, rock climbing, paintball, and more. Pitch & Putt Golf is another attraction of Lavasa where you can indulge in indoor golfing.
Distance from Pune: 60 km
How to reach: The easiest option to reach Lavasa from Pune is via road. The roads are well-maintained and the scenery around is lovely. You can also take a bus till Watunde Bus Stand in Lavasa, which is 20 km away from city center.
Where to stay in Lavasa: Budget-minded or luxury honeymooners, Lavasa has accommodation choices to suit everyone; and this is why this is in our list of honeymoon places near Pune. Hotel Mercure is a brilliant place to stay at for the couples who're seeking a mid-budget accommodation. Ekaant The Retreat, and Fortune Select Dasve are perfect for luxury-seekers.
Suggested Read: 8 Thrilling Adventure Sports In Pune & Around
3. Kune – Scenic Backdrop Of Lush Greenery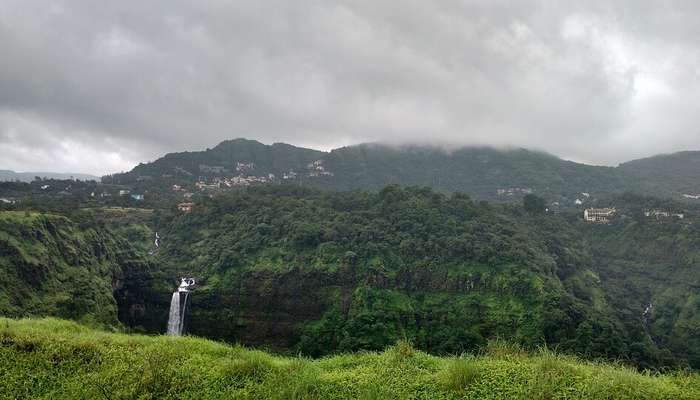 Popular for its gushing waterfalls and lush valleys, Kune is among the best honeymoon places around Pune for many reasons. Kune village in Khandala connects you with nature's raw beauty. The days are prettified with chirping birds and evenings with the golden tinges of the setting sun. As the night sky approaches, spend some time stargazing and holding hands in one of the best places near Pune for honeymoon.
Honeymoon experiences in Kune: Kune Village is known for scintillating waterfalls. A walk through narrow verdant lanes will get you to the bottom of these waterfalls, so you two can splash in. Also, camping in Kune is an awesome experience. Just make sure that you collect fire woods before it gets dark; a bonfire will keep you warm and insects away.
Distance from Pune: 70 km
How to reach: You can always opt for self drive as the route is scenic. However, buses are easily available from Pune to Khandala. Since there is no railway station in Khandala, you need to get off at Lonavala Station, if opting for train travel. From the station, it's just 25 minutes of walk, which is the best way to reach Kune. You can also hire a local conveyance to reach, which will be easy as this is one of the most popular honeymoon places nearby Pune.
Where to stay in Kune: If you are an adventurous and nature-loving couple, go camping in Kune. If comfort is your priority on your honeymoon in Pune, you can explore accommodations like Hotel Sharda, Divine Villas, and Della Resorts Villas.
Suggested Read: 9 Stunning Resorts Near Pune For All Your Kickass Weekends
4. Karjat – Relax In The Tranquil Environs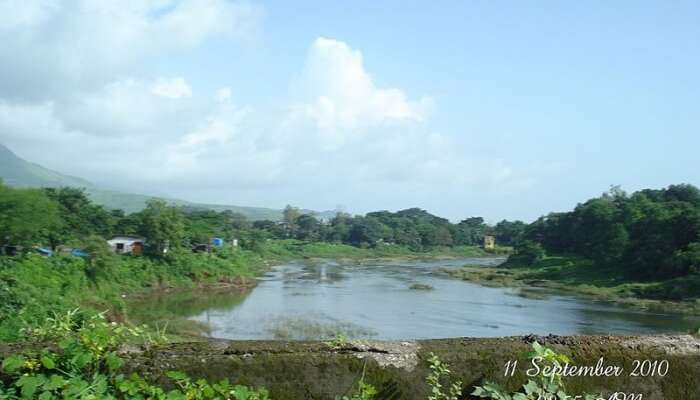 A beloved weekend getaway from Pune, Karjat is bestowed with nature's abundance. Flourishing greenery is its most striking attraction, but not the only one. Karjat pleases with a number of activities such as river rafting, mountain climbing, trekking, nature walks, and hiking.
Honeymoon experiences in Karjat: Karjat is one of ideal places for camping near Pune, and it only gets better when you're here with the one you love. Other than camping, you two can make the most of your time in Karjat exploring the historical landmarks like Kothaligad (Peth) Fort and Kondana Caves, making this one of the best honeymoon places to visit near Pune.
Distance from Pune: 106 km
How to reach: Pune to Karjat is just a 2 hour drive with remarkably enchanting panorama along the way. If not your own vehicle, go for a bus ride all the way to this romantic hideout.
Where to stay in Karjat: There's quite a competition among different properties in Karjat to please the travelers with the best accommodation possible. This gives travelers a number of options for availing the coziest property at an unbeatable price. Tanmay Farms, Pinewood Resort, and Monteria Resort are among the best resorts in Karjat.
Suggested Read: 21 Best One Day Picnic Spots Near Pune In Summer 2019
5. Mahabaleshwar – Most Popular Weekend Retreat Near Pune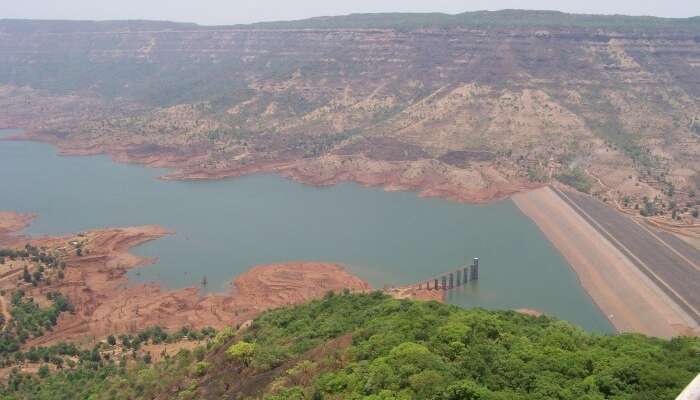 Mahabaleshwar is famed as one of the places to visit near Pune for honeymoon for all the right reasons. It boasts of scenic tourist attractions, exciting things to do, and relaxing resorts for newlyweds. Cloud kissed hillocks of the Western Ghats look straight out of a dream.
Honeymoon experiences in Mahabaleshwar: Among the most romantic things to do on your honeymoon in Mahabaleshwar are floating on the glinting waters of Venna Lake in a shikara, hiking to the highest point of Mahabaleshwar – Wilson Point for magnificent views of the Western Ghats, sprinkled with greenery and embraced by clouds.
Distance from Pune: 120 km
How to reach: By road is the best option to commute between Pune and Mahabaleshwar. If not going for self-drive, you can get on a bus heading to Satara, and further take another bus/tempo to reach Mahabaleshwar from Pune.
Where to stay in Mahabaleshwar: Since Mahabaleshwar has always been among popular weekend getaways from Pune there are numerous hotels and resorts serving incredible stays for different pockets. Bharat Hotel is great as a mid-range choice, and if you're looking for a little opulent side Evershine Keys Prima Resort and Le Méridien Mahabaleshwar Resort & Spa are recommended.
Suggested Read: 15 Utopian Romantic Places In Pune And Around
6. Dabhol – The Pristine Seaport Town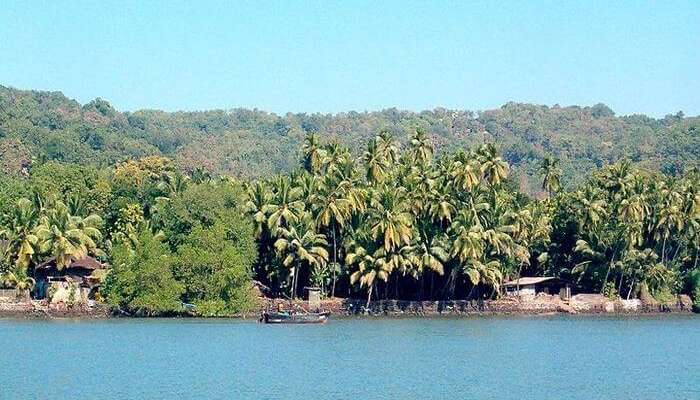 Dabhol is another less explored spot among places to visit near Pune for honeymoon. Come here to enjoy its unspoiled beauty and complete serenity. One of Dabhol's major attractions is its location; it is right beside the confluence of Arabian Sea and Vashisht River.
Honeymoon experiences in Dabhol: Take a long walk along the empty coast up to the confluence at dusk and watch a gorgeous sunset with your better half.
Distance from Pune: 211 km
How to reach: Nearest station from Dabhol is Khed, located on the Konkan Railway line. Direct trains from Pune are available for Khed, and from here shared jeeps, private cabs, buses and auto rickshaws will help you reach Dabhol.
If planning to go by bus, get off at Dapoli. From the station, you'll find public and private transport that'll drop you till Dabhol.
Where to stay in Dabhol: As Dabhol is not majorly explored by mainstream tourists, there aren't many stay choices in Dabhol. The accommodation is majorly basic, but the untouched beauty of this place totally compensates for it. Kinara Guest House, Ashwamedh Resort, and Akshay Holiday Home are three accommodation options you have here.
7. Palghar – The Secret Honeymoon Hideout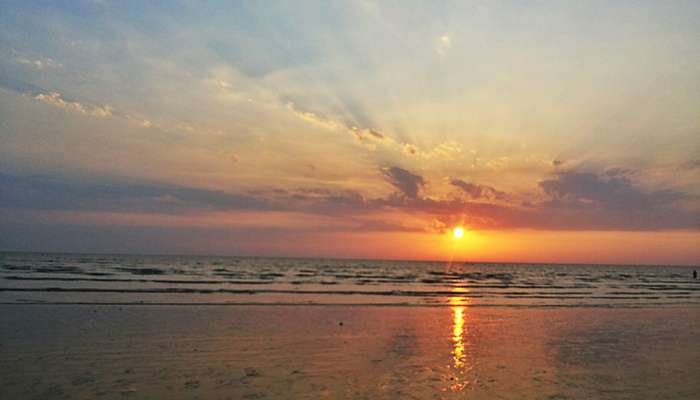 Looks like there is no dearth of small but beautiful towns that make for awesome honeymoon spots near Pune. Palghar – a coastal laid-back town is also one of them. It suits all notions of a romantic escape – right from privacy to beautiful views to awesome stays. And it is so close that neither budget, nor time is a problem. Palghar is a place that can be counted as one of the most peaceful honeymoon places near by Pune.
Honeymoon experiences in Palghar: Sneak out of the hustle and bustle of Pune to snuggle in the cozy resorts of Palghar for a day or two. The beaches here aren't crowded, so you both can find your own corner and watch the sunset together.
Distance from Pune: 246 km
How to reach: Palghar has its own station, well connected to Pune. You can also board buses heading to Palghar, in order to reach this coastal town.
Where to stay in Palghar: You'll easily be able to find accommodation in Palghar as per your budget. Many accommodations here assure the closeness to nature, along with ample comfort. Hideout International Eco Center, and Nature Stay are among the best options to consider.
Further Read: 17 Monsoon Trekking Destinations Near Mumbai & Pune You Have To Start Planning For Right Away
Who said you have to cover thousands of miles for an exotic honeymoon? Both the destination and the journey are sure to become wondrous when you have the right person beside you! So, what are you waiting for? Plan a romantic trip to any of these fascinating honeymoon places near Pune.
Frequently Asked Questions About Honeymoon Places Near Pune
Q. What is the best time to visit Mahabaleshwar?
A. The best time to plan a trip to Mahabaleshwar is between March to June when the weather is pleasant and the temperature stays between 15°C and 35°C.
Q. What is the best time to visit Panchgani?
A. September to May marks the ideal time to visit the hill town of Panchgani, one of the best places near Pune for honeymoon.
Q. Is Mahabaleshwar good for honeymoon?
A. It offers to honeymooners both easy and comfortable accommodation, as well as lots of quiet, undisturbed places among stunning landscapes to help nurture their love.
Q. What is a good honeymoon budget?
A. An average honeymoon is 7 days/6 nights, and the average price per couple is $5,000.
Q. Where can I go for a honeymoon near Pune?
A. Here are a few romantic spots near Pune:
1. Lonavala
2. Mulshi Dam
3. Pawna Lake.
4. CopaCabana.
5. Osho Garden
6. Empress Gardens.
7. Bund Garden
8. Okayama Friendship Garden
Q. Which is a good place for honeymoon in India?
A. The newlyweds can plan a trip to heaven on earth Jammu & Kashmir or book a flight to Goa, the wondrous beach land in India.
---
Looking To Book An International Honeymoon?
Book memorable honeymoon on TravelTriangle with 650+ verified travel agents for 65+ domestic and international destinations.
---
People also read:
Islands for honeymoon Top honeymoon destinations in 2018 Honeymoon resorts in Jordan
Comments
comments