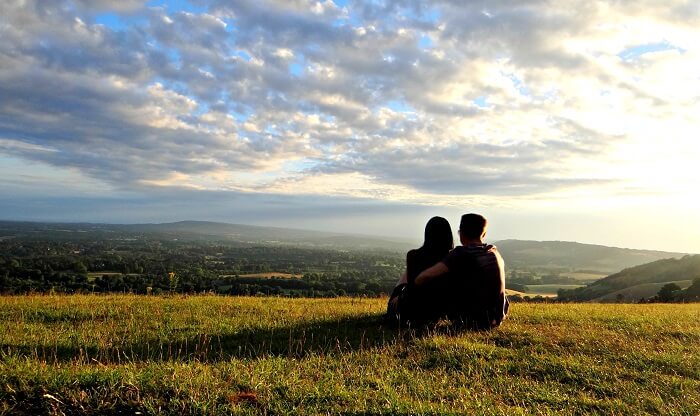 Lively, fun, romantic, and awe-inspiring – Pune is marvelous in its own right. The saying 'romance is in the air' truly befits Pune. Full of whimsical places that inspire romance and passion, there are a number of romantic places in Pune that entice couples like flames draw moth.
There are reservoirs, ruins, restaurants, hill stations and so much more for you to explore with your partner. While we zip up a list of 15 utopian romantic places in Pune, we unravel just a few of the romantic retreats, among many others.
1. Lonavala – The queen of romanticism near Pune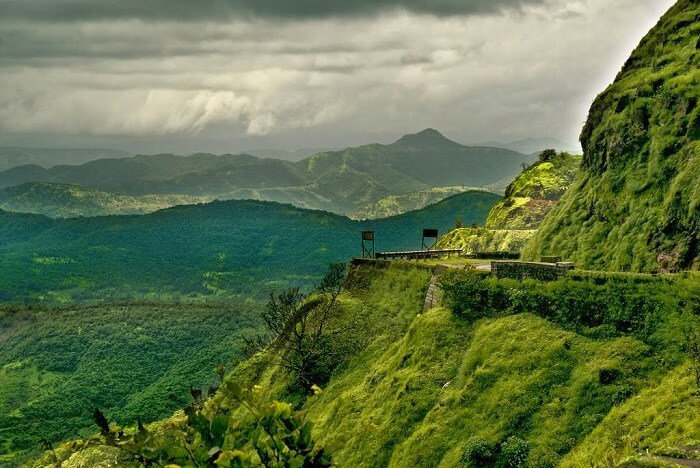 Lonavala needs no introduction. But if you are a newbie in town, then Lonavala must be introduced as one of the most stunning romantic places near Pune. Its verdant surrounding and all year-round pleasant weather are perfect for a close-to-nature date. The rains are not limited to monsoons here. The frequent light drizzle sets the perfect mood for a romantic getaway. Its soul-soothing beauty and undisturbed tranquility draws in couples from all over Maharashtra. The clouds intervening in your date prove to be harbinger of good days to come.
Things to do: Have a picnic and enjoy the awe-inspiring surroundings of Lonavala with your partner; venture on a bike trip to feel the wondrous nature to the fullest; take in the eye-soothing sceneries; visit the orchards and relish the sweetness of freshly plucked fruits; dance in the capricious rains; and sit back on moody sunlit days.
Privacy rating: 9/10
Distance from Pune: An hour's drive via Mumbai-Pune Expressway
Suggested Read: New Year Party In Pune: 15 Places For A Hot And Happening Celebration In 2019
2. Lavasa – The man-made hill station near Pune
That's right, the man-made hill station is the ultimate places to visit near Pune for couples. Its high resemblance to a riverside English town is not accidental. The architects and designers of the station have ensured it. Scenic hills, high fountains, musical lights, quaint cafés, little bistros, and bridges at the lakefront add to the mysticism of Lavasa. From boutique hotels to budget stays, Lavasa caters to every set of tourists.
Things to do: Take morning stroll at the embankment and enjoy the rising sun; gorge on delicacies from various restaurants and bistros; carry a bottle of wine or spritzer and share on a romantic evening with your lover.
Privacy rating: 9/10
Distance from Pune: 1 hour 45 minutes via Temghar-Lavasa Road
3. Lohagad – A luscious romantic place in Pune, full of nature and mysticism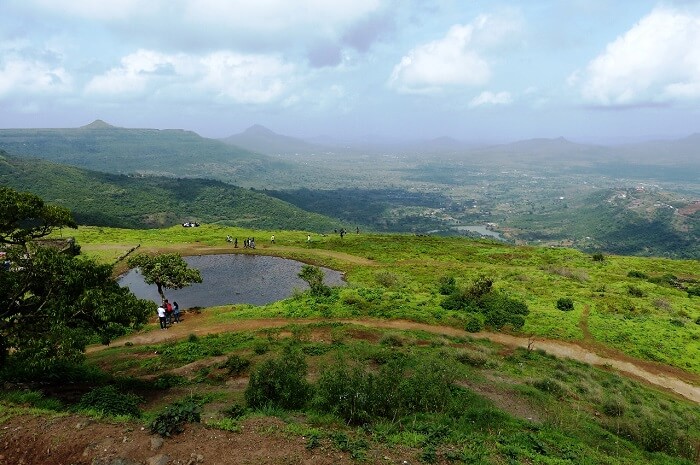 One of the lushest green areas in the vicinity, Lohagad is definitely a treat to the eyes and among most idyllic couple points in Pune. With its breathtaking surroundings and historical ruins, Lohagad Fort stands tall and proud in our list of romantic places in Pune. This is the place where you can find much needed solace with your partner, right in the lap of nature. Enjoy the views from the top and capture the moments in your camera. The beautiful, mystical lake at the top is another story altogether. Surrounded by luscious greenery and some of the most beautiful views, the lake is the right place to lay down and enjoy the wonders of Mother Nature.
Things to do: Trek to its height of the fort and enjoy while doing so with your partner. The fun of sharing the journey is unmatchable. Take in the surroundings and play a game of tag-for-two, to make it more memorable. Share junk food and fight for that last potato crisp. In short, whatever you do, just do it with a heart full of love and everything else is all set for you.
Privacy rating: 8/10
Distance from Pune: 1 hour 35 minutes via Mumbai-Pune Expressway
Must Read: 8 Enticing Resorts In Pune For Couples To Revive, Rejuvenate, And Rekindle Romance!
4. Sinhagad – The beauty of the ruins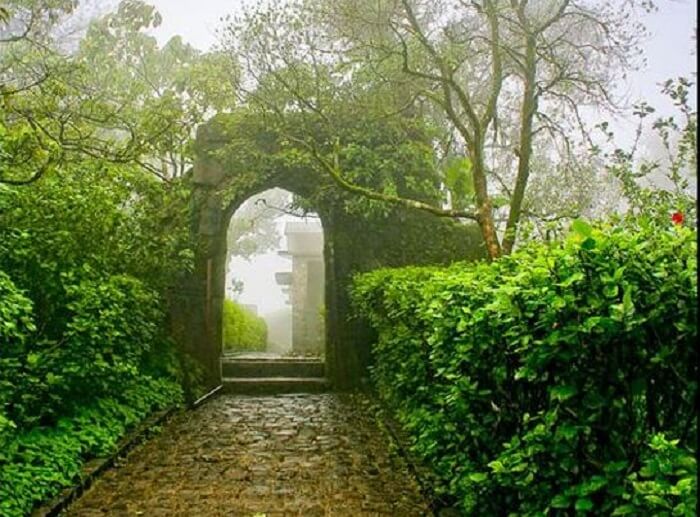 Create your own love story while being surrounded by the ruins of a very rich history. Enjoy your quality time with your lover while relishing the views from the top of the fort. Several little haunts, which were once posts to keep watch, now serve as private chambers for many couples. Sinhagad attracts couples as much as it attracts history lovers. The undisturbed surroundings are really enthralling and sooth even the most distress of relationships.
Things to do: If your lover is as much of an adventurous soul as you are, then Sinhagad Fort is the place for you. Trek to the heights of the fort while sharing anecdotes of your lives; enjoy the tranquility of the surroundings while relishing the companionable silence; and click selfies while sharing this intimate exercise with your partner.
Privacy rating: 8/10
Distance from Pune: 1 hour's drive via NH4
5. Hadshi – The unconventional one of the romantic places near Pune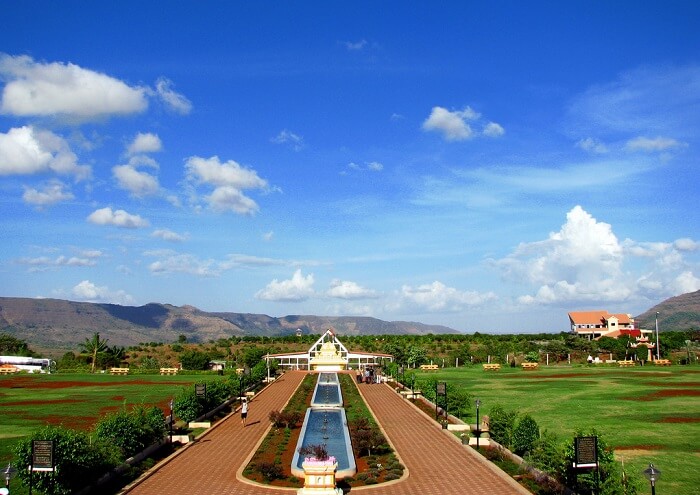 The picturesque beauty of Hadshi is the major draw for people. Actually an ashram near Lonavala, Hadshi is among loveliest places to visit near Pune for couples, in unconventional settings. You may not be able to embrace each other or give a peck, but the peace of the place will ensure that your love bond is strengthened. You can sit on the picnic benches and share your fears and joys with each other. Truly a get-to-know-each-other kind of date can be accomplished here without much hassles.
Things to do: Take in the beauty of the ashram and marvel at its simplistic beauty; stroll through the gardens and enjoy the sights; sit on the naked grass and have a peaceful day while having the time of your life with your lover.
Privacy rating: 7/10
Distance from Pune: 1 hour 20 minutes via Paud Road
PS: Please ensure that you don't break or threaten the sanctity of the place. While a good place to sit and talk with your partner, it is not the place to embrace and kiss.
6. Shaniwarwada – The newly popular fort of Bajirao Mastani fame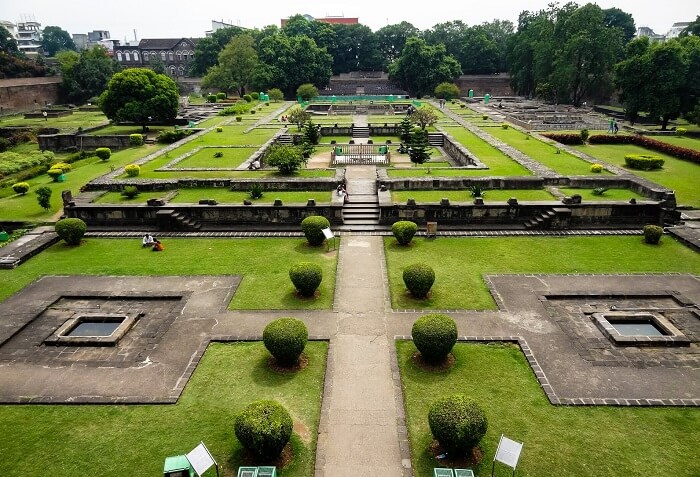 Shaniwarda Fort of 2015's blockbuster period-drama, Bajirao Mastani fame has garnered ten-fold attention after the acclaimed movie came out. The beauty of the palace/fort was not exaggerated in the movie. With its green premises, the architectural wonder has proven it worth. The beautiful fountains and manicured lawns create an aura of romance and mysticism in the air, making it among loveliest gardens in Pune for couples. The ruins along with its now well-acquainted history add the character to the fort palace.
Things to do: Get acquainted with the ruins of the fort and share this experience with your soul mate; relish the beauty of this architectural marvel while enjoying the company of your partner; sit back and have some down time with your lover on the pristine lawns of the fort, and recreate the moments from the movie.
Privacy rating: 8/10
Must Read: 15 Road Trips From Mumbai That Must Be On Every Traveler's Bucket List
7. Mulshi Dam – A beautiful spot with verdant surroundings for lovers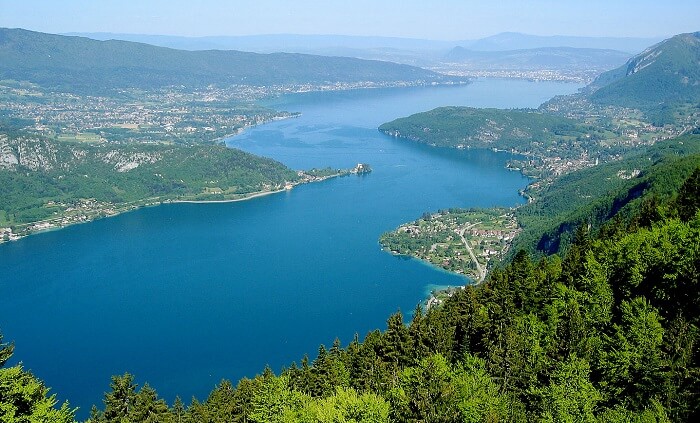 Hidden in the flourishing surroundings, Mulshi Dam is one of the romantic places for couples around Pune. Lush greenery, flowing water, pleasant weather, and an awesome partner are the only things required here to make your day memorable. Mulshi Lake is also emerging as a new hot-spot for picnics. Pack a day basket and some couple board games to relish your partner's company in these verdant ambiance.
Things to do: Have a picnic with your love on the sprawling meadows; go boating in the lake when the water is calm; take your favorite reads along and enjoy a peaceful intimate read while lounging on the picnic benches; and don't forget to click with the exotic migratory birds in the background.
Privacy rating: 8/10
Distance from Pune: 1 hour 50 minutes via Paud Road
Suggested Read: 10 Most Romantic Restaurants In Pune For An Idyllic Dinner Date
8. Panshet Dam – A romantic place for adventure loving couples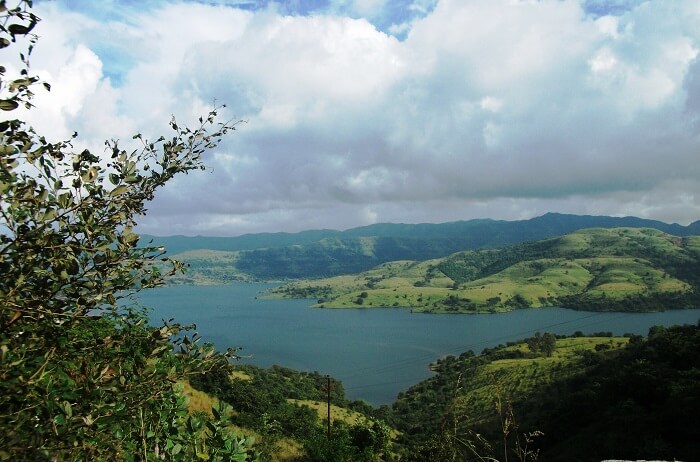 Panshet is the destination for you if you both are adventure freaks. A right mixture of adventure and romance, Panshet has been among popular places among couples in Pune for a long time. Hit the reservoir to have a fun-filled date with your partner and enjoy the stunning sceneries with background music of gushing water to set the perfect mood. The paths are good for cycling.
Things to do: Indulge in water sports like banana ride, zorbing, speed boating, water-scooter riding, kayaking and diving. A popular cycling destination, Panshet can be your destination for a cycling cum romantic date with your partner.
Privacy rating: 8/10
Distance from Pune: 1 hour 15 minutes via Sinhagad Road
9. Khadakwasla Dam – Luring panoramic views and extreme beauty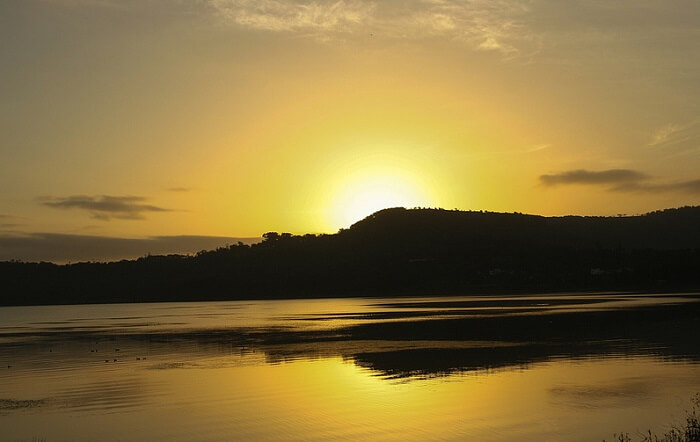 Remarkable surroundings, fervent greenery, gushing water, enjoyable weather, and amazing views – this is the story of Khadakwasla Dam. The panoramic views of the waterbody attract many couples in their bounds. One of the best romantic places in Pune, the dam is known for its undisturbed beauty. While not many venture into the area, it is still considered safe due to the bases of National Defence Academy and Central Water & Power Research Station (CWPRS) there. Some very beautiful birds flock to the reservoir in search of food. All in all, it is one of the most surreal romantic places to visit in Pune for couples.
Things to do: Take in the stunning surroundings of Peacock Bay and hunt for the beautiful bird; create some memories in the rusty settings of Kudje Village and Bahuli Village; take a walk, hand-in-hand with your partner, along the makeshift 'chowpatty' of Khadakwasla Dam.
Privacy rating: 7/10
Distance from Pune: 32 minutes via Narveer Tanaji Malusare Road
PS: Be careful of getting into the water as there have been many accounts of crocodile findings in the area.
Suggested Read: 10 Beautiful Pre-Wedding Photoshoot Locations In Pune
10. Osho Garden – The serenity here will leave you spell-bound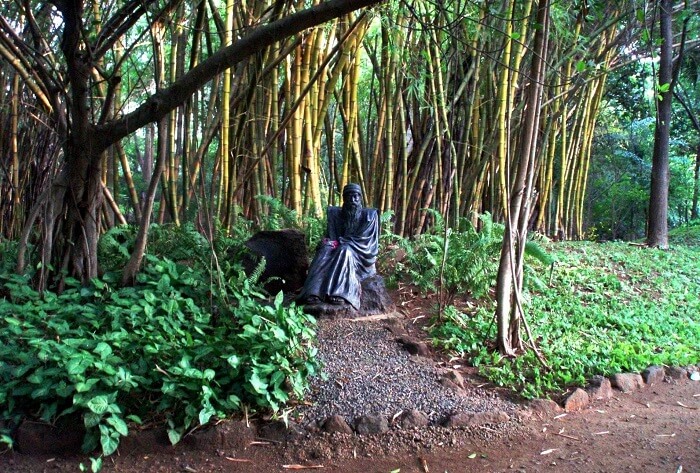 Not just a monk's paradise, Osho Garden is also a haven to couples. The tranquility and calmness of the garden ensures rich, undisturbed time to the couples. The beauty of the garden is perfect to kindle the love and camaraderie, and its peace is spellbinding. In fact, Osho Garden is one of those places where you can hang out with your lover, share some sweet moments, and be assured that no one will try to harass you for it.
Things to do: Take a walk and enjoy the greenery surrounding you; simply revel in the serenity of the place.
Operational hours: From 6 am to 12 am, daily
Entry fee: None
Privacy rating: 8/10
11. Okayama Friendship Garden – A Japanese-style garden in Pune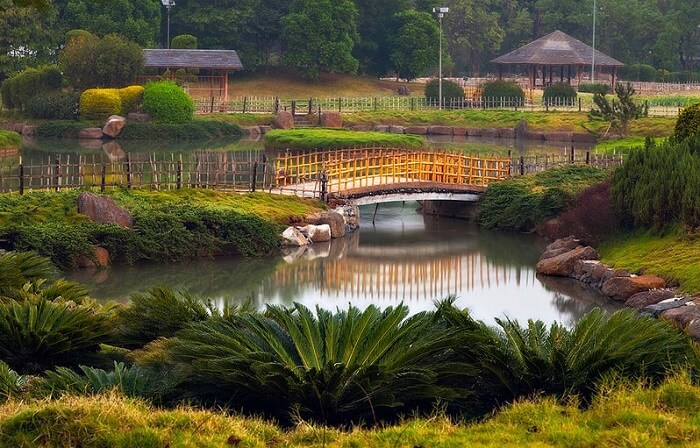 Nicely erected bamboo plantation, pristine white waterfalls, intricately beautiful Japanese structures, fabled straw bridges, thatched rusty gazebo style hutments, and aromatic flora of Okayama Friendship Garden make it one of the most beautiful romantic places in Pune. The manicured lawns and well-maintained pathways ensure a disgust-free walk with your partner. Some of the rare fantastic plants also make room for some new exploration within the confines of this garden. Also known as Japanese Pune Garden and Pu La Deshpande Garden, Okayama Friendship Garden is one of the most enchanting places to visit in Pune for couples.
Things to do: Take a romantic walk in the greenery and have a heart-to-heart; play fun games to enjoy the company of your loved one; a nice paperback can be your true companion – read your favorite excerpts to your partner.
Operational hours: From 6 am to 10.30 am, then from 4 pm to 8 pm, daily
Entry fee: INR 10 per adult and INR 5 per child
Privacy rating: 7/10
12. Mezza9 – A delightful setting to enjoy a romantic dinner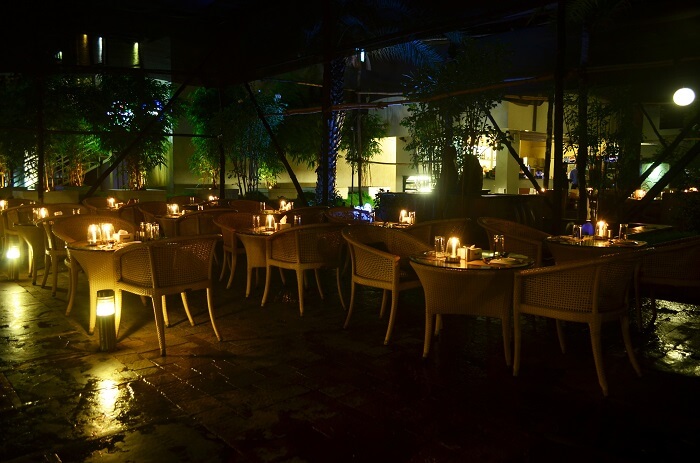 Mezza9 is one of the classiest places in Pune for couples. The ambience is rich and cozy with options of both outdoor and indoor seating. Its scrumptious delicacies will leave you craving for more. Lively music and soft lighting help set the mood right. It is truly an incredible place to start your evening or to end your date on a high note.
Must-try dishes: Bhuna Mutton, Jerked Shrimp, Mushroom Aglio Olio, Bouillabaisse Soup, Vegetable Steak, Brazilian Prawn Stew, Smoked Chicken Salad, Cajun Kingfish, Prawns Newburg, Chicken Schnitzel, Chicken Cacciatore, and Harvest Supreme Sizzler
Cost for two: INR 1,600 approximately
Take a look at their Zomato reviews to know more.
Suggested Read: 10 Best Hill Stations In Maharashtra That'll Leave You Speechless
13. Cocoparra – The perfect al fresco dining date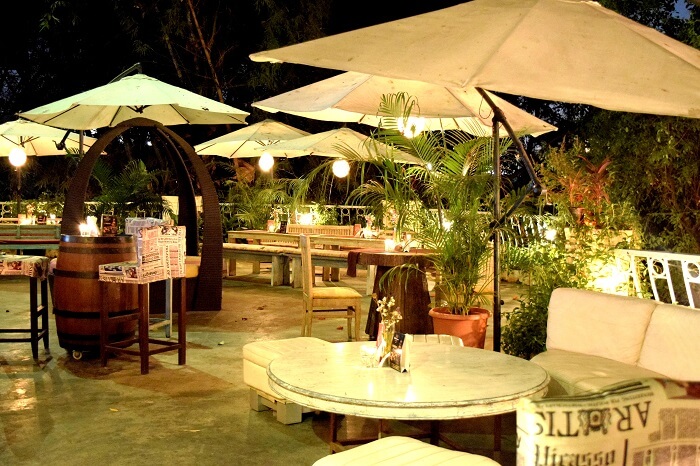 The bungalow setting of the restaurant sets it apart from every other restaurant here. One of the coolest hangout places for couples in Pune, Cocoparra is a setting right out of a classic romantic novel. Comfortable seating, library collection, wide lawns and gastronomical food at Cocoparra will leave you with warm and fuzzy feelings tickling you long after the date is over.
Must-try dishes: Amritsari Fish Tikka, Jalapeño Cheese Poppers, Cocoparra Spuds, Murg Rara, Jalapeño Chicken, Oyster Rubbed Chicken Tikka with Sesame Seeds, Noorani Seekh Kebab, Pan-fried Basa, Prawn Skewers, and Roast Chicken with Cranberry Wine Jus.
Cost for two: INR 2,000 approximately
Take a look at their Zomato reviews to know more.
14. Trikaya, Bavdhan – Rooftop romance for a memorable time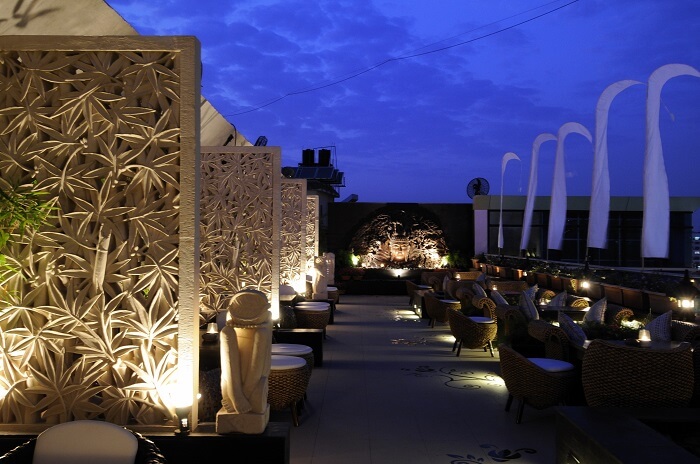 A bit heavy on pocket, Trikaya is the place where you can take your soulmate for a special occasion. Celebrate your first kiss anniversary, your third week together, your 7 years into marriage and much more at this perfect rooftop restaurant. Classy décor, amazingly crafted statues, soft lighting, and the delicious food gains this restaurant its tag of one of the most romantic places in Pune. Its private booths, where you can shut out the rest of the world are also a major hit with the couples. The candlelight settings enhance the overall experience of the place.
Must-try dishes: Burnt Garlic Jasmine Rice, Potato Okra Chilly Fry, Chili Basil Chicken, Crispy Spring Rolls, and Galawati Kebab with Khasta Roti.
Cost for two: INR 2,000 approximately
Take a look at their Zomato reviews to know more.
15. Olive Bistro – The beautiful settings call for an equally beautiful date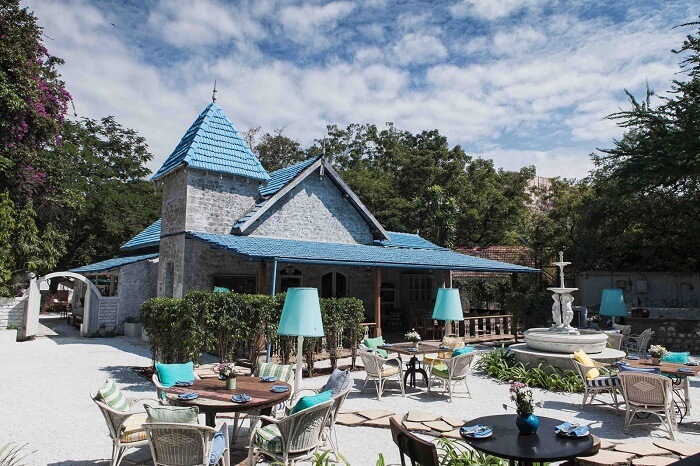 The very definition of Olive Bistro is romantic, quaint, and cozy. Soft greenery, pebbled pathway, cute white furniture, mesmerizing music, and warm lighting give you an experience of real Mediterranean café, and not a makeshift one right there in Pune. The best part of the restaurant is its outdoor seating area. The soft colors and amazing settings make this restaurant all the more awesome. Not just outdoor seating, but every seat here has its own charm, be it their high table, regular seats, or the ones near porch.
Must-try dishes: Herb Chicken Skewers, Capricciosa, Penne Arrabiata, Corn and Jalapeno Cakes, Smoked Reshampatti Chilli, Baked Cannelloni, and Orange Marinated Grilled Chicken
Cost for two: INR 1,600 approximately
Take a look at their Zomato reviews to know more.
Suggested Read: 15 Absolutely Breathtaking Places To Visit In Monsoon In Maharashtra
Where are you headed to on your next date? Also, let us know how many of these have you already covered with your partner. Here are a few common queries regarding the romantic places in and around Pune, addressed for you!
Which is the best couple spot in Pune?
Okayama Friendship Garden is the best couple spot in Pune. This manicured garden is well-maintained and feature thatched rusty gazebo style hutments and fabled straw bridges; of course alongside a verdant flora scenario.
What are places near Pune for a one day trip?
Lonavala and Lavasa are two of the best places near Pune to visit for a day with your beloved. Lonavala is a lovely hill-station in the Western Ghats, bestowed with natural beauty. It is a nice place to unwind. Thanks to many stay options, you can choose the best that best suites your budget.
Lavasa, the Venice of Maharashtra, is a planned city that will steal your heart with its brightly colored buildings and number of events and activities offered.
What are the best places to visit around Pune during the summer?
Mahabaleshwar, Panchgani, Amboli, and Satara are some of the best places to visit near Pune for couples. These places experience pleasant weather during summer season, and the romantic vibe make it a must visit for the couples staying in Pune.
What are the best places to visit around Pune during winter?
Since Pune and nearby regions don't get too cold during the winter season, you can opt to go anywhere, as the weather stays pleasant everywhere. The beaches of Alibaug and Kashid are great for an escape with your loved one, and so are the hill-stations like Matheran and Lonavala.
Further Read: 10 Beautiful Beaches Near Pune For A Perfect Weekend Escape
Comments
comments