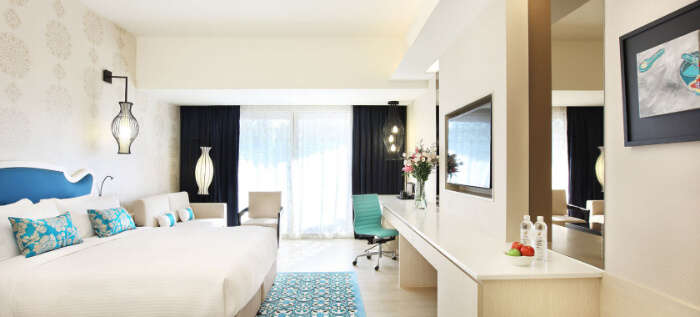 Overview
Singapore is not just a country in Asia, but it is also a ghost town in Michigan. Yes, there are two Singapore's in the world. However, the former has more popularity. It is also part of the United Nations. The national language of the state is Malay. Other languages that are spoken across the city are English, Chinese, and Tamil. It also has the unique architectural buildings which cannot be more than 280 meters in height.There also a lot many tourists attractions in this area alongside amazing hotels that make it a great place of visit for both business and leisure travelers. So, only three tall buildings are reaching up to 280 meters in the state. One must not do not just make complete use of the best hotel experiences but also get to visit exotic locations as well. Vacationers who are planning a trip to Singapore must not miss this golden opportunity and accommodate at the hotels in East Coast Singapore, soon.
Special Experiences
The hotels in East Coast Singapore are known for plenty of activities. They take travel enthusiasts and photography freaks to unusual locations that are breathtaking. They also have therapists who give aromatherapy and foot massage sessions as well. One can enjoy the amazing spa and massage facilities here that are so relaxing, guests make the most trips to these spa centers. Ranging from Thai massages to ayurvedic treatments, lots and lots of options for different kinds of services are available at these spa centers. They also have sauna and steam bath facilities too. Apart from all these, at hotels in East Coast Singapore, there are swimming pools that come with food, bar, and games. For instance, the Grand Mercure Hotel is famed for its Shuttle Bus service it offers, while the Hotel Indigo is known for its pool services.
Facilities
These hotels are full of services and amenities that come with the hotels in East Coast Singapore. The rooms have beautiful layout and furniture which includes cupboards and lockers. They also have a T.V., radio, phone, curtains, face creams, shaving kits, and other amenities. The rooms are entirely air-conditioned and provided with minibar and refrigerators as well. The hotel services include the gym, parking, cleaning, luggage, and iron facilities. The Amber Hotel is known to provide the ideal facilities which include free parking, laundry service, air conditioning, refrigerators, and minibars.
Dining
The hotels in East Coast Singapore have international and continental cuisines. All of them are served as a buffet or a la carte. The delectable cuisines are prepared by best chefs across the state and are known to satisfy one's hunger within no time. The food has a contemporary touch to it. So diners can also enjoy western food and traditional food depending on what travelers like. For example, the Holiday Inn Express is a 4-star hotel with excellent food. While the Hotel Indigo is a 4.5 star rated hotel with excellent food, bar, and lounge. The hotel has amazing breakfast buffet facilities too. With the first meal of the day so amazing, one will never have a single dull day in Singapore.
FAQs
Q1. What are the famous dishes in Singapore that one can try at the hotels?
A. The famous dishes in Singapore are the Chicken Rice, Nasi Lemak, Yong Tau Fu, Satay, Bak Kut The, Wanton Mee, Fried Carrot Cake, Dim Sum, Kaya Toast and Soft-Boiled Eggs, Crabs, Laksha, Curry Fish Head and much more.
Q2. How much does a meal at the hotels in East Coast Singapore cost?
A. The food usually costs around the Singapore $8 or $12 and above.
Q3. Are the hotels in Singapore Child-Friendly?
A. Yes, the hotels in Singapore are, and they do provide childcare and babysitting services.
Q4. What are the famous shopping areas around the hotels in Singapore?
A. The famous shopping areas in Singapore include the Orchard Road, Chinatown, Marina Bay, Mustafa Centre, Holland Village, and much more.
Q5. How to reach the hotel in Singapore?
A. Most hotels in Singapore offer shuttle services. The city has an excellent public transport network that is easy to figure out where one can take a bus or train to reach the hotel.
Hotels in East Coast Singapore offer its guests a large variety of facilities and amenities to make their stay perfect and happy. They also have aromatherapy, foot massages, sauna and steam baths, post tours. The facilities are unimaginable. The rooms come with cupboards, lockers, T.V., radio, phone, curtains, face creams, shaving kits, minibar, and refrigerators. They also have a gym, parking, cleaning, luggage, and iron facilities. When it comes to food, the chefs never let any customer go to bed hunger. They satisfy all the needs and expectations. Guests can order according to the preferences and get food served on time. Few great hotels at the East Coast are Venue Hotel, Champion Hotel, Aqueen Heritage Hotel, Four Chain View Hotel, Lemon Grass Hotel, Seng Wah Hotel, Santa Grand Hotel, and much more. Whether in the city for business or leisure, a traveler will never be disappointed by the offers provided by hotels in East Coast Singapore.