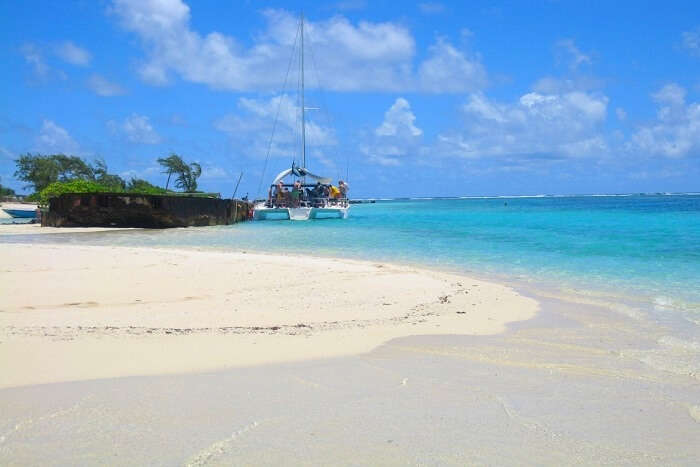 Mauritius is among the top tourist destinations in the world and is known for its beautiful destinations and places to visit. Ilot Gabriel Beach is situated in Mauritius and is a place for a great vacation to enjoy and spend time relaxing. Located in the Indian Ocean, this beach has some spectacular coral reefs one should see to believe. Mauritius is also well-known for the mountains, rainforests, Black River Gorges National Park, waterfalls, trails for hiking and also for its diverse wildlife. Let us know more about the popular Ilot Gabriel Beach Island here!
About Ilot Gabriel Beach

Ilot Gabriel Beach is like a gem in the open sea. It is extended over a very little area of about 42 hectares. The Ilot Gabriel Beach Island is located approximately 20 kilometers from the northern coast of the island. Ilot Gabriel Beach is known for the white sands. Sometimes there are shoals of fish visible which rise and fall adding to the beauty of the place. The wind blowing on the Ilot Gabriel Beach is pure and it feels like heaven being there. One gets to see a panoramic view of the other islands also from this beach.
Best Time To Visit Ilot Gabriel Beach

There is no specific season or month to visit Ilot Gabriel Beach. This beach is open throughout the year and this destination is amazing in the entire year. But it is preferable to visit the Ilot Gabriel Beach during the time of morning or afternoon. According to suggestions of visitors as well as the tours, this beach looks spectacular in morning and afternoon. People need to spare at least 3 hours to explore the entire beach and enjoy the scenic beauty of the place.
Ilot Gabriel Beach: 3 Places To Stay
A trip or a vacation gets complete only with comfy rooms in hotels and resorts. They are a must. Here is a list of a few places to stay near Ilot Gabriel Beach.
1. Lux Grand Gaube

It is a very luxurious hotel in Mauritius. The entire place has a romantic atmosphere and all the rooms of the hotel display a different and incredible view of the ocean. There are in total three swimming pools in the hotel and also easy access to the golf course. The suites are very spacious with air-conditioners and refrigerators in all of them. Facilities of minibar, restaurant, pool, gym and many more are also provided to the guests.
Location: Pointe Rejane, Grand Gaube, Mauritius
Distance from Ilot Gabriel Beach: 5 km
Tariff: Rs. 59,187 / day
Must Read: 12 Exciting Water Sports In Mauritius For An Out-of-the-world Experience
2. Seaview Calodyne Lifestyle Resort

It is a 4-star hotel in the north-east of Mauritius which gives a very unique experience to its guests. A person could relax in the peaceful golden white sand and the quiet waters. Facilities of pool, bar, spa, restaurant, beachroom and much more is provided to the guests.
Location: Mirabelle Avenue, Coastal Road, Calodyne, Grand Gaube, Mauritius
Distance from Ilot Gabriel Beach: 5.2 km
Tariff: Rs. 21,714 / day
Suggested Read: 7 Perfect Places For Water Skiing In Mauritius For All Those Who Love Water Sports!
3. Veranda Paul et Virginie Hotel & Spa

It is a 4-star place which is a perfect one for couples. There are various facilities like private dinner under the stars, breakfast in the room, tandem ride in the entire village, duo massage on water and many more. This is a perfect place to enjoy the honeymoon for couples to create unforgettable memories. The view of the sea from all the rooms is spectacular. Facilities of pool, restaurant, spa, meeting rooms, beachfront and much more is also provided.
Location: Route Royale, Grand Gaube, Mauritius
Distance from Ilot Gabriel Beach: 4.6 km
Tariff: Rs. 29,914 / day
Top 4 Things To Do Near Ilot Gabriel
There are various things you can do near Ilot Gabriel Beach and spend some time in Mauritius. Here is a list of a few things to do for your next vacation.
1. My Moris

It is a place filled with cultural diversity and it is considered to be a heritage of Mauritius, Africa. This place tells the people about the history of the track itineraries. A person gets to discover beautiful villages of the north.
Location: Royale Street, Port-Louis, Goodlands, Mauritius
Distance from Ilot Gabriel Beach: 0.7 km
Suggested Read: The Best Of Mauritius Food To Try In 2022: Infused Richly With The Indian Cuisine
2. Historic Marine

This place is like a workshop for the craftsmanship. It is a place which is worth visiting for the people who have a great passion for boats. There is an experienced crew of craftsmen who work at Historic Marine. They have an experience of more than 26 years in craftsmanship and making of boats. There are more than 30,000 models of ships and boats of different types displayed at this place. A person could order the type of boat, ship or a motorboat needed and the workers would understand the need and provide the customer with the ship of their dreams. There would be no difference visible in between the real boat and the tailor-made boat. Each and every small detail of the boat is kept in mind by the workers.
Location: Z.I. St. Antoine, Goodlands, Mauritius
Distance from Ilot Gabriel Beach: 0.8 km
3. Dodo Divers

It is an award-winning center for diving in North Mauritius. This place provides with courses and guided tours for both the Technical and Recreational divers in a very professional and friendly manner. It allows the divers to enjoy their dive and relax. There are instructors which help the divers who are diving for the first time and enjoy their dive.
Location: Mirabelle Avenue, Calodyne, Grand Gaube, Mauritius
Distance from Ilot Gabriel Beach: 4.7 km
Suggested Read: 4 Indian Restaurants In Mauritius To Savor Some Desi Delights In A Foreign Land
4. Sun Tropical Tours

It is basically a car rental service place. There are many private vehicles available on rent from here. Vehicles like scooters, cars, buggy and even minibus are available. There are other facilities like a zip line, scuba diving and also big game fishing available.
Location: Royal Road, Grand Gaube, Mauritius
Distance from Ilot Gabriel Beach: 4.4 km
Suggested Read: Mauritius Aquarium: A Must-Visit Attraction On Your Next Mauritius Vacation!
How To Reach Ilot Gabriel Beach

Ilot Gabriel Beach is located next to the Ile Plate. Both the islands are surrounded by coral reefs. Ilot Gabriel Beach could be reached by catamaran or by a boat from Pereybere or Grand Bay. The visitors usually stay at the island for about 5 hours and then it takes about 4 hours to return back. But the journey and the timing will depend on the weather conditions in the sea. The boat ride is a great experience and it is like a magical journey. It is the time when you are surrounded by blue emerald water and there are chances that you might get scared because of the waves high as mountains.
Further Read: These Spice Gardens In Sri Lanka Will Take You Through An 'Aromatic' Experience
Ilot Gabriel Beach is a place worth visiting. The scene at the time of sunset and sunrise on the beach is spectacular and a person would get lost into the scenic beauty of the beach. It is also famous for its lush green vegetation as well as fauna and flora. So, get ready to soak in all the beachy vibes around this place and book your trip to Mauritius with your family and friends!
---
Looking To Book An International Holiday?
Book memorable holidays on TravelTriangle with 650+ verified travel agents for 65+ domestic and international destinations.
---