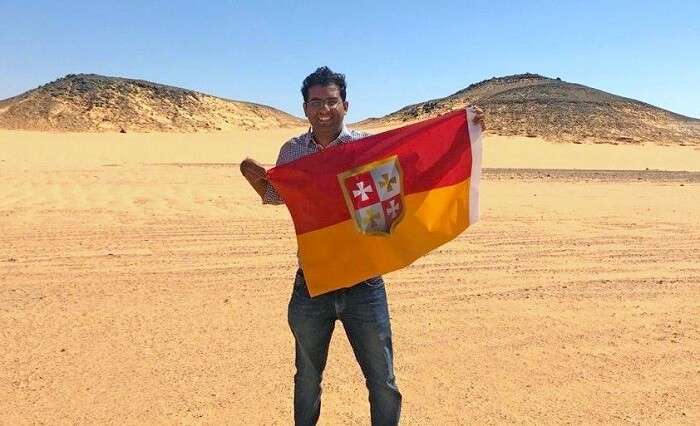 People dream of being kings and queens since a young age, until one of us actually takes the painstaking effort to do it. Read about the adventurer Suyash Dixit's incredible journey of becoming the king of an unclaimed land that lies between Sudan and Egypt.
In another perplexing yet fascinating piece of news, a traveler from India became the self-proclaimed king of an unclaimed land that lies between Egypt and Sudan. Surprising as it may sound, in this modern age of military aggression and technological advancement, there was still a piece of land that is waiting to be occupied.
Where is this unclaimed piece of land?
Suggested Read: Trans Siberian Railway: World's Longest Rail Network That Crosses 8 Time Zones Across 9300 Kms!
Lying deep in the North-African Sahara Desert on the border Egypt and Sudan is the 2095 sq km unclaimed land called Bir Tawil. After being rejected as the part of their own territory by Sudan and Egypt, this barren land lies unclaimed for more than a century.
The reason why this land lies unclaimed in the first place is that of both countries following a different topography record in which Bir Tawil falls in the other country's lap. Egypt follows the 1899 border mapping set by the British, whereas Sudan follows the 1902 mapping that demarcated their territory.
Also, due to the topographic challenges surrounding that place, there is not a sight of a man for hundreds of miles who is willing to live or let alone visit this unwelcomingly harsh area.
How Suyash managed this wicked feat all by himself
Suggested Read: Is This The Most Beautiful Mosque In The World ? The Pictures Will Make It Hard To Disagree
Suyash Dixit, an avid traveler and the owner of a technology firm happened to be at a conference in Cairo when he decided to fulfill a childhood dream of running a country. Here is how he lay a claim of being king of an unclaimed land on Facebook in a very witty and bold manner-
"I, Suyash Dixit, first of my name and the protector of the realm, declare myself as the king of "Kingdom of Dixit". I call myself, King Suyash First from today. I declare this unclaimed land of Bir Tawil as my country from now to the eternity of time. I pledge to continue to work for the prosperity of my people of the country and this motherland."
His journey, although, was more challenging than this venture sounds as he went on to describe how he started in Abu Simbel, Egypt at 4 am with the help of a local. Even going to that area meant crossing the Egyptian international border through a corridor which has military bases and "shoot-at-sight" orders for any untoward action by normal civilians or terrorists.
Although Suyash recognizes that a few other men in the past have tried to lay claim on this land but, for now, his claim (along with an official plea of recognition) is the only one that would stand valid.
Image Courtesy: Suyash Dixit (Facebook)
Suggested Read: World's Dangerous Airports: Where Take Off And Landing Could Be A Matter Of Life & Death
Amazing things happen when a bucket-list task of an adventurer pushes him beyond the limit to become king of an unclaimed land. You too can strike-off your bucket list destinations by going on an amazing adventure by booking a package with TravelTriangle.