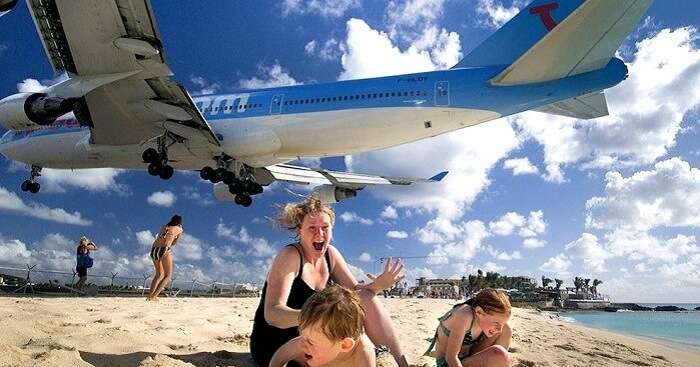 More or less, we all love to travel by air. It is convenient, comfortable (mostly), and yes, offers spectacular cloudy views for your Instagram upload. But what if, we told you there are airports in the world that could scare you to even take that much-awaited flight? Yes, you heard that right, for here is a list of some of the world's dangerous airports that can even make the boldest passenger tremble and the most experienced pilot crumble! Fly at your own risk, we'd say!
1. Lukla Airport, Nepal
Suggested Read: Best Dinner Cruises In World That You Must Include In Your Holiday
At a height of 8000 feet (2,438 meters), Lukla Airport is a top contender when it comes to world's dangerous airports. People traveling to Mount Everest use this airport which not only has very less electricity but also extremely short landing and take off strips. Moreover, the pilot has to navigate in harsh winds through the hilly region and in very less visibility. We wish you good luck for this one!
2. Juancho E. Yrausquin Airport, Saba
The Juancho E. Yrausquin Airport is located on the Dutch Caribbean Island of Saba and has a runway that is just 400 meters in length. Yes, it is one of the shortest in the world and on top of that, it is also surrounded hills on one side and ocean on the other. Obviously, large flights cannot land here but yes, the smaller ones also have immense difficulty.
3. Madeira Airport, Portugal
Suggested Read: These 15 Best Treehouses In The World Are Surreal
Renamed in 2017 as Christiano Ronaldo Airport, the Madeira Airport has its runway is built using pillars and was once infamous for its small size and harsh weather conditions for landing. Although the runway was expanded, the conditions remain the same, but those who love the charming small island of Madeira, don't mind the risk at all.
4. Ice Runway (NZIR), Antarctica
A runway meant especially for the US Antarctic Program, this one can cater to large and medium-sized flights but the catch here is that it is not a real runaway at all. It is all manicured snow and ice and the pilots have to be really careful when making a landing here. Talk about hurdles on your trip to Antarctica!
5. Barra International Airport (BRR), Scotland
Suggested Read: 15 Places Across The World For Instagram-Worthy New Year Pictures
The only airport to use a beach as its runway, the Barra International Airport is surely one of its kind. Additionally, the beach runway is also extremely short thus making the landing an even more hellish experience for the pilot (and the passengers too!).
6. Princess Juliana International Airport (SXM), Saint Martin
One of the most dangerous airports in the world, the Princess Juliana International Airport has its planes flying over beaches and roads just a few feet above the ground. While it may look thrilling in pictures, it is in fact extremely scary when the pilot has to fly and land a plane this low near the public. Apart from this, what adds to its danger is also the fact that it has a shorter runway than usual. Goodluck to the pilot, passengers, and the beach buddies who want some tan!
7. Gibraltar International Airport (GIB), Gibraltar
The Gibraltar International Airport is a civilian airport that serves the British overseas territory of Gibraltar and is quite normal except for one thing. It passes through the busiest road on the island. Yes, you heard that right and not only do the vehicles have to stop every time a plane passes, the pilot now also has to look out for road traffic apart from the air one. Phew!
8. Gisborne Airport, New Zealand
The last thing one expects from an airport is to have a train rolling on its runway and that is what the Gisborne Airport is famous for. The small airport has three grass runways and one main runway (the one with the train) and can get pretty scary for pilots and passengers. Talk about anti-anxiety pills!
9. Wellington International Airport (WLG), New Zealand
Another one sitting on top of world's dangerous airports, the Wellington International Airport not only has a very short runway (6,351 feet) but also water bodies on both the ends. As a result, the pilot has to know exactly where to land and take off so as to avoid any unwanted dips in the water. Tip: Carry along a swimming costume.
10. Narsarsuaq Airport, Greenland
Suggested Read: 15 Most Beautiful Train Journeys In The World For A Timeless Experience In Magical Landscapes
Surely, one of the most dangerous airports in the world when it comes to landing, the Narsarsuaq Airport in Greenland requires the pilots to flying up a fjord in the company of severe turbulence and wind shear even in the calmest of days. Not exactly a happy landing, we say!
11. Paro Airport, Bhutan
There are very few pilots in the world who are qualified to land at this airport and that itself should scare the hell out of you. What makes it count among world's dangerous airports? Well, let's just say, the Himalayas and its treacherous winds!
12. Gustaf III Airport, Saint Barthélemy
The runway at this airport is meant for small planes that can carry up to maximum 20 passengers but the fact is it is even small for those small planes landing here. Get it?
13. Courchevel Altiport, France
Suggested Read: The Best Of Cruise Travel Around The World, Inclusive Of All Luxuries!
Meant for the super-rich who want to ski in the Alps, this airport will test your grit upon landing before you can get out and enjoy your sport. Known to be one of the world's most dangerous airport, it not only has an incredibly short runway but also a ski mogul in the middle of it.
14. Congonhas Airport (CGH), Brazil
Another great contender when it comes to world's dangerous airports is Congonhas Airport which is not only the second busiest airport in Brazil but also has an extremely slippery runway that has resulted in several accidents. The pilots generally need a drink or two after making a landing here.
15. Svalbard Airport (LYR), Norway
Suggested Read: Top Safari Honeymoon Destinations, Experiences, & Resorts In The World
Svalbard Airport is one of the most dangerous airports in the world for its runway is build directly on ice. The global warming is causing major threats and damage to this airport which would eventually have to shut down due to distortion of track in the future.
Now that you know about these dangerous airports, we really hope you will choose your destinations wisely. Do let us know if you have any more places in your "world's dangerous airports" list.
---
Looking To Book A Holiday Package?
Book memorable holidays on TravelTriangle with 650+ verified travel agents for 65+ domestic and international destinations.
---