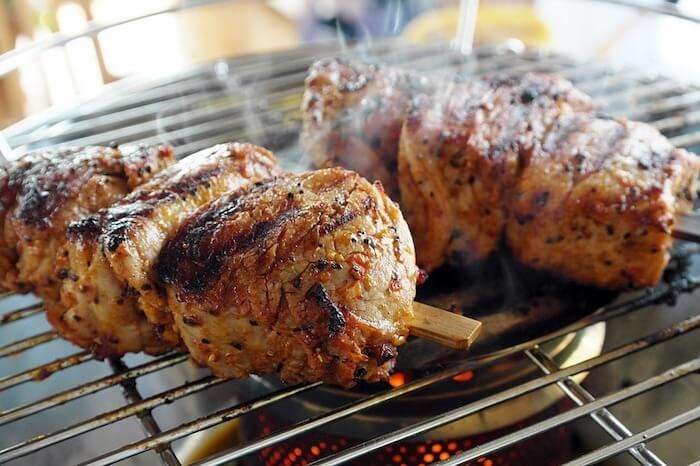 Ipoh is a beautiful city in Malaysia situated right at the foothills of the famous Cameron Highlands hill station. It offers one of the most incredible Indian cuisines in Malaysia. According to some, Ipoh may be termed as the culinary capital of Malaysia. There are a decent number of Indian restaurants in Ipoh – some of them very famous among office goers and tourists for their scrumptious breakfast and lunch options.
Best Indian restaurants in Ipoh
Here's a list to help you make your choice from among the numerous Indian restaurants in Ipoh. We've shortlisted 10 places keeping in the mind the variety of cuisines and restaurant rating, among other things:
1. Tandoor Grill
Tandoor Grill is an exquisite Indian restaurant in Ipoh. The restaurant is chic with a huge Indian food menu, ranging from North Indian and Tandoori dishes. The staff is pleasant and professional. They do their best to offer personalized services. The restaurant also serves great yummy Indian snacks and starters like hot spicy samosas and pakoras. Tandoor Grill offers a delicious and dependable Indian food catering in Ipoh.
Must try: Dal Makhani Tandoori Chicken, Butter Chicken
Location: 9, Jalan Chin Choon Sam, 30450 Ipoh, Negeri Perak, Malaysia
Cuisines: North Indian, Punjabi
Google rating: 4.⅗
Must Read: 10 Exotic Places To Visit In Ipoh To Witness The Best Of This Cameron Highlands Getaway
2. Shri Anand Bhawan Restaurant
Shri Anand Bhawan restaurant is a popular South Indian restaurant situated at Old Town Centre in Persiaran Bandar Timah, Ipoh. Their aromatic South Indian dishes are quite famous among the locals here as well as the tourists. The restaurant offers a range of delightful south Indian delicacies, like dosas and uttapams. The restaurant has both air-conditioned and non air-conditioned section.
Must try: Rava Dosa
Location: 7, Persiaran Bandar Timah, 31650 Ipoh, Negeri Perak, Malaysia
Cuisines: South Indian
Google rating: 3.7/5
3. Tirupathi Vilas
Tirupathi Vilas is a simple yet elegant Indian restaurant in Ipoh. With extremely clean and uncomplicated interiors, this restaurant is a big hit with tourists. Tirupathi Vilas offers authentic Indian cuisines. Its dishes remind the diners of mum's food. The chef uses less oil and mild spices in its curries. The dishes are highly palatable and savory. This is a non air-conditioned restaurant but one wouldn't mind as the cost of dining here is extremely less compared to other high end restaurants.
Location: Jalan Sultan Yussuf, 30000 Ipoh, Negeri Perak, Malaysia
Cuisines: South Indian
Google rating: 3.7/5
Suggested Read: 10 Things To Do In Ipoh, The Malaysian Gem Far Away From The Crowds
4. Sri Nava Jothi Restaurant
Sri Nava Jothi restaurant is a cozy Indian restaurant in Ipoh situated at Persiaran. It is a budget restaurant that serves a good number of Indian delicacies. The dishes are surprisingly healthy as the chefs don't use too much oil and the food is served fresh. The buffet meal here is very popular among the working class people. Sides, like the Pudina ki chutney served by the restaurant, are luscious and liked by all. The visitors can also buy pickle and chutney bottles from the restaurant. There is a decent parking space available near the restaurant for visitors.
Must try: Chettinad Veg mutton masala, biryani
Location: 47 Persiaran, Raja Perempuan Mazuin Selatan, 30100 Ipoh, Negeri Perak, Malaysia
Cuisines: South Indian, North Indian
Google rating: 3.9/5
5. Restoran Moga Punjab
Run by an Indian owner, this Indian restaurant in Ipoh is small. Nevertheless, it serves appetizing and truly authentic Punjabi cuisine. The hand baked tava chapatis and parathas, which are soft, tender and are served hot fresh out of tava, are a big hit with everybody. The curries have a pungent aroma of Punjab. You can also hog on Indian sweets such as Gulab Jamun and Rasgulla at this restaurant.
Must try: Dal tadka, Masala Chai, Gulab Jamun
Location:: 12, Jalan Lahat, 31650 Ipoh, Negeri Perak, Malaysia
Cuisines: North Indian, Punjabi
Google rating: 4/5
Suggested Read: 10 Top 2022 Malaysian Restaurants That Will Treat Your Taste Buds Like None Other
6. Maharaj's Kitchen Restaurant
Maharaj's Kitchen restaurant in Ipoh is one of the most popular fine dining restaurant serving Indian cuisines. Situated at Jalan Sultan Yussuf, this restaurant has ethereal interiors with splendid roof hangings, beautiful Rajasthani wall art and dim yet vibrant lighting–making the place subtle and elegant at the same time. The restaurant serves a range of aromatic Indian masala teas and sweets. This place is a must try and worth every penny one spends here.
Must try: Egg Biryani
Location: 14, Jalan Sultan Yussuf, 30000 Ipoh, Negeri Perak, Malaysia
Cuisines: North Indian, South Indian
Google rating: 4.2/5
7. Samy Restaurant
Samy restaurant in Ipoh is a casual dining style restaurant serving both North and South Indian cuisines. Due to its popularity among the locals here, the restaurant gets crowded at times especially during the dinner hour. We suggest you to make bookings in advance to avoid the rush. The restaurant is additionally famous for its sumptuous lavish Indian breakfast. Their Tirupati laddoos are a big hit with everyone.
Must try: Banana Leaf Thali Masala dosa
Location: 70, Jalan Besar, 31200 Chemor, Negeri Perak, Malaysia
Cuisines: North Indian, South Indian
Google rating: 3.5/5
Suggested Read: Top 6 Theme Parks In Malaysia That Are Perfect To Beat The Summer Heat In Style
8. Banana Leaf Restaurant
This is an authentic Indian food restaurant in Malaysia where food is served in the traditional manner in banana leafs. The restaurant is extremely famous for its Bamboo Biryani. The restaurant has an extensive Indian menu. There is a range of Biryanis up for grabs here. The restaurant is a heaven for non-vegetarian Indian food lovers, especially if you are craving for Hyderabadi Biryani.
Must try: Bamboo Biryani
Location: Jalan Perhentian, Medan Kidd, Ipoh, Perak, M
Cuisines: Indian, Hyderabadi, Malaysian
Google rating: 4.3/5
9. Rishi Bavan Restaurant
Situated at Medan Istana, this restaurant is a hidden gem. It is the favorite restaurant for tourists looking for a meal on the go. Well known for its breakfast and lunch menu, this place is a great option for vegetarian lovers. Apart from regular meals, the restaurant also serves popular Indian snacks including spices samosa, Indian crispy cutlets and aloo patties throughout the day. Rishi Bavan Restaurant is one of the best indian food restaurants in Ipoh.
Must try: Upma, Masala Vadai
Location: 40, Medan Istana, Bandar Ipoh Raya, 30000 Ipoh, Perak, Malaysia
Cuisines: South Indian
Google rating: 4/5
Suggested Read: 10 Majestic Waterfalls In Malaysia That Are Mighty Beyond Words!
10. Old Andersonian Club And Cafeteria
This north Indian restaurant in Ipoh is situated amidst lush green surroundings. The restaurant at first glance seems very ordinary but the way they serve the food is very elegant. The cuisine is authentic north Indian. The restaurant is quite famous for its banana leaf rice menu and its sumptuous sweetened mango lassi. It is a family and kids friendly restaurant. The staff is happy to adjust the spices according to your preferred taste buds.
Must try: Mango Lassi
Location: 932, Jalan Raja Ashman Shah, 31350 Ipoh, Negeri Perak, Malaysia
Cuisines: North Indian, Mughlai cuisines
Google rating: 4/5
Further Read: 12 Malaysian Street Food Dishes That You Should Try In 2022
Ipoh is fast becoming Malaysia's most popular tourist destination because of the extensive range of cuisines this place offers to its tourists. With the increasing flow of tourists, Ipoh has been seeing a fast growth in its culinary scene. Indian restaurants in Ipoh are making huge waves in the city. Take a trip to Malaysia and find out what all the hue and cry is about.
---
Looking To Book An International Honeymoon?
Book memorable honeymoon on TravelTriangle with 650+ verified travel agents for 65+ domestic and international destinations.
---