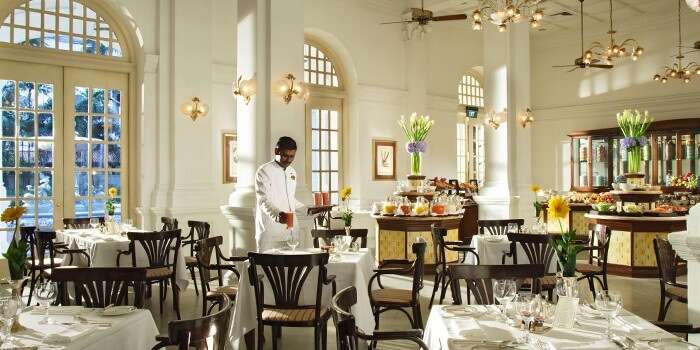 One of the most famous travel destinations from India, Singapore offers a fine modern, local, and cultural experience to all. Needless to say, it also excels when it comes to food and that is why indulging at these Indian restaurants in Singapore. So if you're planning a vacation to Singapore, do check these out for they have serious power to bring out the foodie in you.
1. Rang Mahal

Suggested Read: Singapore Group Tours: The Smartest Way To Get Around & Experience The City At Its Best!
Established in 1971, Rag Mahal is one of the best fine dining Indian restaurants in Singapore. It serves Northern, Southern, & Coastal Indian cuisine and has won numerous awards for its service and culinary masterpieces.
Must Try: Quinoa Upma, Samarkand Prawns, & Tandoori Lobster
Cost for two: INR 2700 – INR 10000
Location: Raffles Blvd, Singapore 039595
2. Colony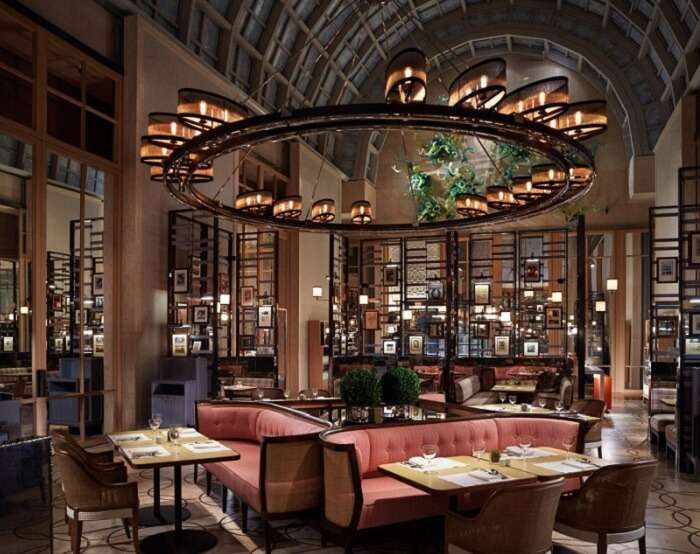 One of the finest multi-cuisine buffet restaurants in Singapore, Colony offers eight different cuisines and live counters which include Indian, Chinese, Indonesian, Malaysian, and more. Although not a typical Indian restaurant, nonetheless, the food coming out of its Indian kitchen has won praise far and wide, and thus we have included it in our list. It is also one of the famous Indian restaurants in Singapore.
Must Try: Prawn Kali Mirch, Lassoni Lamb Steak, and assorted naans
Cost for two: Average INR 11000 (5500 per person)
Location: 7 Raffles Avenue, The Ritz-Carlton, Millenia Singapore, Singapore 039799
3. RAS the Essence of India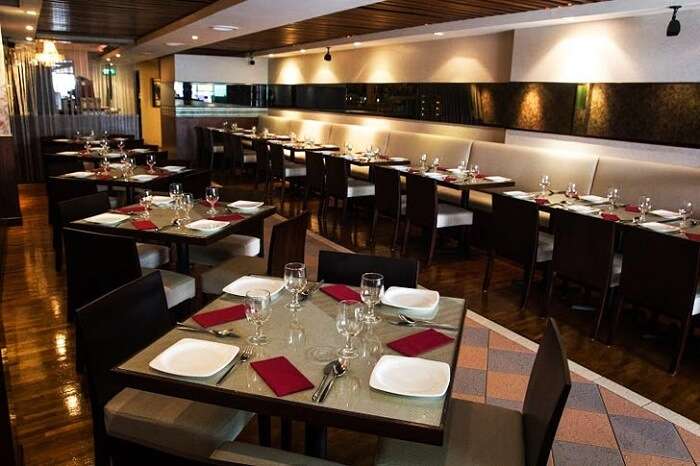 Counted among the finest Indian food restaurants in Singapore, RAS serves a wide variety of Indian dishes from its different states. Authentic in every manner, some of these dishes like Palak Paneer are even better than what they serve in India. Also, this restaurant is located in of the best locations and offers both an intimate setting and a nightlife view as well.
Must Try: Tandoori Lobster, Kacchi Mirchi Ka Chicken, and Palak Paneer
Cost for two: INR 9600
Location: 3D River Valley Rd, #01-05A,, Singapore 179023
4. MTR Restaurant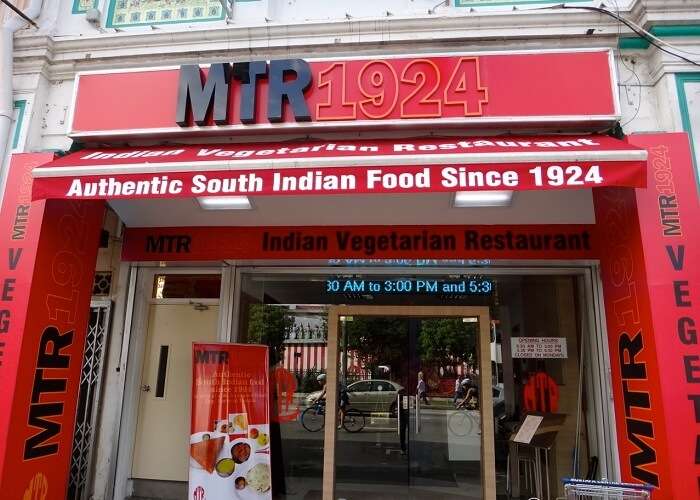 Must Read: Honeymoon In Singapore: Your Guide To The Most Romantic Places & Experiences!
A delight for all the South Indian food lovers, MTR, despite its rather ordinary appearance, serves flavourful food that will instantly uplift your mood. Serving authentic cuisine in a foreign land is tough but MTR manages it quite easily. It is one of the famous Indian restaurants in Singapore.
Must Try: Ravi Idli and Pudi Dosa
Cost for two: INR 1000
Location: 438 Serangoon Rd, Singapore 218133
5. Lagnaa, Bare Foot Dining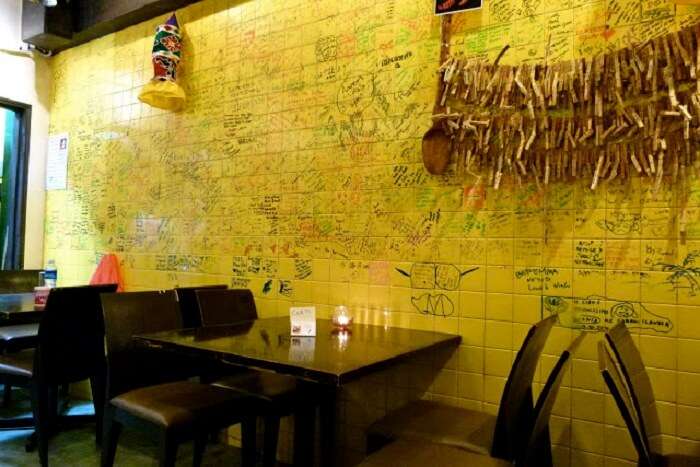 One of the most unique Indian restaurants in Little India Singapore, the Lagnaa offers a simple yet fine culinary experience for all. One is required to take off their shoes, sit on the floor, and then enjoy the meal in a proper manner.
Must Try: Mutton Curry, Mango Lassi, Butter Chicken, and Banana Lassi
Cost for two: INR 2500
Location: 6 Upper Dickson Rd, Singapore 207466
6.Tandoor

One of the more traditional Indian serving restaurants in Singapore, Tandoor ever since it opened in 1985 has long been famous for its mouthwatering North Indian cuisine and vegetarian food. A must try for all who are looking for that familiar taste of their homeland.
Must Try: Chicken Tandoori, Chicken Tikka, Grilled Fish, and Dal Makhani
Cost for two: INR 6000
Location: Holiday Inn Singapore Orchard City Centre
7. Yantra by Hemant Oberoi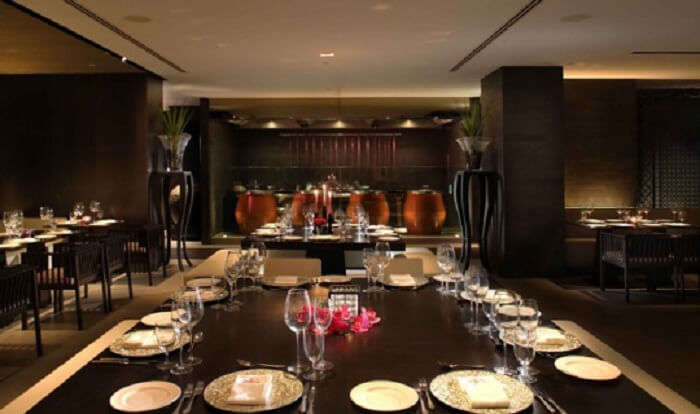 This is a plush fine dining restaurant that serves one of the most delicious North Indian cuisines in the whole of Singapore. The menu is carefully designed by Chef Hemant Oberoi and the food is prepared from fresh, handpicked spices from India.
Must Try: Galouti Kebab, Butter Chicken, Chicken Tandoori, and Lamb Chops
Cost for two: INR 6000
Location: 163 Tanglin Rd, #01-28/33 Tanglin Mall, Singapore 247933
8. The Curry Culture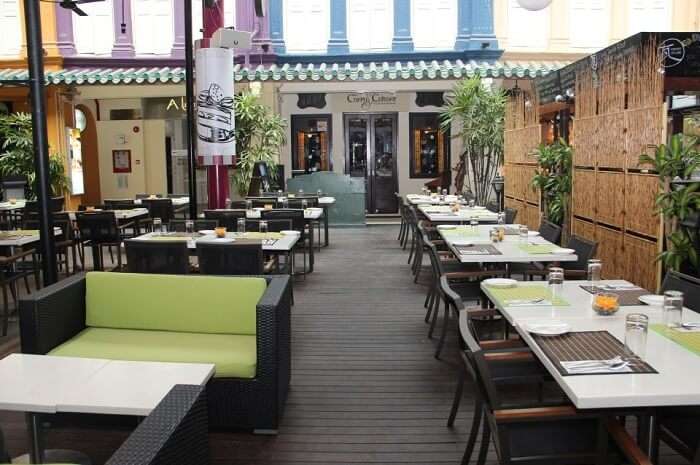 One of the best Indian restaurants in Singapore, The Curry Culture not only offers delightful North Indian cuisine but also zest street food delicacies. Offering both al fresco dining and an indoor setting option, this is one of the few good places in Singapore no one should miss.
Must Try: Jaljeera, Papdi Chaat, Chicken Tikka, and Lamb Chops
Cost for two: From INR 2500 to 5000
Location: 31 Terrace, Cuppage, Cuppage Road, Singapore 229457
9. Punjab Grill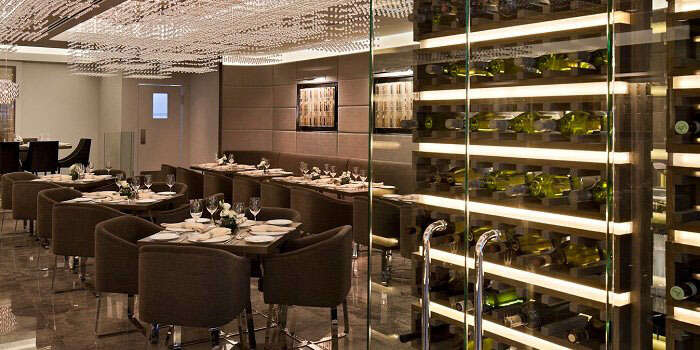 Offering the best of everything North Indian, the Punjab Grill takes on a culinary journey that goes through Lahore, Peshawar, Amritsar, and more. This award winning restaurant is for the pure hearted North Indian food lovers who like everything else, like all things grand. It is one of the famous Indian restaurants in Singapore.
Must Try: Sarso ka saag, Chana Masala, Biryani, and Rogan Josh
Cost for two: INR 4500
Location: 2 Bayfront Avenue, B1-01A The Shoppes at Marina Bay
10. Tiffin Room

Situated at the Raffles Singapore, Tiffin Room is most famous for its buffet dinner where one can get delectable North Indian cuisine. Curries are a specialty at this extremely sophisticated restaurant which incidentally also serves High Tea and International breakfast. Best of the best.
Must Try: Curries (Chicken & Lamb), Seafood, Desserts
Cost for two: INR 9600
Location: 1 Beach Rd, Singapore 189673
11. Urban Roti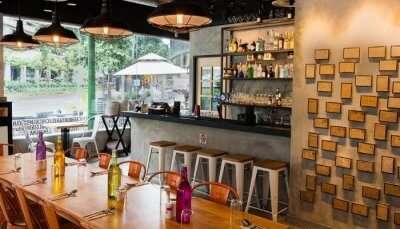 If you are looking for North Indian food in Singapore, this is where you will find the most varied menu and cuisines that are more like comfort food. The chicken kebabs here are a must-try item that is wrapped in a spicy glaze before roasting in a charcoal grill.
Must Try: Chicken kebab, Dried Paneer Chilly Cubes, Starters
Cost for two: INR 10,000
Location: 18 Raffles Quay, # 01-96 Lau Pa Sat, Telok Ayer Festive Market, Singapore 048582
12. Kailash Parbat Restaurant

This Mumbai-based brand has been dominating in the Little India food scene in Singapore and all the credit goes to its classic menu that ranges from street-side favorites like Pav Bhaji to fine-dining dishes like the Vegetable biryani or Tandoori Platter.
Must Try: Kulfi, Bhel Puri, Chaat Platter
Cost for two: INR 8,000
Location: 3 Belilios Road, #01-03 Hotel Grand Chancellor 219924
13. Chat Masala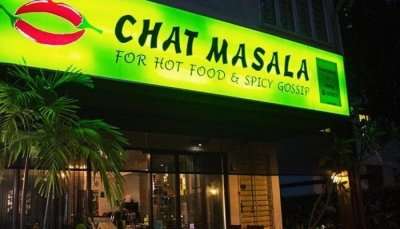 For the spice-loving food enthusiasts on the East coast, this is the place to visit if you can craving the sweet-burn of Indian species and savoury treats that will make your mouth water. Affordable, chic and ready to devour, the menu speaks for itself when it comes to the diverse food options available here.
Must Try: Rogan Gosh, Yogurt Chilly Fish and Mango Kulfi
Cost for two: INR 10,000
Location: 158 Upper East Coast Rd, Singapore 455254
14. Madras New Woodlands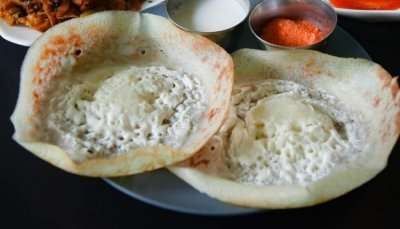 If you want to enjoy a platter of tasteful Indian evening platters, Madaras New Woodlands have the best on their menu ready for you. They offer one of the best Paneer Butter Masala in Little India and their DIY Dosa pack is something you can take back home to make your own delicious breakfast.
Must Try: Paneer Butter Masala, Dosa, Desserts
Location: 14 Upper Dickson Rd, Singapore 207474
Cost for two: INR 9,000
15. Ananda Bhavan Restaurant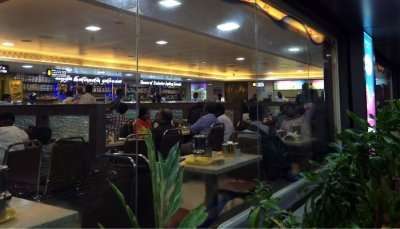 From super affordable South Indian breakfast options to a great value set-meal thali, the popularity of this restaurant is known across Singapore for serving tasty vegetarian delicacies with an Indian twist.
Must Try: Jalebi, Thali, Masala Dosa
Cost for two: INR 4,000
Location: 448 Serangoon Rd, Singapore 218138
16. Komala Vilas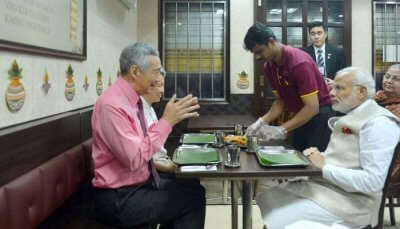 Authentic vegetarian meals that feel like home-cooked comfort food – a description that fits this place perfectly. Visit this place any time of the day and you will find great flavors of Indian cuisine accompanied by classic drinks like Masala tea.
Must Try: Rice-rasam, Dosa, Upma
Cost for two: INR 6,000
Location: 76-78 Serangoon Rd, Singapore 217981
17. Annalakshmi Restaurant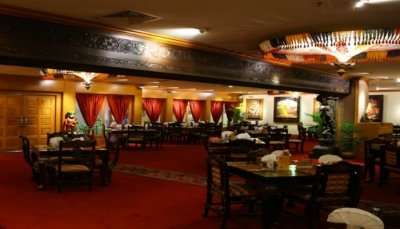 This place is defined by the equality of its South Indian buffet, a fiesta, and almost a tradition for those who regularly visit this establishment, if you are in Singapore looking for an Indian restaurant, this is where you should arrive first.
Must Try: South Indian buffet
Cost for two: INR 10,000
Location: 20 Havelock Rd, #01-04 Central Square, Singapore 059765
18. The Song of India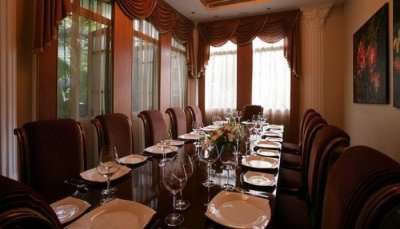 An award-winning Indian oasis is a popular place for those who are looking for a fine-dining experience in Singapore but with an Indian menu. It is often recommended by locals as this establishment is both a national and international favorite among travelers.
Must Try: Goan Fish Curry
Cost for two: INR 11,000
Location: 33 Scotts Rd, Singapore 228226
19. Thevar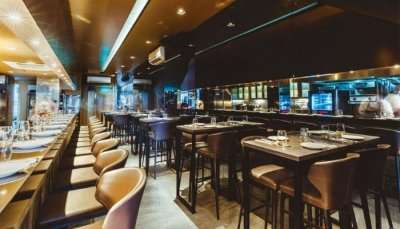 This modern Indian grill-restaurant is known for its Sri-Lankan crab curry that is definitely not to be missed. The dim-lighting and casual vibe of the restaurant also make it a perfect location for a late-night dinner.
Must Try: Sri Lankan Crab Curry
Cost for two: INR 12,000
Location: 9 Keong Saik Rd., Singapore 089117
20. Muthu's Curry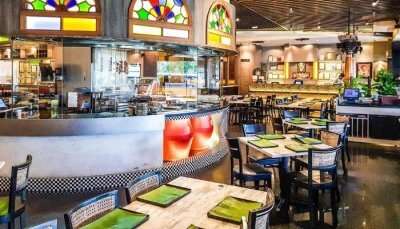 If you want to try the most authentic South Indian food in Sri Lanka, this is where you will find banana-leaf platters with traditional rice, curries, and other dishes like Dosa in a truly Indian manner.
Must Try: Curry Bowl
Cost for two: INR 8,000
Location: 138 Race Course Rd, #01-01, Singapore 218591
When in Singapore, take a stroll down the culinary lane and you will find that the flavors of India are no longer exotic but can be founded blended into the culture of this country. From exquisite kebabs to red-hot curries that are served to perfection, the food scene in Singapore is a delicious attraction for all Indian travelers. Now that you know Singapore has some of the best Indian restaurants, we assume you won't be worried about your food on your vacation. And speaking of vacation, if you're planning one, let us help you with a customized Singapore package. Happy Traveling!
Further Read: 10 Best Dishes Of Singapore Cuisine To Turn Food Blues Into A Riot Of Flavors
Frequently Asked Questions About Best Indian Restaurants in Singapore
Is Indian food widely available in Singapore?
Yes, you will be surprised to know that the melting pot of cultures in Singapore has attracted a large portion of Indian travelers and settlers who tastefully enjoy the Indian flavors and also created fusions like Indian Singaporean cuisine. From fine-dining restaurants to street-side outlets, you will find a wide range of Indian food in Singapore.
Is Indian food expensive in Singapore?
A wide variety of Indian food is available in Singapore for moderate prices. If you are looking for cheaper options, try street-side kiosks that offer delicious Indian lunch and dinner menus at an affordable price.
What is a must-try Indian dish in Singapore?
A popularly known Indian food that people often try during their stay in Singapore is the South Indian thali. It has been unofficially claimed that Little India in Singapore has the best ones to taste.
---
Looking To Book An International Holiday?
Book memorable holidays on TravelTriangle with 650+ verified travel agents for 65+ domestic and international destinations.
---