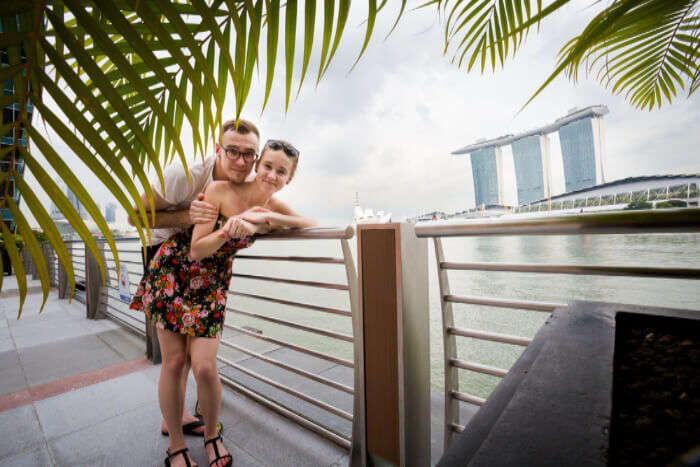 The most memorable time in a newlywed couple's life is their honeymoon vacation, and what can be a better start of a new life than celebrating their honeymoon in Singapore.  The city has no dearth of romantic and interesting places for those cozy moments with each other. From luxurious hotels by the bay to romantic gardens for lazy walks, there's so much to explore in this city.
Singapore is ready to fill romance-hungry souls a hundred times over, are you ready for it?
Why Honeymoon In Singapore?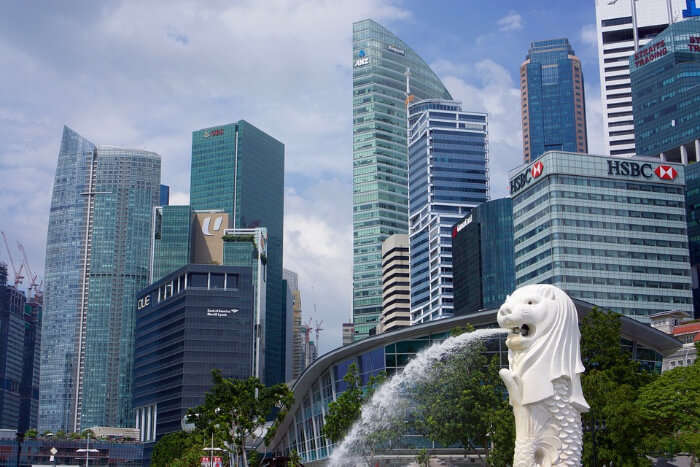 Image Source
Well, it isn't hard to explain what makes Singapore the best honeymoon spot in Asia for newlywed couples. Other than shopping, partying, and cruising, these perfect reasons listed below will definitely make you book your Singapore honeymoon trip right away.
The grand lifestyle and entertainment: The city offers a wide range of interesting and exciting activities to suit the different interest of honeymooners. From Night Safari, Botanic Gardens, Singapore Zoo to Sands Skypark, Singapore Flyer, Universal Studios in Sentosa, there's so much to make your vacation interesting.
Melting pot of cultures: You'll be surprised to see how harmoniously the people of this cosmopolitan society live with people from a different culture. This lets tourists enjoy the best amalgamation of Chinese, Indian, Eurasian, and Malay cultures through foods and festivals.
Oh! the delightful cuisine: If you aren't a foodie now, you'll become one after celebrating your honeymoon in Singapore. Singapore cuisine is absolutely delicious, and dishes like chilli crab, hokkien prawn mee, kaya toast, nasi lemak, Hainanese chicken rice, fish head curry, and laksa adapted from different cooking traditions will satisfy your taste buds. There's not only local street food and fine dining but innovative concepts like Whampoa Hawker Centre.
Luxurious hotels: Lastly, if you are someone who loves staying in luxurious hotels with cutting edge interior design, then the city will live up to your expectations.
If this doesn't convince you, nothing can!
Suggested Read: Marina Bay Sands In Singapore Is An Epitome Of Sophistication & The King Of Superlatives
Best Time To Visit Singapore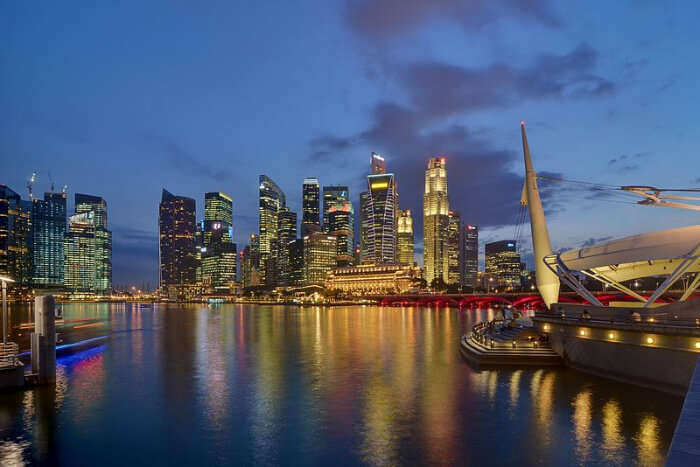 Singapore is such a place that can be visited throughout the year, however, the best time to visit Singapore for honeymoon is Feb to April as it is extremely pleasent for outdoor activities.
Ideal Duration And Average Cost
Although, the ideal duration for a honeymoon in Singapore is 6 nights and 7 days, but this wonderful city has so much to offer that sometimes couples find the time too little. Crazy Singapore!
Average trip cost including flight: INR 2,00,000
Suggested Read: A Magical Honeymoon Trip To Singapore: Start Of A Lifelong Love Affair
Average Budget Per Couple Per Day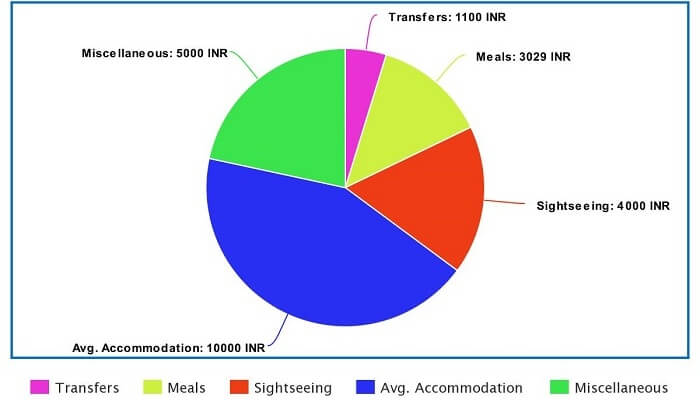 Places To Visit In Singapore With Your Beloved
The city's blend of old and new has never failed to amaze tourists. These top six places will let you explore every bit of Singapore with your sweetheart.
1. Sentosa Island: Have Unabashed Fun!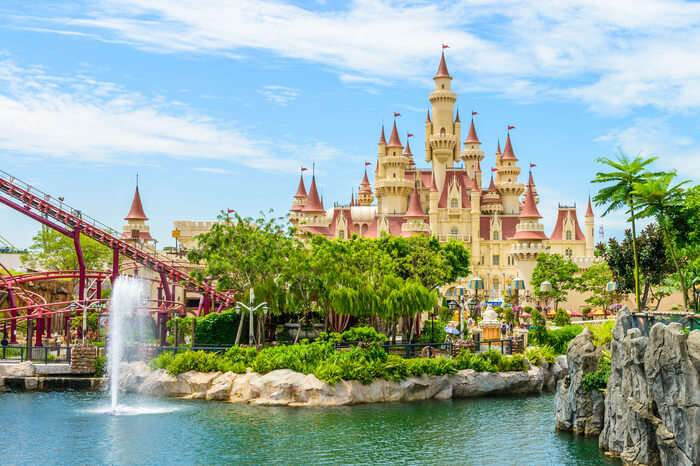 Get ready for some thrilling and fun experiences in Sentosa Island. Sentosa has a lot of interesting things for couples to enjoy. You can explore Universal Studios Singapore where you can enjoy exciting water rides, roller coaster rides, live shows, rock climbing, river rapid, jurassic park adventure, etc. This is the most happening island near singapore for honeymoon.
If you are not in a mood for adventure, then you can spend the day lazing around or swimming in the blue waters. There's a good variety of beach bars and restaurants for you to spend a romantic day out. If you want some more privacy and peace then you can head to Tanjong Beach. Get your beachwear ready!
Suggested Read: 5 Best Restaurants Near Clarke Quay For Your Exotic Singapore Vacation In 2022
2. Marina Bay Sands Skypark: Party The Night Away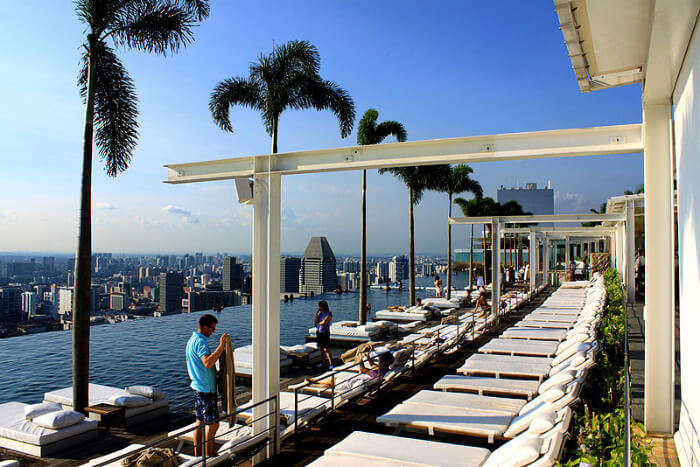 If you are in a mood to party the night away, Skypark is where you should go. This place near Gardens By The Bay is an important part of the popular Singapore skyline. At night, the whole place gets illuminated with colorful lights making it look absolutely romantic. You can visit KU DÉTA, which is a popular restaurant in Skypark. The restaurant is located on the terrace where diners are treated to an absolutely sparkling view of the city.
3. Gardens By The Bay: Experience The Waterfront Views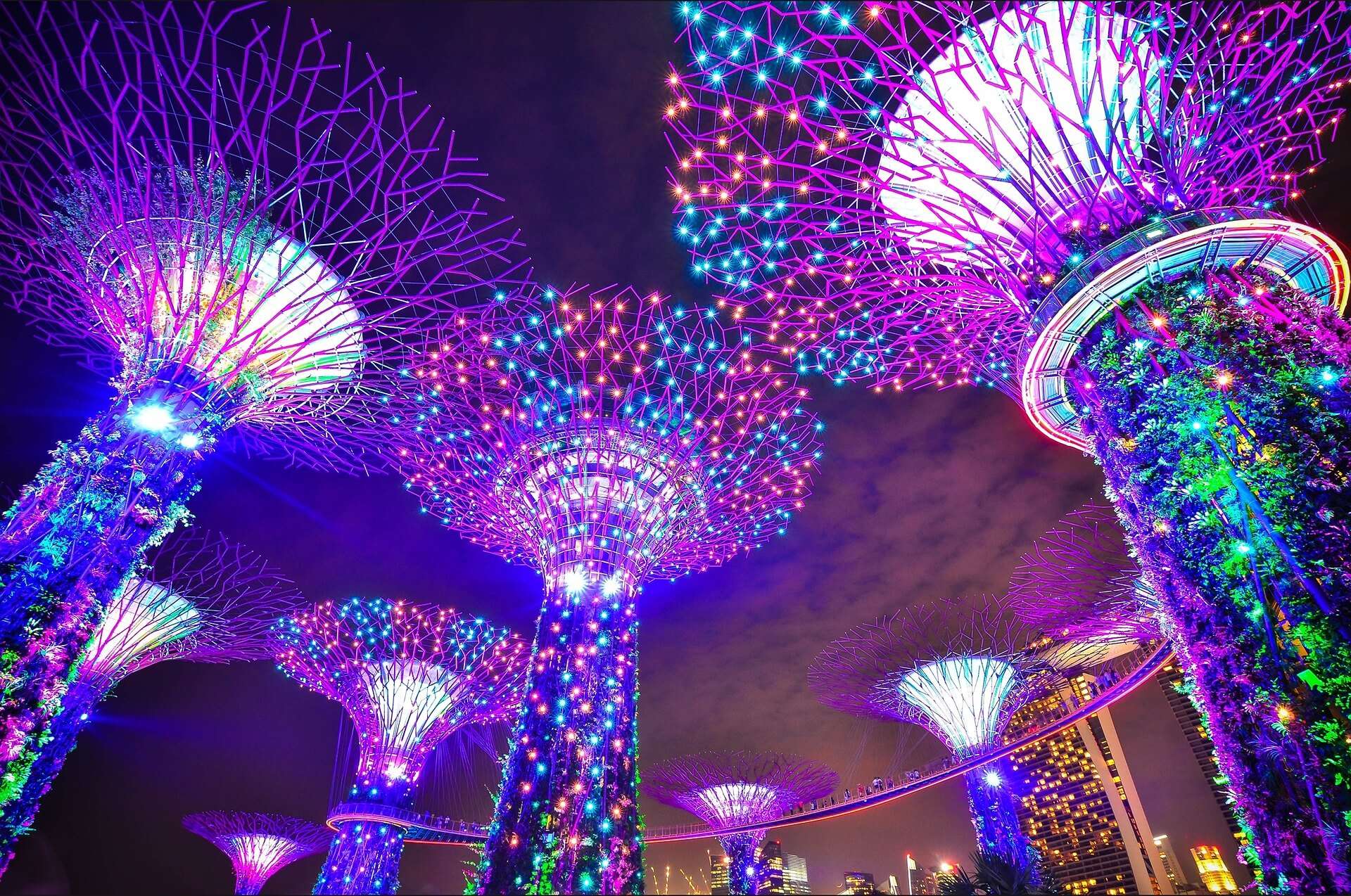 Situated next to Marina Reservoir, the garden offers awe-inspiring waterfront views. This award-winning horticultural attraction is spread across 101 hectares, and consist two main areas—Bay East Garden and Bay South Garden.
Bay South Garden is the largest one inspired by Singapore's national flower – a Singapore orchid. You can see the giant tall supertrees as high as a 16-story building that make the garden immensely beautiful. You can walk on the suspended walkway to enjoy a bird's eye view of the completed garden. And the Bay East Garden with lush lawns and tropical palm trees is just perfect for those little, fun picnics.
Opening hours: 5 am – 2 am for outdoor gardens; 9 am – 9 pm for conservatories and OCBC Skyway
Entry fee: Free for outdoor gardens; S$28 for adults, S$15 for children for conservatories; S$5 for adults, S$3 for children for OCBC Skyway
Suggested Read: 20 Romantic Places To Visit In Singapore For Honeymoon In 2022
4. Night Safari: Explore The World's First Nocturnal Zoo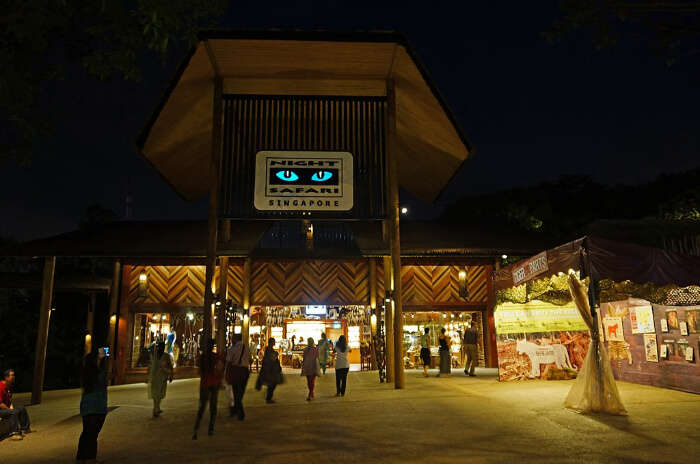 As soon as the sun goes down, the doors of Night Safari opens up for visitors. Night Safari—the world's first nocturnal wildlife park lets you experience an entirely different safari. You'll be greeted by about 2,500 resident animals including, endangered species like the Asian elephant, Malayan tapir, and Malayan tiger.
If you are a night owl, then this is the place for you. If you prefer exploring the park on wheels, you go for a 35-minute long tram.
Other activities to try: River Safari, Jurong Bird Park, and Night Safari
Opening time: 7.15 pm
Admission time slots: 7:15pm, 8:15pm, 9:15pm, 10:15pm
Last admission: 11.15pm
Closing time: 12.00mn
Ticketing counter operating hours: 5.30pm – 11.00pm
Suggested Read: 54 Remarkable Places To Visit In Singapore In 2022 Where A Wandering Heart Finds Peace
5. Chinatown: Get Lost In The Bustling Mix Of Old And New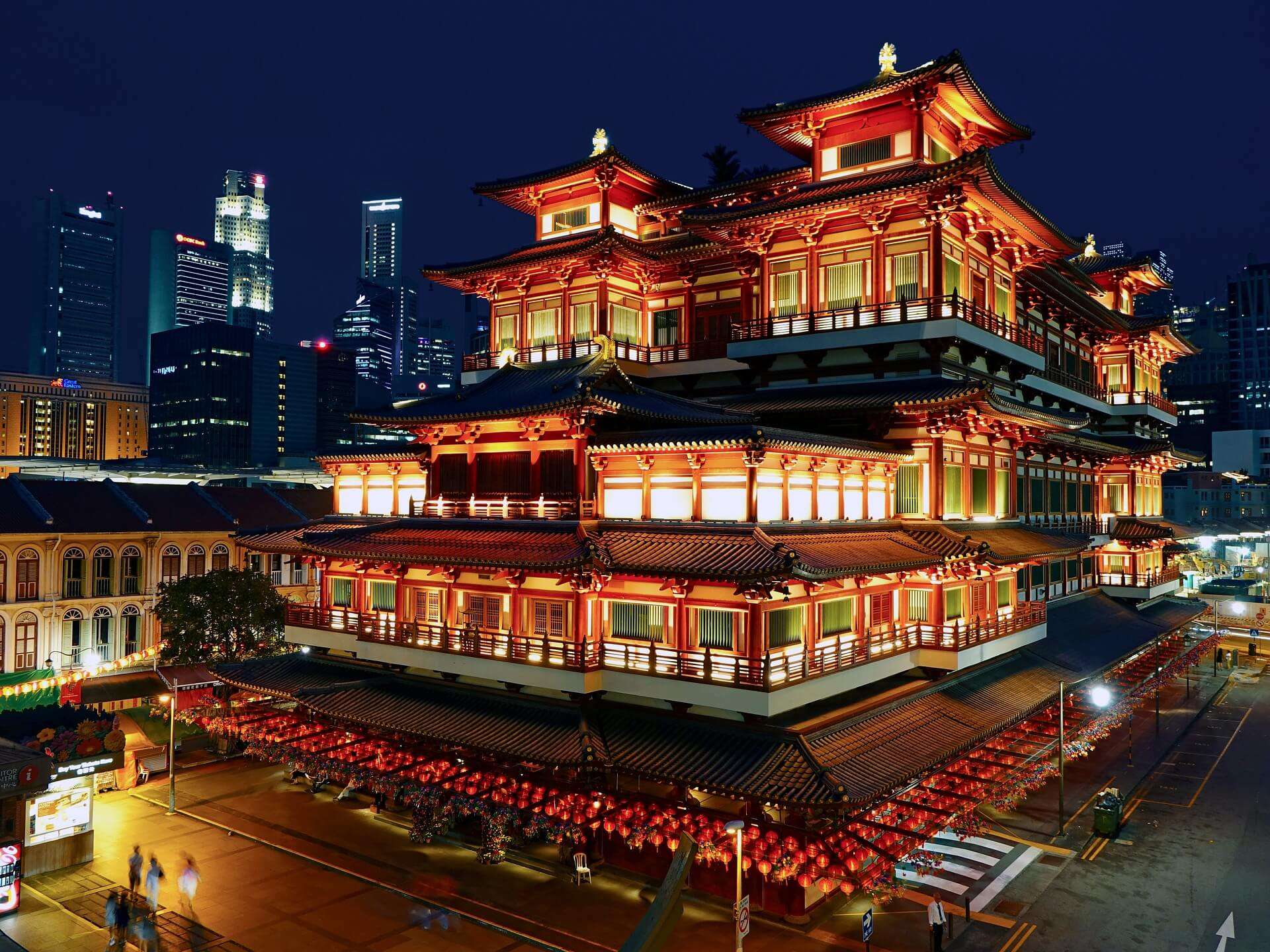 The traditional markets, cool cafes, and interesting shops make Chinatown a must-visit place. One can easily spend a few days exploring the narrow lanes of this historically rich town. If you are a foodie, you can't leave the place without having a bowl of char kway teow (stir-fried noodles) and satay (barbecued meat skewers) from street stalls.
People who like modern and classy places to eat can find bars and restaurants on Neil Road, Duxton Road, and Keong Saik Road.
Must try in Chinatown: Visit Buddha Tooth Relic Temple, Sri Mariamman Temple, Red Dot Design Museum, Chinatown street market, and Singapore City Gallery
Suggested Read: 5 Things To Do In Toa Payoh Central With Family On A Singapore Vacation In 2022
6. Clarke Quay: Spend An Evening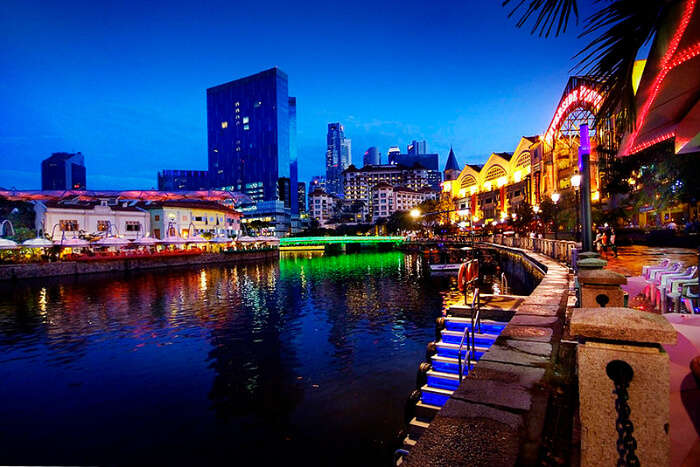 Clarke Quay is a historical riverside hub of the city where you can have good times. Stretched along the banks of Singapore, this place lets you enjoy a mesmerizing view of the river. You'll find plenty of dining and entertainment options here.
That's not it, Clarke Quay offers fun activities like reverse bungee that throws you 60 m into the air; an extreme swing that falls from a height of 50 m; and a river cruise that lets you enjoy a romantic ride.
Must have experiences: Other than the swing, bungee, and river cruise, you must try Brizo's crab buffet, watch the laser show, and visit Asian Civilisation Museum, which is a few minutes walk from Clarke Quay.
7. Bintan Island: Take A Tour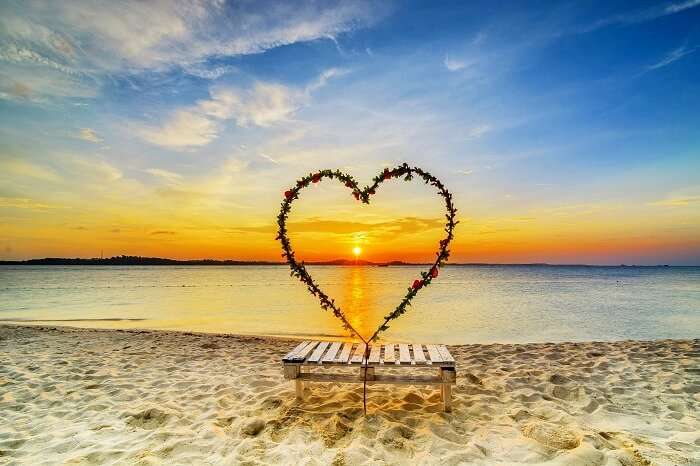 Island hopping is amongst the major things to do on holidays, but instead of taking tours of multiple islands, you can visit the famous Bintan Island, indulge in water sports, unwind with your favorite drinks by the beach, and capture beautiful memories together. For reaching the Bintan Island, you can take a ferry from the Tanah Merah Ferry Terminal in Singapore and make it to the island in around 45 minutes.
Ideal duration: 1 day
Location: Riau Islands Province, Indonesia
Suggested Read: Night Safari In Singapore: Experience The Adventure!
Romantic Places In Singapore
If you want to get away from the hustle bustle of the city, then these romantic and tranquil places will fill your heart with joy and peace.
1. Botanic garden: Explore The 156-Year-Old Attraction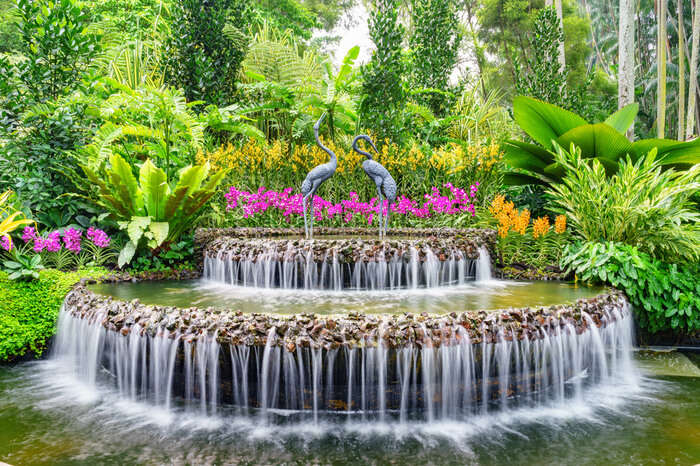 This colourful and serene garden has recently been recognized as a UNESCO National Heritage. The timeless charm and peaceful environment of this place attracts couples in love. You can lazily walk hand-in-hand with your beloved exploring the beauty of the garden.
You'll be surprised to see the wide variety of orchid species in the National Orchid Garden. This garden is so beautiful that you'll often spot couples posing for their pre-wedding photography.
Opening hours: 5am -12 midnight daily
Entry fee: Free (except National Orchid Garden). You can check their official website for more info.
Suggested Read: 8 Things To Do In Maxwell In 3 Days On A Short Visit To Singapore In 2022
2. Fort Canning Hill: Take Your Love To The Hill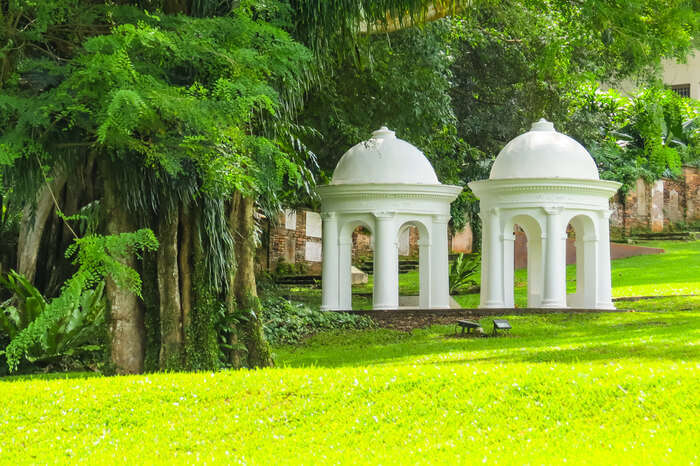 One of the most important spots for honeymooners in Singapore, Fort Canning National Park lets you get lost in each other's sweet conversation in the middle of the natural splendor. As soon as you'll enter this place and start strolling around the hillside, you'll forget about the rest of the world and will be engrossed in its beauty. This place is not only a romantic spot, but also one of the most important historical places in Singapore.
Things to do in Fort Canning: Explore history and heritage, Nature walks, Photography, Bird watching, and Spice garden tour
Opening hours: 7am – 7pm
3. Yueh Hai Ching Temple: Visit The Love Temple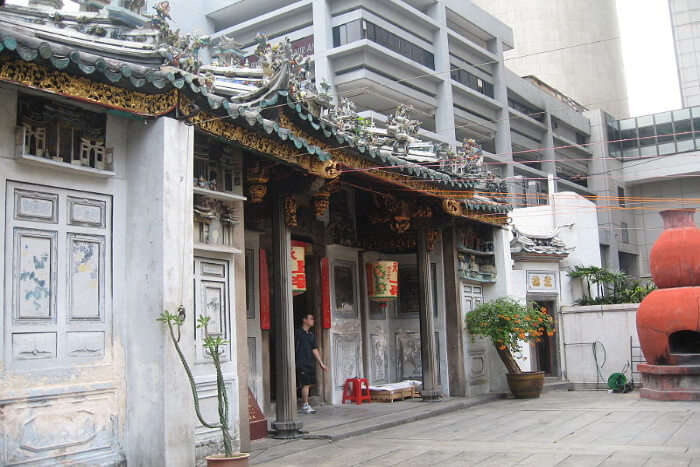 Built in 1826, this is the oldest Teochew temple in Singapore. Yueh Hai Ching Temple is a go-to place for couples to seek the blessings of Yue Lao. The ornamented roof, wood carvings, painted walls, and finely sculpted ceramic figurines are a sight to behold.
4. Bukit Batok Town Park: Lose Yourself In The Silence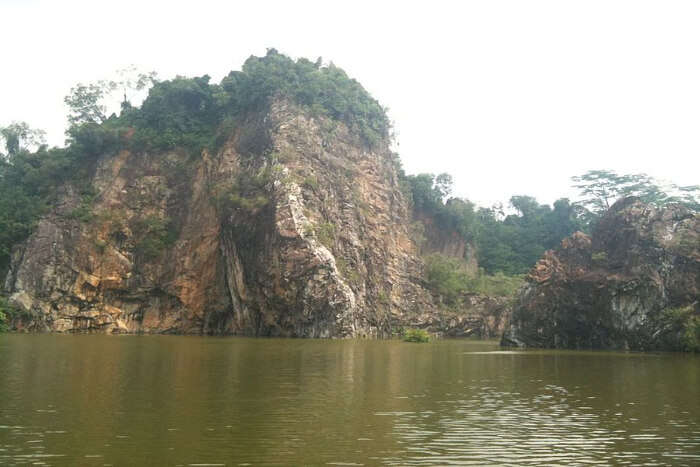 Locally known as Little Guilin, Bukit Batok Town Park looks similar to that of Guilin in China. This park is quite popular among couples and peace lovers. The park is beautifully designed so that people can walk along the banks of the lake. You and your sweetheart will surely enjoy a short trip to the park.
Visiting hours: 7:00 pm to 7:00 am
Suggested Read: Honeymoon In Singapore And Bali: A Magical Trip Full Of Love And Adventure!
Things To Do In Singapore On Your Honeymoon
Singapore is jam-packed with things to do for honeymooners. Explore places to shop, go on a photogenic walk, or have a romantic dinner with a 360-degree view of the glittering city.
1. Singapore Flyer: Go Above The City's Iconic Landmarks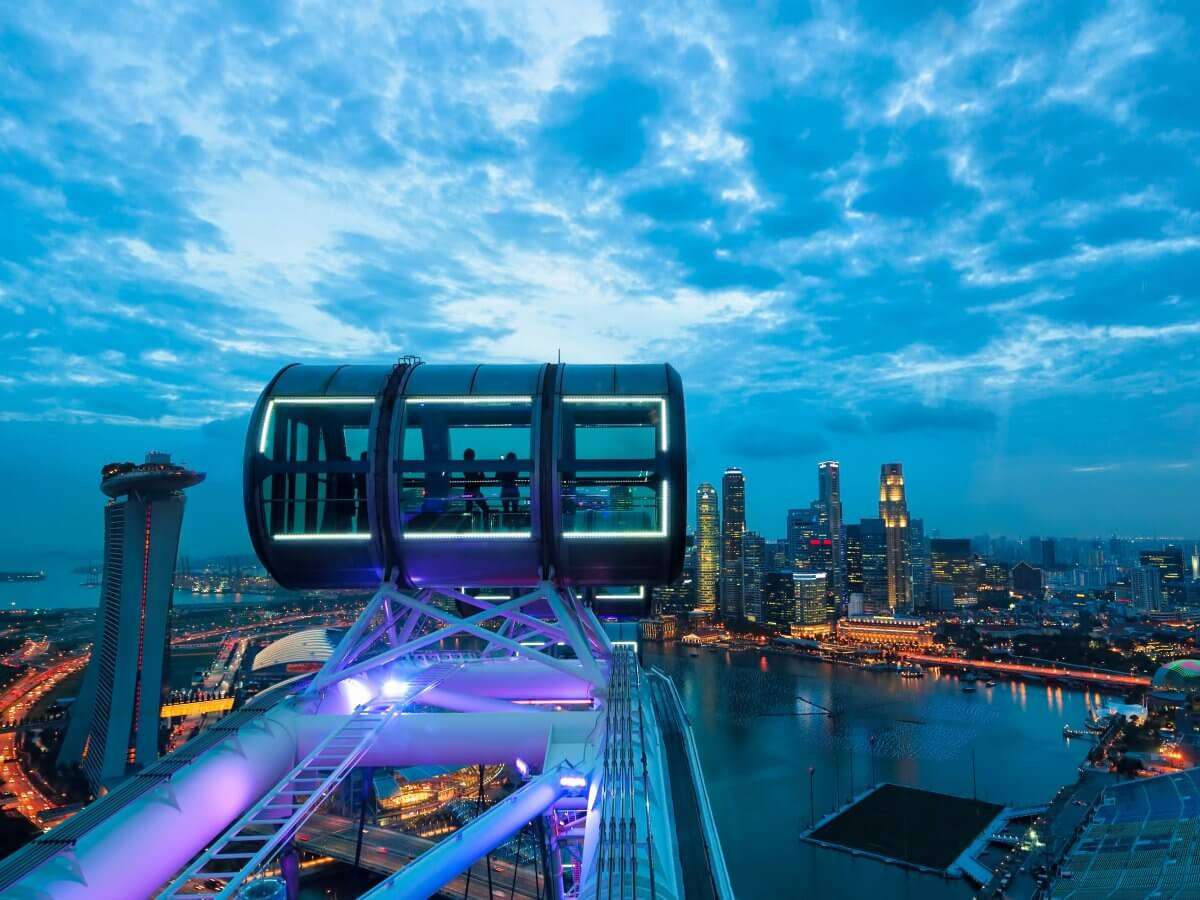 The Singapore Flyer is not an ordinary structure. On a clear day, you can see some parts of Malaysia and Indonesia from Asia's largest observation wheel. The flyer takes you as high as a 42-story building that lets you enjoy a spectacular view of the city.
If you take a special in-flight package, you can enjoy fine-dining in the flyer with 360 degrees city views.
Opening hours: 8.30 am to 10.30 pm daily (last entry 10.15pm)
Ticket price: Adult Ticket S$33, Senior Ticket S$24 (Above 60 years old), Child Ticket S$21 (3 to 12 years old).
Suggested Read: 9 Things To Do In Singapore In 9 Days To Ensure A Memorable 2022 Vacay!
2. Shop Till You Drop!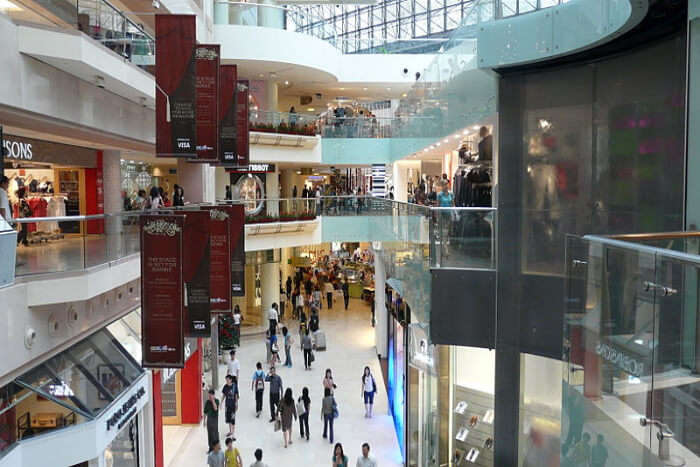 Do you love shopping but don't want to splurge unnecessarily? In Singapore, you will find places where you can shop for clothes, makeup items, and accessories at a cheaper price.
Most popular markets in Singapore:
Scape – A popular flea market in Singapore, Scape opens from Friday to Saturday from 12 pm to 10 pm
China Square Central – If you can't stand the heat at Scape, then you should explore the air-conditioned flea market of China Square Central, which opens every Sunday from 11 am to 5 pm
Haji Lane and Bugis Street – Head here, if you want some trendy and timeless clothes and accessories
Mustafa Centre in Little India – Another shopping hub which is open 24 hours a day and seven days a week
IMM – If you are brand conscious, then this is your heaven
Most popular souvenirs from Singapore: Artifacts, gold-plated orchids (real orchids plated with 24 karat gold), music CDs, Chinese herbal medicines, handbags, batik fabric, and local brand perfumes.
3. The Helix Bridge: Take Incredibly Beautiful Pictures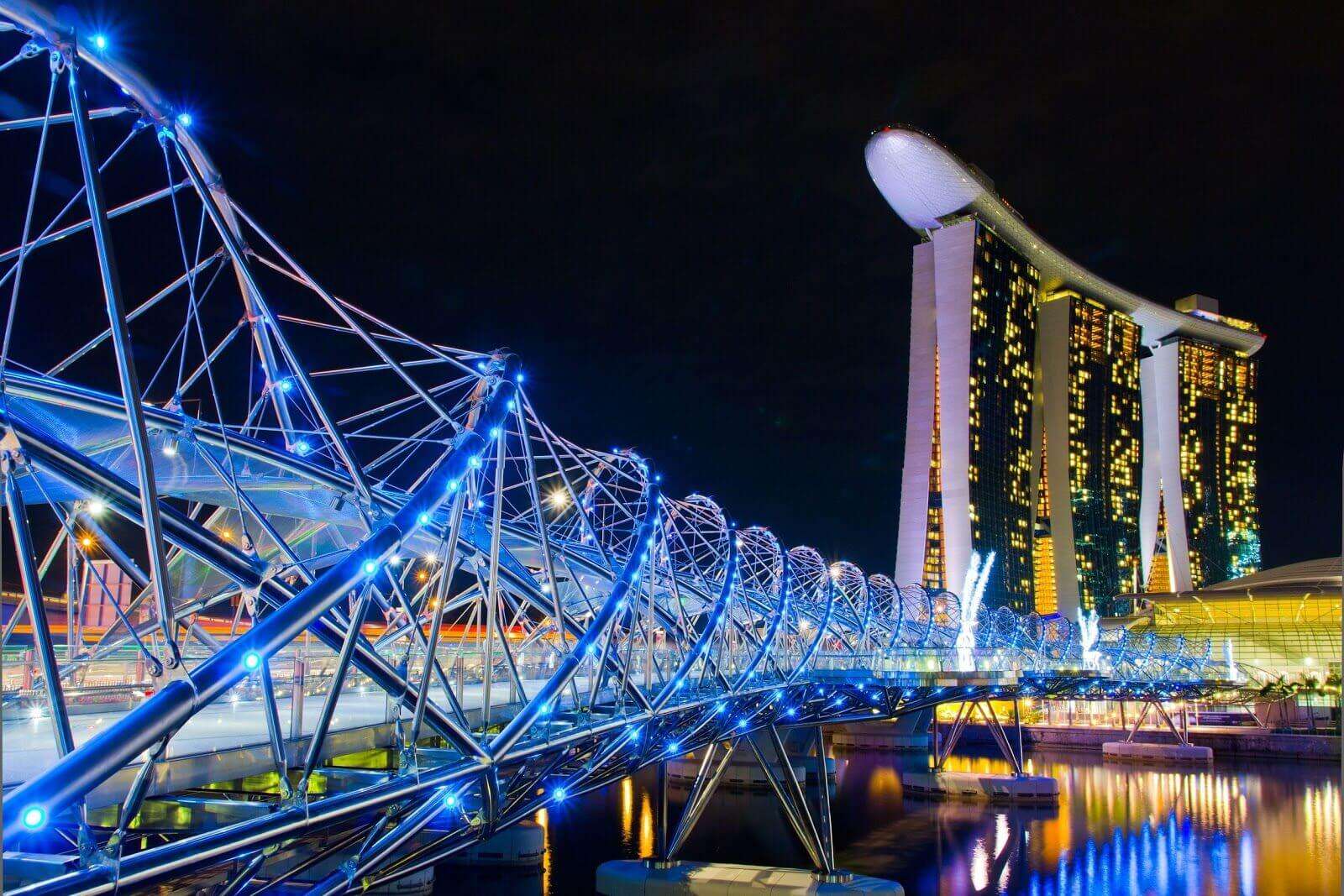 The Helix Bridge is the world's first curved double helix bridge and a remarkable piece of architecture. It's a pedestrian connection across the head of the Singapore River between the Central Business District (CBD) and its new Bayfront district. Tourists love to capture this piece of beauty in their cameras. It's also a wonderful place to take a long walk with your love.
Other things you can do on your honeymoon include, stargazing at Science Center Observatory, exploring Haw Par Villa park, having breakfast with Orangutans in Singapore Zoo, and exploring a serene island called Pulau Ubin. You can also check out some really interesting free things to do in Singapore to add some more fun to your honeymoon trip
Suggested Read: Top 35 Romantic Things To Do In Singapore For Couples In 2022!
Best Honeymoon Hotels In Singapore
Choosing your hotel is as important as choosing your honeymoon destination. Even if romance has a different meaning for every couple, but an idyllic hotel is what every couple needs on romantic trip.
1. Raffles Hotel Singapore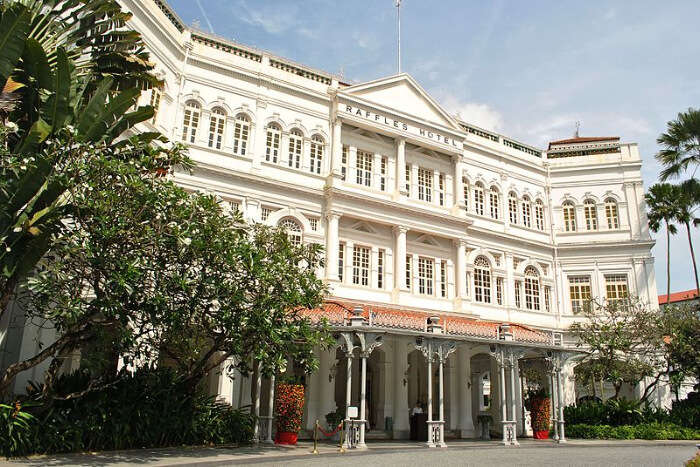 Raffles, this wonderfully restored colonial building is the most popular hotel in Singapore. No other building on the island of Singapore tells the story of its colonial history better than Raffles. Somerset Maugham, Herman Hesse and Rudyard Kipling were some of the eminent personalities that spent a night here.
The hotel has its own Victorian-style theater, stylish restaurant, and a lot more. No words can explain the beauty, comfort, style, and service of the hotel.
Average tariff: INR 45,000
Suggested Read: 4 Things To Do In Telok Blangah Rise In May For A Memorable 2022 Singapore Trip
2. The Ritz-Carlton, Millenia Singapore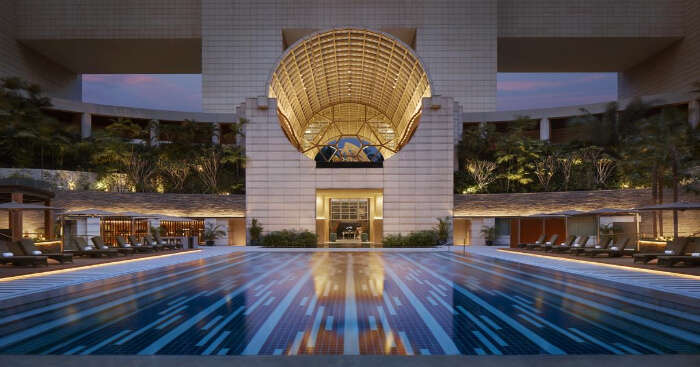 The Ritz Carlton, Millenia Singapore lets its guests immersed in unbelievably beautiful views of Marina Bay and the in-house museum with 4,200 pieces of art collection. For guests, there's also an elevated club lounge on level 32 with class-apart dining options including, Colony, Summer Pavilion, and One Michelin Star.
Average tariff: INR 25,000
3. The Fullerton Bay Hotel Singapore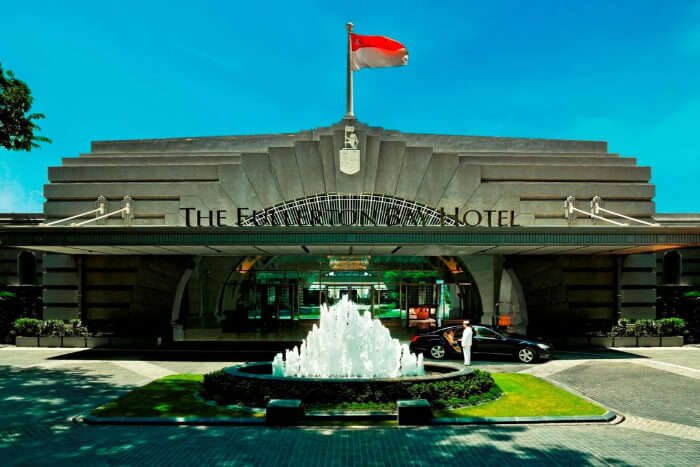 The hotel is one of the latest additions to Singapore's Marina Bay waterfront. Each guest is welcomed with panoramic views of the waterfront and the city's gleaming skyline. The views from their restaurants and rooftop bar is also spectacular. A comfortable & big bed, breathtaking views, delectable food, and finest service—aren't these the things honeymooners want.
Average tariff: INR 24,000
4. Mandarin Oriental Singapore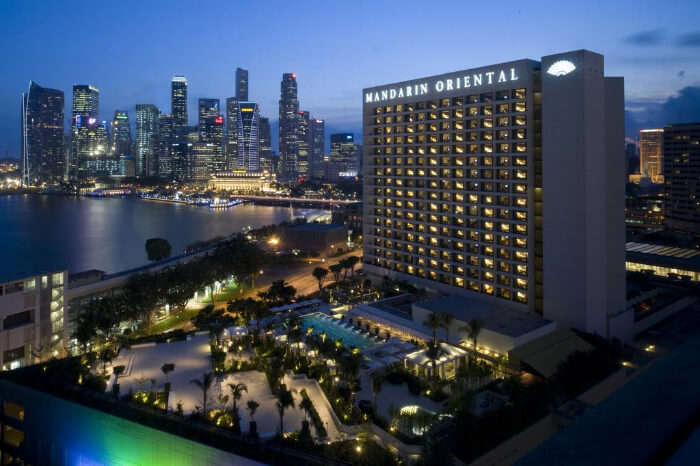 Towering over Marina Bay, Mandarin Oriental features an outdoor pool with a luxurious spa and spectacular cityscape views. If you wish to stay in a hotel room with postcard-perfect views, then the ocean view room of the hotel will make your dream come true.
Average tariff: INR 20,000
5. The Quincy Hotel By Far East Hospitality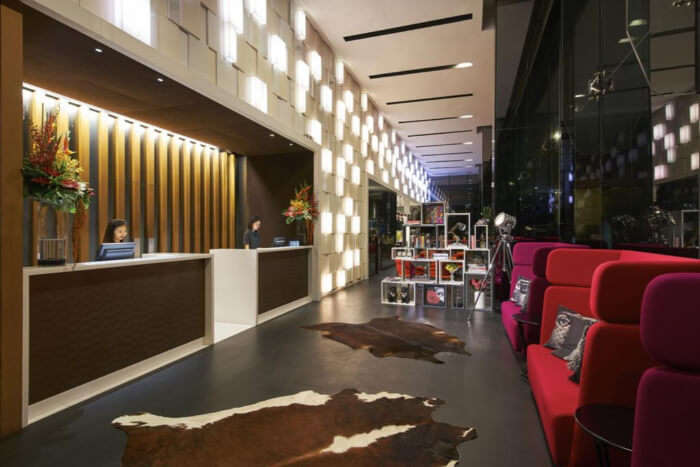 The Quincy Hotel by Far East Hospitality promises a class apart experience. The hotel is about a 5-minute walk from Orchard Road shopping district. Easy on your pocket, this stylish hotel comes with an infinity pool overlooking the city, which is just perfect for spending your evenings with your significant other.
Average tariff: INR 15,000
Further Read: 23 Romantic Budget Honeymoon Destinations In Asia In 2022 For Every Budget
We hope these remarkably wonderful places and experiences make your honeymoon trip to Singapore eventful. We are eagerly waiting for you to share your honeymoon travel story with us.
Disclaimer: TravelTriangle claims no credit for images featured on our blog site unless otherwise noted. All visual content is copyrighted to its respectful owners. We try to link back to original sources whenever possible. If you own the rights to any of the images, and do not wish them to appear on TravelTriangle, please contact us and they will be promptly removed. We believe in providing proper attribution to the original author, artist or photographer.
Please Note: Any information published by TravelTriangle in any form of content is not intended to be a substitute for any kind of medical advice, and one must not take any action before consulting a professional medical expert of their own choice.
Frequently Asked Questions About Honeymoon In Singapore
What is the best time to visit Singapore?
Since Singapore experiences a similar weather throughout the year except December and January, when it rains the most, any time of the year is a great time to visit there. However, the best time to visit for your honeymoon is between February and April as these months are a bit more pleasant than the rest.
Which are the best Singapore honeymoon resorts?
Shangri-La's Rasa Sentosa Resort & Spa, Sofitel Singapore Sentosa Resort, and Siloso Beach Resort are the best resorts in Singapore for honeymooners.
Which are the top honeymoon destinations from Singapore?
Some of the top destinations to visit for honeymoon from the lion city are Malaysia, Thailand, Bali, Maldives, and Hong Kong.
Looking To Book An International Honeymoon?
Book memorable honeymoon on TravelTriangle with 650+ verified travel agents for 65+ domestic and international destinations.
---
People Also Read
Honeymoon In Asia Honeymoon In Hong Kong Honeymoon In Malaysia
Comments
comments