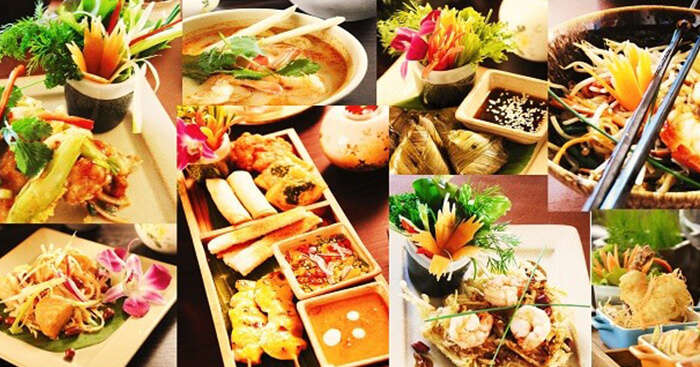 Never heard of Food Blues? The awesome track by Bobby Bare is a must-listen for all you food lovers out there! And talking of Singapore, the Lion City is a small country with a voracious appetite. You can't even think of missing the Singapore delicacies even if you are on diet.
And the breaking news is — Singapore cuisine is not just about prawns, fish and chicken but the cuisine has love for veggies too. So, we move from herbivores to carnivores giving you a quick idea of what to gorge on while in Singapore.
1. Khway Chap
Kway Chap is one of the most famous vegetarian dishes among all Singapore foods. The chap is dipped in spicy liquid which has handmade chili sauce, and believe us it's amazing.
Where to try: Tian Ci Vegetarian Food
Cost for two: INR 300
Explore Memorable Tour Packages to Singapore from India
2. Laksa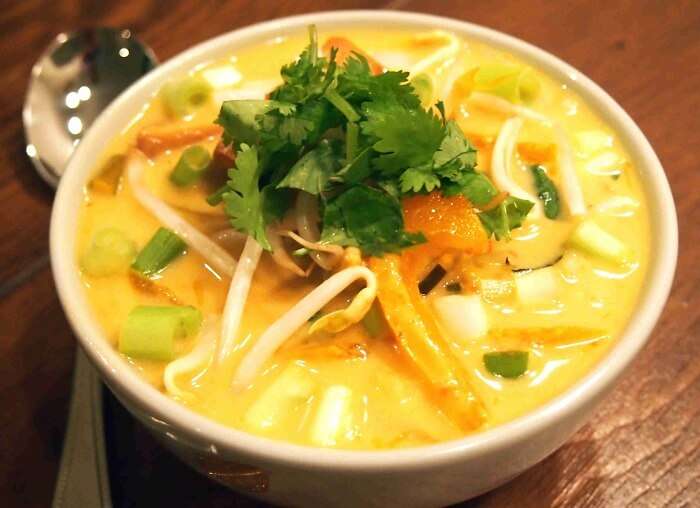 Laksa among Singapore foods, is a peculiar dish in every way, be it the taste or presentation. The laksa paste is cooked with noodles till the time, the juice enters the noodles completely, and that is why it gives you a wow experience. The spices and the aroma would not let you leave this dish till you empty the bowl.
Where to try: YWQ Vegetarian Bistro
Cost for two: INR 550
Suggested Read: 25 Free Things To Do In Singapore We Bet You Didn't Know About
3. Rojak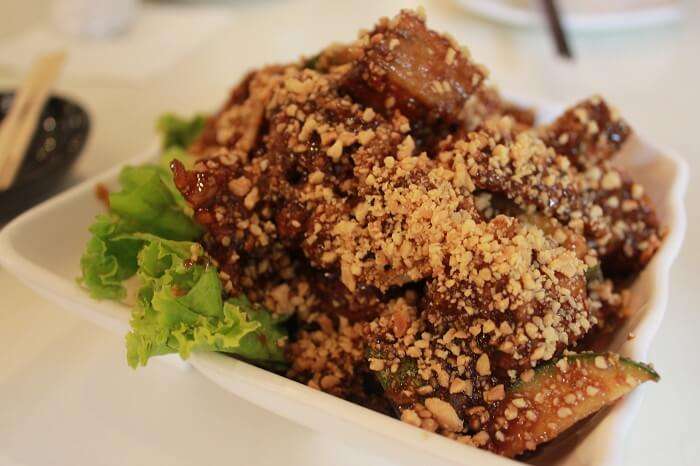 With beans, sprouts, pineapple, cucumber and peanuts melting in your mouth, your taste buds will fail to judge whether it is salty, sweet, sour or bitter. Chinese spices add an Indian touch and the red gravy temptation is tough to resist. The rating falls in the section of nice food in Singapore.
Where to try: Soon Heng Rojak
Cost for two: INR 300
Non-vegetarians, here is your journey of gastronomical delight with Singapore cuisine.
4. Fish Head Curry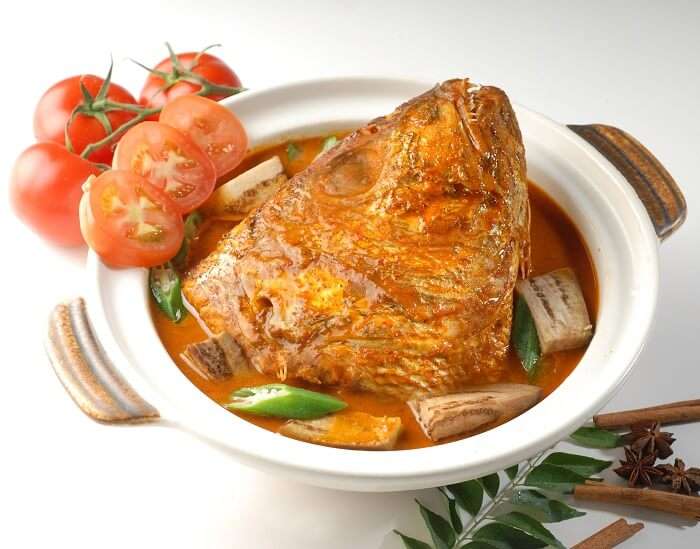 In layman's language, this is just 'head in the soup'. And Indians have a soft corner for this dish because it comprises flavorful fish dipped in chili curry and is eaten with rice or bread.
Where to try: Samy's Curry Restaurant
Cost for two: INR 2,000
5. Chili Crab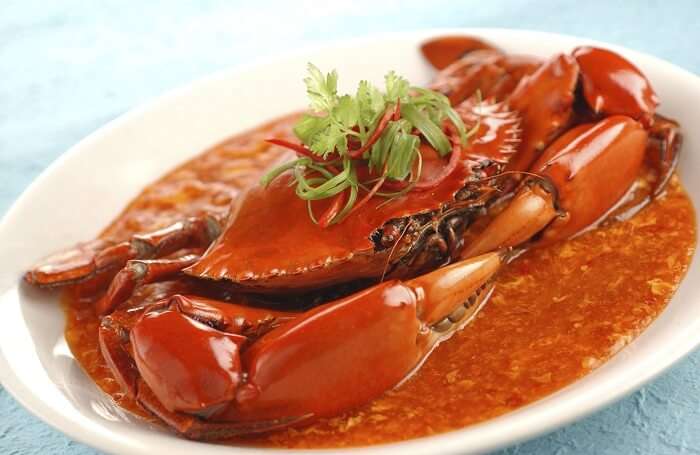 This is another signature from the gamut of Singapore traditional food. The tangy tomato curry and salted yoghurt remind you of Indian curries. Crab enthusiasts would love it with mini buns. Once served, the average time to finish this dish is just 10 minutes; you can't resist it.
Where to try: Roland Restaurant
Cost for two: INR 3,000
6. Chicken Rice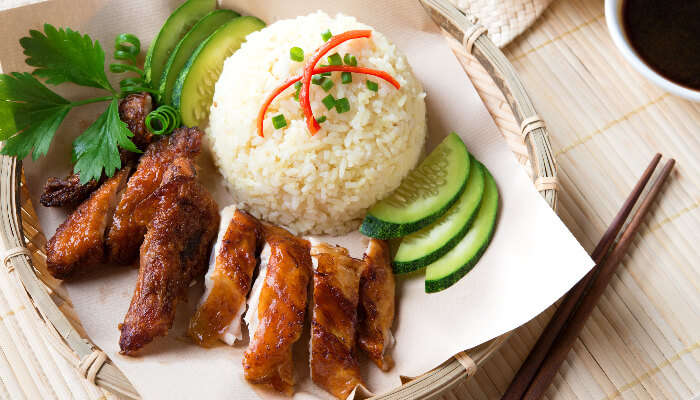 This is not the typical chicken rice you are thinking about, this is the national food of Singapore. Be it a food stall, hawker, luxury hotel or an animal center, this dish is available at every corner in the country. Quite aptly termed as fast food in Singapore, it is the well roasted chicken dipped in soy sauce with garlic and ginger that differentiates it from the common chicken rice available everywhere. The subtlety has made chicken rice 'poor men's food' in Singapore cuisine.
Where to try: Tian Tian Hainanese Chicken Rice
Cost for two: INR 1,000
Suggested Read: Shopping, Celebrations & Safaris: 10 Reasons To Visit Singapore In 2022
7. Char Kway Teow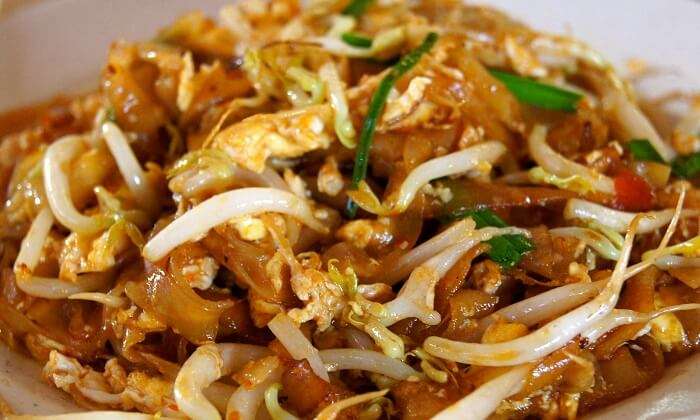 Image Source
This is not diet food but yeah,who can resist this beautiful looking dish? Prawns and eggs are as exotic in Singapore cuisine like Dal Makhani and Butter Chicken in India. Char Kway Teow is made using the 'breadth of wok'technique which is similar to 'dum' process in India. And yes, the taste becomes heavenly when fried pork becomes an additional variant of this famous food in Singapore.
Where to try: Hill Street Fried Kway Teow
Cost for two: INR 1,000
8. Wantan Mee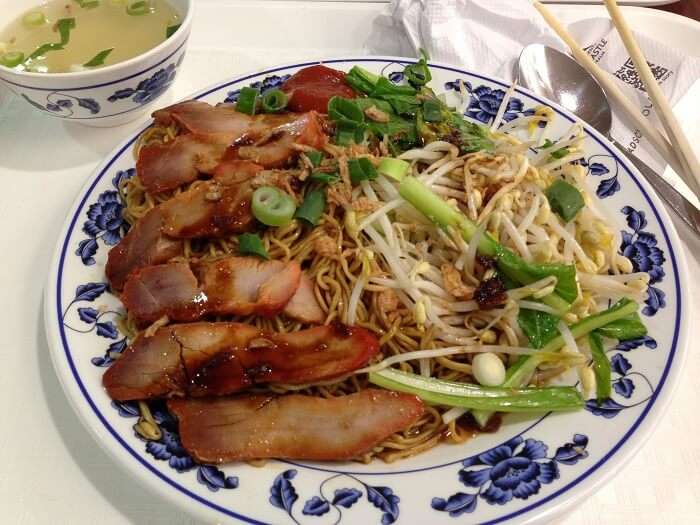 The wholesome platter comprises juicy meat—dry and red, with greenery of veggies all around. Tastes best when this Singapore traditional food is combined with pork.
Where to try: Dajie Niang Dou Fu
Cost for two: INR 1,200
Experienced loads of nice food in Singapore!! Now allow desserts to 'clear the table'.
9. Chai Tow Kuay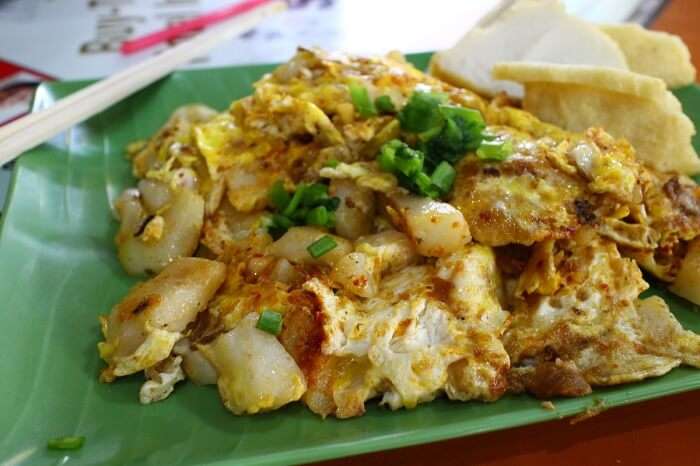 This is the most weird, and different carrot cake that you would have ever tasted. You might be thinking why this is not red? That's because carrot is sandwiched between white flour and layers of cake. To make it a little peppy the sweet dish is slightly tweaked. The carrot cake is cut into pieces and noodles loaded with soy sauce are filled in the void.
Where to try: Song Zhou Luo Bo Gao
Cost for two: INR 600
10. Ice Kachang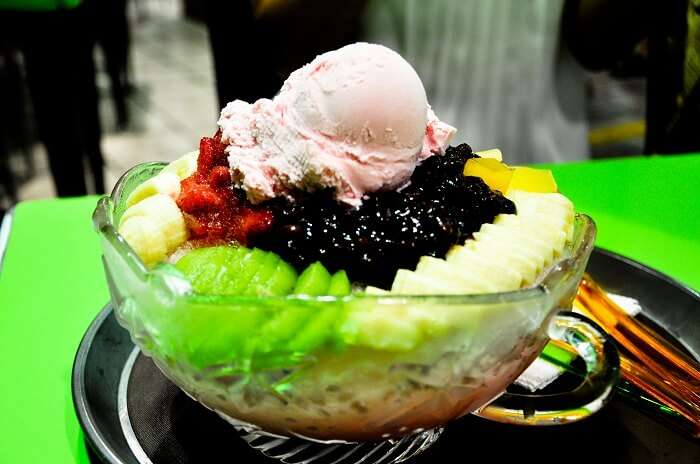 The dessert not only fills your tummy but is nirvana for a foodie's wandering soul. The ice shaved mountain with fruits, beans and creamed corns is a sweet quencher. Yeah! This is for you healthy people around. One bowl full is only 10 calories, so health conscious people can afford to try it even twice a day.
Where to try: Jin Jin hot/cold desserts
Cost for two: INR 1,000
We know your tongue is reaching the ground but you can't eat the pictures right. Visit the Lion City for a sumptuous drive of food. Besides scrumptious Singapore cuisine, there is finger-licking desi food—like chole bhature, paneer tikka (cottage cheese) and breads dipped in curry—too. Song of India and Samy's Curry Restaurant are two of the best Indian restaurants in Singapore where you can full yourselves in just INR 1,500 for two.
Further Read: 20 Romantic Places To Visit In Singapore For Your Honeymoon