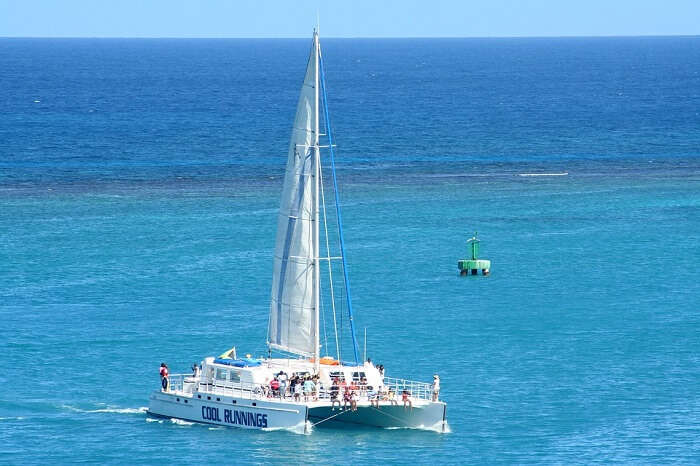 Jummah Mosque in Port Louis is not only a religious institution but also an example of amazing architecture. If you have done all the sightseeing in the capital and looking for more attractions, then you should check these islands near Jummah Mosque in Mauritius.
The mosque is located in the heart of the Mauritius capital. Dating back to the 1850s, the mosque features a fusion of Indian, Creole, and Islamic architecture. Right next to the mosque, you will find the tomb of Jamal Shah, a saint from the Kutch part of India. Port Louis has a significant number of Muslim population and this mosque is where they come to offer prayer and services to God.
Since Port Louis is located on the northwest region of the island with its proximity to other smaller islands or islets in Mauritius. It is the cultural, economic, and political center of the island and apparently the city with the highest population density too. The harbor is the official entry to the island and is where the nation's most business is conducted.
Once you have enjoyed sightseeing around the major attractions in the capital, you can simply hire a boat or take a catamaran cruise to other beautiful islands in Mauritius. Ile aux Cerfs is one of the most famous private islands in Mauritius which attracts a herd of tourists from all over the world. It offers an array of activities and experiences for the visitors. There is a lush golf course where you can enjoy the game of gentlemen. The island is also blessed to be in the vicinity of the largest lagoon called Trou d'Eau Douce. You can sign up for a tour or rent a boat and spend your time by the lagoon. It is a wonderful place to be in.
Then, there is the Flat Island or also called Ile de Plat. As the name suggests, it is a flat surface island in the Indian Ocean which offers you the most pristine views of the ocean. The island is feared to be drowned in the coming years. Therefore, you must check this place out before it submerges below the sea and is no more available to visitors.
Gabriel Island is another islet you can take your catamaran cruise and spend a day or two to have a fantastic island life. It takes around 1.5 hours to reach here but you will definitely enjoy the sailing time as the views are amazing. Here, you can enjoy an array of water sports activities and even swim with the dolphins.
Islands Near Jummah Mosque In Mauritius
Check out these pristine islands near Port Louis where you should definitely take a trip and enjoy a wonderful day on the island:
1. Flat Island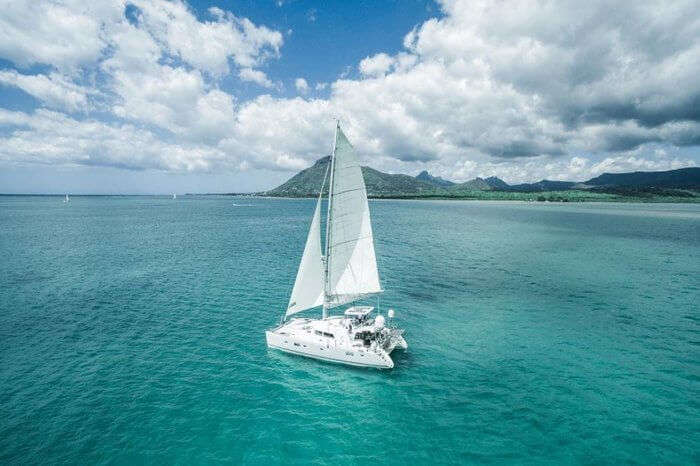 On the North of Mauritius, lies Flat Island; the island is part of Mauritius Northern Islands which include Round Island and Gabriel Island. Flat Island is bigger than these two islands, with a wide variety of flora.
Soak up some sun, while you lie on your luxurious cruise deck. Let the beauty of different islands refresh and thrill you. If you wish to explore Flat island, then hire a catamaran cruise to enjoy a full day in Sun, relish delicious food, gulp down sweet wine, and relax all day long.
Flat Island is relatively unknown, which makes it a perfect hideaway for romantic couples. On your demand, the cruise staff can cook meals for you or arrange a romantic dinner or lunch date. You can either get a Mauritius honeymoon package-with Catamaran cruise -for a better deal, or can-hire your own luxurious cruise when you get there.
On your Catamaran cruise to Flat Island, you can:
Experience breathtaking scenery all around
Explore local marine life
Snorkel inside the lagoon
Average charges for an exclusive cruise: INR 52,000
Duration: 7 hrs 30 mins
Services include:–Breakfast, lunch, non-stop alcoholic, non-alcoholic open bar, live music, snorkeling, sightseeing, and a lot more
Romance Aboard A Catamaran Cruise On Your Mauritius Honeymoon For Memories Of A Lifetime
2. Gabriel Island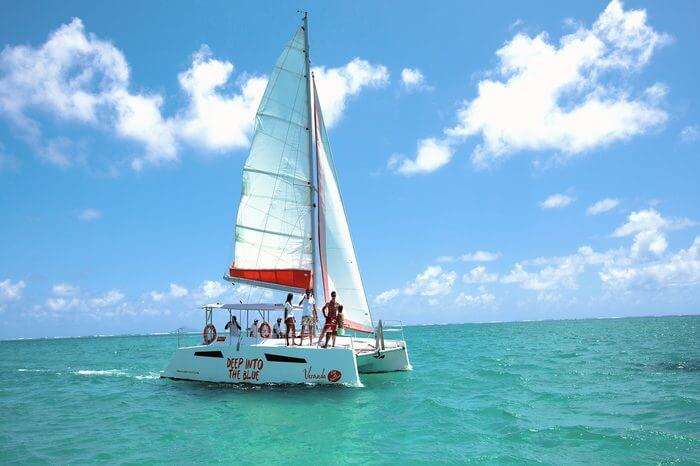 Couples who want to get away from the hustle-bustle can take a day-long catamaran cruise ride to Gabriel Island. The island is one of the best places to spend some quality time with your loved one and relax. You can also choose to take a short trip around the island without getting off your cruise, but you must not a skip this wonderful island.
On your Catamaran cruise to Gabriel Island, you can:
Relax on the clean beach of Gabriel Island
Try deep diving and snorkeling
Relax on the cruise and have a romantic dinner
Average charges for an exclusive cruise: INR 52,000
Duration: 7 hrs 30 mins
Services include: Breakfast, lunch, and dinner (non-veg and veg), live music, water sports, BBQ etc
Ilot Gabriel Beach: A Handy Guide To Have An Extravagant Trip Amid The Scenic Mauritian Views
3. Ile Aux Cerfs

If you like speed and thrill on the water, you are gonna love the speedboat tour around the island. Sail over the crystal clear water of the east coast lagoon and soak in the breathtaking natural beauty of Mauritius island. You can either hire a private boat tour or join a shared Ile aux Cerfs tour as per your liking. The tour experience also includes snorkeling break at Eau Bleu and leisure time at postcard-perfect beaches of the island. Enjoy a complimentary BBQ lunch and live guitar music on the beach
Private tour cost: INR 18,500
Shared tour cost: INR 4,400
Duration: 6 hours
Ile aux Cerfs: Top Experiences To Have on The 'Chic' Mauritian Island
So, these were a few islands near Jummah Mosque in Mauritius for you to have an amazing time hopping islands. When you are on a holiday in Mauritius, staying put on the island is the worst mistake you can commit. You are grateful to be on one of the most beautiful islands, go, explore beautiful places around and something awesome to the list of your experiences.
---
Looking To Book An International Holiday?
Book memorable holidays on TravelTriangle with 650+ verified travel agents for 65+ domestic and international destinations.
---