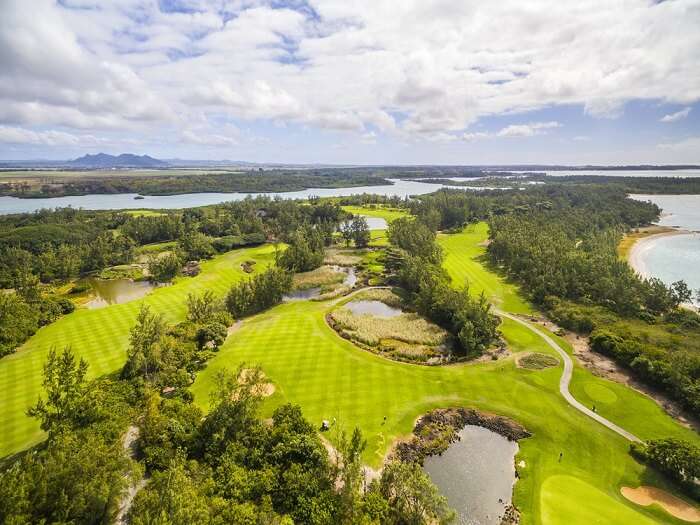 'Chic' and 'wild' are the two adjectives that do a great justice to describe the island settings of Ile aux Cerfs.
Translating to the 'island of deer' (however you will hardly see any now), the privately-owned island near the east coast of Mauritius is your gateway to unlimited adventures and beach leisure. The gin-clear waters, jaw-dropping lagoons, and profuse flora of the island make it a must-visit during your holiday in Mauritius.
But, why really should you visit the island? The answer is simple. While Mauritius is a group of tiny islands, Ile aux Cerfs is the most famous and easily accessible of all. Also, it is cheap. Even if time is a constraint, you can still have a number of enthralling experiences on the island. Just hop on one of the tours and you will know.
Top Things To Do On Ile aux Cerfs
If you plan to sit on the beach all day and get a tan, it would be a great waste of time since the island has especially been planned to offer unique experiences to its visitors. From water sports experiences to BBQ on the beach, you can make so many memories in so little time. Whether you are holidaying with family, spouse, or solo, your Mauritian holiday is incomplete without a full-day visit to the island.
1. Ziplining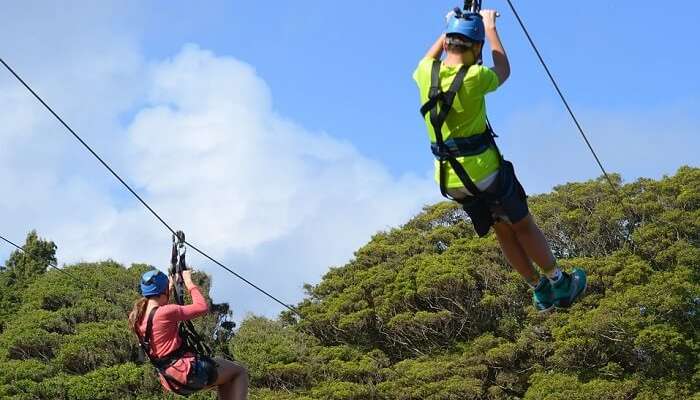 While Ile Aux Cerfs is known for its white sandy beaches and turquoise waters, those are not the only things you get to enjoy. Have a fun-filled excursion to the Treetops adventure where you can enjoy ziplining over the trees and enjoy the breathtaking views of East coast lagoon from the top. Not only your kids, you too are going to love dangling like Tarzan on the trees. The Tyrolienne circuits have been designed with various levels of challenges and circuits so you have a good dose of adrenaline pumping through your veins. The best part is you don't require any prior experience.
Price: Starts from INR 1,800
Suggested Read: Your Guide To Summer In Mauritius: Weather, Attractions, Activities & Tips
2. Underwater Sea Walk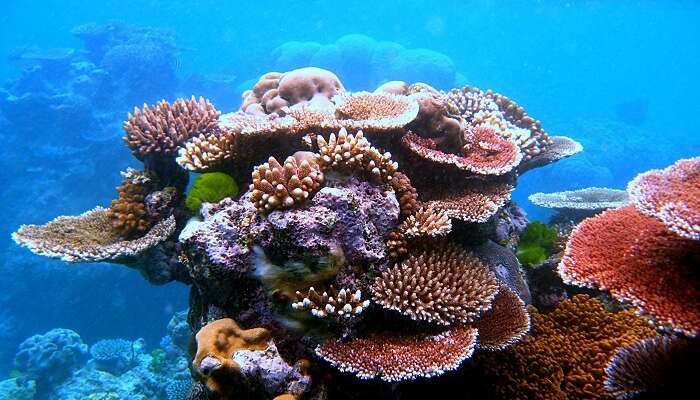 How does walking on the seabed underwater sound like? Adventurous! Walk with the schools of fish in their natural habitat and discover the beautiful corals and fauna deep in the ocean. The lagoons on the island are the storehouse of exotic marine life. The thing with underwater sea walking is that anybody can do it as you don't have to learn how to swim or dive unlike other sea activities like snorkeling and scuba diving. Do not forget to grab a photo of you sea-walking surrounded by colorful fish after your experience is completed.
Ile aux Cerfs watersports price: Starting INR 800 onwards
3. Parasailing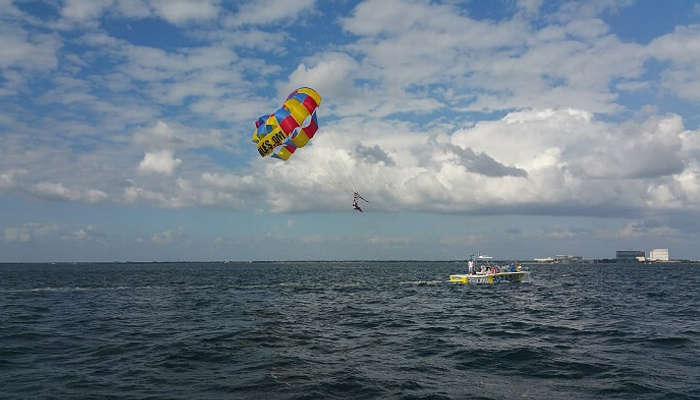 If you have had your share of fun under the water, now it is time to get above it. The parasailing adventure on Ile aux Cerfs island offers you an opportunity to soar high in the sky and have a bird's eye view of the majestic island. For those who have always dreamt of flying, well, here is a chance for you. It is one of the most recommended Ile aux Cerfs activities to enjoy on your holiday.
Price: INR 1000 approximately
4. Golfing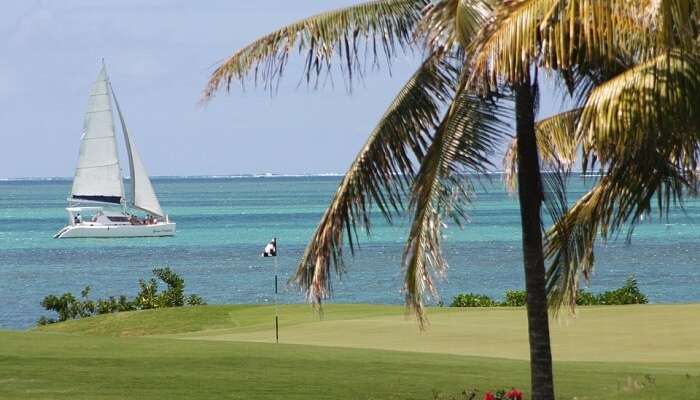 Do you enjoy the gentlemen's game? If yes, golfing is one of the most sophisticated Ile aux Cerfs activities at your disposal. The 18-hole championship Ile aux Cerfs golf club offers you a unique experience of island golfing where you are surrounded with lush greenery and shimmering lagoons. The state of the art golf club is equipped with all the modern facilities and even has a posh restaurant 'Lander's Bar & Grill' where you can feast upon your victory later after the game.
Must Read: 12 Exciting Water Sports To Try In Mauritius For An Out-of-the-world Experience
5. Speedboat Ride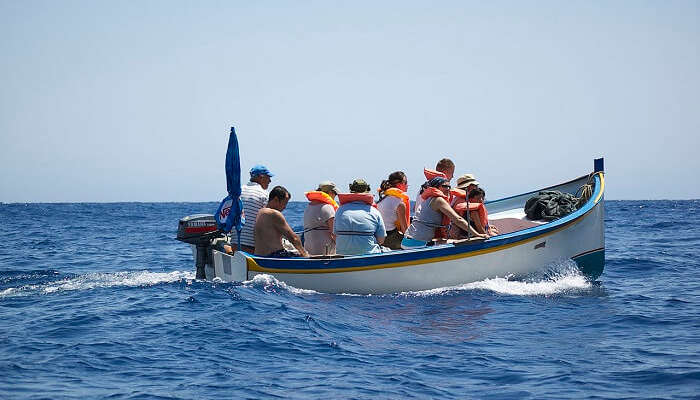 If you like speed and thrill on the water, you are gonna love the speedboat tour around the island. Sail over the crystal clear water of the east coast lagoon and soak in the breathtaking natural beauty of Mauritius island. You can either hire a private boat tour or join a shared Ile aux Cerfs tour as per your liking. The tour experience also includes snorkeling break at Eau Bleu and leisure time at postcard-perfect beaches of the island. Enjoy a complimentary BBQ lunch and live guitar music on the beach
Private tour cost: INR 18,500
Shared tour cost: INR 4,400
Duration: 6 hours
6. Grand River South East Waterfalls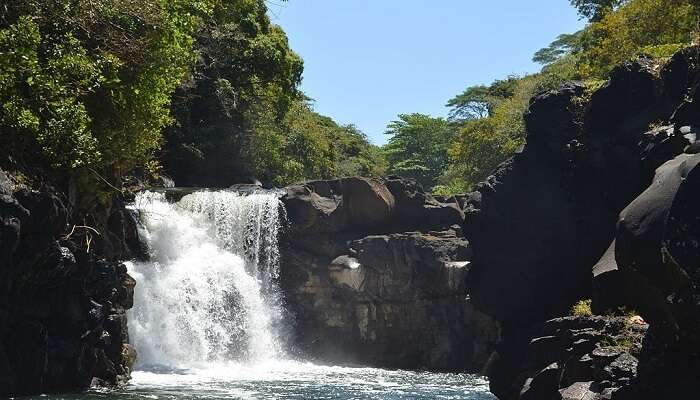 Who doesn't love waterfalls? They are charming and one of the examples is the Grand River South East Waterfalls. If you are visiting the island, it is highly recommended that you visit the Ile aux Cerfs waterfall which is an epitome of magnificence. It is one of the most popular attractions in Mauritius. The fall is surrounded by verdant jungles and you might even see a rainbow striking through the fall on a good day.
How to reach: You can join any of the boat trips from the island which take people to the falls.
7. Catamaran Cruise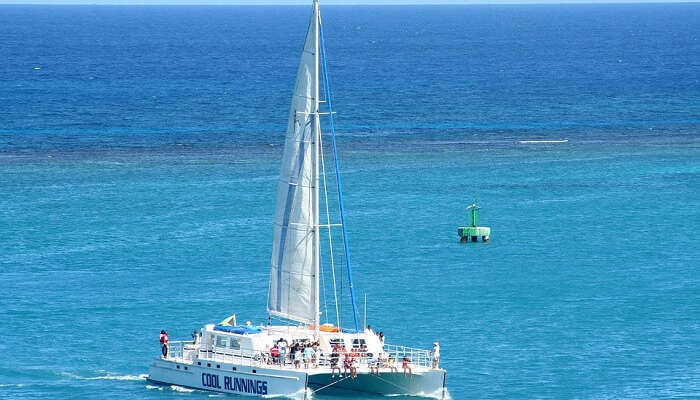 Enjoy a day full of sun, fun, and drinks on the Catamaran cruise which departs from Trous D'Eau Douce and sail all the way to the east coast of Ile aux Cerfs island. Have an unforgettable experience while sailing through the crystal clear water surrounded by the breathtaking beauty all around. The interesting stories from the crew members and Mauritian music will lift up your spirits. Catamaran cruise is the finest Ile aux Cerfs tour to enjoy a laid-back and luxurious island vacation.
Price: Adult – INR 5,000, Children – INR 3,700
8. Sega Dance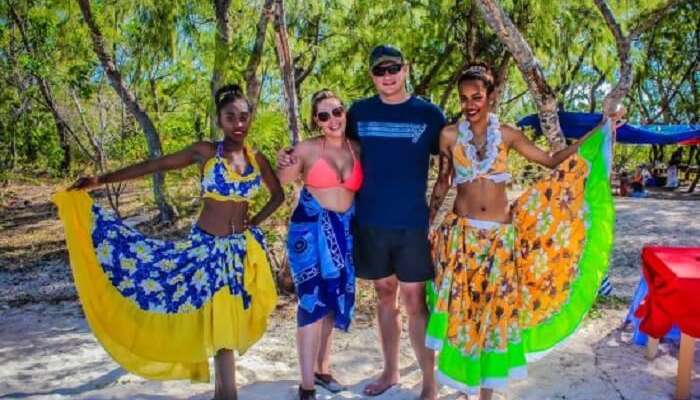 Shake your booty to some Mauritian music with the Sega dancers on the beautiful beach of Ile aux Cerfs. The Sega dance performers are dressed in colorful Mauritian attire and put up a great spectacle for the spectators. If you wish, you can join them too. After all, a holiday is all about experiences and this one is all about losing yourself to dance.
Price: INR 2000 for an all-inclusive tour
Suggested Read: 7 Waterfalls In Mauritius: The Prodigious Works Of Nature
9. Filibusters Beach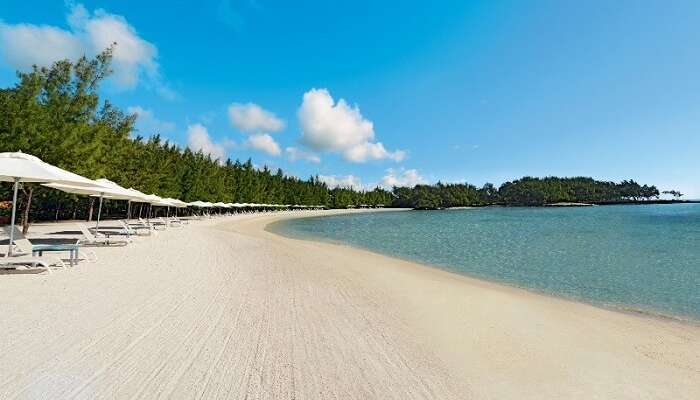 For those who do not like golfing can relax at the private golf club Filibusters Beach. Put on some sun lotion, grab a sunbed, lie back, and relax. Sipping drinks while you look at the boundless views of the ocean is a wonderful thing to do on the secluded beach on Ile aux Cerfs island.
Ile aux Cerfs Weather
Ile aux Cerfs is a tropical island in Mauritius with wet, hot and humid weather in the summer month of December to April. The temperature during the day is 29 degrees Celsius and falls down to 18 degrees in the night. Avoid coming to the island in December since it receives the maximum rainfall throughout the year.
The months between May and November are comparatively drier and cooler and hence a more popular season for tourists. The average temperature during the day is 25 degrees Celsius and can drop as low as 15 degrees in the night. Even the rainfall received in these months is lesser as compared to other seasons.
Places To Eat On Ile aux Cerfs
1. Ile Chaumiere Masala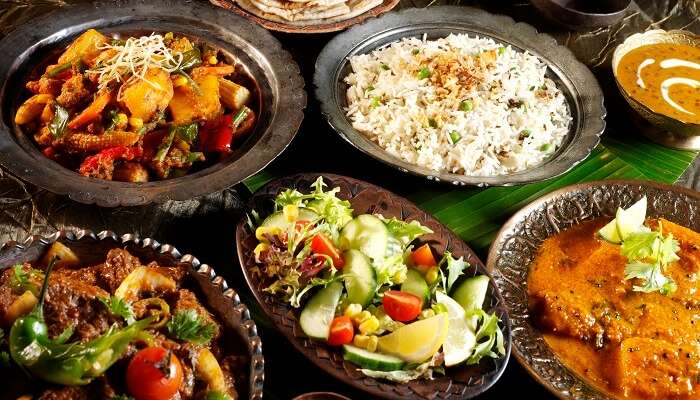 Even before you order and taste the delectable cuisine of the restaurant, you will be impressed by the theme and design of the restaurant. Built on stilts, this restaurant gives you an exotic feeling. The chef in this restaurant is famous for dishing out mouth-watering contemporary Indian, Mauritian, and Asian cuisine. Enjoy the Indian tastes in the tropical settings of the island overlooking the beach and the ocean.
2. Sands Grill & Bar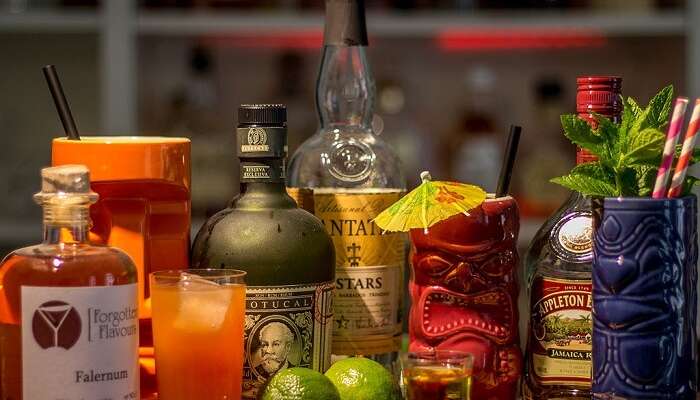 Loosen up a bit in the relaxing ambiance of the tropical Bar and grill where you can order amazing Tiki cocktails one after another. Not just the drinks, even the thatched roofs gives a chill and relaxing vibe. The place is also famous for its eclectic seafood and delicious pizzas which you can order along with your drinks.
3. Langer's bar & grill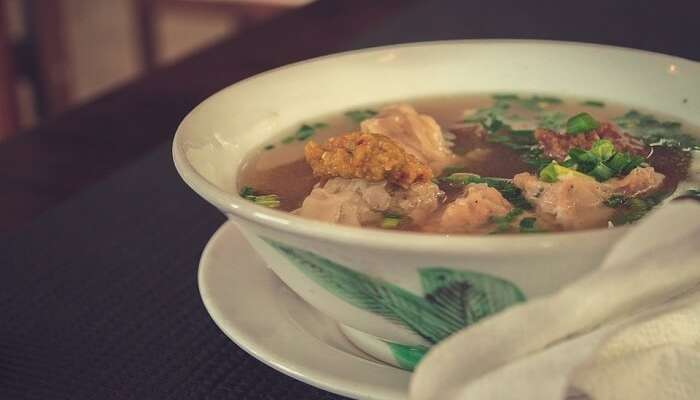 Located inside the Golf Club, the elegant restaurant not only offers lip-smacking food but also magnificent views of the golf range. Order from its vast range of menu which serves Mauritian cuisine. The service is impeccable and the staff friendly.
Suggested Read: Mauritius Is Offering Citizenship And Passports To Foreigners. BRB! Sending Application Now
Places To Stay In Ile aux Cerfs
There are no resorts or hotels on the island per se. But if you wish to stay near the island, here are few luxurious resorts you can count on for a pampering stay:
1. Ambre Resort & Spa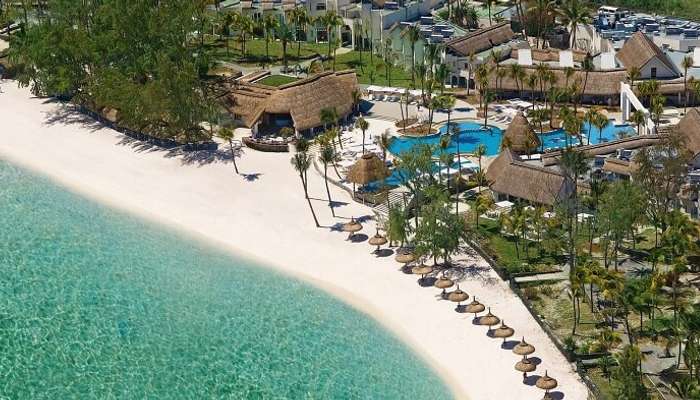 The all-inclusive resort on the east coast offers you everything at one place. From luxurious accommodation to high-end restaurant and bars, from spa treatment to water sports, indulge in tasteful experiences at Ambre Resort Spa. The four-star adult-only resort boasts of the private sandy beach run with a sheltered bay. The gorgeous resort is no less than a paradise.
Tariff: starting from INR 13,500 per night
2. La Pirogue Resort & Spa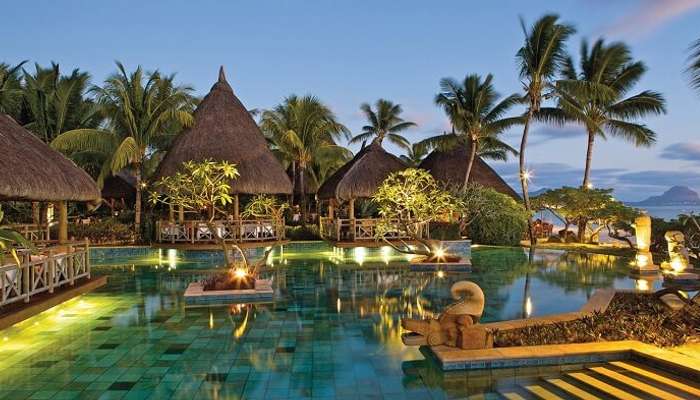 Bordered along the scintillating west coast. La Pirogue Resort is your paradise on the paradise. While the roof thatched bungalows capture the essence of Mauritian spirit, the boho chic atmosphere sends out relaxed and vibrant chill waves. It is a perfect place for couples to unwind and reconnect with each other. Plus there are a plethora of land and water based activities that you can enjoy on their private sea coast.
Tariff: starting from INR 20,000
How To Reach Ile aux Cerfs
The cheapest way to reach Ile aux Cerfs is by a taxi-boat which can be boarded from Trou D'Eau Douce. The 15-minute boat journey costs about INR 400-500 per person.
However, the better and fun way to reach Ile aux Cerfs is by joining an organized Ile aux Cerfs tour by boat. The tour comes with a bouquet of experiences which not only includes the transfer to and from the island but also the visits to waterfalls, beaches, lagoons where you can snorkel, and complimentary BBQ lunch with live music. The tours start from as low as INR 2,700 per person.
Further Read: Beaches & Shopping: Here's How Anil Pampered His Beloved On His Honeymoon Trip To Mauritius!
Ile aux Cerfs is more of an experience than a destination which you ought to add to your list while planning a trip to Mauritius. Do not miss the exuberant experience on the island at any cost.
---
Looking To Book An International Holiday?
Book memorable holidays on TravelTriangle with 650+ verified travel agents for 65+ domestic and international destinations.
---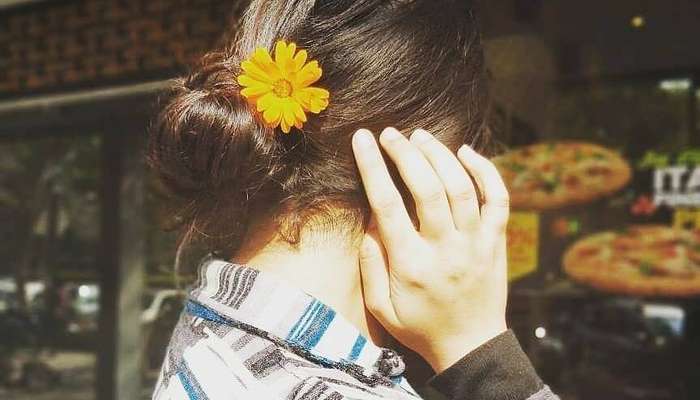 Comments
comments