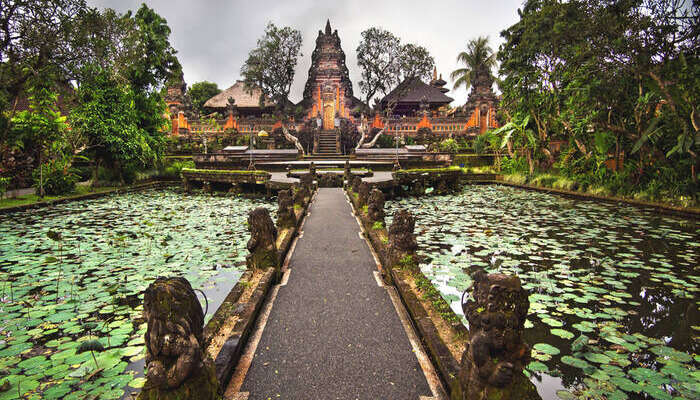 Located in the upland region of Bali, is the mesmerizing town of Ubud. With terraced lush green rice fields, enchanting hills, forests, and lakes, this region is simply breathtaking. Ubud is known as the cultural center of Bali for its popularity in traditional dance and crafts. Ubud is also an important religious center with a few Hindu temples and holy sites including the carved Elephant Cave called 'Goa Gajah' and rock-cut shrines at Gunung Kawi. Ubud Palace is an important attraction in the district. There are also some gorgeous islands near Ubud Palace Bali that one can visit after exploring this wonderful region of Bali.
About Ubud Palace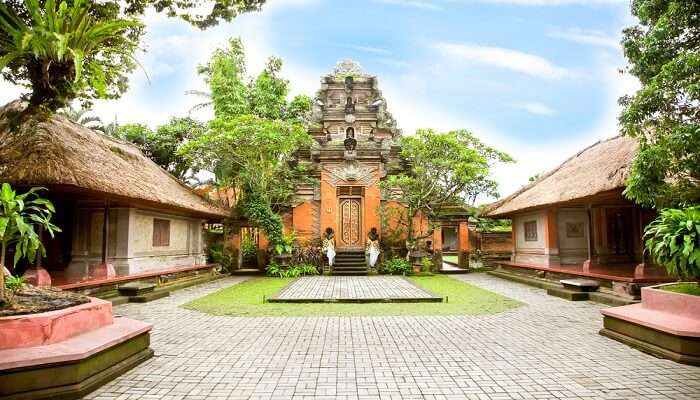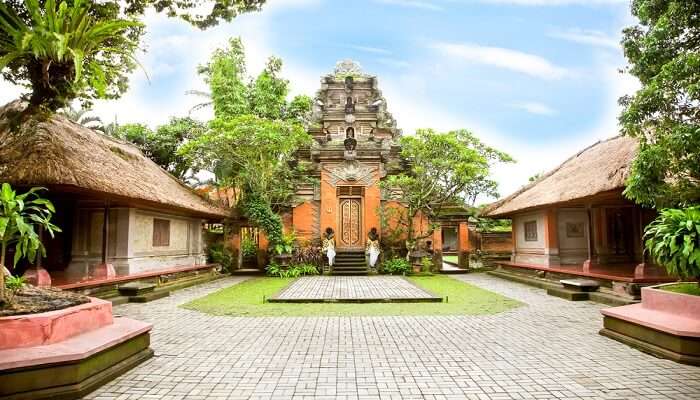 Located in the town of Ubud, Gianyar Regency, the Ubud Palace is a grand building complex in Bali. This historical palace complex is officially called Puri Saren Agung. It was built in the 19th century by the Ida Tjokorda Putu Kandel. Puri in Balinese refers to 'royal palace'. This was the official residence of Ubud's royal family. And the descendant of the rulers still lives here. In the present time, the parts of the palace that are not used by the residents have been converted into a cultural venue and is also open for public visit. These areas of the compound include a performance stage, pavilions (balés), shrines, a small hotel, and gardens. There are 3 entrance gates and they feature the traditional elements. There is a Gopuram – a holy tower found in Hindu temples of South India. You would also find the statues of the guardian in formal clothes places at the entrance gates. The central door features a 'Kala', which is a traditional monster mask. Ubud Palace is one of the best places to experience the traditional essence of Bali.
4 Best Islands Near Ubud Palace Bali
Here are some of the most popular Islands near Ubud Palace Bali that you must surely explore to find the natural and traditional side of the beautiful Island nation, Indonesia:
1. Nusa Lembongan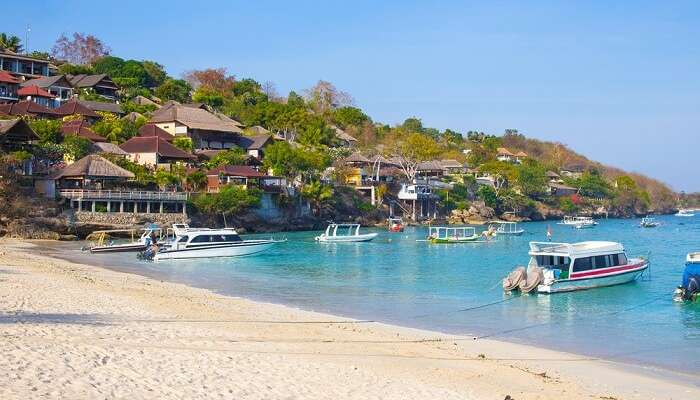 If you are looking for a slower version of Bali, Nusa Lembongan is the place to be. Sans traffic, sans hawkers, and with the best of the accommodations, this island is one of the most romantic getaways from Bali. The island does not allow any four-wheeler movements and that explains the no traffic thing. The locals either walk or cycle around. And so can you!
While on a romantic holiday in Bali, one just can't afford to miss this 20-year-old version of Bali as it has got an enormous amount of adventurous activities to offer. The island has got picturesque villages to escape into, gorgeous aquamarine life to explore, and thick mangrove forests to boat into; thereby making it ideal for a honeymoon trip.
Distance from Bali: 55 km
How to reach: Via Sanur Beach or Benoa Harbour; fast boats take 30 minutes and local slow boats take more than 90
Things to do in Nusa Lembongan: Paddleboarding, surfing, snorkeling with mantas, cliff jumping, diving, & romantic walks through the villages
10 Best Islands Around Bali For Some Romantic Island Hopping In 2022!
2. Komodo Island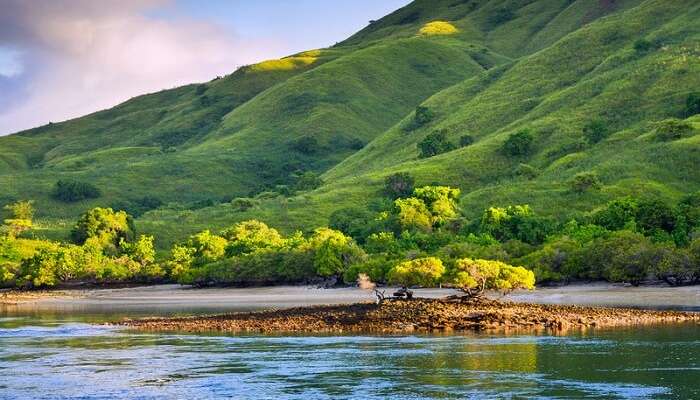 Alright, alright! Nothing that scary. The UNESCO-listed world heritage site of Komodo National Park on the Komodo Island houses the world's largest lizards the Komodo Dragons. Undoubtedly the animals of the islands gathe a lot of attention, but the surrounding waters also offer great scuba opportunities for the wildlife enthusiasts and couples. The underwater world of the Komodo island is home to the famous manta rays, sharks, and some of the most spectacular reefs of Indonesia. So, if you and your beloved are not daring enough, The Land of Dragons is where you should be.
Distance from Bali: 479 km
How to reach: Via Lombok, on ferries
Things to do in Komodo Island: Exploring the wildlife in the Komodo National Park and scuba diving
Note: The islets of Rinca and Padar are also located right next to the Komodo National Park Island
            10 Best Islands Around Bali For Some Romantic Island Hopping In 2022!
3. Serangan Island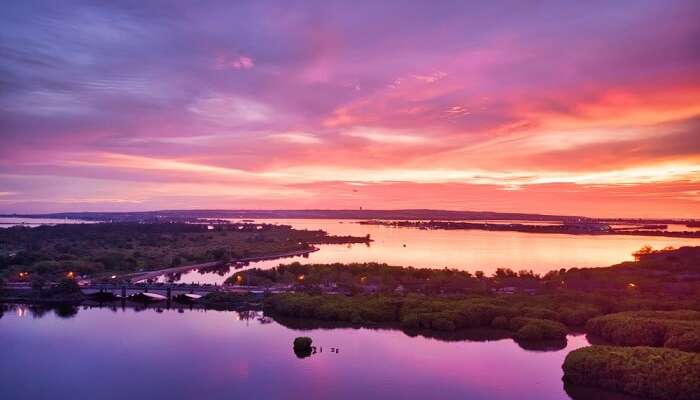 Also called the Turtle Island, this tiny island makes for a fulfilling day trip especially with the kids. The quiet island boasts of a wonderful mangrove forest, a hatchery for green turtles (which the kids will love) and a nice beach. While the spiritually inclined can visit the Sakenan Temple, the outdoor enthusiasts can try their hand at fishing or surfing. Earlier accessible only by wooden boats, the island can now be reached by crossing a small bridge just 25 minutes away from Nusa Dua.
Location: South Denpasar, into the road from opposite LotteMart on Jalan Bypass Ngurah Rai from Sanur
12 Places To Visit In Nusa Dua For An Extra Dose Of Excitement To Your Bali Holiday In 2022
4. Nusa Lembongan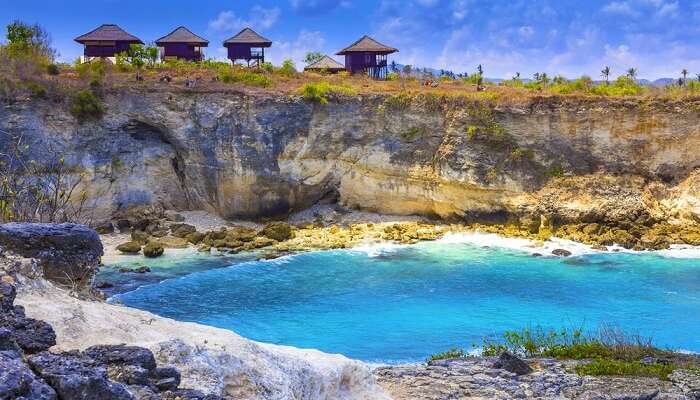 An exciting holiday island destination off the southeast coast of Bali, Nusa Lembongan is a popular hideaway for surfers and leisure seekers. Often simply referred to as Lembongan, the island is a mere 45-minute boat ride from Sanur Beach or Benoa Harbour. The great reefs and diving sights here make it more popular among surfers and divers than its sister islands of Nusa Ceningan and Nusa Penida. The clean and pristine beaches are the reason Nusa Lembongan tops the list of islands with the best beaches in Bali for swimming. There are a number of luxury villas and resorts on the island suitable for all kinds of budgets and types of travelers.
USP: Stay in affordable, yet quirky and clean shacks for a traditional Balinese experience
Location: North Bali, west of Buleleng regencys capital city of Singaraja
How to get to Nusa Lembongan: Its just a 45-minute boat ride away from Sanur, Serangan Island and Tanjung Benoa on the Bali mainland.
Restaurants in Nusa Lembongan: Kayuputi Restaurant, Cut Catch Cucina, Arwana
Where to stay in Nusa Lembongan: Mulia Villas, Amarterra Villas Bali, Ulu Segara Luxury Suites & Villas
Nightlife in Nusa Lembongan: Hai Bar And Grill, Blue Corner Bar, The Deck Cafe & Bar
TripAdvisor Reviews | TripAdvisor Rating: 4
        34 Best Beaches In Bali To Visit In 2022 For An Exotic Mix Of Serenity, Seclusion, & Snorkeling!
Isn't Ubud Palace one of the most intriguing places in Bali? Are you curious to explore it, along with the islands near Ubud Palace Bali? If yes, it's time that you plan a trip to Bali with your family or friends and get ready for an amazing vacay. The best time to visit Bali is in the months of April to June and September. The weather is amazing during these months, therefore, it is seen as the peak tourist season in Bali.
Comments
comments