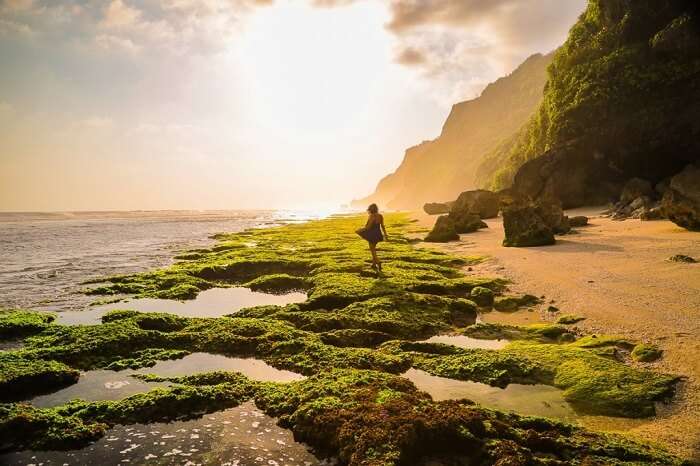 With grand limestone structures, sandy shores, towering reefs, and breathtaking panoramas, the best beaches in Bali have most of its tropical essence gift-wrapped in their exotic coastal landscapes that only the best of Bali tour packages can offer. In fact, a true Balinese experience is incomplete with a visit to some of Bali's most charming beach delights dotted with colourful fishing boats, rustic temples, and traditional warungs. From surfing, swimming, snorkeling, diving, kayaking, parasailing, jet skiing, boating, to riding underwater scooters, there isn't a water sport that the attractive beaches of Bali don't offer.
34 Best Beaches In Bali To Visit In 2023
Scroll down to discover the best of the beaches Bali may have been hiding from you! Also, the best time to visit Bali to revel in its coastal charm and indulge in a number of watersports is from May to October.
1. Kuta Beach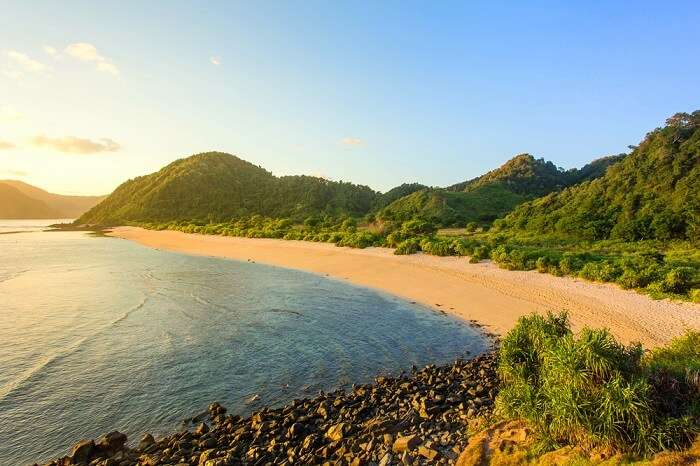 Located in western Bali on its narrow isthmus, Kuta Beach is considered one of the best beaches in Bali, Indonesia by wanderers who frequent this tropical paradise. Just recently turned into a creatively designed commercial center from a quiet fishing village, Kuta now boasts of world-class resorts, dining options and places for shopping, and attracts thousands of visitors from all over the world every year with its distinctive charm. The frenzied traffic scene is a common sight here, as everyone flocks to Kuta for a pleasant Bali experience. Make your hotel bookings well in advance, as finding a good place to stay here during the peak season from July to August and the holiday season for Christmas and New Year can be a problem.
USP: Resorts, surfing
Location: near Ngurah Rai International Airport, Kuta, Badung Regency, Bali
Restaurants near Kuta Beach: Ma Joly Restaurant & Lounge, Mades Warung
Nightlife near Kuta Beach: Hard Rock Caf- Bali, Engine Room, Gracie Kelly's Irish Pub
TripAdvisor Reviews | TripAdvisor Rating: 3.5
Must Read: Know All About Bali – Frequently Asked Questions From Travelers
2. Seminyak Beach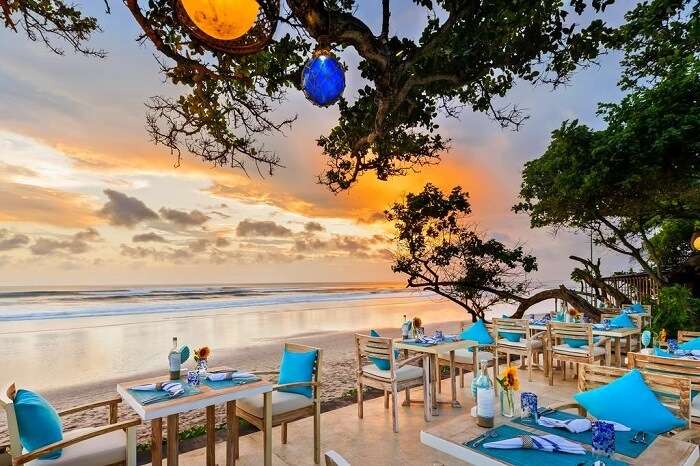 Image Source
Regarded as Balis most fashionable beach, Seminyak also houses a large share of Balis luxurious resorts, fine restaurants and entertainment options. Shopaholics will love the range of fashion stores and boutiques here, while foodies can pick from a range of top dining spots lining the streets with international chefs making world-class cuisines. It is also considered a better option over Kuta for those seeking a rather secluded ambiance than the noisy crowds. This is why the Petitenget Beach here is a favourite amongst couples and one of the best beaches in Bali for honeymoon. Apart from seclusion, the beach also offers a lively nightlife scene to party animals coming to Bali. It is one of the best beaches in Bali for swimming.
USP: A range of the finest dining options
Location: Seminyak, Badung Regency, Bali
Restaurants near Seminyak Beach: Meja Kitchen & Bar, Mama San, Mozaic Restaurant
Nightlife near Seminyak Beach: Mint Bali, Ku De Ta, WooBar Bali
TripAdvisor Reviews | TripAdvisor Rating: 3.5
Suggested Read: 10 Seminyak Villas: Properties That'll Leave You Speechless
3. Legian Beach

Image Source
Legian means sweet in Balinese, and this delightful place is exactly that! Legian Beach is a hot pick among party animals and night crawlers because of its extravagant nightlife. Though it's a charming spot to chill at, but its similarity to Kuta makes first timers feel it is just another Kuta. Give yourself a few hours here and an evening walk down the famed Double Six Beach and rocking night scene will change your opinions forever. A visit to this beach is a must for a Bali visitors for an absolutely surreal Balinese experience. It is one of the best beaches in Bali for couples.
USP: A rocking nightlife
Location: Legian Village, Legian, Kuta, Bali
Restaurants near Legian Beach: Pearl French, Donbiu at Padma Resort Legian, Mamas German Restaurant
Nightlife near Legian Beach: Sky Garden Rooftop Lounge, Vi Ai Pi Bali, Bounty Discotheque
TripAdvisor Reviews | TripAdvisor Rating: 4
4. Jimbaran Beach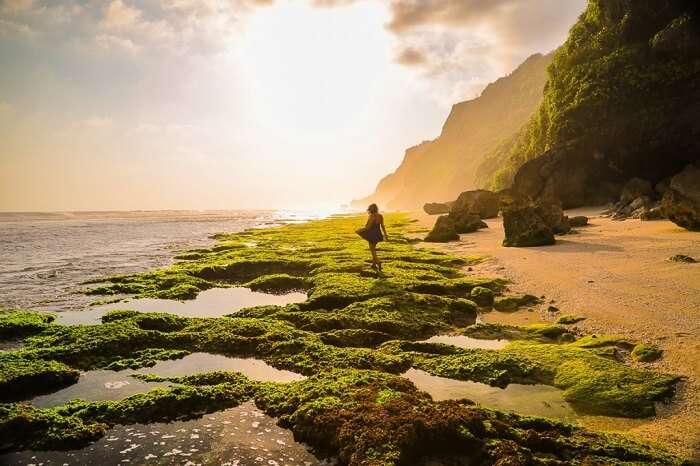 Image Source
The secluded Jimbaran Beach and Jimbaran Bay are located in south-west Bali, providing blissful views of the ocean and sky due to its quaint location. The beach and the bay of Jimbaran house pockets of utterly secluded areas, where couples and peace seekers can find tranquility and lush natural surroundings, the perfect antidote to a stressful life! If you follow the gently sloping area going away from the beach, you will end up at a delightful territory concealed from the world by a canopy of thick tropical forest. This place happens to be an ideal hangout place for celebrities due to its eye-catching ambience. Also housing numerous luxury resorts, Jimbaran Beach and Bay is among the best beaches in Bali to stay at.
USP: Peace and tranquility
Location: Jimbaran Beach, Jimbaran, South Kuta, Badung Regency, Bali
Restaurants near Jimbaran Beach: Sundara Bali, Bella Cucina, Ju-Ma-Na Bar, seafood cafes and shacks
Nightlife near Jimbaran Beach: Rock Bar, UNIQUE Rooftop Bar & Restaurant, Jimbaran Beach Club
TripAdvisor Reviews | TripAdvisor Rating: 4
Suggested Read: 50 Things To Do In Bali That'll Let You Have A Memorable Vacay!
5. Sanur Beach

Sanur Beach has witnessed an excellent transformation from a fishing village to a happening resort beach, while still maintaining its native appeal. Its local, relaxed coastal ambience attracts a great influx of vagabonds, mostly from Europe. Youll find on this eclectic coastline the finest of hotels, lavish beachfront resorts, range of shops, restaurants, bars and an assortment of innovative and modern entertainment venues to have your enjoyment level sky high at all times. Bask in its laidback atmosphere, dive into its wealth of arts and culture, and revel in its mix of classic and contemporary aura on your Bali holiday.
USP: The Pura Blanjong temple built from corals in the 10th century
Location: Sanur, Denpasar, Bali
Restaurants near Sanur Beach: Cafe Batu Jimbar, Three Monkeys Sanur, The Village Cucina Italian
Nightlife near Sanur Beach: Adora Super Club, Casablanca, Beatles Cavern
TripAdvisor Reviews | TripAdvisor Rating: 4
6. Tanjung Benoa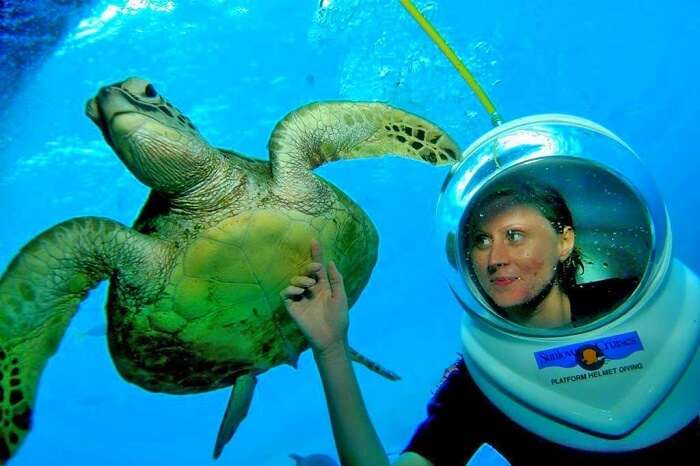 Image Source
The erstwhile fishing village and dock, Tanjung Benoa, is the best beach in Bali for water sports. Like various other Bali beach destinations, this peninsula has witnessed a significant transformation as most of the shore-side properties here have now been converted into stylish resorts, hotels and watersports operators. What remain in their pristine form are the mangrove marshes lying on the western side of the beach entrance. Tanjung Benoa is easily accessible owing to the fact that its 15 kilometres from the international airport and just a few steps away from the Nusa Dua cluster.
USP: Watersports like parasailing and sea-walking
Location: Tanjung Benoa, South Kuta, Badung Regency, Bali
Restaurants near Tanjung Benoa: All Spice Restaurant, Bumbu Bali, Casabella
Nightlife near Tanjung Benoa: Atlichnaya Bar and Spa, Cabaret at Sol Beach House, Nanas Bar
TripAdvisor Reviews
Suggested Read: 8 Day Trips From Bali To Invigorate Mind & Body
7. Canggu Beach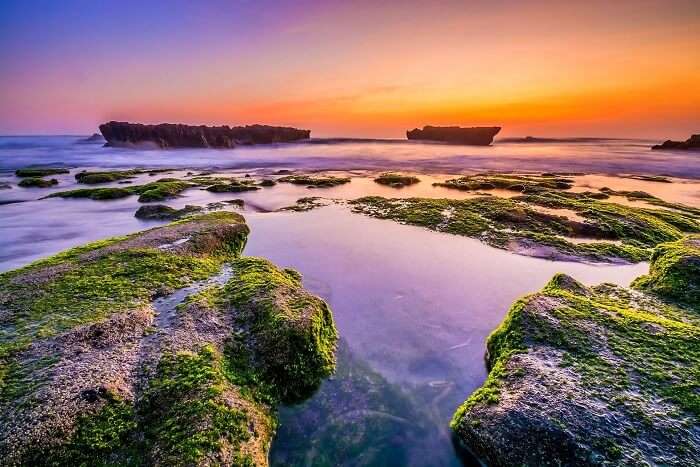 Image Source
With different black sand beaches and spectacular surf breaks, this beach is a paradise for surfers and photographers from around the world. Its still a coastal village that is slowly being developed into and is a coastal village and an up-and-coming resort area that is roughly situated between Seminyak and Tanah Lot. Another reasons why its counted among the best beaches in Bali is because of the verdant rice fields nearby, which have many full-fledged resorts or quaint villas that are in turn home to many expatriates. Owing to its large expatriate and surfer population, Canggu houses the islands latest surf camps, bars, restaurants, and shops catering to an international clientele.
USP: Black sand and surfing
Location: Canggu Beach, Canggu, North Kuta, Badung Regency, Bali
Restaurants near Canggu Beach: Alsace a Table, Aoba Bali, Bale Sutra
Nightlife near Canggu Beach: Echo Beach Sports Bar, The Sand Bar, Pretty Poison Bar and Skate Park
TripAdvisor Reviews | TripAdvisor Rating: 4
8. Nusa Dua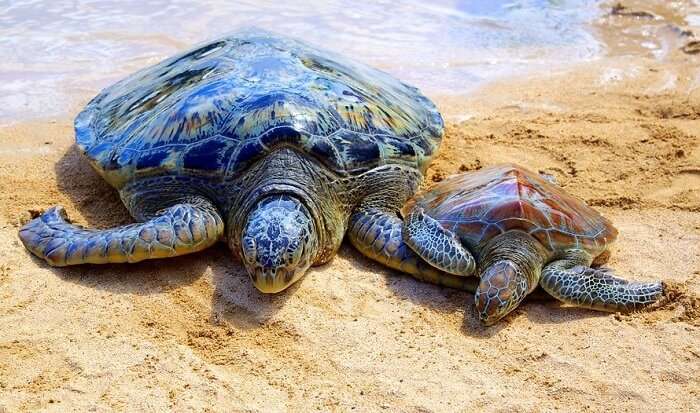 Image Source
The name 'Nusa Dua' has come from the presence of the two small islands on Balis eastern shoreline. Complete with world-class hotels, an upmarket shopping complex, a luxurious 18-hole golf course, white and golden sandy beaches, adventure opportunities and various other highlights nearby, Nusa Dua is a complete package of a fun beach destination in Bali. This all-inclusive tourist destination owes its phenomenal development and escalating popularity to the Indonesian Tourism Development Centre or ITDC (formerly Bali Tourism Development Centre or BTDC). Nusa Dua is the most developed area in Bali which houses luxurious 5-star properties on one hand and beautiful temples and museums on the other, both equally contributing to its charm. With so much to offer, it never disappoints a traveler, be it a honeymooner or a kid on a fun escapade to Bali.
USP: Luxury and cleanliness
Location: Semenanjung Nusa Dua, Nusa Dua 80517, Bali
Restaurants near Nusa Dua: Kayuputi Restaurant at the St. Regis, Rajas Balinese Cuisine, Tapa Bistro at The Bale
Nightlife near Nusa Dua Beach: Devdan Show, King Cole Bar at St. Regis, Nikki Beach Bali
TripAdvisor Reviews | TripAdvisor Rating: 4
Suggested Read: 5 Popular Trails That Make Trekking In Bali Beyond Adventurous!
Best Beaches In Bali For Snorkeling
Do you want to know the best beaches in Bali where you can go underwater and enjoy the colorful aquatic life of the ocean? Here are a few options.
9. Menjangan Beach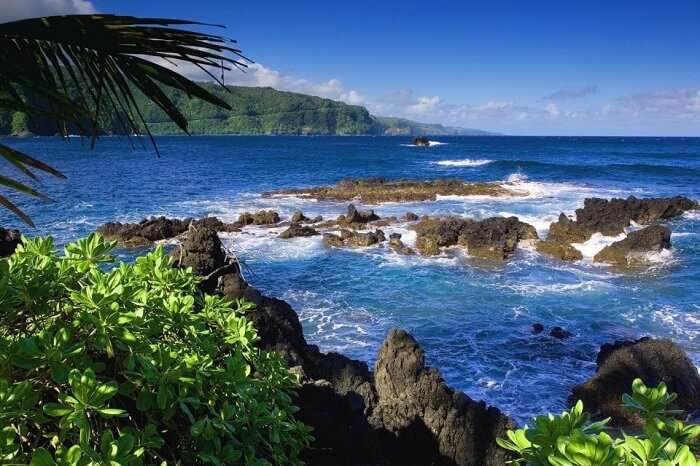 Image Source
With its crystal clear waters and coral gardens teeming with marine life, the gorgeous coastline of Menjangan Island offers diving and snorkeling opportunities year round. In order to get to Menjangan, which is a part of the West Bali National Park, one can hire a boat from the port of Labuhan Lalang near Pemuteran Beach and cross over. One needs to have a valid entry permit (INR 97/- per person) and be accompanied by a park guide (fee – around INR 2,000/- per person) to gain entry into the park, both of which can be arranged either from a tour operator in Pemuteran, or the park office in Labuhan Lalang. Other than its serenity and natural architecture, the island also boasts of a collection of shrines, like the Segara Giri Dharma Kencana Temple famed for its towering sea-facing statue of Lord Ganesha.
USP: A vivid wildlife, both over and under water
Location: Jln Menjangan, Pejarakan, Bali Barat National Park, Gerokgak, Buleleng Regency, Bali 81155
Restaurants near Menjangan: Warung Kadek Merry, Warung D'bucu, Prapat Sari
TripAdvisor Reviews | TripAdvisor Rating: 4.5
10. Amed Beach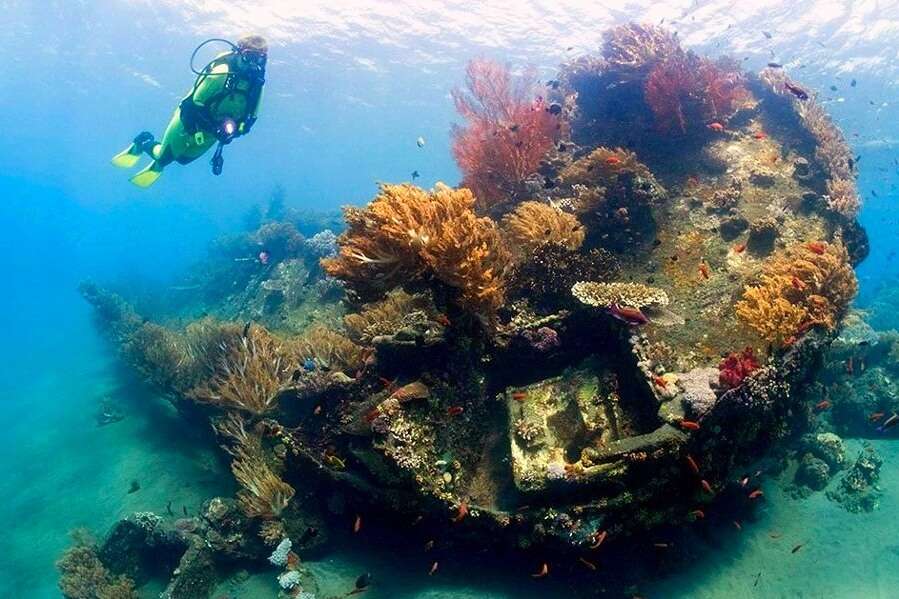 Boasting of an underwaterplayground, Amed Beach is one of the best beaches in Bali for snorkeling that offers adventure enthusiasts exciting opportunities for snorkeling and diving. It now dominates every divers bucket list because of the beautiful underwater trove that was unveiled beneath the turquoise blue waters of the beach. The vibrant marine life and the historical shipwreck perched majestically on Ameds seabed make it the best site for diving in Bali. Amed Beach owes its distinct Balinese essence to the seven different seaside fishing villages (and their colorful boats!) lining the coastline, namely Amed, Jemeluk, Bunutan, Lipah, Selang, Banyuning, and Aas. With myriad attractions both under and over the water, this erstwhile salt farm beguiles all photographers.
USP: Shipwreck Diving
Location: Karangasem, East Bali
Restaurants near Amed Beach: Warung Sabar, Bukit Segara, traditional roadside warung stalls
Nightlife near Amed Beach: Reef N Bar, BARracuda
TripAdvisor Reviews | TripAdvisor Rating: 4
Suggested Read: Indulge In These 10 Off-The-Beaten-Track Bali Hiking Tour Experiences To Seek Its Hidden Charm
11. Candidasa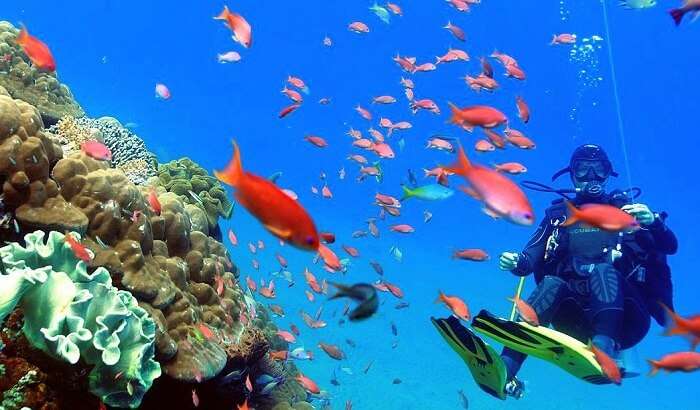 Image Source
Formerly known as Teluk Kehen (Kehen Bay), the laid-back seaside town of Candidasa is situated in the Sameh neighborhood of the Bugbug Village and boasts of awesome historical sights and exotic cultural highlights other than a pleasing marine life. The beach is a famous hideaway for snorkeling and diving experiences that you can tailor to suit your needs. From the vividness of corals, a variety of marine life, to the visibility through that water as clear as glass, every diving experience here will blow your mind for sure! You can easily spot amazing sea creatures like seahorses, cuttlefish, and nudibranchs on a diving (or even snorkeling) trip here. Other than diving and history, the tranquil coast of Candidasa is brimming with accommodation options varying from 5-star resorts to budget inns and plenty of good restaurants.
USP: Customised diving in water as clear as glass
Location: Candidasa, Nyuh Tebel, Manggis, Karangasem Regency, Bali
Restaurants near Candidasa: Sea Salt at Alila Manggis, Garpu, Lezat Beach Restaurant
Nightlife near Candidasa Beach: Crazy Kangaroo, New Queen Pub, Vincents
TripAdvisor Reviews | TripAdvisor Rating: 3.5
12. Nusa Penida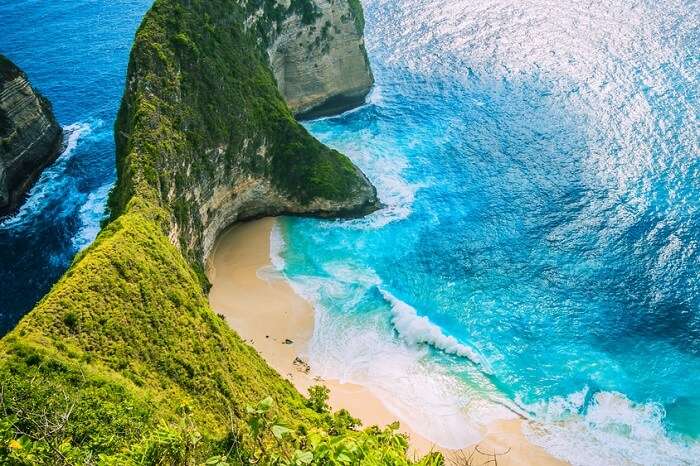 Nusa Penida is a popular dive site and the largest of the three islands lying southeast of the Bali mainland. Located a mere one-hour motorboat ride away from the mainland, this divers paradise lets one witness some of the worlds rarest mix of colorful reefs as well as marine species like manta rays, oceanic sunfish (mola-mola), frogfish, seahorses, nudibranchs, and even the occasional whale sharks. Nusa Penida boasts of two prominent diving sites – Crystal Bay & Manta Point. While Crystal Bay provides excellent visibility till as deep as 30m, Manta Point brings you up and close with plenty of graceful rays, spotted stingrays, and nurse sharks almost all times of the day. The diving sites of Nusa Penida are easily accessible from the dive resorts on Nusa Lembongan island, or from the coasts of Sanur and Padang Bai. Other than its oceanic splendors, Penida offers rugged landscapes and endless natural beauty to soothe your senses.
USP: Plethora of marine creatures to explore
Location: Penida Island, Nusapenida, Klungkung Regency, Bali
Restaurants near Nusa Penida: Penida Colada, Warung Tu Pande, Mola Mola Waroeng
Nightlife near Nusa Penida Beach: Warung MaeMae Beach & Bar, Mickey Sports Bar & Grill, Panorama Bar
TripAdvisor Reviews | TripAdvisor Rating: 4.5
Tip: Though there are many bays for snorkeling in Nusa Penida, the strong Indian Ocean currents flowing through their waters make them navigable for advanced divers only.
Suggested Read: 10 Best Indian Restaurants In Seminyak For A Ravishing Dining Experience
Best Hidden Beaches In Bali
Bali has a lot more beaches than you think. There are hidden spots on the island which have not yet become obvious to the tourist crowd. Explore these places in your free time.
13. Padang Bai and Blue Lagoon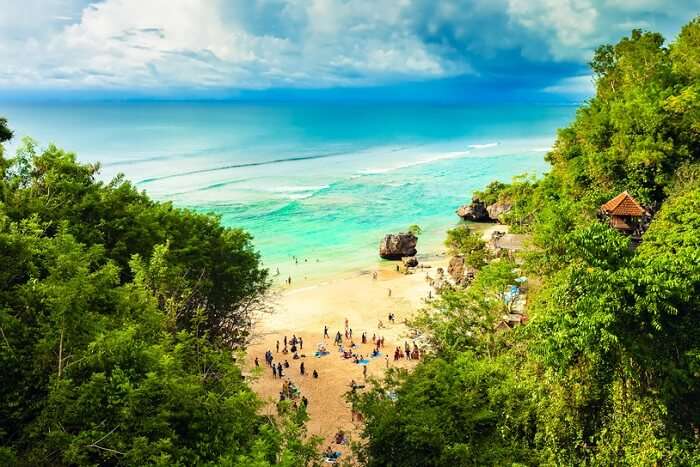 Other than being one of the best beaches in Bali with white sand, the coastal village of Padang Bai is in its pristine, undisturbed form. The prime highlight here is the Blue Lagoon, a small bay on the stretch of pearly white sand ideal for a spot of snorkeling and swimming. Padang Bai also has many diving spots where one can easily spot creatures like the huge Napoleon wrasse, cuttlefish, types of reef shark, squids, stonefish, nudibranchs, moray eels, blue ribbon eels, giant frogfish, rays, and octopuses. When here, also visit the hidden beach of Bias Tugel, where you can sit on a beach lounger under shades of parasols, and relax! History and art lovers can visit the numerous Bali temples around Padang Bai, like Pura Tanjungsari and Pura Telaga Mas located on a hill, and Pura Silayukti.
USP: Untouched natural beauty and white beaches
Location: Padangbai, Manggis, Karangasem, East Bali
How to get there: Follow the main eastern road towards Padang Bai seaport
Restaurants near Padangbai: Puri Rai Restaurant, Surf & Turf warung, Ozone Caf-
Nightlife near Padangbai Beach: Sunshine Bar, Babylon Bar
TripAdvisor Reviews | TripAdvisor Rating: 4
Suggested Read: 8 Best Villas In Jimbaran That'll Let You Have A Lavish Holiday In Bali!
14. Balangan Beach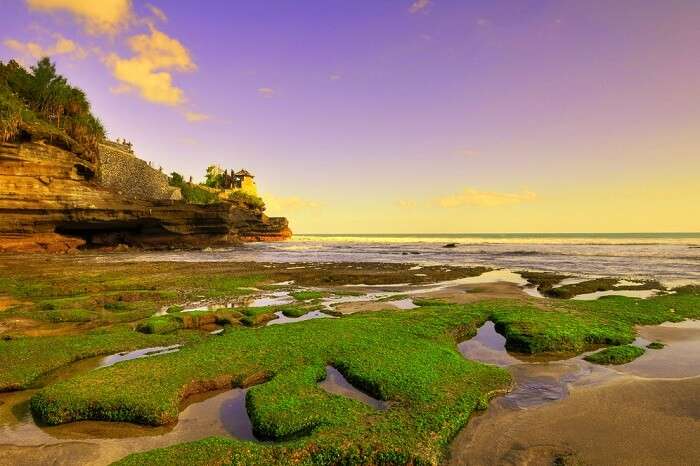 Balangan Beach, or Pantai Balangan, owes its popularity to its scenic natural beauty and landscapes straight from a fairytale. The beach features a breathtaking expanse of golden sand stretching for about half a mile surrounded by vegetated limestone cliffs. Though unknown to most, this beach manages to attract surfers from around the world with its reef that has one of the longest left-hander breaks on the island. One can enjoy gorgeous views from the cliff before getting down to the main beach, and during sunsets, the coastline turns all the more dramatic and a treat for photographers! Apart from diving, Balangan is also among the best beaches in Bali for swimming. There are various traditional food stalls and cafes aroundselling snacks and refreshments to help surfers refuel. Best time for surfing at Balangan is between May and September.
USP: Mind-blowing natural vistas
Location: Jalan Pantai Balangan, Pecatu, Jimbaran
How to get there: Head up the hill to Pecatu. Various signs at the main intersection bear directions to Balangan. Those coming by their own vehicles only have to pay a small parking fee, which is INR 10/- for motorbikes and INR 24/- for cars
Restaurants near Balangan Beach: Balangan Paradise, La Joya II Biu-Biu, Klapa New Kuta Beach
TripAdvisor Reviews | TripAdvisor Rating: 4.5
15. Suluban Beach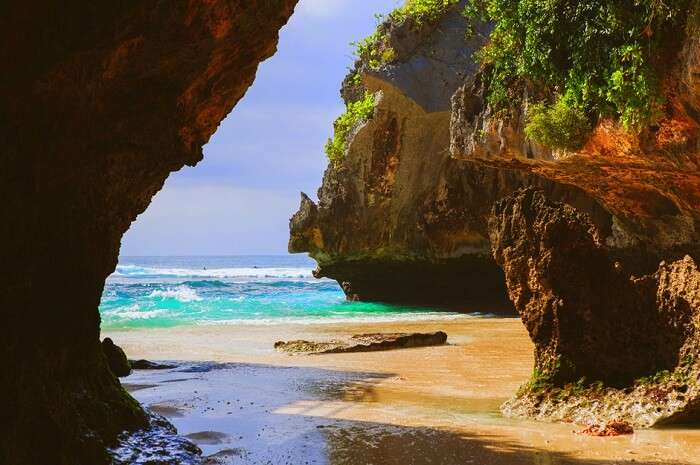 This untrodden paradise in Uluwatu is one of Balis most unique coastlines. Concealed by natural limestone formations and accessible only via steps and log ramps through easily missable narrow spaces in the rock, Suluban is an ideal hangout place for surfers. One can get to Suluban Beach, or Blue Point, from popular areas such as Kuta and Jimbaran via hotel shuttles, taxis or motorbikes. Canopied by a looming cliff face, the coastline also features a number of locally-run caf-s, surfboard rentals, and art shops. The mysterious looking cavern leading up to the beach also serves as an ideal spot for camping in Bali where travelers can pitch their tents and simply stare at the azure waters and sky from their snug shelters, the prime reason why travelers say its among the best hidden beaches in Bali. Other than the beach, one can explore the beachs several rocky openings, mini caves, and tide pools inviting beach bums for a pleasurable dip.
USP: Camping in caves overlooking the beach and sea
Location: Jalan Mamo, Labuan Sait, Uluwatu
How to get there: Take the turn right before Uluwatu Temple and follow down to the end of Jalan Mamo. Park your vehicle at the roadside and climb down the flight of stairs leading to the beach. Parking fees are INR 24/- for bikes and INR 72/- for cars
Restaurants near Suluban Beach: Suka Espresso, Warung Bejana
Nightlife near Suluban Beach: Single Fin Bar
TripAdvisor Reviews | TripAdvisor Rating: 4.5
Suggested Read: Top 5 Reasons That Prove Bali Group Tours Are The Best, And The Most Beneficial!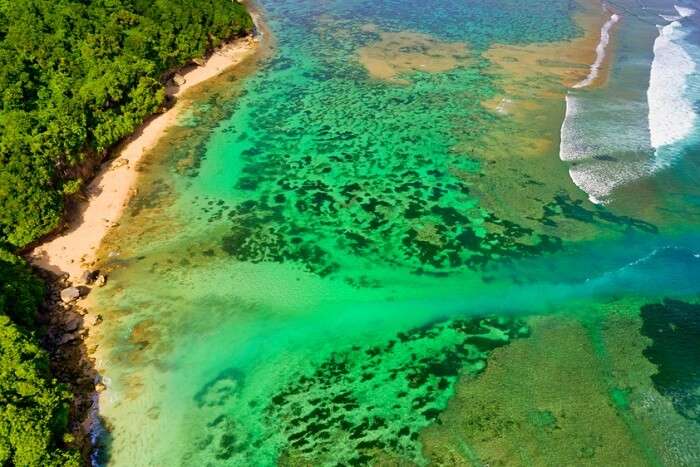 One of Balis most secluded beaches hidden beneath a verdant cliff, the Green Bowl Beach is a tiny coastal strip bearing pearly white sand and emerald patches of seaweed in its clear blue water. Other than its natural appeal, the beach also attracts visitors with its scope for adventure. The steep descent and the climb downwards require great stamina and guts, which is why this small beach is a favorite weekend retreat for adrenaline junkies. With a large reef barrier and two large limestone caves enclosing petite rock shrines and providing shelter to beach bums relaxing on the grainy white sand, this exotic beach has the most matchless features against any other beach in Bali. One has to wait for the low tide to tread its water for surfing and snorkeling, or even consider setting foot on the beach, as it gets flooded up to the cliffs rock face during high tide! Dont forget to check out the nearby temple and enjoy the panoramic views of blue, white and green from the cliff top before getting down to the beach. The temple also has many warungs (stalls) nearby selling snacks, coconuts, and cold drinks.
USP: Adventure and natural sights
Location: Jalan Pura Batu Pageh, Ungasan
How to get there: Follow down the road known as Jalan Bali Cliff, and go around the derelict hotel site to a small parking space before taking the steps down to the main beach area. Parking fee is around INR 24/-
Restaurants near Green Bowl Beach: Curry in Bali, Cafe La Pasion, Soleil
TripAdvisor Reviews | TripAdvisor Rating: 4.5
---
Planning your honeymoon in Bali but confused about what to do? These Bali honeymoon stories help you find your best honeymoon trip ever!
Real honeymooners. Real stays. Real opinions to help you make the right choice.
---
17. Karma Beach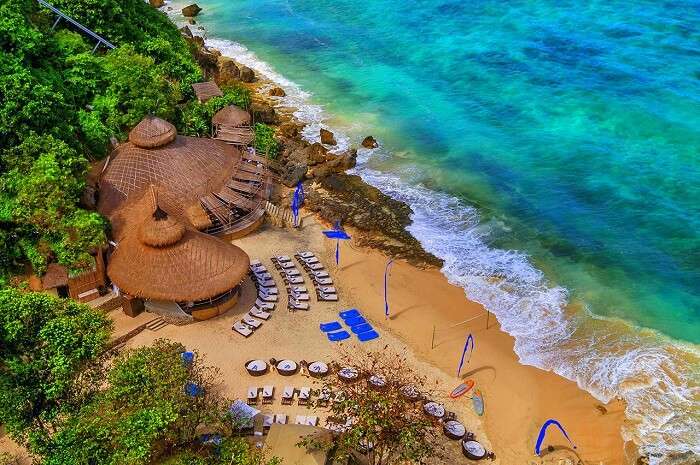 Image Source
The beach is the property of the famed Karma Kandara resort which has some of the best private pool villas in Bali. A happening destination for Balis most exclusive beach club, it allows guests to enjoy the nuances of a secluded, yet lovely beach and lagoon set in the exotic realms of Bali. Karma Beach is usually brimming with tourists picnicking on the sands, indulging in beach activities and watersports. It is an excellent choice for those looking for a rather laid-back experience combined with a tropical feel and 5-star services. Simply lounge on the plush daybeds, sip signature cocktails and relish a Mediterranean-inspired menu of Balinese and European delicacies prepared by Karma Kandaras expert chefs while at Karma Beach in Bali.
USP: 5-star facilities at your service
Location: Karma Kandara Resort, Jalan Villa Kandara, Banjar Wijaya Kusuma, Ungasan
How to get there: Various road signs up in Ungasan lead you to Karma Kandara Resort on Jalan Villa Kandara.
Restaurants near Karma Beach: Ju-Ma-Na, Di Mare, Bambu
Nightlife near Karma Beach: Veritas Wine Bar, Karma Beach Club, Temple Bar & Lounge
TripAdvisor Reviews | TripAdvisor Rating: 4.5
18. Dreamland Beach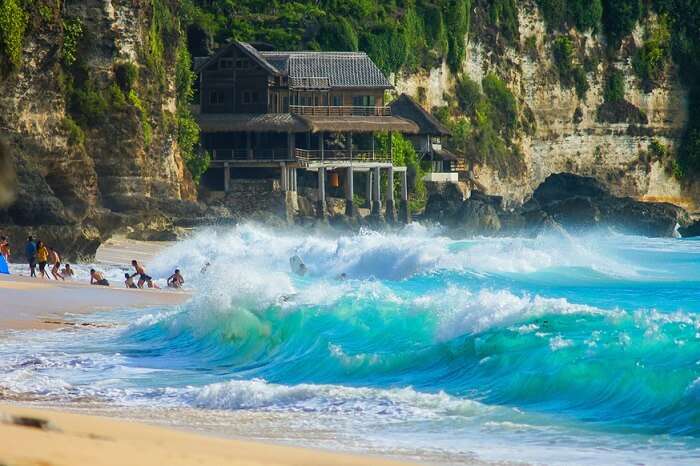 The moment your eyes catch a quaint, dreamy stretch of white sand set amidst enormous limestone cliffs that line the rugged coastline in southern Bukit Peninsula, know that you have reached one of the best beaches in Bali. In spite of many resorts and clubs popping up nearby, Dreamland Beach still retains its undiscovered tag, its rugged tropical charm, and its impressive limestone landscape. The beach is an utter delight for beach bums, surfers, photographers, and peace seekers visiting Bali. Other than taming its waves with a session of surfing and snorkeling, there are many relaxed activities to try on its sands as well. One can simply lie on the comfy deck chairs and parasols available on rent, or enjoy a rejuvenating massage.
USP: Relaxing massage therapies on the beach
Location: Jalan Pecatu Indah Raya, Pecatu, Jimbaran
How to get there: Rent a bike or 'bike taxi' till Bingin beach, walk down the cliffs and besides the various cliffside guesthouses on the beach before turning round to Dreamland Beach
Restaurants near Dreamland Beach: Surya Cafe, DAVA Steak & Seafood, El Kabron
Nightlife near Dreamland Beach: UNIQUE Rooftop Bar & Restaurant, Klapa Beach Club
TripAdvisor Reviews | TripAdvisor Rating: 4
Tip: Hard bargaining is advised for those wishing to indulge in a massage session at the beach. The fare should ideally range from INR 240/- to INR 480/- per person.
Suggested Read: Top 10 Resorts In Seminyak That Bring Out The Absolute Best Of Bali
19. Padang Padang Beach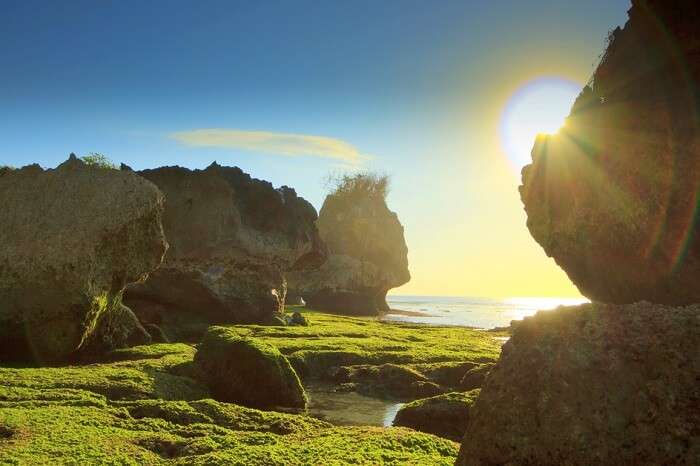 Remember that romantic beach in the 2010 blockbuster flick Eat. Pray. love- If you do, then you have already seen the lovely Padang Padang Beach, though only virtually. Located north-west off the coast of Bukit Peninsula, the Padang Padang, or Pantai Labuan Sait, is amidst the best hidden beaches in Bali for its beauty and famous surf spots. Set in an exotic backdrop with a stunning 100-meter long stretch of sand lined with shops, surf lodges, and quirky western-style cafes, this beach is among the most beautiful places to visit in Bali for surfers, honeymooners, and hose simply in search of peace and nature-scapes. Among its many attractions is a temple that overlooks the surf, and a coastal forest nearby where you can easily spot playful grey long-tailed macaques messing around. Having have shot to fame in 2010, the region now targets the surfing crowd of the world with international surfing events like the Rip Curl Cup Padang Padang. Though getting to the beach can be a little tricky, the overwhelming beauty of the place certainly makes up for it!
USP: International surfing gigs and Hollywood Fame!
Location: Labuan Sait, Pecatu village, Jimbaran
How to get there: Head up along Jalan Raya Uluwatu from Jimbaran, past the Garuda Wisnu Kencana Cultural Park. Spot signs that say Jalan Labuan Sait and follow those directions. Once you reach the slope near a large parking area leading down to the beach, climb down the flight of stairs, cross the bridge connecting the two sides of the limestone cliff, and venture into a hollow rock entrance towards the sounds of shallow waves.
Restaurants near Padang Padang Beach: Blue Heaven Bali, OM Burger, Buddha Soul
Nightlife near Padang Padang Beach: Bat & Arrow, Grand Zuri Padang, Tee Box Karaoke Bar
TripAdvisor Reviews | TripAdvisor Rating: 4
20. Pasir Putih Beach

Called by many names like White Sand Beach, Virgin Beach, and Hidden Beach, Pasir Putih in East Bali is a remote and exotic hideaway stretching between two hills in the middle of the Bugbug and Perasi villages. The beach owes its names to the many wanderers who discovered it. Travelers who were struck with its pristine stretch of silky sand with fabulous views of the small rocky islet of Gili Biaha far in the horizon gave it the name Virgin Beach. Furthermore, those who were bowled over by its unique combination of boulders wedged in the white sand and calmer waves in comparison to the nearby shores labeled it as the White Sand Beach. Getting to the secluded coast of Pasir Putih Beach is an adventure in itself. A kilometer long dirt tracks, rocky terrains, and narrow passageways lead you down to the shore once your vehicle is safely parked in the parking lot above. But dont let the challenging track dishearten you. The eye-soothing magnificence of this beach is worth the efforts it takes to reach it!
USP: Challenging trek and natural splendor
Location: Jl. Raya Pasir Putih No.93, Pasir Putih, Kabupaten Situbondo, Jawa Timur, Bali 68358
How to get there: Get to Perasi village located on the Jalan Raya Candidasa-Bugbug main road and look for the Pura Bale Agung temple. A dirt road on the opposite side of the shrine leads to the beach
Restaurants near Pasir Putih Beach: Warung Maria, Warung Sederhana, Relax Cafe
Nightlife near Pasir Putih Beach: Sinhalese Bar, Mancave House Pub, Escot Lounge
TripAdvisor Reviews | TripAdvisor Rating: 3.5
Suggested Read: Dreaming Of A Balinese Holiday? Here Is All You Should Know To Make A Perfect Plan [Infographic]
Best Beaches In South Bali
If you are staying in South Bali, then you would like to explore these beaches to have ana amazing time on your exotic island vacation. Put these beaches on your itinerary.
21. Nyang Nyang Beach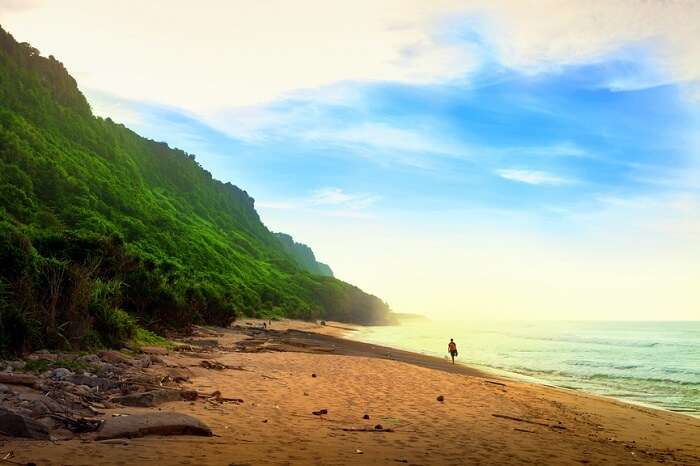 This serene half a kilometer stretch of coastline marks Balis least visited, yet inexplicably surreal beaches offering the best of surfs to wave riders and majestic views to love birds and nature lovers. Located a mile away from the renowned Uluwatu Temple, the beach is tucked away in a far-flung, concealed location and demands travelers to engage in long, tiring treks to reach it and bask in its beauty. Trek on the rugged terrain while enjoying splendid views of the limestone hillside enriched with greenery, and the company of sounds and views of the waves lapping the shores beneath you. When here, one can take a walk down the deserted beach and relish amazing sights of broad grassy plains, sandy shores, slanting cliffs, thin mists hanging above the ocean, swaying fields, natural reefs breaking the water, and a lone split shipwreck on the sand. The beach also serves as a camping site for die-hard photographers and travelers who come here to witness the breathtaking sunset and then enjoy a bonfire under the blanket of stars. Located on Nyang Nyangs western half is the only food stall on the beach where you can buy drinks, snacks, and colorful beach clothes.
USP: Unique natural sights and camping avenues
Location: Desa Pecatu, Kecamatan Kuta Selatan, Pecatu, Bali
How to reach Nyang Nyang Beach: One of the routes leading to the beach is via Jalan Batu Nunggul and right at the cliff edge of Villa Plenilunio. From here, one needs to trek down rugged terrains and a flight of stairs for about half an hour before getting down on the grassy slopes of the beach
Restaurants near Nyang Nyang Beach: Buddha Soul
Nightlife near Nyang Nyang Beach: Kecak and Fire Dance
TripAdvisor Reviews | TripAdvisor Rating: 4.5
Tip: Swimming is not recommended at Nyang Nyang Beach.
22. Bingin Beach

Image Source
Veiled by uneven limestone cliffs, Bingin Beach is a popular surf spot for wave riders from around the world. The clear blue water here allows pro surfers to ride swells up to 8 feet high till they break over the submerged reef, which is why it is one of the 10 best beaches in Bali for surfing. Other than surfing, simply walking on the stretch of white sand on the most beautiful coastline of Bukit Peninsula covered with scattered boulders and rock pools is an experience in itself. Treading in the water isnt easy due to the presence of jagged rocks, but the gorgeous beachscapes and the thrill of being knocked over by strong waves pushes travelers to try. Apart from surfing, Bingin is also a treat for photographers and filmmakers who come here to capture Balis offbeat, yet picturesque landscapes. Even the barren cliffs overhead offer the best panoramic views in the area. The best time for surfing here is during low tide.
USP: The surreal sunsets
Location: Jl. Pantai Bingin, Pecatu, Kuta Sel., Kabupaten Badung, Bali 80361
Restaurants near Bingin Beach: Bukit Cafe, Sushi Ulu Wasabi, traditional warungs (food stalls)
Nightlife near Binin Beach: Local bars (shacks) on the beach
TripAdvisor Reviews | TripAdvisor Rating: 4.5
Suggested Read: Head To Bali In August For A Fun-Filled, Festive, And A Leisurely Vacation!
23. Tegal Wangi Beach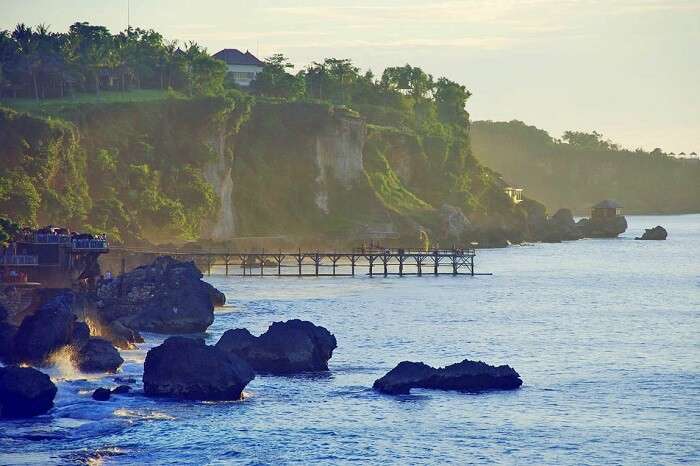 Image Source
Named after a temple perched on the limestone cliffs overlooking the sea, Tegal Wangi is one of the best beaches in Bali for honeymoon gracing the southern Bukit Peninsula. This unique beach offers visitors enthralling seascapes with soothing natural features like seaweed-covered rocky barriers and abstract boulders lit up in the hues of crimson sunsets before the vast ocean. Though it was earlier only frequented by wedding photographers due to its exotic backdrops, the beach has recently gained popularity when its barren beauty started getting eyeballs of the public, especially honeymooners. The best time to visit this beach is before sunset, or the blue hour (6-7 PM). One can enjoy expansive views of the Indian Ocean dotted with tiny boats and the shimmering torches of the wharves in the distance from the cliff hundred meters above the Tegal Wangi Beach.
USP: Photogenic backdrops and sunsets
Location: Jl. Pura Tegalwangi, Badung, Jimbaran, Bali
Restaurants near Tegal Wangi Beach: DAVA Steak & Seafood Restaurant, Kisik Bar and Grill at Ayana Resort
Nightlife near Tegal Wangi Beach: Rock Bar at Ayana Resort
TripAdvisor Reviews | TripAdvisor Rating: 4.5
Suggested Read: 8 Day Trips From Bali To Invigorate Mind & Body
24. Gunung Payung Beach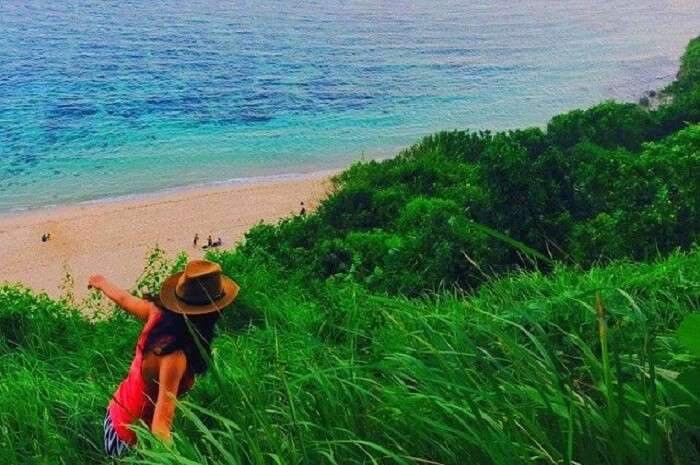 Image Source
An absolutely peaceful setting over great seascapes, the Gunung Payung Beach is adorned with natural reef barriers, grassy patches in the clear blue waters and local seaweed farmers trotting about on the deep, coarse sand. The beach draws its name from a well-known Balinese Hindu temple complex called Pura Dang Kahyangan Gunung Payung located high up on a cliff. Travelers can enjoy stunning panoramic views of the ocean from this cliff and temple before getting down to the main beach via a flight of 300 steep stairs that are sure to tire you out. The warm and calm waters of the beach are great for snorkeling, swimming, and for enjoying the soaring ocean views. There are no food stalls here owing to the remoteness of the beach, so dont forget to bring your own food and water supplies.
USP: The sacred Pura Dang Kahyangan Gunung Payung temple
Location: Jalan Gunung Payung, Kutuh Village, Ungasan, Bali
Restaurants near Gunung Payung Beach: The Cafe, Tapa Nusa Dua, Table8 Chinese Restaurant
Nightlife near Gunung Payung Beach: Samabe Bali Pool & Beach Club
TripAdvisor Reviews | TripAdvisor Rating: 4.5
Tip: Beware of spiny sea urchins that grow around here.
25. Pandawa Beach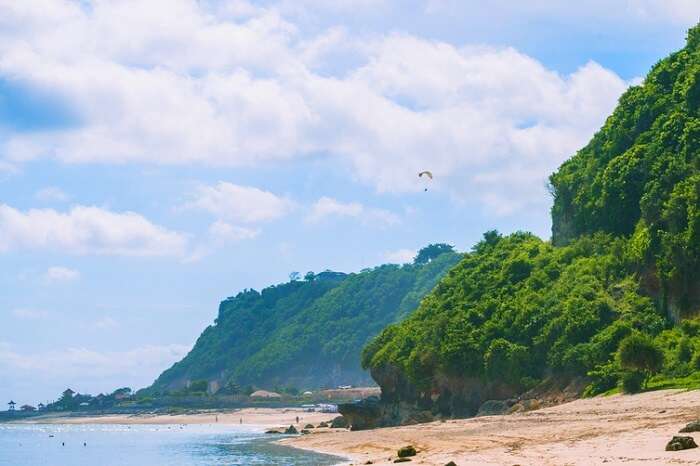 An excellent part of the list of best beaches in Bali, the Pandawa Beach is a delightful avenue hiding behind carved limestone cliffs and before grand views to the Indian Ocean. This classy 1km stretch of a white sandy coast is located in the village of Kutuh and was officially opened to the public only in 2012, after which this paradise caught the attention of international visitors and surfers super fast. Impressive panoramas of white sand, striking blue sky and surf, picture-perfect terrain, and manmade limestone structures are only some of the exciting characteristics of this beach. The smooth asphalt roads leading to the beach feature high walls and ocean-facing cliffs with huge, deeply carved depicting statues of Pandawa heroes from the epic Mahabharata. The remarkable statues of Kunti, Yudhisthira, Bhima, Arjuna, Nakula, and Sahadeva, all draped in traditional Balinese cloth, force visitors to stop in their tracks for a picture. A pretty fusion of blue and green, the water at Pandawa Beach is perfect for surfing, swimming, and even a short kayaking trip.
USP: Pandawa statues and kayaking
Location: Dharmawangsa St., Kutuh Village, Kuta, Bali 80361
Restaurants near Pandawa Beach: Clover Bali, Manis Warung, Warung Naruto
TripAdvisor Reviews | TripAdvisor Rating: 4
Suggested Read: Top 10 Bali Beach Resorts
26. Geger Beach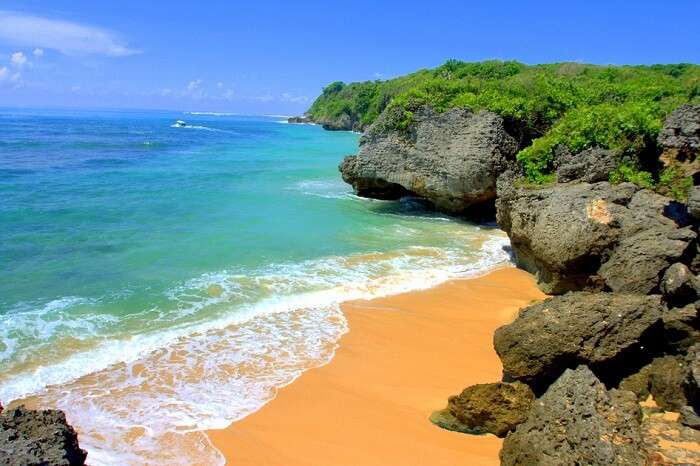 Once counted among the hidden beaches in Bali, Geger Beach exudes an exotic and secluded charm through its calm turquoise-blue waters and a mix of white-golden sand. This stretch of heaven on the south-eastern Bukit Peninsula is known for its magical sunsets and sunrises, apart from excellent opportunities for swimming and snorkeling. If not watersports, one can simply stroll on the golden-white sands, bask in the sun for a spot of sunbathing, or laze around on a hammock. One can easily reach this beach via a paved road just before Grand Nikko.
USP: One-of-a-kind golden-white sand
Location: Desa Adat Peminge, Sawangan, Nusa Dua, Bali
Restaurants near Geger Beach: Boneka Restaurant at St. Regis Bali Resort
TripAdvisor Reviews | TripAdvisor Rating: 4
27. Nelayan Beach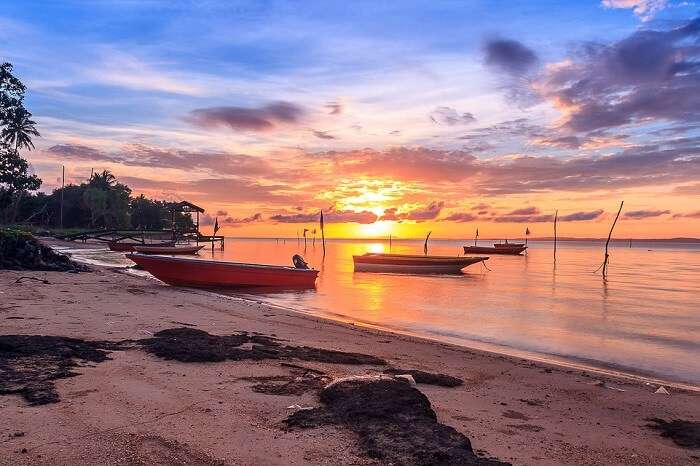 Image Source
With unique black sand, Nelayan Beach in Bali is a 350m long coastline that mainly serves s local fishermens landing coast. Another unique aspect of this beach are the two small river mouths that border both ends of the beach. Apart from being known for its black sand and streams, Nelayan beach is also popular among international tourists for its seclusion and quiet sunsets. Nelayan is among the best beaches in Bali to stay at owing to its many luxury villas like Tirtarum Villas and Nelayan Villas offering comfortable accommodation options and the finest of dining experiences in the area. One should ideally visit at dawn to witness delightful vistas of fishermen hauling their wooden outriggers on the sands and unloading their early morning catches. Strike up a friendly conversation with them and you can easily be taking home some fresh fish, lobsters, prawns, squids, and more. It is easy to get to this beach if one simply follows Jalan Nelayan road that branches off from Jalan Batu Bolong.
USP: Black sand and bordering rivers
Location: Jalan Nelayan, Canggu, Bali
Restaurants near Nelayan Beach: Recovery Room, Nelayan Restaurant
TripAdvisor Reviews | TripAdvisor Rating: 4
Suggested Read: This Is Why A Honeymoon In Bali Is Perfect For Couples
28. Echo Beach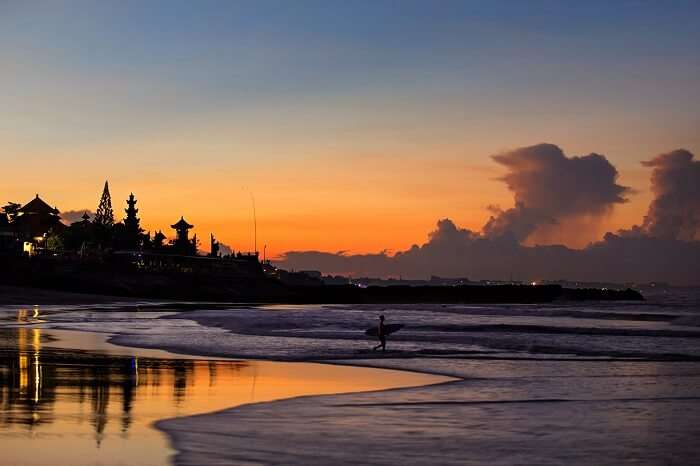 Image Source
Echo Beach, or Pantai Batu Mejan, recently gained popularity owing to its advanced reef breaks for surfing, panoramic seascapes, stunning sunsets, an acclaimed Balinese Hindu sea temple on site, an array of seafood cafes nearby, and it's exotic vibe. Echo beach receives an enormous influx of tourists who come to enjoy the rich blend of coastal beauty and serene rice fields of Canggu, apart from its surfing sites suitable only for pro surfers. The beach is also ideal for sunbathing, leisurely walks, and landscape photography. Another addition to the list of black sand beaches in Bali, this coastal beauty is among the most well-kept and clean beaches in Bali thanks to the joint efforts of surf schools and clubs around here. Nearby are some of the classiest villas in Canggu, such as the Bali Dream Villa Resort, LV8 Resort, and Ametis Villa. The beach is a mere 45 minutes away from the Ngurah Rai International Airport in Tuban, South Bali.
USP: Luxury villas and delicious seafood
Location: Jl. Pura Batu Mejan, Canggu, Bali
Restaurants near Echo Beach: Sticky Fingers Osteria Italiana, Sate Bali, Dian Caf-, Echo Beach House
Nightlife near Echo Beach: Othree Beach Bar, Echo Beach Club
TripAdvisor Reviews | TripAdvisor Rating: 4
Suggested Read: Beauty, Love, And Happiness: Our Honeymoon Trip To Bali Was A Heavenly Experience
29. Berawa Beach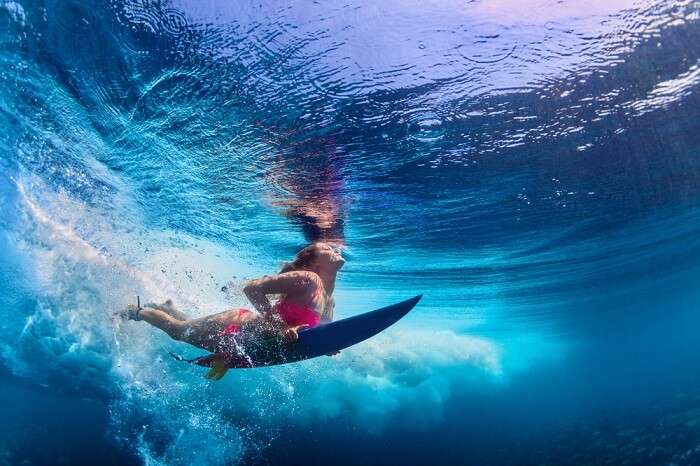 Home to the largest lagoon along the Canggu coastline, this dark grey, and black sand beach is yet another favorite surfing spot for wave riders from around the globe who wish to escape the crowded surfing sites in Bali. While the rocky reefs provide as great avenues for surfing, the ornate wooden bridge dominating the southern landscape of the coast offers colorful and dreamy vistas of sunsets and sunrises, the prime reason why the beach is also frequented by couples and honeymooners. If not from the bridge, one can enjoy calming evenings at the beach from its many unique bars and chill out spots. Visitors can also enjoy the laid-back vibe of Berawa Beach by lounging on the many sunbeds available here on rent (around INR 240/- per sunbed) and sipping on refreshing cocktails. One can easily reach the beach via the Jalan Pantai Berawa road that ends right at the Legong Keraton Beach Hotel.
USP: Largest lagoon and wooden bridge for sunset views
Location: Jalan Pantai Berawa, Canggu, Bali
Restaurants near Berawa Beach: Quince, Nude Canggu, Ruko Cafe, Cinta Cafe
Nightlife near Berawa Beach: Berawa Beach Tavern, Old Mans Bar, local bars (shacks) on the beach
TripAdvisor Reviews | TripAdvisor Rating: 4
30. Pererenan and Seseh Beach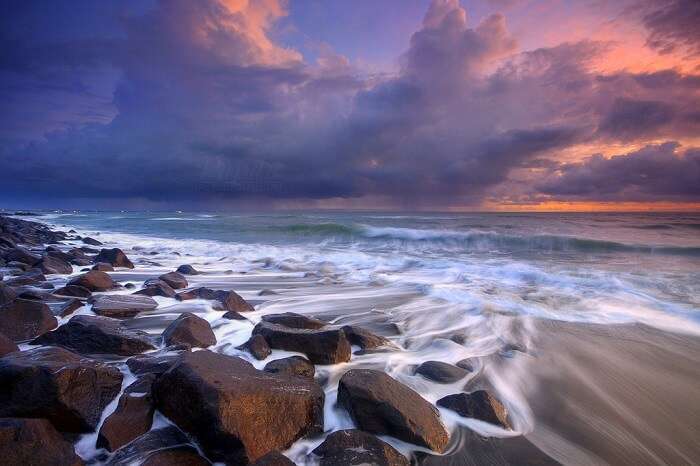 These are two adjoining beaches in Canggu separated by rivulets flowing through the adjacent rice fields irrigation systems. Other than charming views of rice fields, the beaches have similar landscapes with dark gray and black sand and a stretch of flat grassy lowlands that attract a great number of visitors. They are both favourite locations for a spot of horse riding, surfing, and camping. In fact, Pererenan and Seseh Beaches are among the best beaches in Bali for snorkeling and house the Seseh Surf Community which holds local surf competitions and tries to raise environmental awareness through regular beach clean-ups. One can take any of the three roads leading to each beach in order to get here, namely the Jalan Pantai Pererenan, Jalan Raya Seseh, and the Jalan Babadan. Or one can take a scenic ride through Jalan Raya Seseh that offers views of the lush rice paddies with fresh breezes to tingle your senses.
USP: Paddy fields and unmatched cleanliness
Location: Jalan Pantai Pererenan, Buduk, Mengwi, Bali
Restaurants near Pererenan and Seseh Beaches: Warung YESS, Warung Bamboo, Dandelion
Nightlife near Pererenan and Seseh Beaches: Premier Surf Resto and Bar
TripAdvisor Reviews | TripAdvisor Rating: 4
Suggested Read: 10 Best Things To Do In Kuta – The Liveliest City In Bali
31. Lovina Beach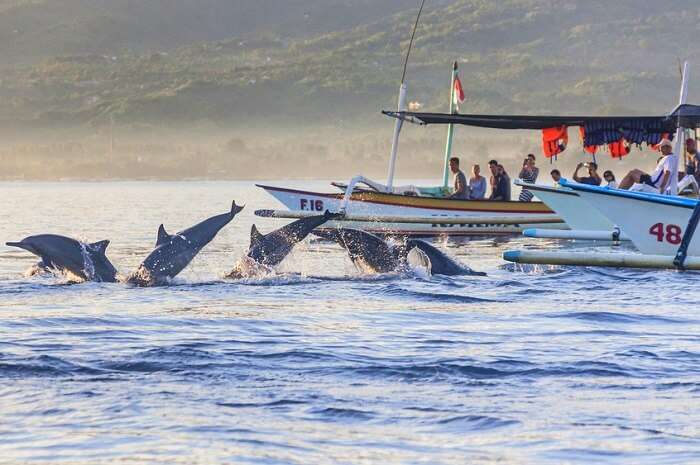 A lovely combination of smaller beaches spreading over several local villages in northern Bali, Lovina Beach (pronounced Lo-ina) serves as a great alternative to the crowded beaches of Bali, the likes of which include Kuta, Legian, and Seminyak. Calm blue waves, unique black sands, striking sunsets, and a rocking nightlife are some of the many features of Lovina that lure travelers here. The prime attraction of this beach is the dolphin watching tours that travelers can indulge in here. Travelers can also hang out at the various caf-s, trendy seafood restaurants, and art shops here. Engage in a joyful dolphin sighting tour aboard colorful traditional motorized jukngs and spot different varieties of these lovable creatures that are sure to win your heart.
USP: Dolphin watching tours
Location: Lovina Beach, Anturan, Buleleng Sub-District, Buleleng Regency, Bali
Restaurants near Lovina Beach: Warung Apple, Jasmine Kitchen, The Global Village Kafe
Nightlife near Lovina Beach: Beach Bar at Lovina Bali Resort, Spice Beach Club Bali, Kantin 21
TripAdvisor Reviews | TripAdvisor Rating: 3.5
Islands With The Best Beaches In Bali
If you are wondering which islands in Bali have the best beaches where you can hop from one spot to another, then these islands will show you a good time on your trip.
32. Nusa Lembongan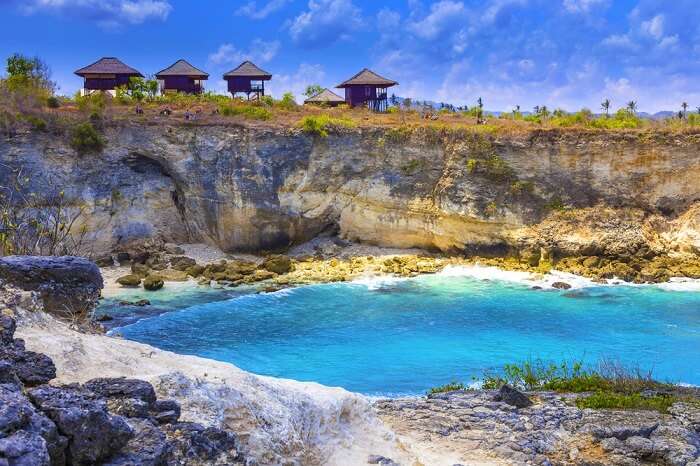 An exciting holiday island destination off the southeast coast of Bali, Nusa Lembongan is a popular hideaway for surfers and leisure seekers. Often simply referred to as Lembongan, the island is a mere 45-minute boat ride from Sanur Beach or Benoa Harbour. The great reefs and diving sights here make it more popular among surfers and divers than its sister islands of Nusa Ceningan and Nusa Penida. The clean and pristine beaches are the reason Nusa Lembongan tops the list of islands with the best beaches in Bali for swimming. There are a number of luxury villas and resorts on the island suitable for all kinds of budgets and types of travelers.
USP: Stay in affordable, yet quirky and clean shacks for a traditional Balinese experience
Location: North Bali, west of Buleleng regencys capital city of Singaraja
How to get to Nusa Lembongan: Its just a 45-minute boat ride away from Sanur, Serangan Island and Tanjung Benoa on the Bali mainland.
Restaurants in Nusa Lembongan: Kayuputi Restaurant, Cut Catch Cucina, Arwana
Where to stay in Nusa Lembongan: Mulia Villas, Amarterra Villas Bali, Ulu Segara Luxury Suites & Villas
Nightlife in Nusa Lembongan: Hai Bar And Grill, Blue Corner Bar, The Deck Cafe & Bar
TripAdvisor Reviews | TripAdvisor Rating: 4
33. Nusa Ceningan Island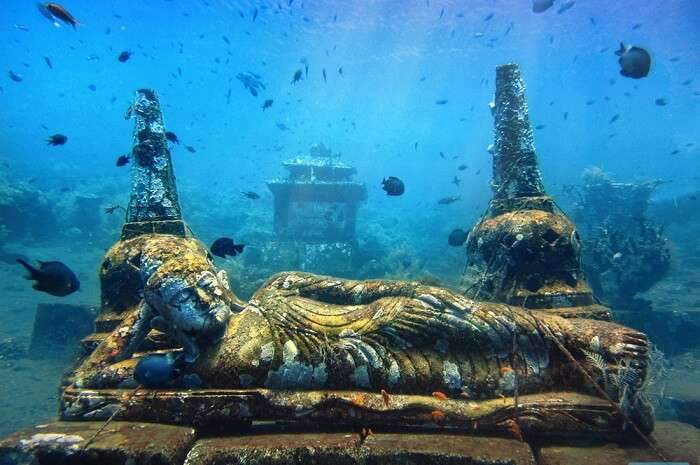 Image Courtesy: David Lazar
The smallest among the Nusa Islands, Nusa Ceningan is known for its rather exotic vibe that its beaches exude. Travelers usually combine a visit to this island with its sister islands, or just Nusa Lembongan, as the two are connected by an iconic yellow suspension bridge. Complete with vivid cultural features, picturesque coastal fishing villages, and seaweed farms, mangrove forests with turtle nesting beaches, and a Blue Lagoon, the beaches of Nusa Ceningan are definitely worth a trip on your holiday in Bali. Adrenaline junkies can indulge in a thrilling cliff diving session from Blue Lagoon or Mahana Point for merely INR 120/- per jump per person, while peace seekers and lovebirds can simply enjoy sweeping views of the ocean and incredible sunsets from the Secret Beach on this island. Other adventure sports to try here include the Abyss Zipline (for INR 390/- per person) and the underwater scooter rides that shall let you explore sunken temples and statues.
USP: Adventure activities like cliff diving, zip lining, and underwater scooter
Location: Nusa Ceningan, Nusa Islands, Klungkung
How to get to Nusa Ceningan: One needs to get to Nusa Lembongan first. Nusa Lembongan is just a 45-minute boat ride away from Sanur, Serangan Island and Tanjung Benoa on the Bali mainland. From there, you can access Ceningan via the bridge
Restaurants in Nusa Ceningan: Cut Catch Cucina, Bejana at The Ritz-Carlton, Arwana
Where to stay in Nusa Ceningan: Mulia Villas, The Bale, Courtyard by Marriott Bali
Nightlife in Nusa Ceningan: Driftwood Bar
TripAdvisor Reviews
Suggested Read: 12 Best Restaurants In Seminyak With A Wide Range Of Cuisines
34. Gili Trawangan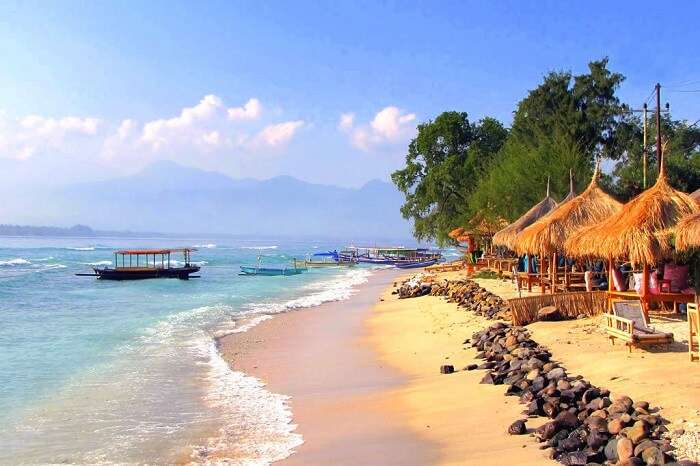 The Gili Islands are an archipelago of three small islands off Lombok, Balis scenic neighbor. The islands are highly popular for its diverse diving sites as the waters around them boast of rich tropical marine biodiversity and good visibility throughout the year. The largest and most popular of these is Gili Trawangan owing to its well-established infrastructure and world-class facilities. A great spot for diving for first timers, the island's beaches have a plethora of great hotels, bars, and restaurants, catering to different types of visitors and their preferences. While the main coast near the harbor offers a castaway style nightlife to party animals, the secluded beaches on the other side offer peace and tranquillity to couples and honeymooners.
USP: Most popular diving site in Bali
Restaurants in Gili Trawangan: Ko-Ko-Mo, The Beach House Restaurant, Gili Trawangan Night Market
Where to stay in Gili Trawangan: Aston Sunset Beach Resort, Vila Ombak Hotel
Nightlife in Gili Trawangan: Pearl Beach Lounge, Malibu Beach Club, Santi Restaurant Lounge and Bar
TripAdvisor Reviews | TripAdvisor Rating:
Further Read: 95 Best Honeymoon Destinations In The World
Craving some beach fun already? Pick from the best Bali tour holidays and plan your escapade to this Southeast Asian paradise. If you know of any more of the best beaches in Bali, pop them in the comments below and share this with your globetrotter buddies!
Frequently Asked Questions About Beaches In Bali
Q: Does Bali have white sand beaches?
A: Yes, Bali have white sand beaches. Kuta, Nusa Dua, and Sanur have some of the most beautiful white sand beaches.
Q: Which is the best area to stay in Bali?
A: There are a number of exciting towns in Bali where you can stay. Kuta, Jimbaran, Seminyak, Nusa Penida are just some of the best areas to stay on your holiday.
Q: How many days do you need in Bali?
A: It totally depends on you. You should spend a minimum of four days on the island of Gods. It is totally up to you how much you wish to extend.
Q: What can you drink in Bali?
A: Bintang, Anker beer, and Tuak are some of the local alcohol drinks you should try in Bali if you like to drink.
People Also Read:
Beaches In Kochi Beaches In Capetown Beaches In Chicago
---
Looking To Book An International Honeymoon?
Book memorable honeymoon on TravelTriangle with 650+ verified travel agents for 65+ domestic and international destinations.
---
div.nav-links {
display: block;
float: left;
width: 100%;
padding: 0 20px 10px;
}
div.nav-links a {
display: inline -block;
float: left;
margin-right: 4px;
font-size: 13px;
webkit-box-sizing: content-box;
-moz-box-sizing: content-box;
box-sizing: content-box;
-o-text-overflow: clip;
text-overflow: clip;
text-decoration: none !important;
margin-top: 5px;
border: 1px solid #c8c8c8;
font-style: normal;
border-radius: .25em;
padding: .2em .6em .3em;
line-height: 23px;
}
div.nav-links a:hover {
background-color: #009688;
color: white;
}
p.box-links a {
display: inline-block;
margin-right: -2px;
font-size: 13px;
-webkit-box-sizing: content-box;
-moz-box-sizing: content-box;
box-sizing: content-box;
border: none;
color: rgb(0, 0, 0);
-o-text-overflow: clip;
text-overflow: clip;
background: #98eae3;
-webkit-transform: skewX(-20deg);
transform: skewX(-8deg);
text-decoration: none !important;
padding: .2em .6em .3em;
margin-top: 2px;
}
p.box-links a:hover {
background-color: #000000;
color: #ffffff;
}