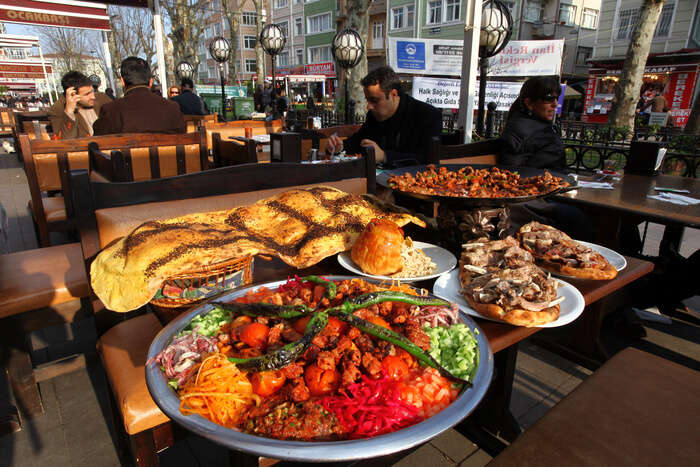 Istanbul is one place which reflects the culture of both Europe and Asia – not just in the lifestyles and art but also in the delicacies.The diversity of Turkish culture is well represented in the awe-inspiring and appetizing flavors found in these Istanbul restaurants.
10 Best Istanbul Restaurants
A culinary extravaganza where east meets the west and a fusion of aromas and spices to pamper your insatiable buds in splendid comforts of city's finest restaurants. Here is the list of our carefully-selected top 10 Istanbul restaurants which you should try on your visit to this beautiful city.
1. Mikla
This restaurant is popular for the wines it has. Wonderful view from the restaurant, which is at top of one of the renowned hotels here, can mesmerise you to no end. There is also a rooftop, but it has limited seating capacity. The restaurant has extravagant upscale interiors, serving the finest Turkish delights. The amazingly courteous staff is fluent in English and will make you very comfortable. There is a strong reason why this hotel has been consistently on the list of renowned restaurants in the world and you will discover it for yourself when you are here.
Location: The Marmara Pera Meşrutiyet Caddesi 15 34430, Beyoğlu,
What not to miss: Turkish red wine
Must Read: 4 Best Ways To Experience Safari In Istanbul On A Thrilling Turkey Vacation
2. 360 Istanbul
Serves contemporary local cuisines with extremely wonderful innovative and delectable Turkish starters and sides. The restaurant is situated on the top floor of an old building in the most popular area of the city. It will give you a marvelous view of the street beneath and that of an old church. The atmosphere in this Istanbul restaurant is simply electric if you happen to be here during any of the weekend – live music and colorful crowd.
Location: Tomtom Mahallesi, İstiklal Street
What not to miss: Melon soup, Duck spring rolls
3. Karakoy Lokantasi
Elegant, colorful and palatial interiors with extremely friendly staff will make your experience in this restaurant truly gratifying. The best part of the restaurant is its great service – the restaurant's owner might come to personally welcome you as well. This restaurant will take your breath away with its wonderfully delicious Turkish food and ravishing contemporary Ottoman cuisine.
Location: Kemankeş Karamustafa Paşa Mahallesi, Kemankeş Cd
What not to miss: Karniyarik, Meatballs
Suggested Read: 4 Best Wedding Venues In Istanbul For An Out-Of-The-World Experience!
4. Nusr-Et Steakhouse
Made extremely popular by celebrity chef Salt Bae, this is the place for the best steak in town. Slender, juicy and fresh meat is the base of nearly every dish. If you are here, then you must try the burgers, and might as well be one of the best steak burgers you will have in your life. In fact, add this restaurant to your places to visit in Turkey – you won't regret it.
Location: Etiler Mahallesi, Nispetiye Cd No:87, 34337
What not to miss: Nusret Special Sushi, Steak Tartar
5. Yeni Lokanta
This Istanbul restaurant has a wonderful bar with a large selection of premium wines. Do not miss the tasting menu here. It is widely popular because of its celebrity chef, Civan Er. Civan, has made delectable and innovative dishes from the culinary traditions and flavors of Anatolia. Gear up to polish off the plates as you enjoy the finger licking hummus.
Location: Tomtom Mahallesi, Kumbaracı Ykş, Beyoglu off
What not to miss: Dry eggplant with yogurt sauce
Suggested Read: 6 Waterfalls In Istanbul One Must Visit To Witness The Charismatic Beauty Of Nature!
6. Deraliye Ottoman Palace
This restaurant offers flavors from Ottoman, Turkish, middle eastern and central Asian cuisines. If you are a lamb lover, don't miss this restaurant. They have great vegan options on as well. Ritzy interiors, sumptuous meals, and decent prices are the highlights of this unique restaurant.
Location: Ticarethane Sokak, Number 10, Sultanahmet Istanbul
What not to miss: Lamb shank, Cheese pie
7. Delhi Darbar
This South Asian restaurant is extremely close to Taksim Square and is simply the best Indian restaurant in Istanbul. If you really can't live without your Butter Chicken, Biryani or spicy lentils, this is the place to be. It is not just popular with tourists from South Asia but with other tourists and locals as well. If you are a vegetarian, then Delhi Darbar also has an elaborate vegetarian menu.
Location: Siraselviler Cad. No 37 | Star Otel, Taksim
What not to miss: Veg Pakoda, Chicken Korma
Suggested Read: 7 Churches In Istanbul Whose History And Architecture Will Sweep You Off Your Feet!
8. Ficcin
This is an upscale ethnic restaurant serving wonderful mezze starters, delicious Salmon dishes, hummus, patlican salads and has an extensive list of splendid wines and beers. Start with the mesmerizing hot traditional lentil soups to light the fire in your belly. This is very near to Istiklal street, known to be one of the most happening streets in Istanbul. The restaurant is delightfully affordable and portions sizes are huge, unlike other upscale restaurants in the city.
Location: İstiklal Mahallesi, Kallavi Sk.
What not to miss: Manti, Ficcin Pie
Suggested Read: 6 Theme Parks In Istanbul For Letting Out The Kid In You!
9. Ulus 29
This is a restaurant with the best view you can ask for in whole Istanbul. The restaurant is at a picturesque hilltop and has a terrace bar which boasts of a splendid view of Bosphorus bridge. Nights are extremely happening here, with great lights and night view from the hillock. Restaurants keep planning live musical events. This place is not to be missed if you are planning a romantic dine out in Istanbul.
Location: Ulus Mahallesi, A. Adnan Saygun Caddesi
What not to miss: Kinao Salad
Further Read: 6 Cafes In Istanbul That Are The Perfect Hang Out Spots For Your Turkish Holiday
Istanbul is a delight for those who relish fine dining. The lingering aroma and flavorsome dishes here will awaken your starved soul and fully gratify it with a sumptuous meal. These 10 Istanbul restaurants are the finest of what the city has to offer. So, pack your bags, book a customized package to Istanbul, and fly away to sate your soul.