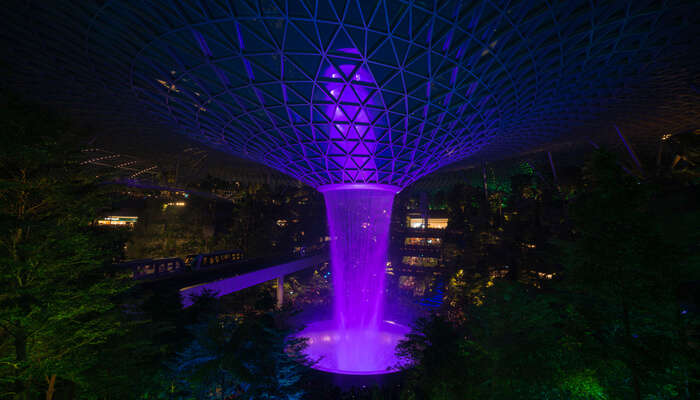 Come 2019 Singapore's Jewel Changi Airport will be open to the world as a massive attraction and we can't wait to finally catch a glimpse of it. The Jewel Changi Airport, with its massive display of unparalleled architecture and remarkable design, is all set to turn into the world's first air transit hub which will possess its own amusement park and a drool-worthy waterfall. The park, in all likelihood, will be completed by the first half of 2019. As the airport will turn into a dreamy world with all the in-house facilities, it will be an excellent option comprising of a five-story indoor garden, hedge maze, simulated clouds, bouncing nets, a giant waterfall, and tube slides.
Featuring all the top-notch facilities, the amusement arena will aptly address all the boring long layovers. Moreover, the entertainment park will also be counted among the prominent attractions in the country. The authorities described the features as there will be a canopy park in front of Terminal 1 which will be enveloped in a fascinating glass and steel structure.
Impeccable Makeover Of Changi Airport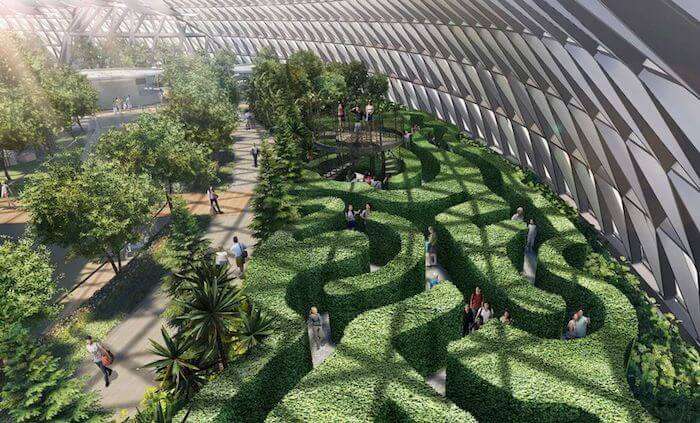 The remarkable structure has been designed by award-winning Canadian-Israeli architect Moshe Safdie – popular around the world for his revolutionary apartment complex Habitat 67 in Montreal. A team of dedicated consultants from Britain, France, Germany, the Netherlands, Singapore, and the United States is taking care of the design aspects of the entire attractions to be made public at the airport. But wait, did I tell you that the massive center of attraction will be Rain Vortex – a 131-foot waterfall.
Suggested Read: Museums In Clementi: History Of Singapore That You Ought To Know
Massive Attractions Of Entertainment Park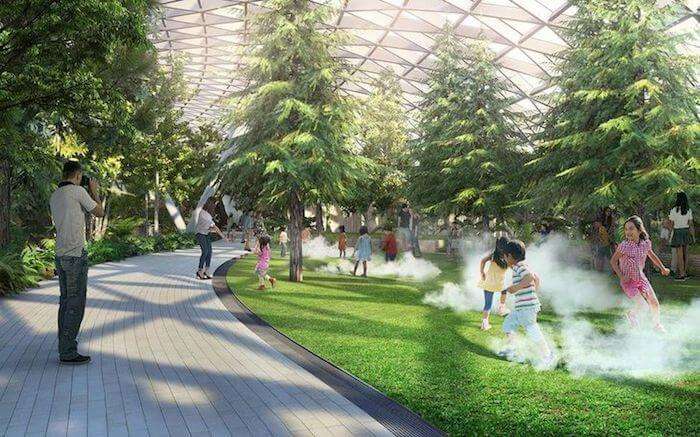 1. Suspended nets three stories above the garden on which visitors will be able to walk. The trampoline-like bouncing net is good enough to give you an adrenaline rush
2. A garden maze with six-foot hedges with a lookout tower for a bird's eye view of the surroundings
3. A hedge maze, tube slides, a massive 131-foot waterfall
4. A topiary walk featuring massive stuffed animals
5. Playing arena for kids where they'll be able to play among the clouds like environs
6. An indoor flower garden with giant floral sculptures
Further Read: 5 Happening Bars In Serangoon To Enjoy The Lit Nightlife Of Singapore
Moreover, if Changi is your final destination, then you can also book a room at the Jewel's new Yotel hotel. Changi Airport, with its array of six gardens, butterflies, movie theaters, toy stores, video arcades, a playground with rides, and huge inflated animals, has already won hearts of tourists all over the world. So, it's time you put it on your bucket list! And for those who're planning a trip to Singapore, stay assured that layovers at the Changi airport won't be mundane anymore!
Comments
comments