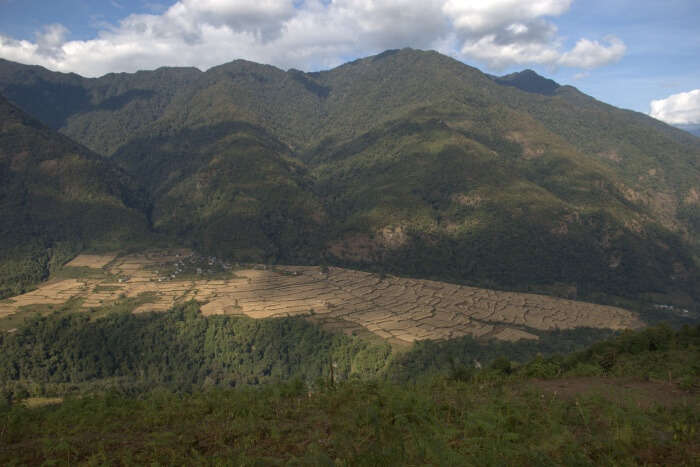 The hilly nation Bhutan offers its tourists ample avenues to spend their quality time at. Out of the many touring choices offered to the visitors, the one that relates to nature exploration is of paramount value. One name amongst the tourist spots that remains mandatory inclusions in the Bhutan tour itineraries is Jigme Singye Wangchuck National Park.
Spreading over an area of 670 sq. mi, this park has already attained recognition of a major landmark in Bhutan. This national park occupies a large space in the Trongsa District beside good portions of the neighboring districts, Sarpang, Tsirang, Wangdue Phodrang, and Zhemgang. The park is always rushed by the tourists who have a thing for nature and seek to spend quality time evaluating the nature's bounty.
Jigme Singye Wangchuck National Park: Things to Know

Image Source
We bring for you minute details about the Jigme Singye Wangchuck National Park in Bhutan. You must remain aware of them for its best exploration and to ensure that you use your time and resources prudently while touring to this park in Bhutan. Below are mentioned the comprehensive information about it.
Jigme Singye Wangchuck National Park Opening Hours:
Weekdays: 24 Hours
Saturday: 24 Hours
Sunday: Closed
Jigme Singye Wangchuck National Park Entrance Fees:
Adults: ₹ 150/- per person
Children: No Information Available
Jigme Singye Wangchuck National Park: Highlights

Image Source
Prior to planning a visit to Jigme Singye Wangchuck National Park, you might have countless questions in mind about it. Let's describe the related facts and special features that distinguish it from the rest of the parks in Bhutan.
Besides being connected through the major highways of east-west and north-south, this park distinguishes itself for connectivity through biological corridors. It is thus a landmark like rest national parks in different parts of Bhutan. Here are listed some notable factors that keep it apart:
Jigme Singye Wangchuck National Park is popular for its Eastern Himalayan habitats of broadleaf forests
It is accessible by all due to its location of most centrally located on out of all Bhutanese national parks
It links the Alpine vegetation in north and Royal Manas National Park in south develops a contiguous belt
It is known for propagating the mid-Himalayan ecosystem from Himalayan ranges in the east
This park is popular for an old grown Chir pine forest which isn't found anywhere else in the country
It is a popular destination as home to several migratory faunal species
Variety of migratory birds and habitats distinguish it
Must Read: 11 Photography Places In Bhutan That Will Boost Your Instagram Followers
The Significance of Biodiversity Perseverance

Jigme Singye Wangchuck National Park in Bhutan is significant in this region for its pivotal role as a largest preserver of biodiversity. In fact it is one of the few parks considered as the richest one with temperate forest area in the whole of the Himalayan region.
Due to the high mountains here and its watershed for the streams to rivers playing the role of the famous Mangde Chhu River headwaters and tributaries, this park remains a crucial one in the context of the biodiversity perseverance.
Administrative Park Ranges

Image Source
As it has been discussed above that Jigme Singye Wangchuck National Park is a key landmark in Bhutan, its splendidness is worth appreciating. This park is thus administered through its four Administrative Park Ranges which are also specific divisions.
Respective range offices of those divisions prove to be helpful in managing the park, therefore makes it feasible for the travelers to explore the natural bounty of Bhutan through this globally recognized park. All four ranges are as follows:
Taksha Park Range
Langthel Park Range
Tingtibi Park Range
Nabji Park Range
Suggested Read: Backpacking In Bhutan: A Thrilling Experience For All The Travelers
Major Functional Sections

Jigme Singye Wangchuck National Park merits for continuous research for many reasons and factors which keep it apart. Its four functional sections assure that all tourists are provided with best of the comforts and easiness they seek during their park exploration. The sections include:
Research & Monitoring Section
Forest Protection & Land Use Section
Integrated Conservation & Development Programme Section
Social Forestry and Extension Section
Attempts are also made to guide the travellers with this aim to bring awareness amongst them to understand the beauty of Bhutan through many departments. They provide total assistance under the patronage of the respective Functional Sections. That is perhaps the major reason that this park caters to the large chunk of visitors every day and throughout the year.
Jigme Singye Wangchuck National Park: Insiders' Peek

Bhutan welcomes its visitors from the worldwide locations. Its natural history is remarkable in the context of notable parks and their roles to preserve nature and its biodiversity. Jigme Singye Wangchuck National Park is one such popular landmark here without whose visit your tour to Bhutan would literally remain incomplete.
Some great attributes of this park which remain most recommended ones by the insider's peek to evaluate are as follows:
Glimpsing the rugged topographies
Feeling closeness to nature when assessing the peaks rising to almost 5,000 metres or more elevated for scintillated attraction
Popular hydropower plants of Bhutan nearby this area
Complex yet beautiful climatic conditions appeal to all tourists
Large area of the park still occupied by the undisturbed natural habitats
Furthermore, Jigme Singye Wangchuck National Park is also famous for the six prominent regionally specific eco-regions. They have major roles to play to turn this area into region's best natural beauty.
Himalayan subtropical broadleaf forests eco-region
Eastern Himalayan broadleaf forests eco-region
Warm broadleaf forests
Cool temperate broadleaf forests
Eastern Himalayan subalpine conifer forests eco-region
Eastern Himalayan alpine shrub & meadows eco-region
In a nutshell, great biodiversity; presence of variety of mammals; sub-tropical broadleaf forests; Chir pine forests; warm broadleaf forests; cool broadleaf forests mixed conifer forests; blue pine forests; Fir forests; Juniper forests; Alpine meadows & scrub make a visit once-in-a-lifetime experience. This park is equally a best suitable place for eco-tourism lovers.
Places To Visit Around Jigme Singye Wangchuck National Park
There are many notable places nearby the Jigme Singye Wangchuck National Park where tourists can plan visit to explore them. Here are enlisted a few of them that are easily accessible from this national park.
1. The Temple of Oath

Image Source
The Temple of Oath is one of the sought after places in Bhutan nearby the famous Jigme Singye Wangchuck National Park. It is a preferred location for the tourists of all age groups.
Suggested Read: Hiking In Bhutan: 9 Alluring Trails Every Hiking Enthusiast Should Walk On!
---
Planning your holiday but confused about where to go? These travel stories help you find your best trip ever!
Real travel stories. Real stays. Handy tips to help you make the right choice.
---
2. Nabji-Korphu Trail

The famous winter trek namely Nabji-Korphu Trail is known for its low altitude. It is explored by the travellers from mid of October until March end. Travellers come close to many mane rare and endangered wildlife species such as golden langoor to rufous-necked hornbill, besides numerous flowering plants especially wild orchid varieties.
3. Adha and Rukha Villages

Image Source
An important tourist spot in the under Wangdue District nearby Jigme Singye Wangchuck National Park, these villages showcase the aboriginal cultural and traditional lives of Bhutan. Tourists find opportunity to interact with the masses and learn about their lifestyles. The authentic villages and their people speaking their dying language of Oleps make you feel belongingness. You can also greatly explore the home-stays by the villagers for rustic feel.
Suggested Read: Sakteng Wildlife Sanctuary: Wander Into The Wild In Bhutan
4. Ha Chhu River

Travellers willing to involve in the fishing activities often come to the Hara-chhu River of Rukha which has the distinction of being Bhutan's 1st popular community managed fishing group. It appeals to all and sundry.
Tips When Visiting Wangdue District

To make the best use of your time and resources while you explore Wangdue District nearby Jigme Singye Wangchuck National Park, approach government approved guides for detailed information. Reputed tour agencies would ensure that your itinerary covers maximum places in minimum time frame.
Little bit of knowledge about Bhutan, especially its national parks will make your visit to this national park more convenient, making you enjoy your time without any hassle. You won't feel fatigued when somebody is there to guide you at all times.
How To Get To Jigme Singye Wangchuck National Park

You have already been briefed above it that with an area of 1,730 km2, Jigme Singye Wangchuck National Park has been welcoming the visitors since inception in the year 1995. You also came to know how much does it cost to go to the Jigme Singye Wangchuck National Park, Bhutan. It is affordable so each and every visitor can plan a visit here without second thoughts.
Located in central Bhutan, this park was previously called Black Mountains National Park until it was renamed to what it's called currently. As this park is well connected with all parts of the country, it is easily accessed by tourists and locals alike. They can choose to use any local transportation system to reach up to this place and spend good times here.
Further Read: The Only Guide To Zhemgang In Bhutan You Need Before Your Nepal Trip
While preparing your itinerary for the Bhutan trip, it is almost pivotal to add Jigme Singye Wangchuck National Park to your list! This guide that we have provided to you would prove to be helpful during your visit to this naturally embellished national park! Go through the essential points and make the most of this trip!
---
Looking To Book A Holiday Package?
Book memorable holidays on TravelTriangle with 650+ verified travel agents for 65+ domestic and international destinations.
---