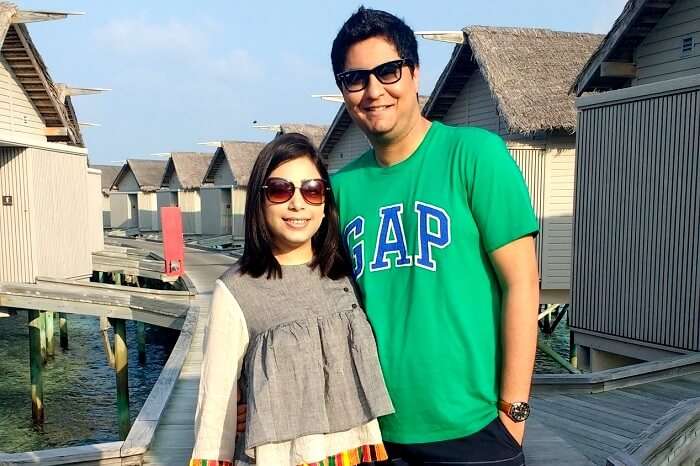 Adventure seekers, fun lovers, and travel enthusiasts in the purest sense. A few adjectives that describe the full-of-life personalities- Jyotika and Rishabh on their trip to Maldives. They explored the picture-perfect islands of Maldives on a charming 5 nights/ 6 days honeymoon package to Maldives.
Trip Cost: INR 3,70,000
Month of Travel: February 2017
Agent: I Need Trip Travels Pvt Ltd
Trip Inclusions: Flights, accommodations, transfers, and all meals.
Trip Exclusions: Travel insurance, parasailing
An island retreat that would provide us with an unforgettable experience and Rishabh wanted to keep me away from shopping, so he chose Maldives as the ideal destination for the both of us. Jokes aside, the discussions to choose a place were not very long as Rishabh has always been a quick decision maker and he made a lot of thorough research before making the booking. I save my energy just to make myself fall in love with his decisions.
Day 1: Foodies delight in Maldives
After taking our flight from New Delhi, we landed in Male island, Maldives at 10 am. The taxi driver picked us up from the airport and dropped us at the main pier. After taking a boat ride, we checked in at Centara Ras Fushi Resort and Spa Maldives.
Best Of Nature And Luxury On A 4D Honeymoon In Maldives
Their hospitality reflected right from the moment when we were received at the airport and welcomed at the resort. The feeling that we had a house surrounded in beauty of the bright blue waters for five days was beautiful as we loved our water villa.
My husband, Rishabh, being a non veg lover was too excited to see "n" number of dishes on the table while waiting for our lunch. The best part was, when I saw him chatting with the chef and understanding the recipes of the dishes that he was having. I, being a pure vegetarian, was extremely happy to see dal and potatoes on my table and already knew the recipe so left the chef for Rishabh to eat his brains.
After a delicious meal, the day progressed with endless talks about other importants things in our lives. The day ended on a nice note with a good night's sleep for two tired souls in the water villa.
Day 2: Relaxing at the resort playing video games
The day started with a heavy breakfast, that made me lazy. My husband on the other hand, after gaining calories, usually becomes super happy. So his super happiness got reflected when he started throwing his humorous tantrums on me while we were seated under the shade.
Sunbathing was not on our cards, as we are generally over-protective about our skin. As a result, we spent hours that day in the gaming zone on Xbox playing football.
Delightful Things To Do On A 4 Day Honeymoon In Maldives
A few hours that day were spent conversing with the aged couple discussing about Indian culture and our literature too. My husband is a keen and ardent student of both the topics. Later on, we had dinner and rested for the night.
Day 3: A leisure day in Maldives
The next day, we woke up late and missing the breakfast was a tough call for Rishabh, the foodie. But, lunch made him so happy that he slept for an hour under the shade and I spent quality time with some good books. All in all, a perfect afternoon as I got to read a good book, and along with that I got to see a funny guy sleeping in front of me.
Though we never opted for sunbathe but the sun caught us when we played badminton under the sun for quite a long time. My husband, being 6 feet tall and I being 5'1, was the reason I was always jumping high to give a reply to his shots.
The day ended with a quiet dinner at the resort followed by us heading over to the water villa for the night.
Day 4:Luxury jacuzzi in Maldives
Best Ways To Explore Maldives On A 5D/4N Honeymoon Trip
Fish feeding was one of the new things we experienced in Maldives. We laughed for few minutes to see that because the fish was being fed another fish.
Later in the afternoon, we watched a few movies with light snacks in the room itself. Later on, we proceeded for a jacuzzi session. A comfortable Jacuzzi and best friends chatting for hours: what else could one ask for.
Later in the evening, we had a delicious dinner and then relaxing at the beach at night for another few hours felt like icing on the cake, for the day.
Day 5: Parasailing in Maldives
As mentioned earlier, good breakfast is something that brings a smile on Rishabh's face. So, this day, my husband got his wish.
Parasailing was something that we did and loved it all the way. The water for us, before this honeymoon trip to Maldives had a phobia attached to it, but parasailing helped us overcome this fear of drowning. Parasailing not only took us high in the sky above the sparkling water, but it actually gave us both a view so incredible that it sent shivers down our spine.
It felt like we were dancing on the clouds. The deep blue water underneath gave us calmness and the sky surrounded us with its serene nature.
Day 6: A last hurrah in Maldives
Why I Chose A 3N/4D Honeymoon Trip To Maldives
The trip was coming to an end, but we both were not upset at all because we were happy to have a beautiful trip coming to an end and that's how the planning of another trip was on the cards.
We checked out of the lovely resort at 8 am and proceeded to roam on the streets on Male City from where we got souvenirs for the young kids of the family.
Finally, it was the time for us to board our flight back to Delhi at 3 pm.
We both distinguished ourselves a bit different as travelers because we tried to spend more time with the people around yet keeping ourselves together instead of just cuddling with each other. We are under the age of 30, but we still enjoyed the company of grannies and grandpas. We loved hearing their tales of togetherness and we tried to get inspired from them thereby making our relationship stronger.
High Points:
Parasailing was one of the wow moments for both us because it was the first time we both experienced it, and in spite of the fact that we are hydrophobic.
Tip for travelers:
Maldives is a place that one should fly to if he is looking for a peaceful and calm vacation spot and Centara Ras Fushi Resort & Spa Maldives is one of the best resorts to stay there. Go, sleep, eat, talk endlessly and have fun!!
Start your married life with an adventure in Maldives. Book your Maldives honeymoon package and experience luxury like never before!
---
Looking To Book An International Honeymoon?
Book memorable honeymoon on TravelTriangle with 650+ verified travel agents for 65+ domestic and international destinations.
---
Comments
comments