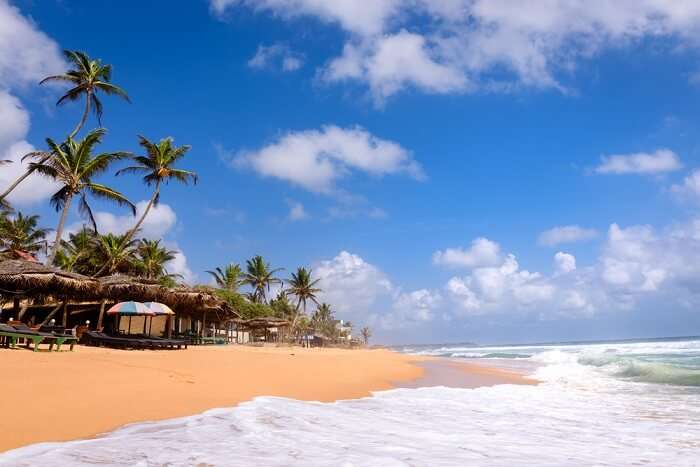 Kalpitiya, located in the North Western Province of Sri Lanka, is a collection of 14 islands and it is famous for its waterfront beauty. This place is often considered as the future of Sri Lanka tourism. The collection of islands along with the water lagoon has vast scopes of development in the future. Kalpitiya Beach, situated in the far northern end, is a place for many watersports and dolphin and whale watching. The beach is a long sandy spit, which can be easily accessed from the Kalpitiya lagoon on a boat.
This beautiful stretch of sand attracts a lot of tourists and the beach is truly bestowed with scenic beauty. Whether you plan on a nice sunbath on the sandy shores, or dipping in the water for fun, Kalpitiya Beach in Sri Lanka is a must visit destination.
About Kalpitiya Beach

Surrounded by a close knit fishing community and rather untouched by the tourism industry, Kalpitiya beach is one of the hidden gems in Sri Lanka. The Kalpitiya region is basically a marine sanctuary with habitats of various marine creatures. The water near the Kalpitiya Beach is home to Spinner dolphins and a rare species of Sperm Whale, which is the principal attraction of the beach. The warm sands and the tropical climate makes Kalpitiya Beach a perfect place for sunbathing.
Apart from these there are various other activities that you can partake in. go snorkeling in the deep waters of the ocean and explore the marine life or take boat rides and canoe rides to explore the hidden wonders around the beach. You can also enjoy a jeep rides along the sandy dunes of the beach along with spectacular views of the sunset. You can also easily access the bar Reef, which is a beautiful coral garden at the center of the ocean, offering the greatest biodiversity as compared to other reefs in Sri Lanka. Also the Wilpattu National Park is only 60 kms from the beach. This National Park is home to many varieties of animals.
Best Time To Visit Kalpitiya Beach

The best time to visit Kalpitiya Beach is during the dry months, preferably between October to May. It is a great time for water sports including kayaking, windsurfing, snorkeling and canoeing etc. if you want to spot dolphins and the rare Sperm Whales then you should visit Kalpitiya Beach during the months of December to mid- April, it is during this time when the whales can be spotted in the water.
Things To Do In Kalpitiya Beach
Be it sunbathing or whale gazing, there are lots of interesting opportunities in Kalpitiya Beach. To make the most out of your Kalpitiya visit, here we have gathered a list of some of the fun things that you can do at Kalpitiya Beach.
1. Dolphin & Whale Watching

If you are up to watch these enigmatic creatures of the sea, then the best time to visit Kalpitiya Beach is during December up to mid-April, when the Whales occasionally come up. If you are like enough you can spot big schools of dolphins. It is a truly spectacular sight to behold, the adorable creatures swimming alongside your boat.
Must Read: 15 Things To Do In Ella That Will Take Your Sri Lanka Trip To The Next Level
2. Snorkeling

If you are up for some under water activity like snorkeling and scuba diving, then Kalpitiya Beach is a great place for you. For scuba diving you can head to the Bar Reef, which is only an hours boat ride away from the Kalpitiya Lagoon. Bar Reef is a highly biodiverse region and the marine life includes various creatures like the Manta Rays, turtles and Reef Sharks. The best time to go for scuba diving and snorkeling is during the months of November until early May, when the action of the south west monsoon is not prevalent, otherwise these activities may become dangerous.
Suggested Read: The Ultimate Guide To Sri Lanka's Dambulla Cave Temple
3. Lagoon Trips

Boat and canoe rides across the Kalpitiya Lagoon is a good way to relax while you enjoy the scenic vistas of the water. A nice ride along the water is the most pleasant way to explore the waterfront of the Kalpitiya Beach.
Suggested Read: Viharamahadevi Park: A Handy Guide To Explore This Nature's Paradise In Sri Lanka!
4. Jeep Rides

Kalpitiya Beach also offers jeep rides along the golden sands. The jeep ride takes place around the evening and takes you along the beach dunes from where you can enjoy some stunning views of the sunset.
5. Kite Surfing

Kite Surfing is a famous sport in the Kalpitiya region, with several Kite Surfing schools offering rides for both beginners as well as pro riders. Kite surfing is available all throughout the year in Kalpitiya Beach, but the best time to enjoy a nice surfing experience is during the months of May up to December. Moreover, the kite surfing excursions are tailored according to the requirements and skill levels of the individuals.
Suggested Read: Sri Lanka In January: Places To Visit And Things To Do On Your Vacay
6. Alankuda Beach

Situated close to the Kalpitiya Beach, Alankuda Beach is one of the best beach in Kalpitiya. This Beach is a nature lovers haven. Here, at Alankuda, you can take boat rides to watch some of the magnificent dolphin pods. This beautiful natural retreat is also a dream destination for a Twitcher. Bird watching excursions are arranged accompanied by local experts and you can go on a nice bird watching tour, spotting numerous native bird species.
Kalpitiya Beach Accommodations
If you are wondering where to stay while visiting Kalpitiya Beach, then there is no need to worry, there are many resorts and hotels in Kalpitiya that makes for a great stay. Here are some Kalpitiya Beach hotels that will truly bring comfort to your stay in Kalpitiya.
1. Dolphin Beach Resort

This is luxury resort offering you a great stay. The Dolphin Beach resort, offers a unique stay experience by arranging your stay in air conditioned tent styled pavilions. The soothing sound of the water and the golden sand combined with coconut and palm groves adds to the relaxing environment of the place. All the tents here are very spacious and air conditioned. Each offers a verandah of its own, while you can relax while enjoying the scenic views of the ocean. Each room offers king size beds with all kinds of unique furnishings making it a warm and cozy hideaway.
Suggested Read: 7 Most Haunted Places In Sri Lanka To Make You Face Your Darkest Fears
2. Palagama Beach Resort

Another unique resort in Kalpitiya, Palagama Beach offers private cabanas for people to stay int. unlike typical resorts, this one is a collection of 16 cabanas, designed in a way to make you feel one with nature. Settled amidst the lush greenery and rugged coastline, Palagama Beach offers you a tranquil and peaceful environment.
How To Reach Kalpitiya Beach?

Kalpitiya Beach is only a three hour drive away from Colombo. There are buses running frequently from Colombo to Puttalam. You can board one of these buses. It will take around 4 hours to reach Puttalam and from here Kalpitiya is only 23 km away. There are regular as well as air conditioned buses running from Puttalam to Kalpitiya, so you can board one of these buses and head to Kalpitiya.
Further Read: The Definitive Guide To National Museum Of Colombo In Sri Lanka
Kalpitiya Beach is one of the best tourist attraction spot in Sri Lanka. The Beach has a lot to offer to the visitors and there are many surrounding attractions near Kalpitiya Beach that you can check out and make the most out of your Sri Lankan vacation. From dolphin watching to water sports to cozy and comfortable stay, Kalpitiya is truly a destination worth visiting.
---
Looking To Book An International Holiday?
Book memorable holidays on TravelTriangle with 650+ verified travel agents for 65+ domestic and international destinations.
---