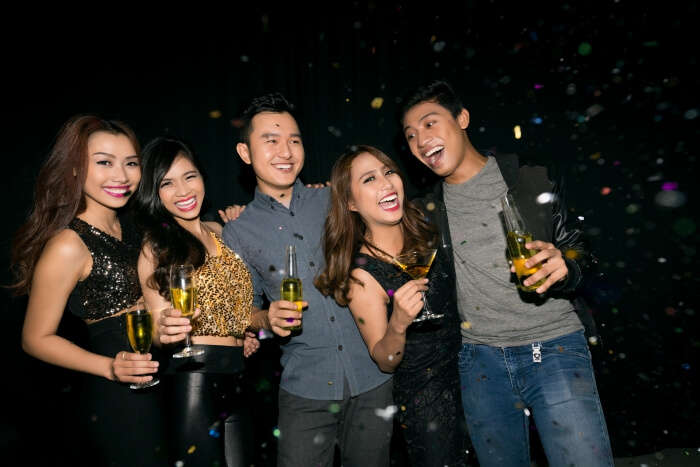 Kampot is one of the popular backpacker destinations of Cambodia, known for its huge plantations and paddy fields. The old city centre, dotted with old French colonial buildings, is a popular place for sightseeing during the day. However, the place transforms into one of Cambodia's hottest Kampot nightlife hotspots as the sun sets on the Praek Taek Chhu river, with whiskey and cocktail bars, nightclubs and discos opening their doors to locals and tourists alike. While you explore the natural sights around the town during the day, you can really afford to get wasted here at night.
10 Places To Enjoy Kampot Nightlife
Because Kampot is one of the safer places in Cambodia, tourists can afford to get down and dirty as all night parties rage on. Read on to know more about all the different places that make for an irresistible Kampot nightlife:
Ecran Movie House
Mad Monkey Hostel Rooftop Jungle Bar
Tantrei
O'Neill's Irish Bar
Greenhouse
Banyan Tree
Naga House
Dragon Club
Sharpen the Axe
Nelly's Bar
1. Ecran Movie House

This is a unique place on the Kampot nightlife scene – if you get tired of all the endless partying and alcohol in Kampot, head over to this place for some literal chill and Netflix. The movie house screens one movie every night of the week for a small admission fee, and you can head over with your beers and friends for a nice night out. There are also private rooms that you can reserve from 11am – 9pm, every day except Tuesdays. With a comfy seats(including futons), a choice between 1300 different movies and no ban on smoking, you can get a welcome break from the loud nightclub music with a relaxed screening of the movie of your choice.
Location: Kampot Old Market, Kampot
Open till: 9 PM
Cost for two: INR 450
TripAdvisor Rating: 4.5
Reviews
Must Read: Trekking In Siem Reap: Treading The Unexplored Pathways Of Nature In Cambodia
2. Mad Monkey Hostel Rooftop Jungle Bar

Kampot's position on the Praek Tuek Chhu river gives it some of the best sunset sights on the river, nowhere more apparent than at the Mad Monkey Hostel Rooftop Jungle Bar. Enjoy some of the best views of the sunset on the river from the rooftop bar here, along with some of the most innovative and delicious cocktails to go around. The entire floor of the bar is astroturfed, and quite a sight to see from afar. Try the cheap Angko beers here for a taste of the local liquor.
Location: Riverside Road, Kampot
Open till: 1 PM
Cost for two: INR 700
TripAdvisor Rating: 4.5
Reviews
3. Tantrei

If you are looking for live music in Kampot, Tantrei is hands-down the best. Usually played every night by some of the most talented musicians you will see, this is a relaxed rooftop place where the local beer flows as freely as the good music. There is a big sofa in the corner, the best seats in the house, but it gets occupied very quickly so you may want to come early for that. The sunset over the river gels well with the music, and the owners are relaxed enough to let you join the musicians if you get drunk enough. One of the best Kampot nightlife places!
Location: Angkor Street, Kampong Bay, Kampot
Open till: 1 AM
Cost for two: INR 1100
TripAdvisor Rating: 4.5
Reviews
Suggested Read: Museums In Siem Reap: 5 Museums That Depict The History Of Cambodia
4. O'Neill's Irish Bar

This place has the distinction of being the best bar in town. Do not let the tiki decorations fool you, this is a bar fully stocked with some of the best Irish whiskey you are like to find in this part of the world. The owner, O'Neill, is a very friendly fellow who will make you comfortable instantly. The regular patrons are a mix of locals, expats and tourists, with a reputation of being friendly with outsiders. Located right at the riverfront, you should hit this place before you head out to the crazy nightclubs further in town.
Location: Riverside Road, Kampot
Open till: 5.30 AM
Cost for two: INR 3000
TripAdvisor Rating: 4.5
Reviews
5. Greenhouse

Greenhouse is a live music bar quite removed from the popular part of town. However, the place has some of the best views of the natural Cambodian landscape, and the famed Kampot sunset. Although live music is not an everyday feature, the place does book some of the most high profile Cambodian acts, and if they are having a music night, be sure you get a seat the Greenhouse for a truly stunning experience. The eccentric place is a must-visit in Kampot!
Location: Teuk Chhu Road, Kampot
Open till: 11 PM
Cost for two: INR 2400
TripAdvisor Rating: 4.5
Reviews
Suggested Read: 10 Best Waterfalls In Cambodia That Ought To Be A Part Of Your Next Trip!
6. Banyan Tree

The liveliest nightclub in Kampot, the Banyan Tree is where you go if you are looking for the fabled nightlife in Kampot on a Friday night. Located by the riverfront, and easily accessible by tuk tuk from the city centre, the place is extremely popular with backpackers, not least for its good music, and cheap food and booze. The Kampot Cowboys kick off the night with some great music, but the music is later opened up to what the guests like. Located on a terrace, and illuminated with holiday fairy lights, this is just the place to get your party on in Cambodia.
Location: Teuk Chhu Road, Kampot
Open till: 4 AM
Cost for two: INR 1000
TripAdvisor Rating: 4.5
Reviews
7. Naga House

The very first of the nightclubs in Kampot, the party here happens on Saturdays. More airy than Banyan House, the Naga House is located by the river with plenty of seating by the river as well as a house boat. The crowd here is usually more international than other places, but there is no live music and only a resident DJ. However, expect a true rocker of a night with some great Western and Khmer music, cheap alcohol and plenty of fun people, all hallmarks of nightlife in Kampot. If you plan on getting hammered, always rent a tuk-tuk back to avoid thieves at night.
Location: Teuk Chhu Road, Kampot
Open till: 4AM or later
Cost for two: INR 1200
TripAdvisor Rating: 4
Reviews
Suggested Read: 10 Spots Famous For Scuba Diving In Cambodia
8. Dragon Club

The Dragon Club is a KTV, unique clubs specific to Kampot nightlife in Cambodia, and certainly the best in town. This old school discotheque is for you if you are looking to dance your wits off on a Thursday night, fuelled by cheap booze( draft beer is INR 140, cocktails for INR 210) and some of the liveliest techno music you will hear in the country. The place is packed with locals and backpackers after midnight, which is when the atmosphere is at its craziest, with pulsating lasers and disco lights adding to the intensity of the place.
Location: Dragon Street, Old Street, Kampot
Open till: 2 AM
Cost for two: INR 800
9. Sharpen the Axe

If you are looking for a quiet, classy place to drink on the Krong Kampot nightlife circuit, Sharpen the Axe is where you should go. Featured on Lonely Planet's places to see in the city, the sophisticated cocktails are the things to try here – spicy Palomasia, made of Absolut vodka and spiced with local herbs, is a crowd favourite. Also try the lemon lime and pomelo. The place itself is very accessible, located right by the river near the Old Bridge.
Location: Old Bridge Street, Kampot
Open till: 3 AM
Cost for two: INR 1800
TripAdvisor Rating: 3.5
Reviews
Suggested Read: Shopping In Cambodia: The Inner Shopaholic In You Will Not Be Able To Resist These 10 Places
10. Nelly's Bar

The affordable cocktails and relaxed, inviting atmosphere has made Nellie's Bar another favourite with backpackers and tourists looking for nightlife in Kampot Cambodia. The cocktails, crafted with local ingredients, are only INR 200 each, meaning you can hang around here every other night. The vibes are great too, with helpful and chatty hosts and patrons friendly to outsiders. Located on the riverside, the place is also good if you are looking for a drink early in the evening.
Location: Riverside Street, Old French Bridge, Kampot
Open till: 1 AM
Cost for two: INR 600
TripAdvisor Rating: 4.5
Reviews
Further Read: Snorkeling In Cambodia: 10 Best Places To Thrill Your Soul
These places are a cool selection of all the places you should hit if you are actively looking to explore the storied Kampot nightlife. While you should not expect the cocktail bars to be as good as the big cities, Kampot certainly scores big points for its authentic nightlife culture where Khmer and Western ways have fused to create something that can be found only here. Book with us now if you are planning to travel to Cambodia and want to have the time of your life!
---
Looking To Book An International Honeymoon?
Book memorable honeymoon on TravelTriangle with 650+ verified travel agents for 65+ domestic and international destinations.
---