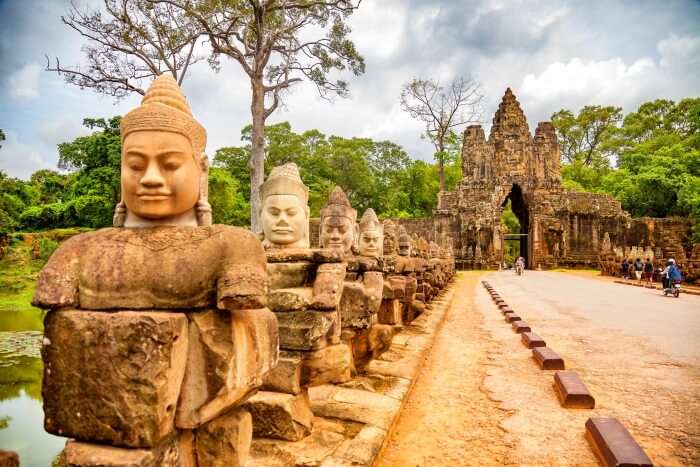 Siem Reap in Cambodia is a land of rich heritage and history of arts, culture, ancient civilizations and a devastating civil war that was initiated by Pol Pot and his Khmer Rouge army from 1975-1979. You will find a variety of museums in Siem Reap which are impressive, humble and modest, thus, giving you an opportunity to experience a time worth many lives. Siem Reap is a traveler's fairyland, giving them the opportunity to travel time back and learn more about the Angkor civilization.One of the cheapest destinations in the world, Siem Reap attracts backpackers and budget travelers every year.
5 best Museums in Siem Reap
Let us now discover the multiple Siem Reap museums you come across while strolling around the streets.
1. Angkor Panorama National Museum
The Angkor National Museum gives you a time travel to the golden era of the Khmer Kingdom, where Angkor Wat was masterminded and created. This period was the initiation of Khmer art, culture and architecture, parts of which can also be seen to date. The Angkor National Museum gives an enthralling experience while you try to learn or document the history behind the Khmer Kingdom. Using multimedia technologies, visitors can be captivated by the journey. With multiple galleries, statues and artifacts, a tour to the Angkor National Museum becomes an educational day.
Location: Vithei Charles de Gaulle Road
Opening hours: Mon-Sun, 8:30 am – 6:00 pm
Entrance fee: Cambodian National: $3, Foreign National: $12, Foreign Student: $6
How to get there: $3-$4 one way, by tuk-tuk, from most central hotels
Must Read: Shopping In Siem Reap: 6 Vibrant Markets That Shopaholics Must Not Miss!
2. Siem Reap War Museum
Cambodia in the year 1975-1976 was plagued with one of the scariest and devastating civil wars of any time. Pol Pot with his army, known as Khmer Rouge, cleared the city of Phnom Penh, promising to liberate and free all. However, Pol Pot was far thinking from liberation and freedom, instead, shortly after, slavery and death became more common. In fact, camps were set up to control the Khmer civilization. All other provinces well at its knees and a twisted dictatorship took over. By 1979, more than a million men, women, and children were killed. The Siem Reap War Museum is an experience which will get you closer with the original military vehicles and weapons used during that time. Even when you walk around this museum, it will become an educational day of your life.
Location: National Road 6, close to Siem Reap International Airport
Opening hours: Mon-Sun, 8:00 am to 5:30 pm
Entrance fee: War Museum, Siem Reap entrance fee is $5
How to get there: $4-$5 one way, by tuk-tuk, from most central hotels
Suggested Read: Street Food In Siem Reap: Relish The Distinct Flavors Of Cambodian Cuisine!
3. Cambodia Landmine Museum
After the Khmer Rouge ended, Cambodia was left with several undetonated mines across the country. And this was a crucial stage for the entire country. To mark the history, the country constructed the landmine museum in Siem Reap which displays an exclusive collection of landmines, weapons and the Pol Pot regime. Additionally, to give the visitors a real-time experience, people can actually dismantle mines in a makeshift field as well. The museum also runs an awareness campaign to educate the people and youth about landmines. They also support many NGOs and landmine victims across the country and the world. Although Cambodia is now eradicated of landmines, there are still some areas which have forbidden access because of hidden dangers.
Location: 25 km out of Siem Reap, on the way to Banteay Srei Temple Recommended to visit when doing a temple tour
Opening hours: Mon-Sun, 7:30 am to 5:30 pm
Entrance fee: Landmine Museum, Siem Reap entrance fee is $1
Suggested Read: 10 Best Restaurants In Siem Reap To Satisfy Every Palate
4. Cambodia War Remnant Museum
The war remnant museum is located in Siem Reap on the grounds of great temples, including Angkor Wat, which was the command post and prison during the civil war and the reign of Khmer Rouge under Pol Pot. This war remnant museum was initiated with the help of the Cambodian Army. The museum provides education, training, and support for dozens who are at risk of landmines. The remnant museum was constructed so that it might serve as a place of healing for bodies, hearts, and minds. The ultimate desire and hope are that by experience, people can tell new stories about Cambodia's past, thus, build a new hope for Cambodia's future.
From the time you step in till the time you are out, you will be covered with equipment and prison cubes where the people were treated like animals.
Suggested Read: These Siem Reap Floating Villages In Cambodia Will Cast You Away Into A Surreal World
5. Genocide Museum in Siem Reap
The Genocide Museum is also known as Tuol Sleng. Before 1975, it was a high school with a set of classrooms in a walled compound. When the Khmer Rouge came to power in the year 1975, they converted the school into S-21 prison and interrogation facility which was administered by Kaing Guek Eav 'Duch' who is presently on trial for his actions in S-21. The inmates were held in tiny brick cubicles and were tortured, sometimes from days to months, to extract confessions after which the victims are executed at the killing field of Choeung Ek which is just outside the city. S-21 processed more than 17,000 people.
Now, this compound serves as a museum, a memorial and a testament to the madness of the Khmer Rouge regime. The prison leaves exclusive pictures and proofs behind of their victims, which are mostly on display. Paintings of torture and pain at the prison by Vann Nath, a survivor of Tuol Sleng, are also exhibited.
Further Read: 10 Best Hotels In Siem Reap To Suit The Budget Of All Kinds Of Trippers
Now that you have an idea of the brilliant museums in Siem Reap, it can be a great place for a budget holiday. Cambodia might not be a happening place like any other city or country, but the specialty and uniqueness the city has is very rare. The city is definitely a one time visit in your lifetime.This coming holiday, try to take a vacation to Cambodia and experience its history.
---
Looking To Book An International Honeymoon?
Book memorable honeymoon on TravelTriangle with 650+ verified travel agents for 65+ domestic and international destinations.
---