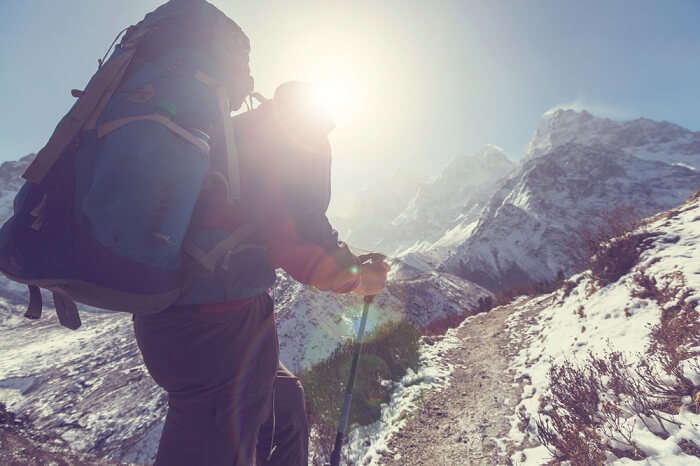 A trip to the valleys of snowy mountains can be as mesmerizing as it sounds. While trekking scene in India is just catching up, there are multiple base camps to choose from for a great camping session with your friends. However, if you are looking at an adventure trek, Kanchenjunga Base Camp Trek is the place to be.
There are many agencies which organize camps in different seasons for trekking in Kanchenjunga. Anyone wishes to enjoy trekking along with friends and family could enrol into something like this for an adventure trek like never before! So to have you loaded with all the information you need, we have compiled all details about the Kanchenjunga Base Camp Trek right here. Have a look!
About Kanchenjunga Base Camp in Nepal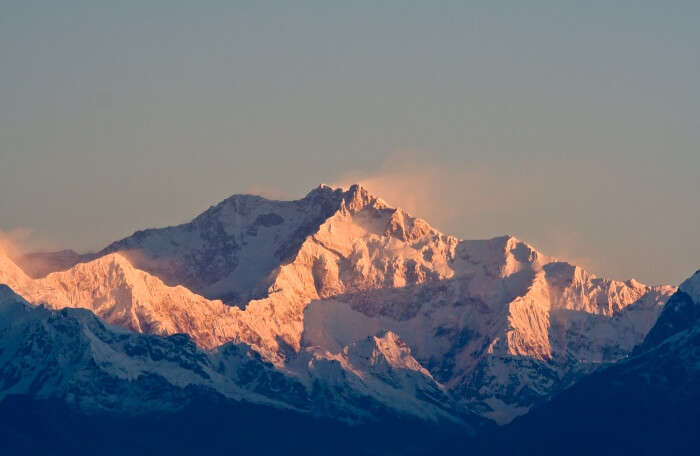 Kanchenjunga is situated in Nepal. The peak of Kanchenjunga is so high that even a camp at its base is an excellent adventure to have. The adrenaline rush can be enthralling at a base camp like this one. There are various trekking camps in India and also in the belt of Himalayas, but the trekking camp to Kanchenjunga is entirely different than the rest. Kanchenjunga is situated on the borders of three major countries namely India, Nepal and Tibet. Before the discovery of Everest and K2 till 1849, Kanchenjunga was believed to be the highest mountain range in India.
Kanchenjunga comprises 5 major peaks, making it the 3rd highest peaks in the whole world. Here is the list of the peaks of Kanchenjunga along with their heights mentioned.
Kanchenjunga Main – 8586 meters
Kanchenjunga West (Yalung Kang) – 8505 meters
Kanchenjunga Central – 8482 meters
Kanchenjunga South – 8494 meters
Kangbachen – 7903 meters
The trekking in Kanchenjunga was restricted to preserve the beauty of the place, however gradually when many explorers started visiting, this place was made into a base camp for trekking. One can find various valleys, lakes, tribal villages, and the forest which has a great variety of fauna and flora.
The Kanchenjunga Base Camp Trek in Nepal begins from Yuksom, and then it continues in Bakhim, Dzongri, Laxmi, Pokhari, Bukhari Chaurikhang and Rathong Glacier, Bikhbari and then it ends at Bakkhim. The trekking camp duration is of 11 days, and in these 11 days of trekking, people get to see the fantastic views from Mount Khangchendzonga (8,586 m), Mount Pandim (6,691 m), Mount Kokthang (6,148 m) and many other peaks located in the region.
Suggested Read: 5 Adventurous Reasons & Best Season To Set Out On Upper Mustang Trek In Nepal
Best Time To Visit Kanchenjunga For Trekking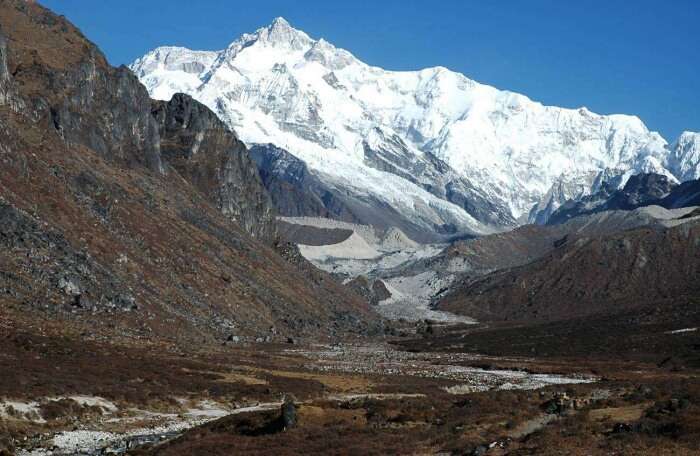 There are fix time periods that are best to visit Kanchenjunga Base Camp Trek. The best time to go for Kanchenjunga Base Trek Camp 2018 was from Mid-March to June end and then from Mid-September to Mid-November. This time slot is considered to be the ideal time for visiting Kanchenjunga for trekking because of compatible climatic conditions.
A person should avoid going for trekking during Monsoon season. The rains make the trails slippery, thus increasing the chances of accidents and even roadblocks. It is not possible to trek in the winter season because of heavy snowfall due to which the trails are not accessible, and the weather is very unpleasant. So here the seasons mentioned, when you can plan your trek here.
Summer season (May-June)
Yuksom temperature
Day: – 15 °C – 25 °C
Night: – 8 °C – 15 °C
Dzongri temperatureDay: – 7°C – 15 °C
Night: – 3 °C – (-2) °C
Autumn Season (Mid-September to end of October)
Yuksom temperature
Day: – 13 °C – 20 °C
Night: – 2 °C – 7 °C
Dzongri temperature
Day: – 2 °C – 7 °C
Night: – 3 °C – (-4) °CThe most significant factor that plays a huge role in trekking camps is fitness. It is very crucial that the fitness level of a person is very good because trekking is a task, and is not as easy as it sounds. Climbing up the mountains, the altitude increases and with this the air gets thinner, making it difficult to breathe. The amount of oxygen decreases at very high altitudes. A person who is suffering from any respiratory disease like asthma should think a zillion times before opting for the Kanchenjunga Base Camp Trek.
Must Read: Paragliding In Kathmandu: 8 Best Places To Get The Perfect Bird's-Eye View Of The Landscape
Where Exactly Is The Kanchenjunga Base Camp Trek?

Kanchenjunga is the 3rd highest mountain in the world with a height of 8586 m. It is spread in the boundaries of India, Tibet and Nepal. One peak of Kanchenjunga is located in Himalaya which is known as Kanchenjunga Himal is at the height of 7000 m. The three other peaks of Kanchenjunga out of the five namely Main, South and Central are located at the border of the Northern part of Sikkim in India and Nepal.
Suggested Read: 10 Places To Visit In Kathmandu To Explore The Art And Culture Of This Ancient City
Ways To Reach Kanchenjunga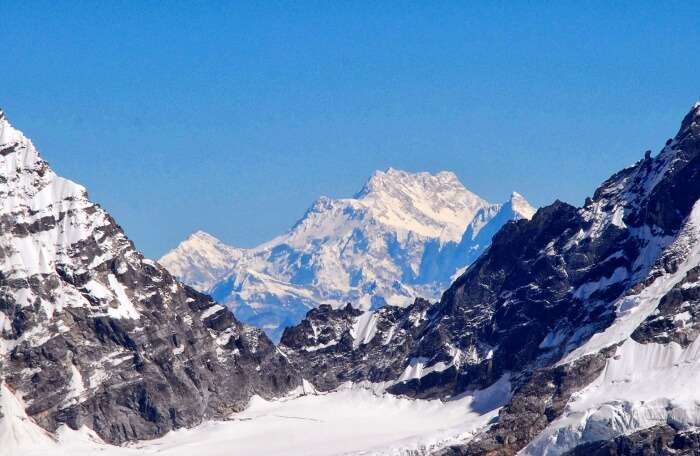 If you are wondering how to reach Kanchenjunga Base Camp trek, here is your answer:
By Road
A person could reach Yuksom from Geyzing (45 km) within 5 hours using shared jeeps or private jeeps. Pelling (35.9 km) and Gangtok (145.9 km) are the two other nearest places where a person could reach in a shared jeep or a private one or even via buses which are available at Yuksom. Shared jeeps are difficult to find after the time of 1 PM.
By Railway
The nearest railway station to Yuksom is the railway station of New Jalpaiguri which is approximately 150 km away from Yuksom. One could take a cab or bus to Yuksom from there.
By Air
The nearest airport from Yuksom is the airport of Bagdogra which is at a distance of 160 km from Yuksom. A cab could drop you at Yuksom from there.
Suggested Read: 10 Places To Visit In Kathmandu To Explore The Art And Culture Of This Ancient City
Tour highlights of Kanchenjunga Base Camp Trek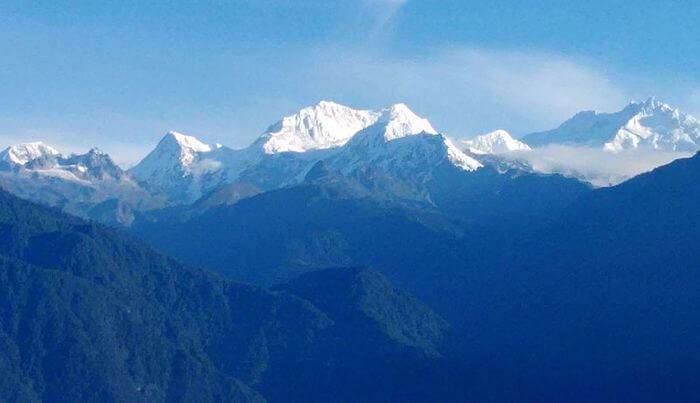 Here are a few highlights of the base camp trek you should watch out for if you are planning to do this trek:
Experience panoramic views of various neighbouring mountains other than Kanchenjunga like Koktang (6148 m), Frey Peak (5830 m), Ratong, Chandra Peak, Kabru Peak (7412 m) and Kabru Dome (6600 m).
There are many tribal villages in the Kanchenjunga range. The people living here are very welcoming and are extremely hospitable.
It is a great memory to cherish when a person gets the chance to trek in the base camp of Kanchenjunga which is the 3rd highest mountain range in the whole world. When a person completes this camp, it is definitely a moment of pride for that person.
The best thing is about this camp is that allows one to spend ample time with nature and enjoy the scenic beauty. Tours to the tea gardens in Sikkim are just amazing for any tea fanatic.
People can experience the culture of Sikkim by taking a tour of the Monastery present here.
Suggested Read: 10 Best Museums In Kathmandu That Will Walk You Through The Historical Past Of Nepal
What to pack?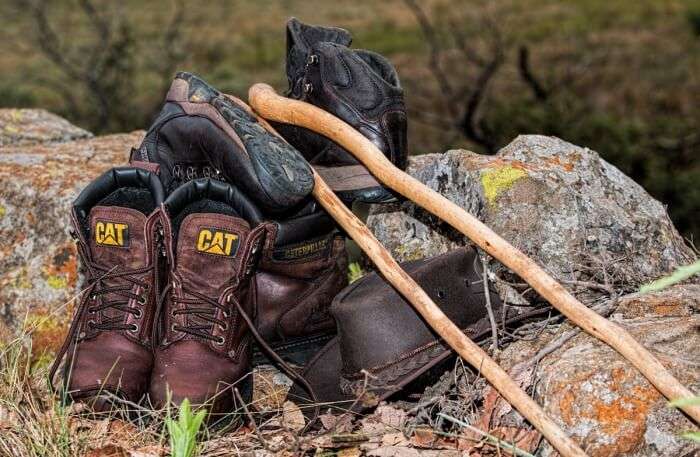 Confused what to take on your trek? Here is everything you will need to make your trekking experience a wonderful one:
Warm clothes like jackets, hoodies, sweaters of full sleeves, woollen clothes, caps, scarf and socks.
Comfortable clothes for trekking.
Raincoats to be safe if it rains.
Shoes made for trekking.
Trekking Pole.
Torch
First-Aid Kit
These are some of the essentials one should have for a trekking camp. A person could include whatever is needed as per their requirement too.
The total trekking distance is of 90 km at the Kanchenjunga Base Camp Trek. The trip is for 11 days and out of these 11 days, three days are for travelling and the other eight days are for trekking. The cost of Kanchenjunga Base Camp Trek starts from Rs. 14700.
Further Read: Trekking In Kathmandu: A Pocket Guide For Experiencing Ultimate Thrill Amidst Nature
The Kanchenjunga Base Camp Trek is a great adventure which is a worth trying once in a lifetime at least. For a few, Kanchenjunga Base Camp Trek is a practice session before they think of climbing the Everest. There are various adventurous options available at the trekking camp, and we can guarantee it will be great fun. So, plan a trip to Nepal , put your trekking shoes on and get set for the Kanchenjunga Base Camp Trek Peeps! Have fun.
People Also Read:
Annapurna Base Camp Trek Everest Base Camp Trek Nag Tibba Trek & Camping
---
Looking To Book A Holiday Package?
Book memorable holidays on TravelTriangle with 650+ verified travel agents for 65+ domestic and international destinations.
---