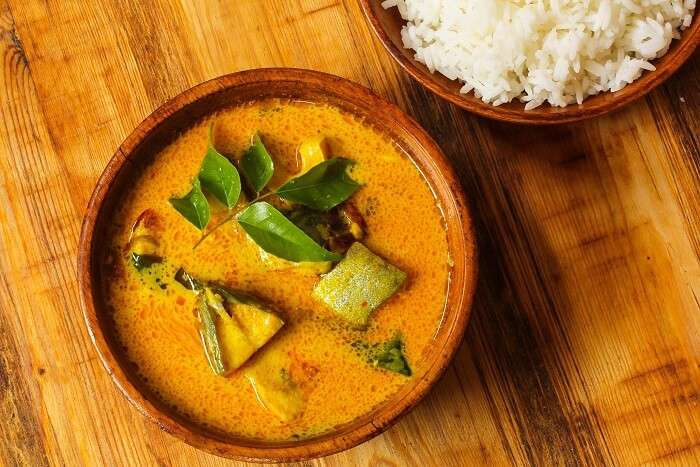 There's a reason travelers go gaga over the varieties and flavours of Kerala cuisine! Inspired by a fusion of Malabari, French, and Arabian influences and enhanced with a touch of Kerala's unique culture, each dish in the state is an experience in itself that will leave you asking for more! From the enormous platters of vegetarian dishes like Sadya, the range of non-vegetarian dishes made with seafood, lamb, and beef, to the sweet and savoury delicacies, the food of Kerala will take you on a joyride! Our list of Kerala food images with name will bowl you over.
Kerala Cuisine: An Overview
The staple food of Kerala is greatly influenced by the history and culture of the state. It's a blend of both vegetarian and non-vegetarian options, in which the latter is prepared a variety of items like fish, poultry and red meat. Rice, fish, and coconut are the most common ingredients of almost all Kerala famous food. The flavours are enhanced with chillies, curry leaves, mustard seeds, turmeric tamarind, black pepper, cardamom, clove, ginger, cinnamon, and asafoetida.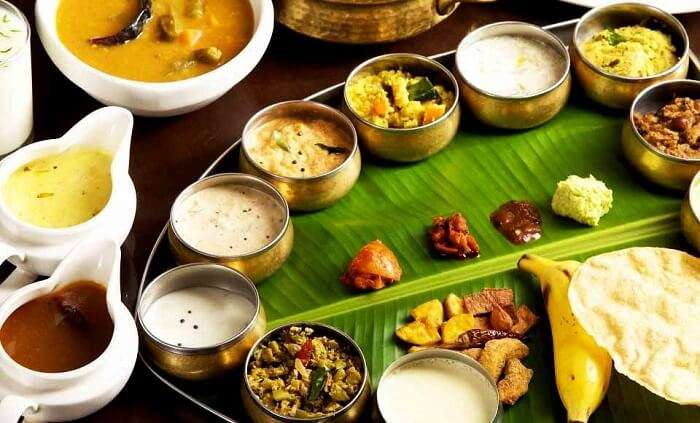 Though the traditional food of Kerala, including Kerala Sadya prepared during festivals and celebratory ceremonies, is vegetarian, the contemporary food of the state includes non-vegetarian dishes. One might also be able to identify the taste of coconut in most dishes in Kerala, owing to the fact that blending grated coconut and its milk in food for thickening and flavouring is a common culinary practice in India.
So, for all those who think Kerala food is all about idlis and dosas, you're in for a surprise! Our Kerala food items list and Kerala food photos will definitely grab your attention. Come over to this charming coastal town and indulge in the best gastronomic experiences that probably won't let you leave!
Kerala Cuisine: 21 Popular Dishes
Here are some of the most popular dishes that Kerala boasts of! This list contains both vegetarian and non-vegetarian dishes that will make your things to do on Kerala trip exciting. Note them down and savour them on your next Kerala holiday. 
1. Idiyappam With Curry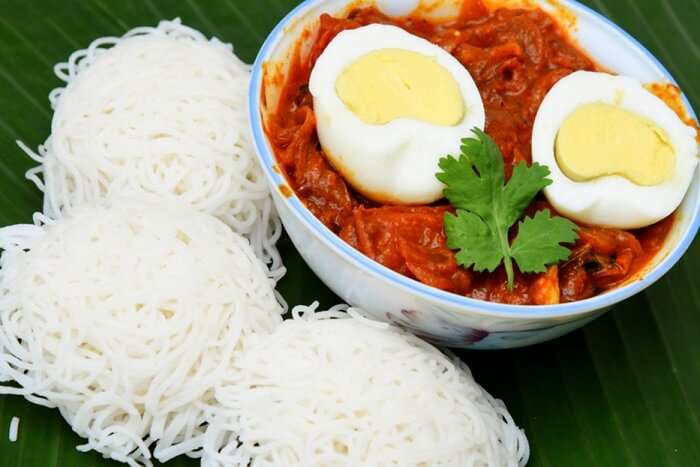 One of the famous dishes of Kerala is Idiyappam which is relished by most of the people. Also known as Noolappam in Kerala cuisine, Idiyappam, food of Kerala, is made of rice flour, salt and water with a number of thin strands or sevai entwined together to make the lovely texture that this dish bears. It is this texture that makes it versatile. You can have it with all kinds of curries, but it tastes best with Egg Curry.
Pronounced as: E-di-ap-pam
Best places to eat: Saravana Bhavan, Jasmine Bay
Average price: INR 80
Must Read: Kerala In January: A Guide For A Memorable Vacation In This Southern State

2. Erissery (Pumpkin And Lentil Stew)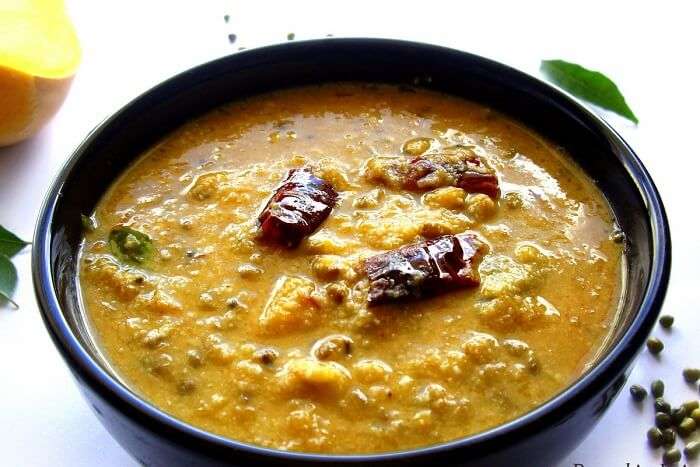 Image Courtesy: Nish Kitchen
Erissery is one of the famous dishes of Kerala which is savoured by travellers as well as local people in Kerala. A hit in every kitchen of Kerala, this curry is made from either raw plantains or sliced yams. It is typically prepared by boiling slightly sweet pumpkins with salt, chillies or pepper, dried lentils, grated coconut, turmeric powder, cumin seeds and garlic, and is served on a bed of rice once cooked. A favourite Kerala food item on the menu of religious festivals like Onam, Erissery provides the perfect culinary for foodies who are always on the lookout for new flavours!
Pronounced as: Er-u-siri
Best places to eat: Kashi, Mezban
Average price: INR 400
Suggested Read: 6 Days In Kerala
3. Puttu And Kadala Curry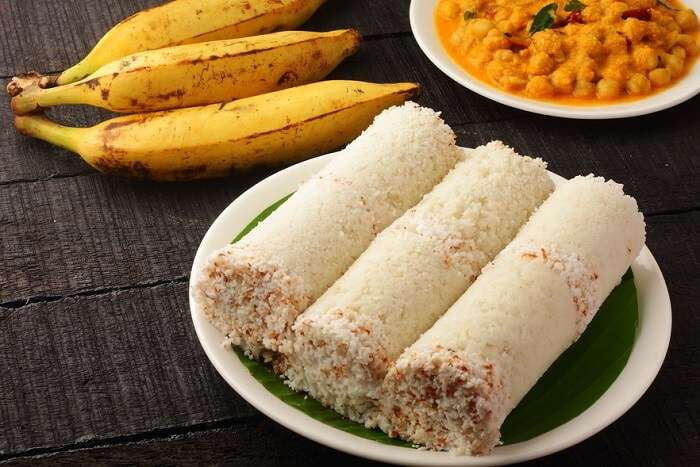 Puttu and Kandala curry is enjoyed by people of Kerala which is considered to be one of the popular traditional Kerala dishes. A famous breakfast recipe out of the many Kerala dishes, Puttu is a cylindrical steamed rice cake that is cooked in a mould with grated coconut. It can be served with ripe bananas, grated coconut, and kadala curry (the Keralite version of 'Kala Chana'! Don't be fooled by the simple appearance of this dish; Puttu can be very flavoursome!
Pronounced as: Put-tu and Ka-da-lai
Best places to eat: Saravana Bhavan, Mezban
Average price: INR 70
Suggested Read: This Couple Took A Munnar Trip From Bangalore To Celebrate A Birthday
4. Appam With Ishtu (Stew)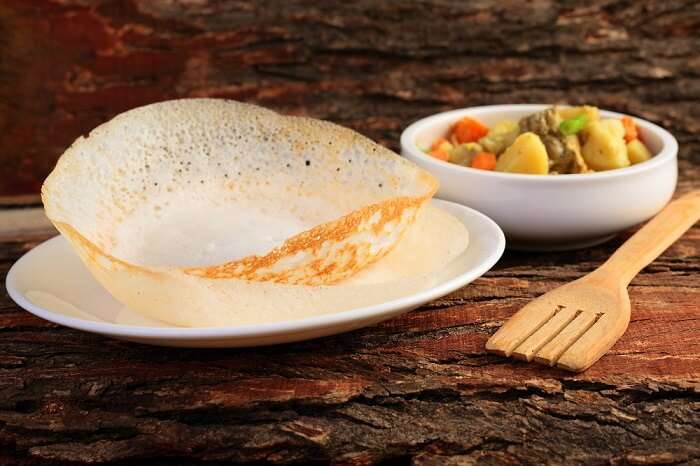 Appam with stew, one of the traditional Kerala dishes is flavoursome and yummy. A famous food of Kerala, made from fermented rice flour, coconut milk, coconut water, and a teensy bit of sugar, Appam is essentially a thin pancake with crispy edges. These crepe-like bowls are best enjoyed with Ishtu, a kind of stew that has been originally derived from the European stew and is made from coconut milk, cinnamon, cloves and shallots, and sometimes also mango pieces and vegetables. The aroma of spices with the sweet fragrance of coconut milk is enough to lure foodies to the kitchen!
Pronounced as: Ap-pam with I-sh-tew
Best places to eat: Villa Maya, Varsha, Ariya Nivaas
Average price: INR 175
Tip: Though it is originally a vegetarian dish, one can also have it with chicken or lamb.
5. Ela Sadya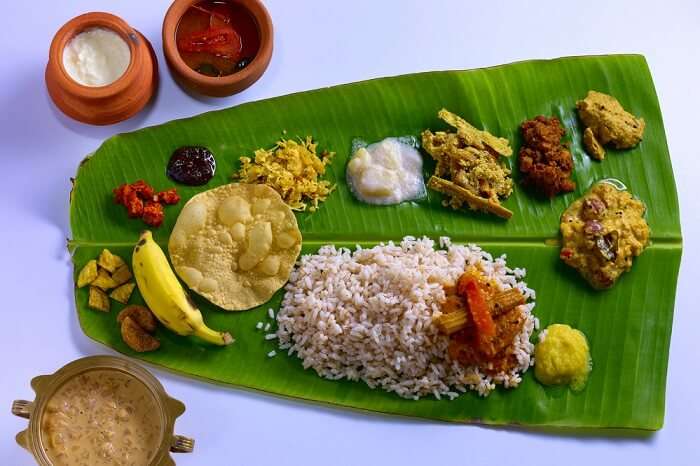 Ela Sadya is one of the finest meals which is incorporated in traditional Kerala dishes whose aroma will water your mouth. Ela Sadya is the king of all Kerala food items! With more options than you'd ever have seen on your platter, Sadya is prepared and served during religious and ceremonial occasions like festivals, weddings, and more. This royal lunch combination of dishes like pachadi, kichadi, pulissery, olan, sambar, varavu, thoran, aviyal, payasam, served with hot steaming rice on a banana leaf can give the enormous thali of Chokhi Dhani a run for its money any day!
Pronounced as: E-la S-a-dh-ya
Best places to eat: Hotel Bharath, Chakara
Average price: INR 500
Suggested Read: 12 Festivals In Kerala To Experience The Rich Traditions Of God's Own Country
6. Parippu Curry (Dal Curry)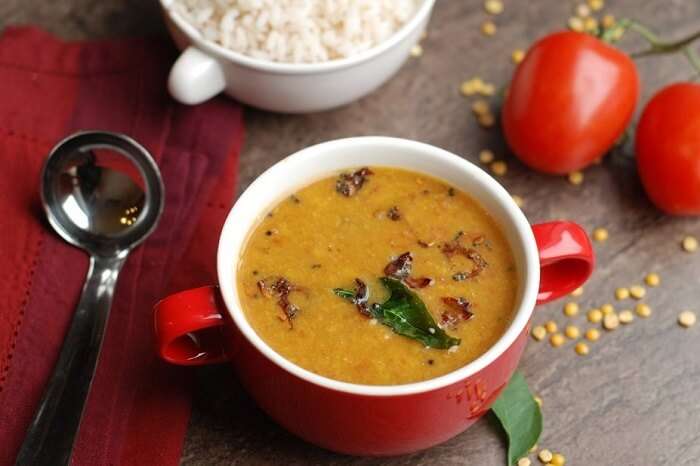 Image Courtesy: Yummy O Yummy
If you are searching to have some good food to eat in Kerala then you must try out this delicacy of Kerala known as Parippu curry. Though unexpected, it is actually one of the most delicious of Kerala food items. The Dal Curry served in Kerala is made from small gram and ghee with a considerable amount of spices and chillies. Don't skip on this one by mistaking it for your typical 'ghar ki dal'! You will certainly be disappointed if you do so, trust us!
Pronounced as: Pah-roo-poo
Best places to eat: Padmavilasom Palace, Saravana Bhavan
Average price: INR 95
7. Dosa Ghee Roast With Kerala Style Sambar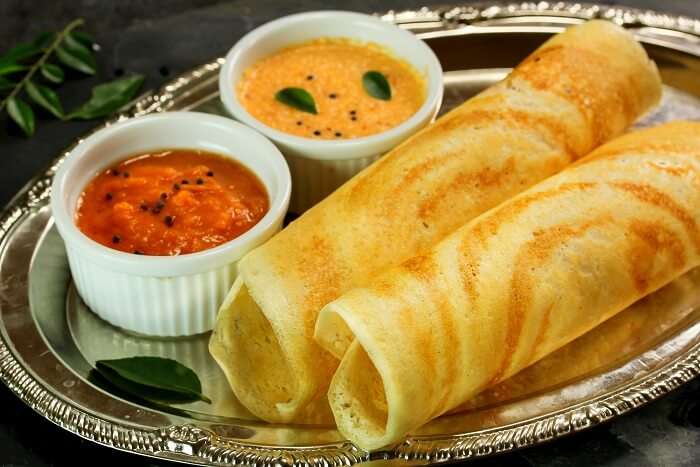 Food connects us all and if you are looking to have the best food in Kerala then do try dosa Ghee roast with Kerala style Sambhar which will blast your mouth with awesome flavours. Listed among the 'World's 50 Most Delicious Foods', dosa and sambar in Kerala cuisine make up for a deadly combination! Made from fermented rice and lentils, the ghee roast dosa is first cooked to perfection in pure ghee, and then roasted till it gets as crisp as it can. It is, no doubt, the best food in Kerala district.
Best places to eat: Jasmine Bay, Aditi Restaurant
Average price: INR 100
Suggested Read: Kerala In June: Your Little Guide To A Perfect Monsoon Vacation In 2022
8. Idli Sambar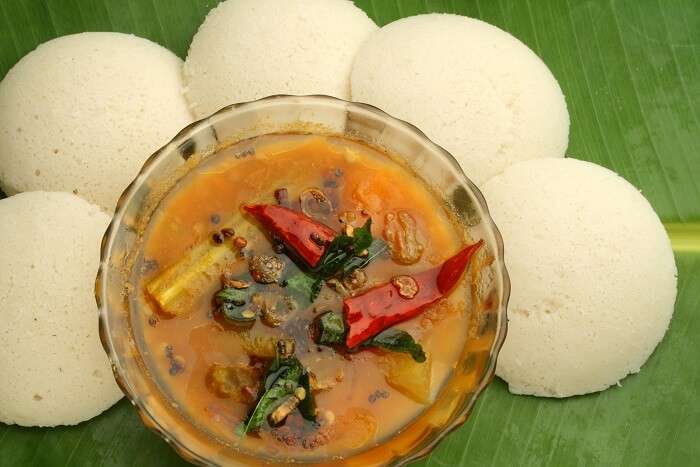 How about relishing some south Indian food when in Kerala? Idli Sambhar is one of the best foods in Kerala which is good to go for breakfast and the best healthy food in Kerala as well. Perhaps the most famous food of Kerala, idli sambar are fondly eaten in not just all households in Kerala, but everywhere else in India! The perfect combination of fermented rice cakes and a deliciously tangy curry of aromatic spices and vegetables like lentils. Apart from being a favourite of foodies for its taste, idli sambar is also universally accepted for the health benefits it bears.
Pronounced as: Id-lee S-aa-m-b-aa-r
Best places to eat: Aditi Restaurant, Ginger House
Average price: INR 65
Tip: Have it with coconut chutney for a flavourful experience!
9. Nadan Kozhi Varuthathu (Spicy Chicken Fry)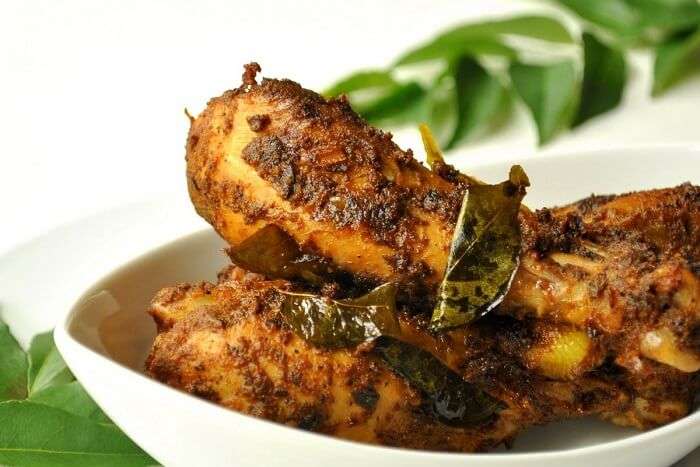 Image Source
Want to add spice on your palate? Then, you must try one of the national foods of Kerala that is spicy chicken fry or Kerala style prawn curry as there is no single national food of Kerala. Served with onion, spices, garlic, and vinegar on a banana leaf, Nadan Kozhi Varuthathu is fried chicken made with a generous amount of spices. One can have it with chapattis, Kerala Porotta (a layered flatbread made from maida flour), appam or rice. It also serves as a popular street food in the list of Kerala dishes served with dosa. Have Nadan Kozhi Varuthathu on your next trip to Kerala and you'll forget KFC for sure!
Pronounced as: N-a-d-an C-oz-h-y V-a-ru-th-a-thu
Best places to eat: Spice Village, Fusion
Average price: INR 775
Suggested Read: 5 Days In Kerala With Family That Were Sheer Bliss And Gave Us The Time To Reconnect
10. Kerala Style Prawn Curry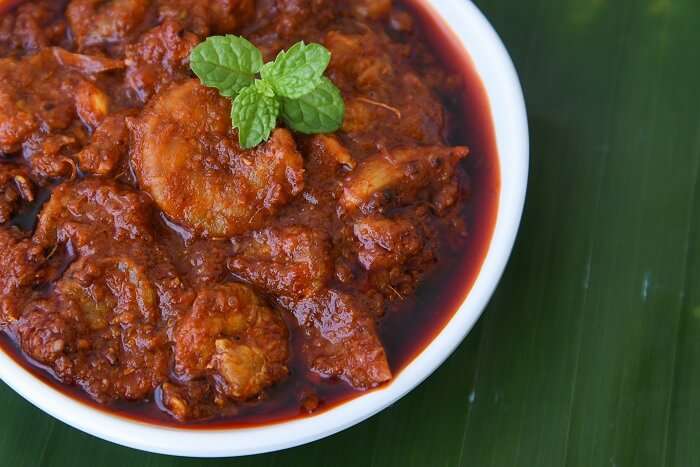 If you are in Kerala and a non-vegetarian then it's a treat for you to relish Kerala food culture by ordering Karimean Pollichathu for your meal. This traditional food of Kerala is a must-try for all prawn lovers! The traditional prawn curry of Kerala is sprinkled religiously with chilli and pepper, other than salt and turmeric, and is then cooked in whole coconut milk and jaggery before it is finally garnished with curry leaves. In fact, trying this exotic seafood dish is one of the best things to do in Kerala. One can have it hot with steaming rice or chapattis for a trip to heaven!
Best places to eat: Adam's Teashop, Fort House Restaurant
Average price: INR 725
Suggested Read: 20 Most Amazing Places To Visit In Kerala In December
---
Planning your holiday in Kerala but confused about what to do? These Kerala travel stories help you find your best trip ever!
---
11. Karimeen Pollichathu (Fish)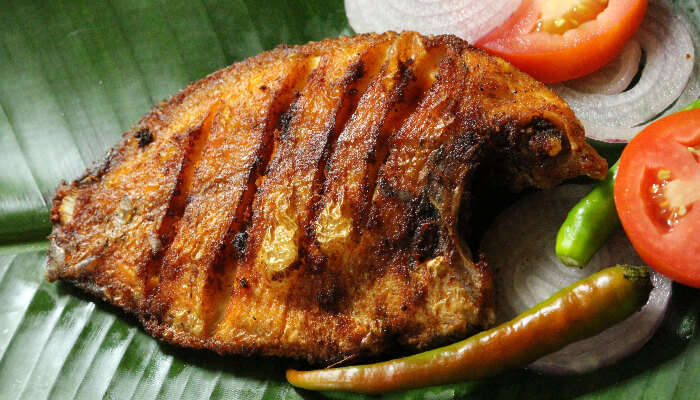 When in Kerala then enjoy Kerala food culture and order for yourself Kerala style fish molee. One of Kerala's most traditional delicacies, Karimeen Pollichathu is a dish made out of the Pearl Spot Fish, a speckled fish commonly found in the backwaters of this Alleppey and Kumarakom. Karimeen Pollichathu is originally a Syrian Christian delicacy but has now become part of the rich Kerala cuisine. The dish is prepared by marinating the fish in a mixture of lemon juice, red chillies, and other ingredients (most of which are varieties of spices!), and then wrapped and baked in plantain leaves. Its exotic style of preparation gives it a rich, unique flavour and leaves diners asking for more!
Pronounced as: K-a-ri-meen P-oh-li-chh-a-thu
Best places to eat: Oceanos, Adam's Teashop
Average price: INR 645
12. Kerala Style Fish Molee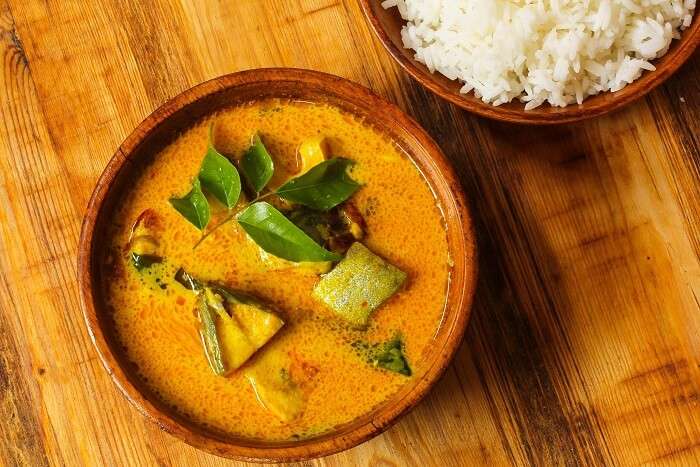 An absolutely sensational element of Kerala food, the Kerala Style Fish Molee is a favourite of all residing in and visiting Kerala. The significant flavour of coconut and kocoum, also know as Kudampuli will simply blow your senses! All seafood lovers must try this dish at least once in their life to take the concept of fine dining to a whole new level!
Pronounced as: Fish Moli
Best places to eat: Fusion Bay, Harbour Restaurant
Average price: INR 900
Suggested Read: 10 Adventurous Water Sports In Kerala You Must Try While Touring God's Own City

13. Nadan Beef (Kerala Style Beef)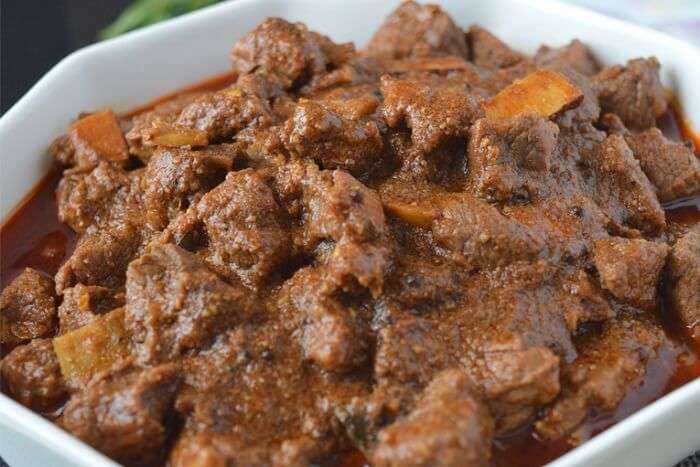 Image Source
Kerala is perhaps the only place in India where you can still eat beef without any constraints or guilt. Nadan Beef is among the most popular Kerala dishes that is either roasted or cooked in thick gravy. It is cooked to perfection for that perfect melt-in-the-mouth consistency before being served with Porotta, chapatti, or rice. Beef lovers, here's another fabulous reason for you to escape to Kerala!
Best places to eat: Kerala House Restaurant
Average price: INR 775
14. Thalassery Biryani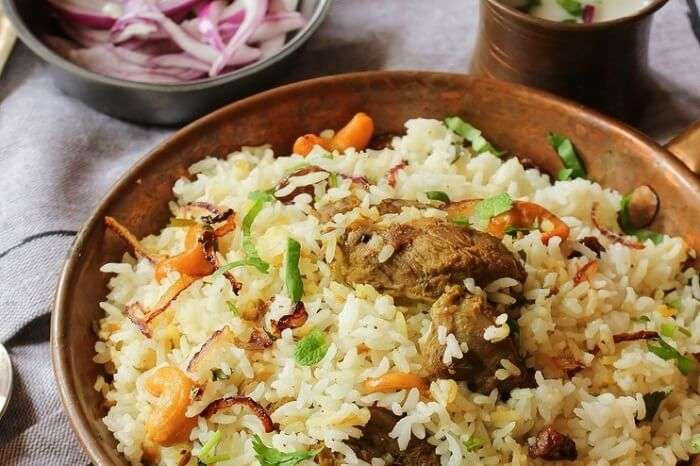 Biryani in Kerala? Hell yeah! It's actually the most exotic Kerala cuisine. Among the various places in Kerala, Calicut and Thalassery offer the most irresistible varieties of biryani in Kerala. One can enjoy the taste of Chicken 65 or Chilly Chicken Stir Fry with a sumptuous platter of Kozhikode or Thalassery Biryani for the ultimate biryani experience.
Pronounced as: Th-ul-ace-siri
Best places to eat: Fusion Bay, Suprabhatham
Average price: INR 245
15. Kallumakkaya Ularthiyathu (Mussel Stir Fry)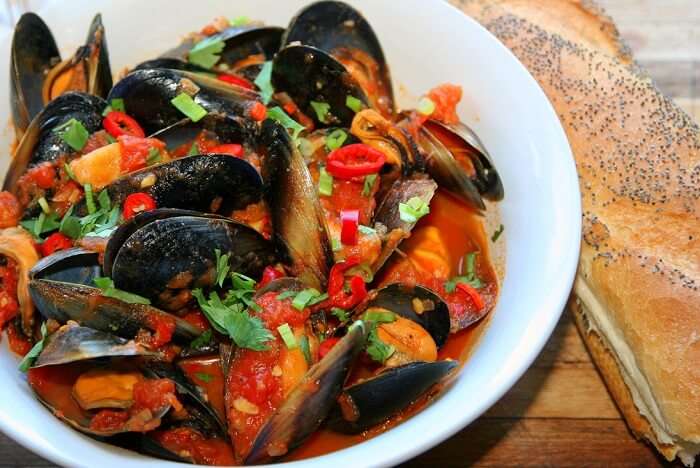 There's no end to the varieties of seafood one can have in Kerala. Every seafood dish in Kerala holds a unique touch, thanks to the diversity of Kerala food recipes. The mussels are first cleaned out with care and then cooked in shallots, garlic, chillies, turmeric, garam masala, and a heavy dose of grated coconut. Though Kallumakkaya Ularthiyathu requires a lot of time and effort in its preparation, it's totally worth the wait and will leave you licking the curry off your fingers!
Pronounced as: K-u-l-m-uk-aya Ooll-er-thi-ye-the
Best places to eat: Fishmongers, Curry Leaf
Average price: INR 700
Suggested Read: Best Of Shopping In Kerala: What To Buy & Where
16. Erachi Varutharacha Curry (Fried-Ground Mutton Curry)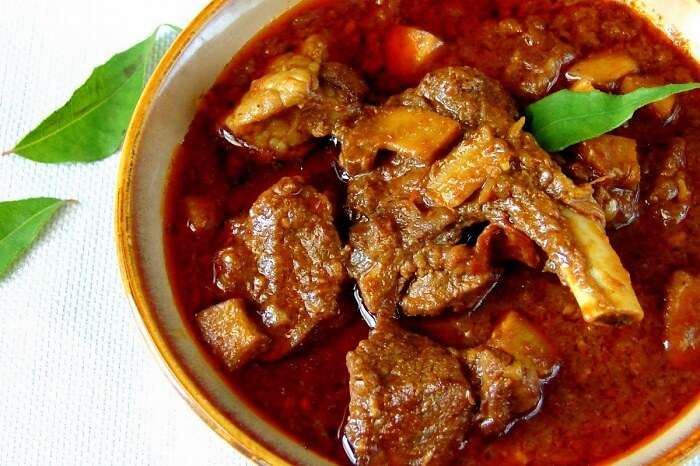 Image Source
The king of non vegetarian Kerala food recipes, Erachi Varutharacha is unlikely to be on the menu of any of the restaurants in Kerala. It is a traditional food of Kerala, oiginally of the Syrian Christian community. The preparation usually involves frying and grinding the spices before mixing them in a base of mutton, onions and tomatoes. We bet you've never had as delicious a dish of mutton as this!
Pronounced as: Ee-ra-chi V-a-ru-th-ur-a-cha
Best places to eat: A Beach Cafe, Ali Baba & 41 Dishes
Average price: INR 475
Suggested Read: 10 Brilliant Mosques In Kerala Where You Must Go For A Spiritual Pilgrimage
17. Malabar Parota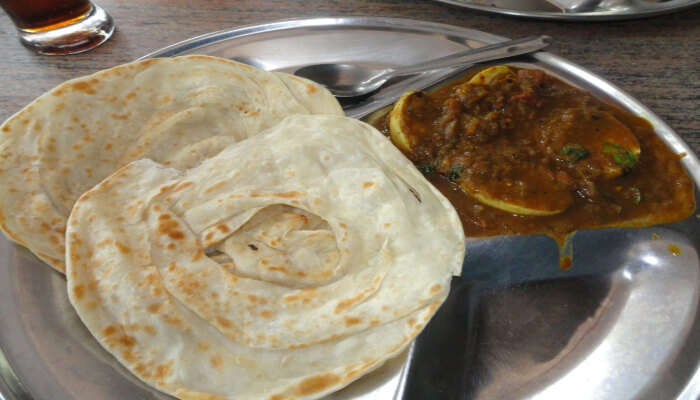 Image Credits: Wikimedia commons
As the name suggests, Malabar Parota is a famous parota deriving its origin from Malabar region of the coast. It has a crispy, flaky along with crumbly texture leaving a sweet yet savoury taste within your mouth. This parota is a must try if you are visiting Kerala which will indeed become your all-time favourite for you as well as your family and friends.
Pronounced As: Ma-la-bar Pa-ra-tta
Best Places to Eat: Paragon Restaurant, Jubilee Restaurant Sultan Bakery, Arippa.
Average Price: Starting from INR 50/-
4 Popular Desserts In Kerala Cuisine
These lip-smacking desserts will force you to go into the kitchen and whip something up for yourself. You have to taste these delicious sweet treats pronto:
18. Palada Payasam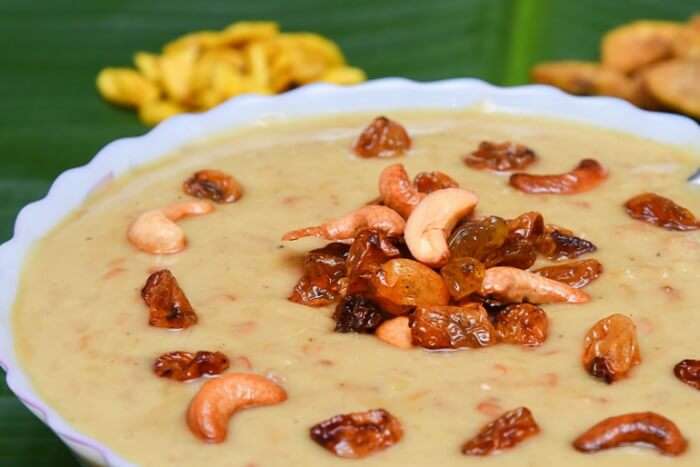 A delicacy amid the main food of Kerala that's now won the hearts of foodies all over the country, Palada Payasam is a sweet rice kheer prepared with palada. The dish is usually prepared and served during auspicious occasions and festivals like Onam. Among the many varieties of payasam, Palada Payasam is the most popular and is made out of basic ingredients like rice ada, milk, sugar, and ghee.
Pronounced as: P-al-a-da Pie-sum
Best places to eat: Saravana Bhavan, Curry Leaf
Average price: INR 100
Suggested Read: Kerala In March: 8 Places Which Are Perfect For Your Trip To South India

19. Ethakka Appam (Banana Fritters)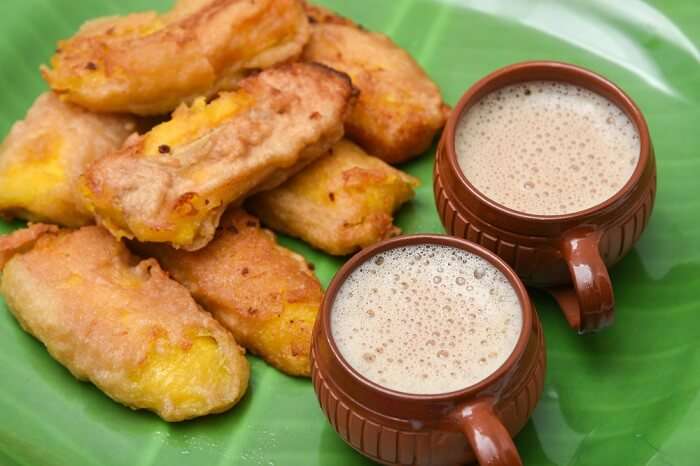 Pazham Pori or Ethakka Appam are both different, but equally delicious varieties of banana fritters that serve as a traditional tea time snack in the households of Kerala. They're simply ripe bananas coated with plain flour and deep-fried in oil and serve as an integral part of Kerala cuisine. Make sure you don't leave Kerala without trying some of these with your dose of evening tea or coffee.
Pronounced as: Aye-the-ka Upp-am
Best places to eat: Any roadside vendor
Average price: INR 50
Suggested Read: 14 Heritage Places In Kerala To Make Your Trip Unforgettable
20. Ada Pradhaman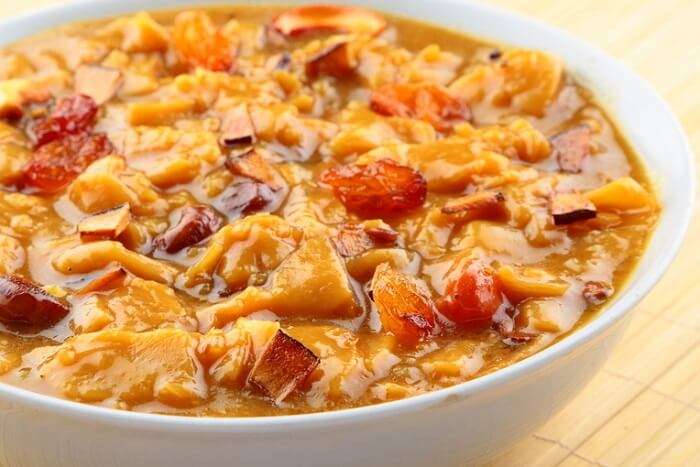 Another of those lip-smacking varieties of payasam one can have in Kerala, Ada Pradhaman chiefly contains pieces of rice batter (ada) and sweet coconut milk in which they are served. It is the favourite dessert dish in the list of Kerala food and one spoonful is all you need to fall in love with it!
Pronounced as: Adda P-ra-dh-a-mun
Best places to eat: God's Own Country Kitchen, Le Coffee Time
Average price: INR 100
21. Chatti Pathiri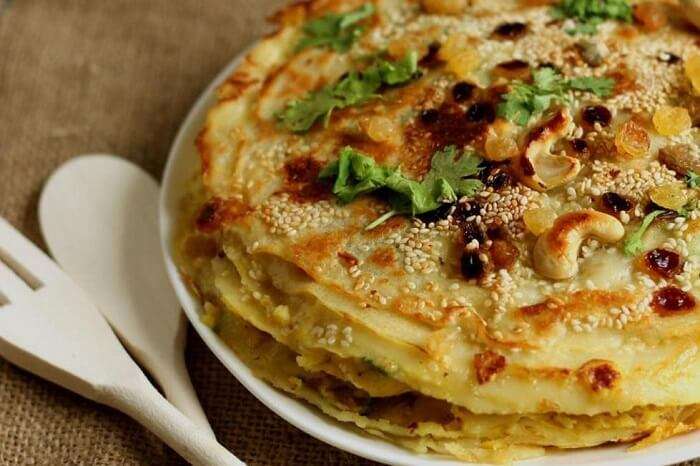 Image Courtesy: Suji's Cooking
For vegetarians there are many options but you must try out Palada Payasam which is a sweet delicacy. Enjoy some of the veg foods in Kerala. A layered pastry made in North Malabar and Malabar regions of Kerala, Chatti Pathiri is similar to the Italian lasagna. The difference is that, in the Keralite version, flat breads or pancakes made out of flour, eggs, oil and water are used instead of cheese sheets. The filling is the best part of these sugary Kerala dishes! Chatti Pathiri is filled with sweetened beaten eggs, nuts and raisins, and is seasoned with cardamom. You'll surely forget your western versions of crepe pancakes and pastries once you bite into this one! It is, no doubt, one of the best food to eat in Kerala.
This water is made by boiling the heartwood of Pathimugam tree (East Indian redwood or 'sappan wood'), a multipurpose tree which is popularly used for various medicinal purposes in Kerala. Pathimugam is being widely used since ancient days and is considered an excellent herbal medicine.
Pronounced as: Ch-a-tti P-a-t-iri
Best places to eat: Cochin Majlis, Saravana Bhavan
Average price: INR 200
Further Read: 37 Amazing Things To Do In Kerala For An Incredible Holiday
Still drooling? Give yourself the best culinary experience with this variety of Kerala cuisine to dive into! Book yourself a thrilling trip to Kerala with TravelTriangle and engulf in the truckload of experiences that this state has to offer. And don't forget to share this with your foodie friends!
Disclaimer: TravelTriangle claims no credit for images featured on our blog site unless otherwise noted. All visual content is copyrighted to its respectful owners. We try to link back to original sources whenever possible. If you own rights to any of the images, and do not wish them to appear on TravelTriangle, please contact us and they will be promptly removed. We believe in providing proper attribution to the original author, artist or photographer.
Frequently Asked Questions About Kerala Cuisine
What is the traditional food of Kerala?
There are various types of food offered in different eating places of the Indian state of Kerala. The traditional food of Kerala contains various spices that make the food savory, including cinnamon, cloves, ginger, and black pepper. The dishes usually involve rice, coconut, and tapioca.
Which fish is famous in Kerala?
There are a number of fish available in Kerala but the one that is quite famous here is Pearlspot Karimeen fish. When it comes to sea food, people also prefer having lobster or prawn.
What Can I buy in Kerala?
There are a number of things that you can buy when shopping in the south Indian state of Kerala, including: 1. Essential Oils 2. Sarees 3. Kathakali Masks 4. Jewelry 5. Banana chips 6. Coconut as well as coir products
What are some of the most popular snacks from Kerala?
Pazham Pori (banana fritters), Sugiyan, Bonda, Valsan, Unniyappam, Ela Ada, and Bread Pakoda are among the most popular snacks in Kerala that are usually served during the tea or coffee time in the evenings.
What is special about Kerala food?
The Kerala staple food revolves around an abundance of coconut, rice, tapioca, and spices like black pepper, cloves, cinnamon, and ginger. Kerala famous food also features a variety of seafood like fish, prawns, mussels, lobsters, and crabs owing to the state's long coastline.
How costly is food in Kerala?
One can enjoy all the famous Kerala cuisine at very affordable rates. From dining at a budget restaurant to buying food items and making the various dishes of Kerala at home, the typical cost for two persons will usually range from INR 250/- to INR 1,000. From vegetarian cuisine, non-vegetarian dishes, snacks, desserts, beverages like tea and coffee, and other knick-knacks, food in Kerala is relatively inexpensive.
Why does the drinking water of Kerala appear pink?
The drinking water served at the many restaurants, hotels, and even homes in Kerala is the essential Kerala Ayurvedic Water. It's usually hot and slightly pinkish in colour because of the Ayurvedic elements it bears. It is commonly used all across the state and considered crucial for health and well being.
People Also read
Darjeeling Cuisine Kathmandu Cuisine Surat Cuisine
Comments
comments