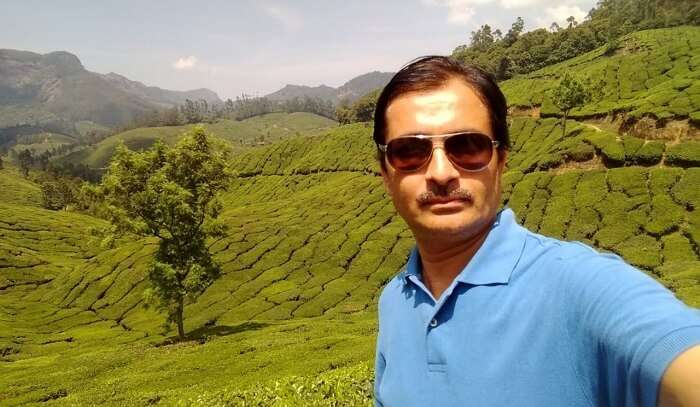 Rakesh spent 6 days in Kerala and was left spellbound by the ethereal beauty and lush greenery of God's own country. What made him fall in love with Kerala? Read his travelogue to know more and get inspired.
I feel happy in nature. I'm deeply interested in the sea, trees, waterfalls, mountains & many more. That why I do traveling at the least once in a fortnight. The reason why Kerala is known as God's own country can be known only after visiting Kerala. I visited Kerala for the first time with my family in December 2000. After my first visit, I try every year to give a visit to Kerala. I think everyone should visit Kerala at least once in their life. This time I visited Kerala with my brother in law. I booked my trip through a company called Travel Triangle. This company (TravelTriangle) has also organized my earlier trips. I prefer this company due to its perfection in the organization. TT organizes our trip according to our budget & no extra money is needed throughout the trip.
Table Of Content
Trip Details Of My 6 Days In Kerala
Trip Type: Friends
Trip Cost: INR 15,000
Trip Duration: 6D/5N
Inclusion: Houseboat Stay, Accommodation, Transfers, Sightseeing
Exclusion: Airfare, Lunch, Dinner
5 Amazing Zoos In Kerala To Witness The Captivating Wildlife In God's Own Country!
Our Itinerary Of 6 Days In Kerala
Kerala has the great beauty of nature. Kerala is blessed with a calm nature & people with a soft & decent nature. They have maintained their culture as Kerala has a high literate population there are very low chances of getting cheated & no problems to communicate. Here is my itinerary for Kerala for 6 days.
Day 1: Kumarakom Backwater






We took a flight from Pune to Kochi. Our destinations on this trip were Kumarakom, Munnar. From Kochi airport, we went to Kumarakom. TT arranged a houseboat stay in the backwater of Kumarakom. The houseboat was very clean, well furnished & comfortable. We were welcomed by a refreshing drink. Our journey started by enjoying nature via boat. For lunch, Karimeen fish & Kerala cuisine was served on a banana leaf. Karimeen fish dishes are famous in Kerala and it is declared as the official state fish of Kerala.
Day 2: Welcome In Munnar




The next day our journey began towards Munnar. On the way to Munnar, we went on a jeep safari & saw a rippling waterfall, Ponmudi Dam and a number of spice gardens & coffee estates. Our stay was booked at Ayur Green Resort. It is located in a silent place away from the city area. It was a spacious hotel that had a swimming pool. The climate there was cold & it was raining a little bit but we enjoyed swimming. As Munnar is a holiday destination it is always crowded with people. The climate there is always cold & mountains are covered with greenery.
 Silent Valley National Park In Kerala: Where The Wild Roam Free
Day 3: Sightseeing In Munnar



We had done sightseeing in Munnar. The main attraction was the Top station. On the border of Kerala and Tamilnadu, there was beautiful scenery of mountains and tea plantations. Many tourists return from echo point but I always suggest to go ahead from echo point. If you love to do nature photography then this spot is fulfilling your satisfaction.
There are so many famous things to buy in Munnar like tea, spices, herbal and homemade chocolate. You can enjoy shopping for these at a reasonable price and good quality. There are also different massage oils, Nilgiri oils, and coconut oils. It is better to purchase this in the KDHP outlet instead of local shops and spice gardens.
Day 4: Vagamon Sightseeing




We arrived in Vagamon and began our sightseeing with visiting Kurishumala Church that is located on a hilltop. The views from the vantage point were surreal. The next stop was Thangal Mata where we trekked all the way up to the highest point. There we found a huge rock which is supposed to be 800 years old. On the rock were the carving made by a Sufi Saint, Husrath Sheikh Fariduddin Baba. Again, the views from the top were truly mesmerizing. It is a popular pilgrimage spot and the scenery around make it worthy of a visit. We also enjoyed a wildlife safari at Ulipooni Wildlife Sanctuary where we wild animals in their natural habitat.
Rivers In Kerala: A Pocket Guide To Add More Calming Vibes On Your Next Trip
Day 5: Sightseeing In Kovalam



We spent our time at Kovalam Beach, Poovar Lake, Sree Chitra Art Gallery, and Sree Padmanabha Swamy Temple. All in all, it was a day well spent. My views about Kerala didn't change at the end of the trip. It was as beautiful as ever and I am going to visit next year for sure.
Romancing In God's Own Country: Our Surreal Honeymoon Trip To Kerala
6 Days In Kerala: From Real To Reel
Here is a video I made to capture my 6 days Kerala tour. I hope you like it and are able to see Kerala through my eyes. Enjoy watching!
Kerala Tips For Travelers
Do's
1. As usual, take less luggage
2. If you are taking medicine, keep it in a handbag or your luggage
3. Instead off carrying cash, do cashless transaction
4. While taking a body massage and ayurvedic therapy first ask rates. Also, check qualifications and experience and reviews before and then think about that.
Dont's
1. Don't insist to visit all of Kerala in one visit
2. Don't have disputes with drivers and local shoppers.
4. Don't go into the water at unknown places and waterfalls
5. Most importantly, don't litter.
6. Please don't take pictures of the locals without their permission.
How was your experience with TravelTriangle & its agent?
I plan my journey either myself or with Travel Triangle. I can choose from many options before finalizing an itinerary and the budget. The vehicle, hotels, and services given by TT are outstanding. I love the services of TT and we have the option to choose an agent with whom we can discuss and finalize the itinerary, hotels, and vehicles as per our preference. Although agents are good, if we have any problem then we have TT. So mostly I prefer TT.
A Heaven Like Experience On Our 5 Day Honeymoon Trip To Kerala
Told Ya! If you are inspired just by reading Rakesh's account of 6 days in Kerala, then think how magical your experience would be if you took a trip to Kerala. What does it not have? From backwaters to beaches, from rolling mountains to lush greenery, Kerala has all the tricks in its hat to cast a spell on you.
Frequently Asked Questions About Kerala
Is it safe to travel to Kerala alone?
Yes, it is absolutely safe to travel to Kerala alone. However, if you are trying to cover more than one places at once, traveling can get expensive and a bit of a hassle.
What should I pack for Kerala?
Here is what all you should carry on your 6 days Kerala tour: 1. Flip-flops 2. Shoes 3. Cotton clothes (t-shirts and half pants) 4. Light jacket for the night 5. Umbrella or raincoat 6. Sunscreen 7. Sunglasses 8. Mosquito Repellent