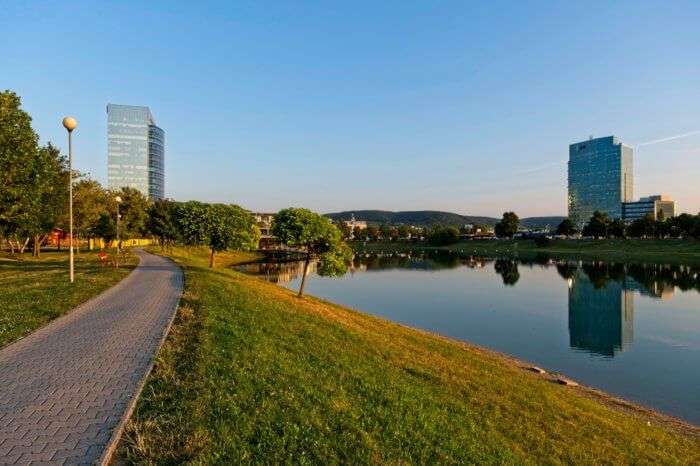 Summer in Bratislava is the time for ice cream, sunbathing and swimming. Although there is no sea in Slovakia, but there are many lakes in Slovakia that makes for nice cool off spots from the scorching summer heat. You can swim, bathe and rejuvenate yourself by dipping in the cool water waters of these lakes. A summer day in Bratislava is quite hot and humid and asks you to cool off at a swimming pool or a lake. There are many pools and lakes in Bratislava and almost of them can be reached by public transportation, giving easy access to the people to enjoy the cool waters in a warm day.
Apart from all the open air pools, there are several lakes Bratislava located in and around Bratislava. Here is the list of 10 such lakes in Bratislava that are open to the public. Take a look at our list, to know more about these lakes.
10 Best Lakes In Bratislava
Bratislava in Slovakia is home to many beautiful lakes and the good news is you can go swim in these waters on a scorching hot day to relieve yourself from the heat. There are many lakes near Bratislava and in the city that you can head to. Take a look at our list of the 10 best lakes in Bratislava.
1. Zlate Piesky

Zlaté Piesky is a natural lake in Bratislava. The lake is about 400 meter wide and approximately 30 meter deep. The lake makes for a perfect swimming spot and summer activities. There is a small island located in the middle of the lake, where you can swim up to or take your water bike towards. The beach around the lake is mostly covered in tiny rocks with a grassy surrounding. The location is perfect for summer sports and activities. Though you have to pay an entry fee to get access to the lake, there are two unpaid entries as well.
The first non-paid entry is near wakeboard tow but the road is not quite developed and not fit for families. The other non-paid entry is on the nudist beach on the opposite bank of the lake. The lake is mostly crowded during the summer season and it is quite popular among the locals. There are also many eateries and shopping centers located near the lake, where you can grab a bite. Lake Zlate Piesky offers many fun activities like Water bicycling, wakeboarding, Beach Volley ball, Tennis, Football and mini golf etc. you can reach the place with the help of public transportation or private cars. It is easily accessible.
Location: Zlate Piesky, Ruzinov, Slovakia
Entry Fee: 2 – 6.5 euros
2. Wake Lake

Bratislava Wakelake is a part of Zlate Piesky, the largest recreational area in Bratislava. The beautiful beach gives you the perfect spot sunbathing and swimming. There are many watersports that you can take part here like wakeboarding, water bicycling, water skating etc. there is also a restaurant in the beach that serves many appetizers and main course dishes. Parties are also organized on Wakelake on Friday and Saturday, which is generally packed with people. All in one Wakelake in Bratislava is a perfect spot for entertainment.
Location: Cesta na Senec, Ruzinov, Slovakia
Entry Fee: Monthly ticket - 250 euro, two-month ticket - 450 euro, Yearly Pass – 670 euro
Suggested Read: 10 Best Monaco Travel Tips For A Smooth Journey In The Mesmerizing European Land
3. Sunny Lakes

Sunny Lakes in Senec area were formed due to the previous gravel excavations. And now it is turned into a resort. If you want to enjoy in some nice waters but do not want to go to a natural lake, then Sunny Lakes is your go to destination. Located just a few minutes' drive away from the city, this lake is a famous hangout spot in the sunny days. Sunny lakes are a collection of 5 lakes and the area is surrounded by long grass covered shores. There are sand playgrounds for the children, tennis court, volleyball court, bowling and many other sports that you can indulge in. moreover there are also massage centers, pools and Jacuzzis to make your experience at sunny lakes a refreshing one.
Location: Senec, Slovakia
4. Kosariska Lakes

Kosariska Lakes are a collection of three lakes, located in Dunajska Luzna, a few kilometers from the Bratislava city center. There are both public and private transportation facilities available that will take you to the lakes. The lake water is clear though the beaches are a little gravelly. The smallest lake among the Kosariska Lakes, Male Kosariska is the most famous and offers many public services although you have pay an entry fee to get access to the lake.
Location: Dunajska Luzna, Slovakia
Entry Fee: 6 euro
Timing: 9a am – 7 pm
Suggested Read: 11 Fascinating Things To Do In Slovenia On Your Trip To Europe
5. Drazdiak Lake

This lake is located near the residential part of Petrzalka in Bratislava. The lake was created on site from a digging hole and is like an oasis in the center of a concrete panel. The place is quite crowded with the residents of Petrzalka during summer. The water of the lake is crystal clear and there is no entry fee to gain access to the spot. The lake is ideal for summer activities like swimming, water biking, sunbathing and barbeque. There is also a playground for children near the lake and there are many eateries and bars that you can enjoy in while visiting this lake.
Location: Petrzalka, Bratislava
6. Divoka Voda

Divoka Voda is a sports complex in Bratislava and is just a short drive away from the Bratislava city center. You can reach the place through both public and private transportation. The two water channels on the bed of the Danube River offer various activities like rafting, kayaking, water skiing, water scooter riding etc. apart from the water sports, you can also enjoy quad bike racing, beach volleyball, archery and pony rides in this complex. Moreover there is also a great restaurant and overnight accommodation available HERE.
Location: Cunovo, Bratislava, Slovakia
Entry Fee: 6 – 125 euro
Suggested Read: 15 Lakes In Poland That Inspire You To Admire The Wonders Of Enchantress Nature
7. Kuchajda Lake

Situated near the Bratislava railway station, Kuchajda Lake is a nice spot to relax all-round the year. During the summer season you can swim or water bike in the lake winter while in winter it serves as an ice skating location. There is also a children's playground on the spot and many sports activities like volleyball, basketballs and boat rids etc. you will also find a wide range of restaurants near the lake, where you can enjoy a nice meal.
Location: Bratislava, Slovakia.
8. Cunovo Lake

Cunovo is probably the cleanest lake in Bratislava. The depth of the lake is quite shallow at 4 meter as compared to the other water bodies. There are also two grassy beaches near the lake that offers a small buffet of sausages and Slovak beer. The area is totally covered in trees and bushes and thus offer a quiet surrounding to enjoy a nice swim.
Location: Bratislava, Slovakia
Suggested Read: 10 Lakes In Portugal: Unwind And Relax In The Beautiful Portuguese Surroundings
9. Rusovce Lake

This is another lake near Petrzalka and is made up of water from two former water reservoirs. The water of the lake is clean and available for swimming and the area is surrounded by greenery offering a nice, quiet natural spot. This famous European lake has a stone bottom and it gets pretty deep pretty fast, so children should be under adult supervision while swimming in this lake.
Location: Bratislava, Slovakia
10. Vojčianske Jazero

This lake is located between Vojka nad Dujonam and Bodiky protected area. You can easily reach from Petrzalka to this lake. The lake is quite close to the village of Vojka and is quite large in area. The lake has different kinds of fish vegetation and is a perfect spot for fishing in Bratislava
Location: Bratislava, Slovakia
Further Read: Winter In Bratislava: A Detailed Guide To This Blissful City In Europe
These are some of the best lakes in Bratislava. Head to one of these lakes and enjoy a nice summer day by dipping in the cool waters. So, get packed and book your international trip right away!
---
Looking To Book An International Holiday?
Book memorable holidays on TravelTriangle with 650+ verified travel agents for 65+ domestic and international destinations.
---