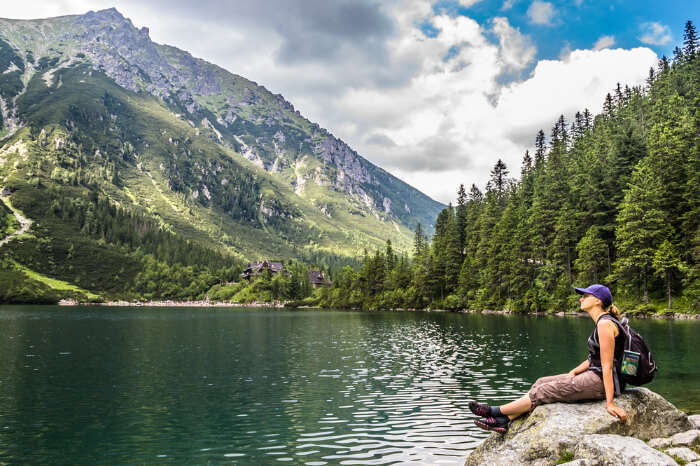 Most travellers know just a little about Poland apart from their Pierogi, Kielbasa and other regional tasty fare, but the beauty of the country goes far yonder its food. From mountain views to canoeing, medieval art and exciting nightlife, Poland is a nation that always exceeds the expectations of its visitors. But there is one element that you just cannot miss to experience on your Polish holiday. The breathtaking lakes in Poland deserve to be on your itinerary for sure.
15 Popular Lakes In Poland
The Masurian Lake District of Northern Poland is renowned for its more than 2,000 beautiful lakes, which makes one of the best outdoor scenery and activities to offer. The Lake District was molded by glaciers during the Pleistocene era. Many of its dunes are moraine parts and most of its ponds are lakes dammed by moraine. Here is a list of 15 most popular lakes in Poland.
1. Śniardwy Lake

Sniardwy is the biggest lake in Poland at 113,8 km2 (43,9 mi2). It was also the biggest lake in Prussia during the German rule of Warmia-Masuria. The maximum depth is 23 meters. There are 8 isles on Lake Sniardwy. Sniardwy was formed by the retreat of the ice sheet and the depleting floodwaters caused by the ice calving in front of the glacier.
---
Europe Holiday Packages On TravelTriangle
Explore the most beautiful places to visit in Europe, from Paris to the Venice canals and from the Greek islands to the Swiss alps. Book customized packages by expert agents on TravelTriangle. Inclusive of airport transfers, cab, resort, sightseeing and meals. Best holiday experience Guaranteed. Book Now
---
2. Lake Mamry

Mamry is a lake in the Warmia-Mazury province of the Masurian Lake district of Poland. It is Poland's 2nd biggest lake with an area of 104 km2. It actually consists of six lakes. Mamry has 33 islands, some of which are ornithological assets, and a total of 213 hectares. Lake Mamry is a magnet for tourists.It is linked by the derelict Masurian Canal to the Pregolya and the Baltic Sea. Giżycko is the biggest town on the lake. It is also Poland's lowest natural point
Must Read: 10 Best Places For Shopping In Poland Which You Will Fall In Love With In 2022
3. Łebsko Lake

An inland lake in Poland's Pomeranian Voivodeship, it is part of national Park of Słowiński. This was never a part of the Baltic Sea, however. It was created due to the sea level rise and the swamping of the regional marshes. The river Łeba makes its way through the lake just before reaching the Baltic Sea in the town of Łeba. It is the biggest lake in Pomerania with an area of 7,142 ha (71,42 km2).
4. Lake Jamno

Jamno is the lake near the Baltic Sea in northern Poland. It is split from the sea by a spit in which Mielno and Unieście resorts lie. Jamno encompasses a region of more than 22 square kilometers (8.5 sq mi). Its maximum depth is 3.9 meters (13 ft). The lake is used frequently for cruising.A 2007 survey of this lake demonstrates that it is a Brackish inland lagoon that was strongly contaminated by effluent from the nearby town of Koszalin.
Suggested Read: 15 Best Places To Visit In Poland For A Thrilling European Vacay In 2022
5. Lake Wigry

Wigry is a lake in Podlaskie Voivodeship in the north – east of Poland. Lake Wigry is located in the Augustów Wilderness forests–trees grow on approximately 80 percent of its coastline. There are 19 smaller and larger isles on the lake, as many as 26 breeds of fish, including trout, bass and pike prosper in its waters. The lake and its surrounding area are part of the Wigry National Park, which means that there are a number of directives that tourists should respect. Wigry is also thought of as the "area of silence." Trailers and fireplaces are only allowed in assigned areas. The lake is admired by canoeing and boating enthusiasts.
6. Lake Gopło

Gopło is a lake in north – central Poland in the Kuyavian-Pomeranian Voivodeship, near the town of Gniezno. It gives the guarded area called Gopło Landscape Park its name. In the early Middle Ages a western Slavic sect of Goplans lived on the edge of Lake Gopło. At the northern end of the lake is Kruszwica's "Mouse Tower." Its name stems from a story of the crooked Prince Popiel, who escaped from his rebellious citizenry to the tower and was consumed by mice there.Some historians and archaeologists regard the region as the core of Poland's first state, the "founding" clan of Poland.
Suggested Read: Summer In Poland: An Ultimate Guide For Planning A Chill Vacay With Your Loved Ones In 2022!
7. Lake Orzysz

Orzysz is a lake in the Masuriana Lake District, Great Masurian Lakes Land. The city of Orzysz is situated on the southwest edge of the lake. The lake is a ribbon lake with a size of 1070.7 hectares with a diverse depth and uninhabited shores on the lake's southwest and northeast coast.The shore has an erratic shape, characterized by many bays along its coastline, and long narrow peninsulas that divide the lake deeply.
8. Lake Karwowo

Karwowo is a western Pomeranian Voivodeship lake, in the county of Lobets. It is located about 500 meters from the River Rega and around one kilometre from multifamily buildings in the Karwowo village. There are tiny piers for trawlers on the shoreline of the Karwowo Lake. There is a small resort on the east shore and a bathroom with overhead protection, parking, fireplace and campsite. A beech forest surrounds the lake.Karwowo Lake also contains a range of fish subspecies, including esox, tench, common carp, perch, roach or eel. The lake is also linked by a canal to the River Rega. Karwowo is part of the so-called "quiet zone" of the Polish Fisheries Union. It means that no self-propelled vessels are permitted.
Suggested Read: Top 10 Water Parks In Poland That Are Perfect For A Reviving Trip
9. Lake Karaś

Karaś is a lake in north – eastern Poland's Masurian Lake District, 6 kilometers from the city of Iława in Warmian-Masurian Voivodeship. The lake is the location of a 1958 nature reserve encompassing an area of 8.2 square kilometers (3.2 square miles). Since 1984, it has been safeguarded as an important nesting ground for water birds under the Ramsar Convention. Today, it is one of 13 such locations in Poland.
10. Lake Licheńskie

Lake Licheńskie is a tiny lake in Central Poland, known in Polish as Jezioro Licheńskie. It is situated in Konin County, near Licheń Stary. It is a typical postglacial lake with a well-developed shoreline. The lake banks, mainly steep, are predominantly flanked by woods. It is one of several lakes known colloquially as the heated Konin Lakes because the water temperature is unnaturally high due to the water flow from two power plants ' cooling systems.
Suggested Read: Wildlife In Poland: 9 Popular Animals In The Country You Must Witness
11. Lake Ełk

Lake Ełk is a freshwater lake in the Masurian Lake District of the Warmia-Mazury Province of Poland, adjacent to Ełk Town. The lake, which was fostered by glacial intervention during the Pleistocene ice age and has a surface area of 3.82 square kilometres, is chiefly fed by the south western Ełk River, and empties into Lake Sunowo in the northwest and Lake Szarek in the southwest.
12. Lake Gosławskie

The Gosławskie Lake in central Poland is recognized in Polish as Jezioro Gosławskie. It is a predominant location for surfers due to its inclination east-west, open facet and the prevalence of north and west winds. The best way to get there is from Konin-Gosławice in the southeast of the lake. Nearby is a castle constructed between 1418 and 1426 by Bishop Andrzej Laskarz and a museum of the district.
Suggested Read: 10 Incredible Beaches In Poland In 2022 To Let Nature Soothe You Down!
13. Lake Leśnias

Lake Leśnias is a little artificial lake on the river Kwisa. It was opened on 15 July 1905 after a dam near Czocha village was finalised. On the high left bank of the lake is Czocha Castle, and on the right bank is the Rajsko Castle complex. The lake is a common summer resort town with a variety of campsites and water sports.
14. Nyskie Lake

Nyskie Lake was built in 1971 on the river Nysa Kłodzka in Poland. Its name is derived from the neighbouring town of Nysa. Before the reservoir was constructed, a proportion of villages were resettled. There is a hydropower plant by the lake. Both reservoirs and the adjoining Otmuchów Lake create the guarded habitat of Otmuchow-Nysa with a number of bird species in the area.
15. Lake Słupca

Słupca Lake is a synthetic reservoir in central-western Poland, in the province of Wielkopolska. It was established in 1955 as a leisure center on former tumultuous land. In the past, the lake was a motor-boat race center and a major tourist attraction. Among the sports that you can practice there are canoeing, surfing, swimming and sailing. Underwater sports such as scuba diving or snorkeling have never been well developed due to the depth of the lake which is almost 2.5 to 3 meters, not counting the muddy water. It was said that the waters of Lake Słupca had a therapeutic effect. For this reason, a fair proportion of visitors from all over Poland came to town every summer to make the most of the reputation.
Further Read: 14 Indian Restaurants In Poland That Will Ensure A Savory Experience
Among these 15 popular lakes in Poland, one can be sure to find a favourite. Whether it's sailing, fishing, snorkeling or just lying by the lakeside, an adventure of solitude awaits you. So, what are you waiting for? Plan a trip to Europe and head to Poland for a vacation full of lakeside relaxation and water activities.
Disclaimer: TravelTriangle claims no credit for images featured on our blog site unless otherwise noted. All visual content is copyrighted to its respectful owners. We try to link back to original sources whenever possible. If you own rights to any of the images, and do not wish them to appear on TravelTriangle, please contact us and they will be promptly removed. We believe in providing proper attribution to the original author, artist or photographer.
Frequently Asked Questions About Lakes In Poland
Which is the biggest lake in Poland?
Sniardwy is the popular and biggest lake in Poland that covers the area of 1138 km2. It is 23 meters deep lake with 8 isles on the lake.
Which lake in Poland is a part of a national park?
Lebsko Lake is an inland lake and it is in an area of the national park, Slowinski. It is the biggest lake in the area of Pomerania and is spread over 7142 square kilometers.
Which lake is used for cruising in Poland?
Jamno is frequently used for cruising. It is just a 3.9 meters deep lake that covers the area of 22 square kilometers. This lake is located near the Baltic sea of Northern Poland and well splatted from the sea.
Which lake in Poland offers boating?
Wigry Lake is a perfect place for those who love boating and canoeing. 19 smaller and larger isles are present in Wigry Lake. The lake is surrounded by Wigry National park, one can see many breeds of fishes, trout, and pike prosper in Lake's water.
Which is a tiny lake in Poland?
Lichenskie Lake is a tiny lake located in the center of Poland. It is situated in Konin county. The temperature of the water is quite high as water flows from two power cooling systems.
---
Looking To Book An International Holiday?
Book memorable holidays on TravelTriangle with 650+ verified travel agents for 65+ domestic and international destinations.
---