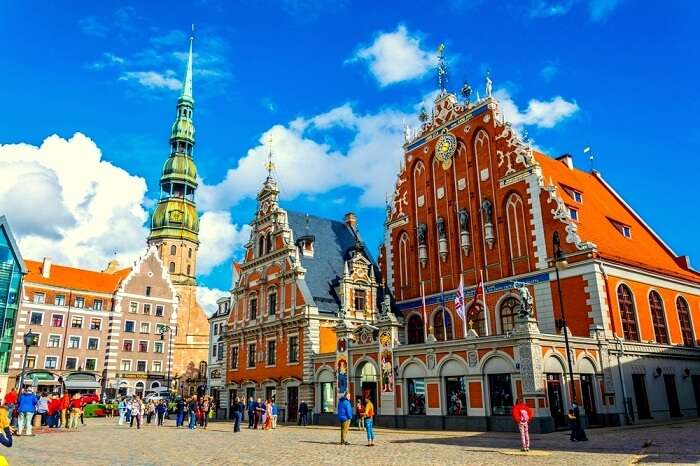 The country of Latvia is really small but there is an enormous amount of personal space which provides that is just ideal for those who want some peace and quiet. The country is a great place to go cycling, trekking or even sit on a white sandy beach all amongst the pine-covered dunes. Finding a little bit of natural all to oneself isn't difficult here. There's a lot to see and know about the nation, so if you're wandering around Europe and want to go beyond the famous locations, then keep this handy Latvia travel guide and ensure to explore the finest landmarks of this small country.
Best Time To Visit Latvia

Latvia comes with four seasons- summer, spring, autumn, and winter. The best time to visit the country is undoubted during the months of January and February. But the seasons of summer, winter and early autumn is also a great time to end up there. Remember that the weather is the least predictable during spring when it can turn from sunny and warm to raining or snowing for days on end.
The Ideal Time For A Vacation
You can spend as many days as you want here since then more time you devote, the more you will get to know about the place. But if there is a time crunch then Latvia can be seen sufficiently in 2 days as well- one day in Riga and the other one outside of it.
Places To Visit In Latvia
1. Alberta Iela

All the best travel guide to Latvia have this place listed as the foremost place to visit. This venue is like a large painting which one should spend hours admiring because the more you stare at it, the more details about it you will notice. But this is no museum, instead, this is a street which is comprised of restaurants, shops, and houses. What makes it different than others and so worthy of a visit is the art nouveau style which is also known as Jugendstil that is used here. At Alberta iela 2a, which was made in 1906, you will be able to see calm faces full of Chevalier helmets which stand at a guard atop the façade. The lower sections are full of screaming masks and taunting goblins. There are many more reliefs and creatures like griffins, chimera lions and more to see here.
2. Rīga Central Market

Come here to haggle for prices and also to see a series of WW1 Zeppelin hangars. Each of these hangars is 35 meters tall and add more 57,000 sq meter of vending space. It's a great destination to meet people in their daily routine and observe how they live their daily lives along apart from stocking up for a pretty picnic lunch. Visit the dairy and fish departments which occupy a separate hangar each and present a beautiful picture of abundance.
Suggested Read: 10 Villas In Malta For A Luxurious European Vacation Amid The Beach Scenery
3. Cēsis Castle

It's not just one castle actually, but two in one. The first comprises of dark stone towers which form a part of the old wenden castle. It was founded in the year 1214 by Livonian knights but was sacked in 1577 by Russian tsar Ivan the Terrible. The other castle is more cheerful and resembles a castle more. It used to be a manor in the 18th century and was inhabited by the dynasty of German counts von Sievers. Apart from the beautiful architecture of the place, the castle also houses a museum which features original fin de siècle interiors. There is also a beautifully landscaped park to stroll in if you get bored of seeing the castle.
Things To Do In Latvia
1. Town Hall Square

A reliable travel guide to Latvia must state this magnificence. Riga's town hall square has been the center for business in the city. One of the most popular buildings to visit in this square is the House of the Blackheads, the Latvian Occupation Museum along with the Baroque Clock Tower which is part of the town hall. If you are here to spend your winters then don't forget to check out the Christmas tree which is an annual event over at the square. Make sure to check out the architecture in here and experience the beauty of this place.
Location: Town Hall Square, Riga
Suggested Read: 8 Day Trips From Monaco To Make The Most Out Of A Trip To Europe
2. Explore the Seaside Open Air Museum in Ventspils

This is a must visit if you are a fan of all things nautical. The Seaside Open Air Museum is dedicated towards boating and fishing as the museum hosts 24,000 exhibits concerning these in both their outdoor and indoor areas. The outdoor section is made up of 4 hectares which are dedicated to teaching people about historic fishing techniques used in the Kurzeme region from the 28th century onwards. Moreover, you will also get to see replicas of fishermen's homes in here. Apart from this, you will also get to see farmhouses, smokehouses, windmills and more in here.
Location: Riņķa iela 2, Ventspils, LV-3601
3. Walk Down Jauniela

The buildings in this street come in various combinations of colors. Many of these buildings are decorated in the art nouveau style and the street itself is known for its stunning abundance of colorful flowers which pour down from window boxes. The street is full of eateries, museums, and shops as well, so make sure to spend some time having a cup of coffee while you admire the place.
Location: Jauniela, Riga
Suggested Read: 11 Fascinating Things To Do In Slovenia On Your Trip To Europe
Currency

Latvia's previous currency was the lats. But starting from 1st January 2014, the country adopted the Euro after the European Union assessed it in June 2013 and confirmed that it has met all criteria for the Euro adoption. Currently, 1 Euro equals 80.87 Indian Rupee
Visa For Latvia

While applying for a Latvian Schengen visa application, make sure to remember these general requirements:
Fill up the Latvian visa application form online.
Attach 2 photos of passport format.
The passport and copies of the previous visas, which has been valid for at least 3 months beyond the return date are needed.
Remember to keep at least two blank pages.
You will need a Europe Travel insurance confirmation of 30,000 € at the minimum within Latvia as well as for the entire Schengen Zone.
Attach a cover letter which states the purpose of your travel
Flight itinerary with the dates and flight numbers that specify the entry and exit from Latvia. Also, attach the hotel reservation for the whole duration of your travel.
Attach proof of civil status as well as sufficient financial means for the period of stay.
According to the Immigration Law of the European Commission, foreign nationals who are interested in entering and staying in the country will need to attest enjoying 14€/day minimum for the duration of the stay.
What To Pack

Amongst the things to Know Before Visiting Latvia is this little detail of what to pack. Latvia is a north European country which means that the weather can change quickly. So whenever you are traveling here make sure to pack something warm like a sweater at least along with an umbrella and rain jacket. This is because even if it rains, the rain will be cold even during the summers. Also, if you plan on visiting Riga during winters then make sure to check the weather forecast beforehand as temperatures have been known to drop down to even -30 C/-22 F so it's better to be prepared.
Further Read: Latvia Nightlife: 10 Places To Party Hard In Twinkling Lights In The Land Of Blue Lakes
Latvia is an amazing place to visit. It may be small but it offers many riches, and most importantly, it offers solitude no matter where you go and a break from the hectic travel schedules. Make sure you touch down in this little paradise before jetting off to your next destination in Europe.
---
Looking To Book An International Holiday?
Book memorable holidays on TravelTriangle with 650+ verified travel agents for 65+ domestic and international destinations.
---