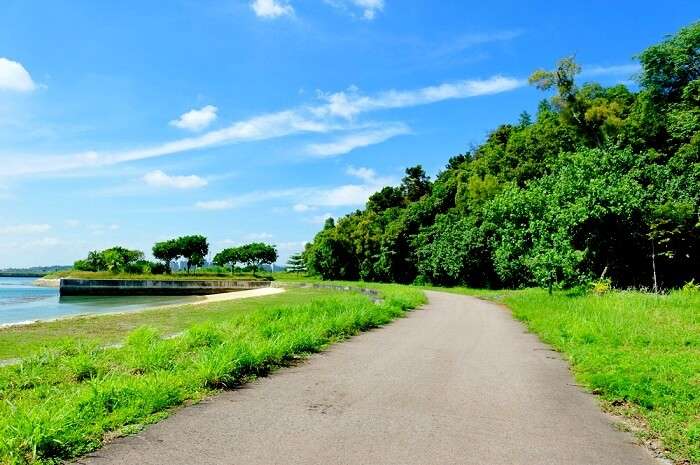 A wee bit stretch of lands on the sprawling blue sea, Lazarus Island is one of the eight islands that make the archipelago of the Southern islands. Still undeterred by a heavy influx of tourists, the serene beach provides just plenty of sea, sand and the sun for people who are looking for just being close to nature.
Lazarus Island is also known as Pulau Sakijang Pelepah. If you break it up – Sa means one, kijang stands for barking deer and pelepah means a palm leaf or a branch of palm tree. Put together, it means 'One Barking Deer and Palms'. Though there are plenty of palm trees around the beach, there is no deer to be found in the whole Lazarus.
Joined with St. John's Island through a concrete bridge, Lazarus Island falls in between St. John's Island and Kusu Island. Together with Pulau Seringat, Lazarus Island stretches over a small patch of 47 hectare. Home to a natural sandy beach which is a rare sight in Singapore, Lazarus is small but complete with coral reefs, a thriving marine life, lofty hills and some endemic flora and fauna that gives this island its own distinct signature.
Best Time To Visit Lazarus Island
to the equator has bestowed Lazarus Island with a maritime climate all through the year. Hence visitors are expected to experience the same climate at any time of the year. It is however, recommended avoiding the months that are known to experience heavy shower for example November to January. September, albeit, will experience a light shower promises to be more suitable as it will help to reduce the heat to a large extent.
Must Read: These 5 Secluded Islands In Singapore Are Perfect For Honeymoon Couples
Things To Do At Lazarus Island
The very miniscule stretch of land on the expansive ocean that make up for the Lazarus Island is absolutely only and only a pristine beach and nothing more than that. There is absolutely no provision for accommodation. Not even a single shop is there. Tourists are advised to even carry drinking water to the Lazarus Island. Hence, the things to so is pretty much clear from this.
Lazarus Island is a perfect heaven for people who want to enjoy nature at its best. When you are done with the high decibel and thriving city tour in Singapore, you head towards the Lazarus Island. This is a place where tranquility awaits with a silent yet vibrant landscape that is an absolute contrast to the high tech cityscape of Singapore.
1. Go for a picnic
Lazarus Island is a very good venue for picnic. At the backdrop of the sun, sand and the sea, you could spend some quality time with your friends, family and colleagues under the shades of the trees. The beach is enveloped with a line of trees that provide natural shade to the travelers. Even this greenery adds to the beauty of the landscape as they are so well spread out just enough to make it a perfect place to spread a mat and sit together. Expect some stray cats to be around. But even they are too welcoming towards the tourist. And if you are a cat lover, you are sure to have some good quality time feeding and playing with them.
Suggested Read: 10 Picture-Perfect Singapore Islands For An Enchanting Vacation
2. Enjoy sunbathing
With practically no prying eyes, you could opt for a undisturbed sunbathing session at the Lazarus island. The island is yet to experience a heavy footfall of tourists. Hence, there is ample space under the sun to just spread out in any way you like and get sun-washed. Also you could try some of those beach workouts to even shoot a video if you are a youtuber or a vlogger. The scenic beauty and the undisturbed atmosphere give you the best of your me-time. Go for it. Be yourself!
3. Take a dip in the sea
No we did not say dive. The water at Lazarus Island is not ideal for snorkeling or diving. The beach is also not prepped to support water sports. The sea in this location is rather flat which makes it an ideal place for a relaxing swim. So just hit the water and float around, play with the waves as they try to push you back to the shore and you try to stride ahead. Again a great way to let nature play magic on your mind and body! Just give in to it!
Suggested Read: 15 Best Beaches In Singapore That Makes It A Beach-Heaven
4. Try some beach photography
The miniscule island of Lazarus provides some of the most breathtaking landscapes. Explore the island far and wide and you will find plenty of camera moments. The well cemented roads, the greenery and the yatchs sailing in the sea with a very sporadic view of tourists here and there makes it a very ideal spot to capture the scenic beauty of the Lazurus Island!
5. Take a stroll by the beach
Sometimes happiness is just feeling the nature around you and be thankful to the creator. Take a walk along the sea beach of Lazarus Island barefooted and feel the drifting sand under your feet. Walk a little closer to the water treading on the wet sand that immediately imprints your footmarks just to be washed away with the first crush of the waves.
While walking on the wet sand, feel the waves crashing on your feet caressing your feet gently. Hear the sounds of the waves. Feel the sun on your face and soak your eyes with the sprawling, enthralling turquoise water that lie as far as your eyes go. Feel the nature. Just a few kilometers apart from the most happening millennial city of Singapore, such peace and tranquility could even exist? Be one with nature. Be thankful! Amen!
Suggested Read: Rooftop Bars In Singapore: 6 Glittery Hubs To Party All Night In The City Of Skyscrapers
How To Get To Lazarus Island
The most common route to reach Lazarus Island is to take a public ferry that ply from Marina South Pier to St. Johns Island. There after you can take a short walk to through the paved bridge that connects St. Johns Island with Lazarus Island. The other way is to hire a private charter to reach Lazarus Island.
Further Read: Top 5 Water Parks In Singapore That Let You Beat The Heat In The Lion City, In Style!
So, excited to visit this island on your next Singapore trip with TravelTriangle already? Don't forget to grab the most pocket-friendly package by starting your trip planning right away!
---
Looking To Book An International Holiday?
Book memorable holidays on TravelTriangle with 650+ verified travel agents for 65+ domestic and international destinations.
---