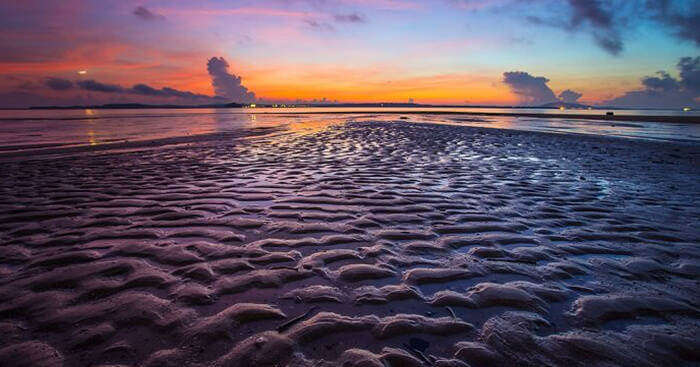 Beach lovers is a huge community – they get high on beach outings for azure water and swishing trees rejuvenate them; sandy beds and sun-tan loungers entice them, and beach parties and beach sports enthrall them. And trust us, if you are a beach lover, the best beaches in Singapore will lure you all year around. Especially during November to early March, when the weather is awesome for swimming, adventure sports, and beach games.
Talking of Singapore's popular beaches, they can be divided into two broad clusters – one, the beaches of Sentosa Island; and two, the east coast beaches. Both clusters are pristine, but Sentosa is more lively because of its extreme popularity. These Singapore beaches are good for swimming, and fun activities, but if you are looking at some solitary unwinding and chilled out camping fun, beaches at the eastern coast of Singapore are a better pick. Have a quick look at all the beautiful beaches in Singapore if you want to spend some time by the ocean on the island country:
10 Best Beaches Of Singapore On Sentosa Island
Here are some of the best beaches in Singapore if you want to laze about by the beach and have a good time under the sun.
Palawan Beach – The Ideal Beach
Siloso Beach – A Buzzing Beach
Tanjong Beach – The Party Spot
Changi Beach – A Tropical Beach
Punggol Beach – An Offbeat Beach
Kusu Island – The Unexplored Beaches
Lazarus Island – Prime Beaches In Singapore
Pulau Ubin – Off Treasured Beaches
Pasir Ris Beach – The Famous Picnic Spot
East Coast Park – A Themed Beach Park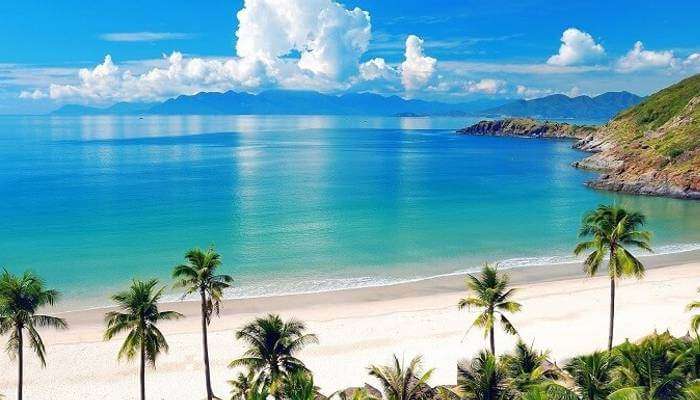 Palawan Beach, Singapore is located in the center of Sentosa. Palawan beach has swaying palm trees, shimmering white sand, expanses of blue green water and lively beach bars. A fun zone, Port of Lost Wonder is themed on pirate world, and is popular among kids and adults alike. The place is complete with a rope bridge, few wooden beam towers, a pirate ship, and numerous treasure boxes. This is the best beach in Singapore for swimming or even just lazy lounging.
Famous for: Pirate-themed water park, Port of the Lost World; and clear water.
Facilities available: Cabana style beach bars, beach shelters, play area, souvenir shops, and restaurants.
Must Read: 10 Water Sports In Singapore That Will Get Your Adrenaline Pumping
---
Singapore Holiday Packages On TravelTriangle
Go on a luxurious Singapore holiday and visit Universal Studios, Singapore flyer, Gardens by the Bay, Marina Life Park, and Marina Bay Sands. Packages Inclusive of airport transfer, 4 star hotel stay, breakfast, visa, sightseeing, & more at unbelievably affordable rates!
---
2. Siloso Beach – A Buzzing Beach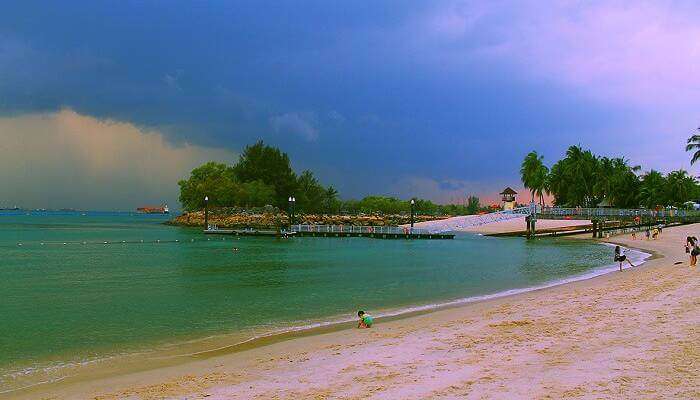 Siloso Beach is one of the most popular public beaches in Singapore. Always buzzing with activities, there is never a dull moment at Siloso beach Singapore. You can find people partying, dancing, canoeing, playing volleyball and horse riding around the beach. The amazing eateries and beach shacks make Siloso one of the top beaches in Singapore.
Famous for: Beach sports such as beach volley, banana ride, beach riding among others, and laid back eateries serving a wide range of snacks and beverages.
Facilities available: Beachfront hotel, Beach tram, pavilions, restaurants, little shops, and walkways.
Suggested Read: 11 Stunning Temples In Singapore You Must Visit On Your Holiday
3. Tanjong Beach – The Party Spot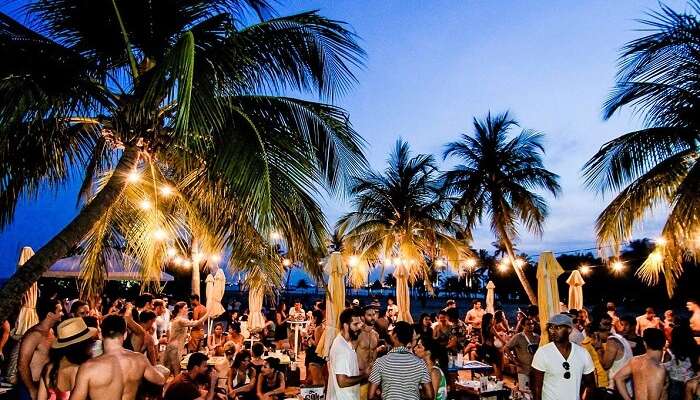 A man-made wonder, Tanjong is rated among Singapore's best beaches. It is hidden in the south coast of Sentosa and blessed with a beautiful crescent-shaped beachline, shallow warm water, tropical palm trees, and glittering white sand. It is the ultimate party destination, where Tanjong Beach Club organizes night beach parties every fortnight. Just walking distance from Palawan Beach, it has vibes that push you to let go and relax.
Famous for: Happening beach parties organized by the Tanjong Beach Club.
Facilities available: Beach side swimming pool, cabanas, loungers, shelters, rental bikes, and deck chairs.
Suggested Read: 10 Best Dishes Of Singapore Cuisine To Turn Food Blues Into A Riot Of Flavors
Beaches Of Singapore On The East Coast
If you are residing on the east coast side in Singapore, here are the following beaches where you can spend your time at leisure.
4. Changi Beach – A Tropical Beach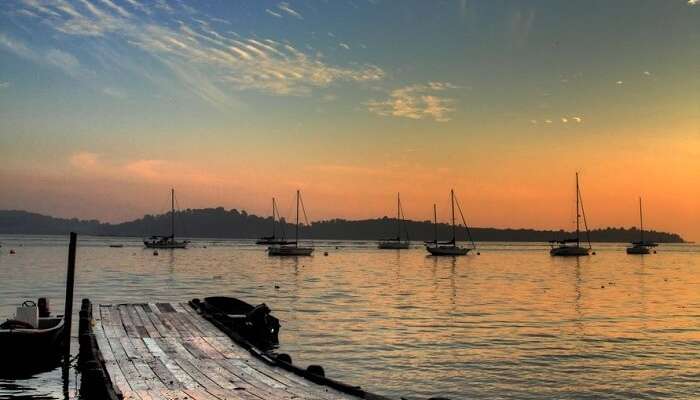 Located on the east coast, Changi Beach is one of the best tropical beaches in Singapore. More popular with families, fitness freaks, and leisure lovers, people flock here to either lounge around on the beach or jog on the mystic trails of Changi Beach Park. It is one of the best beaches in Singapore for swim. The highlight of this Singaporean beach, however, is plane spotting. People come from all over the country to watch low flying planes, preparing to land at Changi Airport.
Famous for: Plane spotting and walking trails of Changi Beach Park.
Facilities available: Camping, park benches, beach barbeques, paved walking trail, barbecue pits, children's playground, shelters, and cycling trails.
Suggested Read: 15 Singapore Travel Tips You Must Follow For An Impeccable & A Value For Money Experience!
5. Punggol Beach – An Offbeat Beach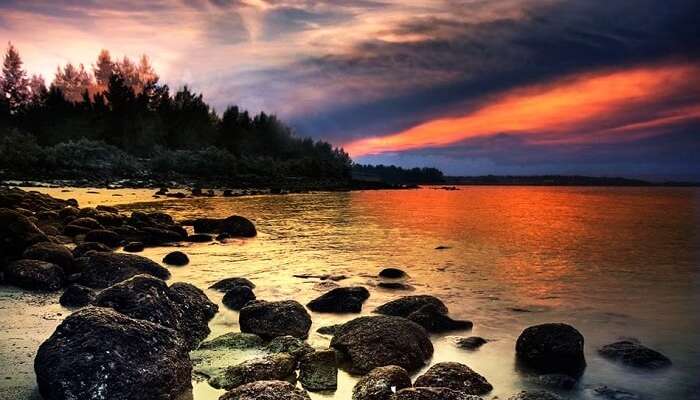 Most unexplored of the Singapore beaches, Punggol Beach is hidden in the equally unexplored Punggol Point. But its beauty ensures that it is always included in the list of Singapore beaches. Though well-connected to the main city by MRT shuttle and bus, the beach is not frequented by many. The prime beauty and calmness of the place proves to be a haven for couples and peace seekers. The fine sand expanse is perturbed by the huge boulders of rocks making it a blissful sight at dawn and dusk.
Famous for: Untouched beauty complete with heavenly peace.
Facilities available: Jetty station, walking trails, an eatery and proper signboards.
Suggested Read: Singapore In June 2020: 10 Experiences For A Happy Holiday Despite The Weather
6. Kusu Island – The Unexplored Beaches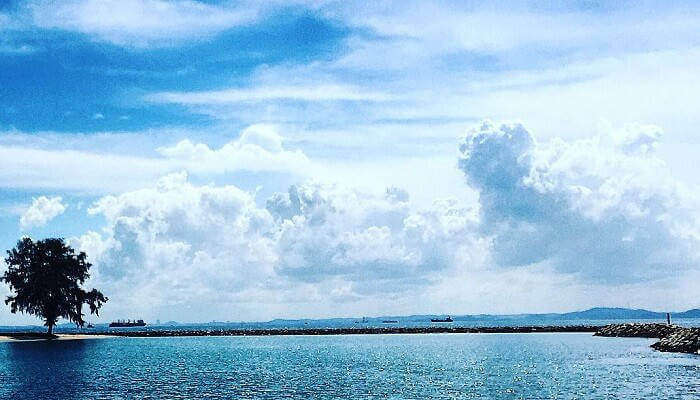 Kusu Island, off the coast of Singapore, is among the quiet beaches tour in Singapore. The island houses a sanctuary which is home to hundreds of turtles. However, the USP of the island is its pristine beaches. Natural beauty surrounds every core of these beaches in the form of lush green trees, colorful sky, clear waters, and whitest of sand.
Famous for: Turtle Sanctuary and causeway between two island pieces.
Facilities available: Turtle sanctuary, cabanas, beach shelters, paved paths, and a few eateries.
Note: Camping is not allowed on the Kusu island beach to ensure the safety and well-being of turtles.
Suggested Read: 10 Picture-Perfect Singapore Islands For An Enchanting Vacation
7. Lazarus Island – Prime Beaches In Singapore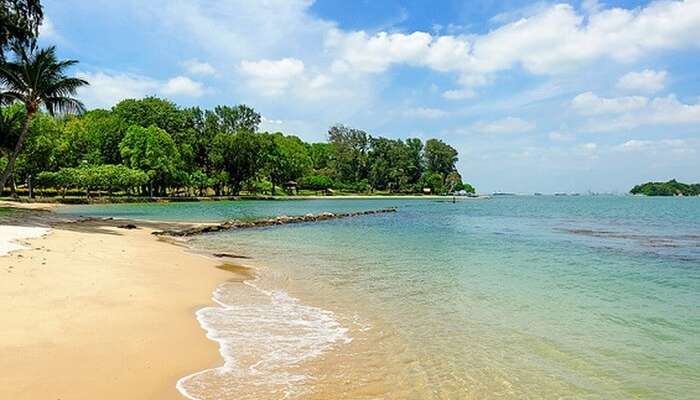 There are many nice beaches in Singapore, but the beaches on Lazarus Island have some special vibes. Lazarus Island is the country's best-kept secret. The rustic atmosphere and tropical feel of the place is refreshing after the city noise. Infact the complete feel of Lazarus beach—turquoise water, white sand, and cheerful atmosphere—can give the best of honeymoon destinations of Asia a run for their money. The tropical jungle lining the beach makes for a good escape.
Famous for: Tropical feel, tranquil atmosphere, and turquoise water.
Facilities available: Beach pavilions, footpath, and good eateries serving the best of exotic seafood and other delicacies of Singaporean cuisine.
Suggested Read: 25 Free Things To Do In Singapore In 2020 We Bet You Didn't Know About
8. Pulau Ubin – Off Treasured Beaches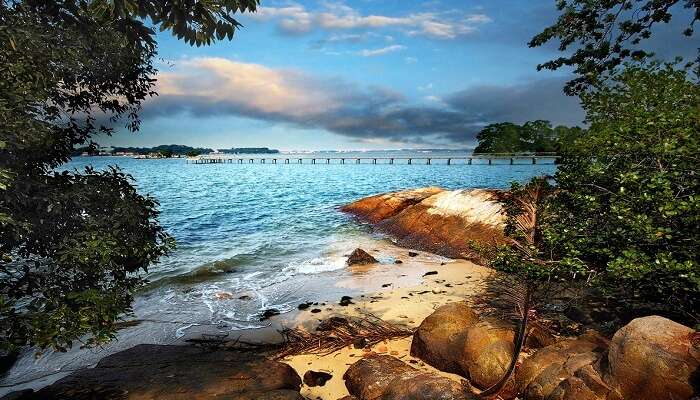 Among all the other beaches to visit in Singapore, the island of Pulau Ubin offers nirvana in the bustling world of the country. Offering the pleasures of simple village life, Pulau Ubin welcomes people who look for peace and tranquility. The famous Chek Jawa wetland beaches, secluded beaches, lush plantations, island's architecture – all seem to hold the interest of tourists. However, the taste of authentic local delicacies prepared from fresh fish and octopi steal the show.
Famous for: Village-like atmosphere, simple living and sedating peace.
Facilities available: Rental bikes, walkways, souvenir shops, local stays, restaurants and local eateries, cycle paths, and Jawa Visitor Centre with viewing jetty.
Note: Beach camping is a fun activity, which people partake in some parts of the island.
Suggested Read: Go Berserk With Fun At Universal Studio Singapore With These 11 Must-Have Experiences
9. Pasir Ris Beach – The Famous Picnic Spot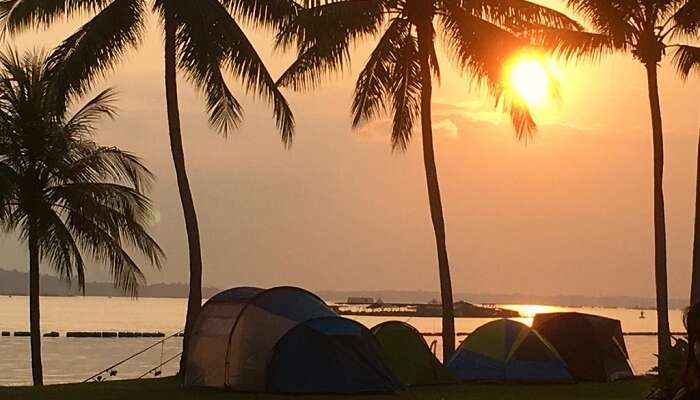 Among the largest beaches in Singapore, Pasir Ris Beach is a wonderland for kids and adults alike. The 6.6 km long beach is lined up with lush mangrove forests where you can have your share of adventure. Enjoy having a picnic by the beach under the sun and surrounded by the cool ocean breeze. The views of the ocean from this beach are also breathtaking.
Famous for:Picnics and natur walks, park
Facilities available: There is a cycling track, park, and a playground area which also features play-station
Suggested Read: Taking A Well-Deserved Break: Our Corporate Trip To Singapore
10. East Coast Park – A Themed Beach Park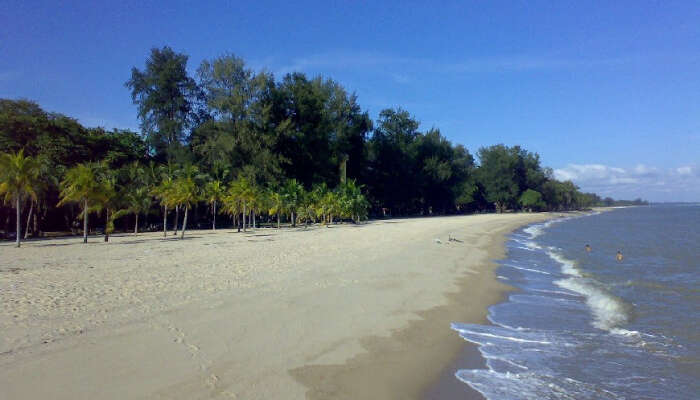 Established in the 1970s, East Coast Park is a beach-park with urban settings in Singapore. The park has some of the good beaches in Singapore. The park is based on the theme 'Recreation for All' and features everything that is needed for the recreation of people of all ages. Spread along 15 km of coastline the East Coast Park's objective is to create a city within a park. Here, you can jog, ride a cycle ride or indulge in water sports including Cable Skiing and skating.
Famous for: A variety of water and land sports activities and Xtreme Skate Park
Facilities available: public restrooms with shower, resto-bars, cafés Bistros
Further Read: 16 Romantic Places To Visit In Singapore For Your Honeymoon In 2020
Singapore has a plathora of gorgeous beaches. Captivated by the variety and beauty of the Singapore beaches? Plan a trip to Singapore now and have the most whoopee beach holiday ever! Just shove your sunscreen, sunglasses, beachwear, and a hat and head out to the Lion City.
Frequently Asked Questions About Beaches In Singapore
Q. Can you swim at Changi Beach?
A. Yes, you can swim at Changi Beach. Not just swimming, there are a lot more activities that you can enjoy on the beach like having a picnic, barbeque, or jogging. You can even hire a bike and enjoy cycling. There are park benches and shelters where you can sit and gaze at the ocean for hours. Enjoy seafront dining at the bistro by the beach. However, the water at Changi Beach might be a little dirty. East coast beaches are cleaner and better for swimming.
Q. Does Singapore have good beaches?
A. Yes, some of the beaches in Singapore are popular owing to the views and activities they offer to the visitors. There are east coast beaches and there beaches on Sentosa Island. If you want quietness and solitude, then visit the east coast beaches, otherwiseSentosa beaches are perfect for a hip and happening day.
Q. How long is Changi Beach?
A. Changi Beach is 3.3 km long and stretches between Changi Point and Changi Ferry Road. It is one of the most famous beaches in Singapore and attracts a lot of tourists.
Q. How do I reach Changi Beach?
A. You can take a bus to Changi Beach. Bus services 2, 29, 59 and 109 will take you to Changi Village. From the bus stop, the beach is just a 5-minute walk on the pedestrian footbridge to the park.
Q. Where can I sunbathe in Singapore?
A. You will find multiple spots in Singapore where you can enjoy the sun. Bukit Timah Reserve and Tanjong Beach Club are where you can lay down in the sun after you apply suntan lotion.
Q. Are there any beaches in Singapore that are good for swimming?
A. The Sentosa Island in Singapore has some of the top beaches that are suitable for swimming. Palawan Beach and Tanjong Beach in Sentosa are popular among the swimmers.
Q. Is Sentosa a man made island?
A. Sentosa Island in Singapore has man-made beaches and a 380-meter long man-made causeway that connects the island with the mainland Singapore.
Q. How do you get to Sentosa?
A. Sentosa can be reached from the Singapore mainland through a short causeway or Cable Car, which starts from Mount Faber and passes through HarbourFront en route to its final destination at Imbiah Lookout. The island is also accessible by the Sentosa Express monorail. There are three stations on Sentosa and one on mainland Singapore. Visitors can also access the island via the Sentosa Boardwalk which is parallel to the causeway.
People Also Read:
5 Days In Singapore For Honeymoon 9 Days In Singapore And Bali Singapore With Kids
Comments
comments