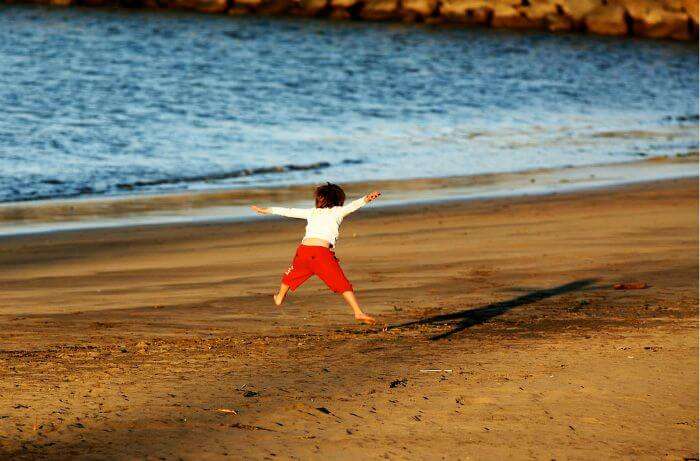 The Indian coastline is one of the longest in the world with incredibly scenic beaches. And lately the best beaches in India, especially the ones on the west coast are trending in the travel scene. The beaches here offer pulsating adventure to serene solitude, and of course lively parties.
Each beaches in India have something different to offer and altogether a different experience. From vibrant parties to water sports, spending time in leisure to private coves, there is something in store for all kinds of travelers. Here we have combined a list of all the beautiful beaches in India. Pick that suits you the best and have the most amazing beach vacation with your loved ones.
54 Best Beaches In India
So, if you're one of those people who would rather chill out at the beaches than hiking up a mountain, we bring to you the best beaches in India. From the party capital, Goa to the serene white sand islands of Andaman, this extensive list will act as your beach bible to explore the coastline of India. Read on!
Radhanagar Beach, Havelock Island
Ross and Smith Island Beach
Wandoor Beach, Port Blair
Wandoor Beach, Port Blair
Kala Pathar Beach
Elephant Beach
Palolem Beach
Baga Beach
Majorda Beach
Agonda beach
Vagator Beach
Mandrem Beach
Arambol Beach
Varkala Beach
Marari Beach, Alleppey
Lighthouse Beach, Kovalam
Cherai Beach, Kochi
Poovar beach, Thiruvananthapuram
Kozhikode Beach
Muzhappilangad Drive-in Beach
Munambam beach, Ernakulam
Om Beach, Gokarna
Half-moon Beach, Gokarna
Kaup Beach, Udupi
St. Mary Island
Ullal Beach
Auroville Beach
Serenity Beach
Plage Paradiso Beach
Covelong Beach, Chennai
Mahabalipuram Beach
Marina Beach, Chennai
Elliot's Beach
Dhanushkodi Beach
Muttom Beach, Kanyakumari
Kanyakumari Beach
Ganapatipule Beach
Tarkarli Beach
Alibaug Beach
Juhu Beach
Madh Island Beach
Velneshwar Beach
Rishikonda Beach
Ramakrishna Beach
Yarada Beach
Jampore Beach
Nagoa Beach
Mandvi Beach, Gujarat
Agatti Island
Minicoy Island
Kavaratti Island
Bangaram Island
Konark Beach
Puri Beach
Beaches of Andaman
The white sand islands of Andaman and lush greenery makes up for some of the best beaches in India. Given below are our favorite picks.
1. Radhanagar Beach, Havelock Island
In the year 2007, Time's Magazine ranked Radhanagar Beach as Asia's best and 7th in the world. So, it's needless to say that it is the best beach in India. Many people across the world come over to marvel at this lovely beach. But if you want some time alone go for a stroll along the shores, you'll find much-needed tranquility around.
2. Ross and Smith Island Beach
Similar to tropical equalizers, the twin islands of Ross and Smith are connected by a narrow sandbank of glittering white sand. It is definitely one of the top beaches in India that offers incredible swimming and snorkeling experience in Andaman. Also known as Twin Islands of the Andaman, these actually are different islands that are connected to each other by a natural sandbar in the middle of the sea.
Must Read: 14 Thrilling Water Sports In Andaman: No Swimming Required!
3. Wandoor Beach, Port Blair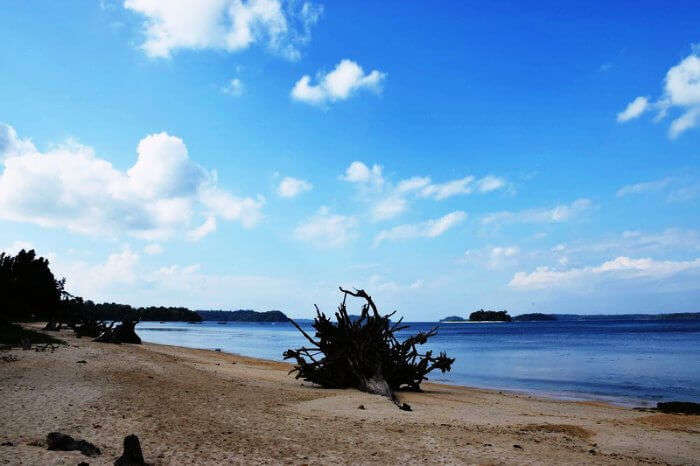 Wandoor Beach is a famous tourist spot in the Andaman Islands, situated in Port Blair. It spread over a vast area and is usually frequented by a lot of tourists and is one of the best beaches in India for honeymoon. If long walks on the beach are what you're looking for, this is just the place. Along with that don't miss visiting the Mahatama Gandhi National Marine Park, which is located in close proximity to the beach.
4. Merk Bay Beach, North Passage Island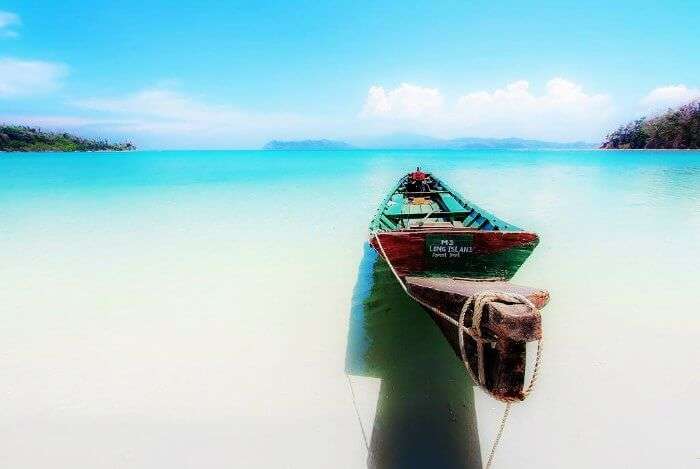 The Merk Bay Beach in North Passage Island has all the features to be the best beach in India- dazzling white sand, turquoise blue waters, peaceful ambiance, and breathtaking atmosphere. You have to make a short journey of about an hour in one of the typical Andamani boats (dunghi) to reach the beach. The best thing about the beach and the island is that it is uninhibited, which makes it unperturbed and downright calming.
Suggested Read: Top 53 Places To Visit In Andaman
5. Kala Pathar Beach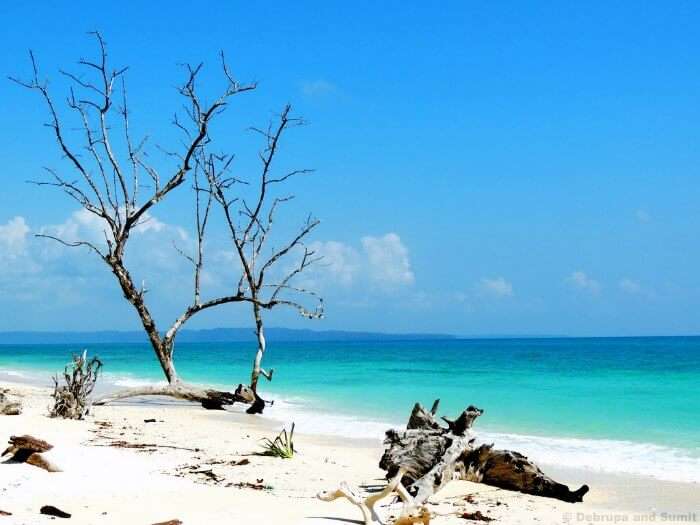 Kala Pathar beach is a small beach in Havelock Island of Andaman fame for its rugged charm. The quintessential sight of Kala Pathar beach is aqua green waters hitting the silvery shores bringing in dead corals with them. It is not an ideal beach to snorkel or swim but it is without a doubt one of the most beautiful beaches in India.
6. Elephant Beach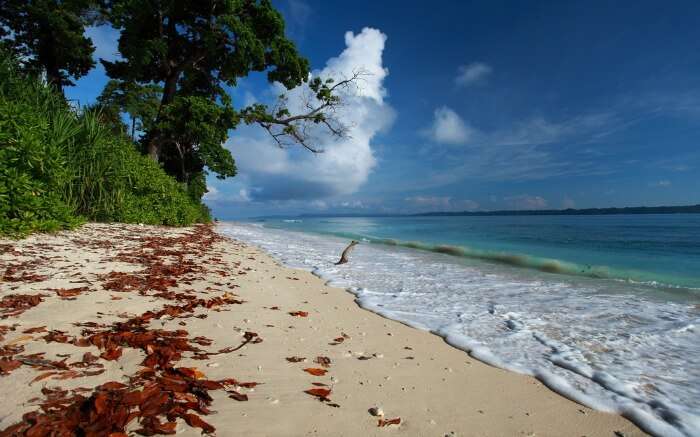 Last on our list of the best beaches in Andaman is the gorgeous Elephant beach on Havelock island. The beach is accessible through a boat ride or a 30 minutes jungle trek. The beach is popular for the crystal blue waters, lush greenery surrounding it, and sparkling white sand. The beach is popular among adventure trekkers and couples.
Suggested Read: 19 Best Hotels and Resorts in Andaman For Every Budget
---
Planning your holiday but confused about where to go? These travel stories help you find your best trip ever!
---
Beaches of Goa
The much deserving title of the party capital makes Goa's coastline famous across the globe. Below are some of the best beaches in India located in Goa.
7. Palolem Beach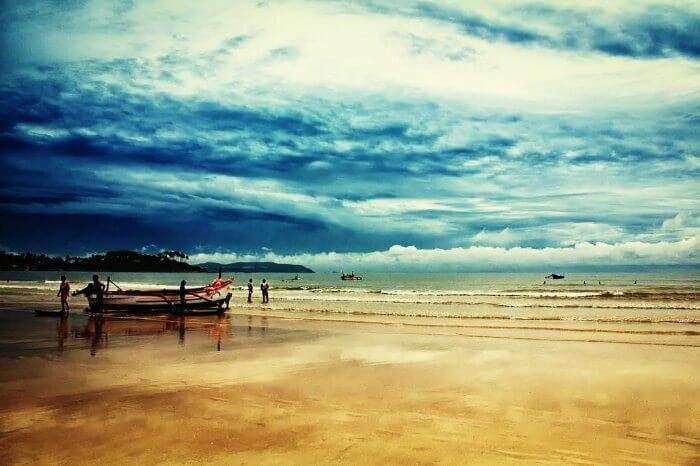 Palolem is charming, comparatively less crowded and a pristine beach in south Goa. It is one of the top beaches in India and is famous for the Silent Noise-Party for which a huge crowd gathers from all across the globe. This year, the beach has been regarded as second best beach in India and eighth best beach in Asia by TripAdvisor.
8. Baga Beach
The party central of Goa, Baga Beach is one of the most famous beaches in India. Situated in North Goa, it is known for its beach parties, nightlife, and amazing seafood served at the beach shacks and restaurants. Even if you're not into loud parties, you can simply find your own corner on the beach and listen to your favorite music while glancing at the gamboling waves kissed by the moonlight.
9. Majorda Beach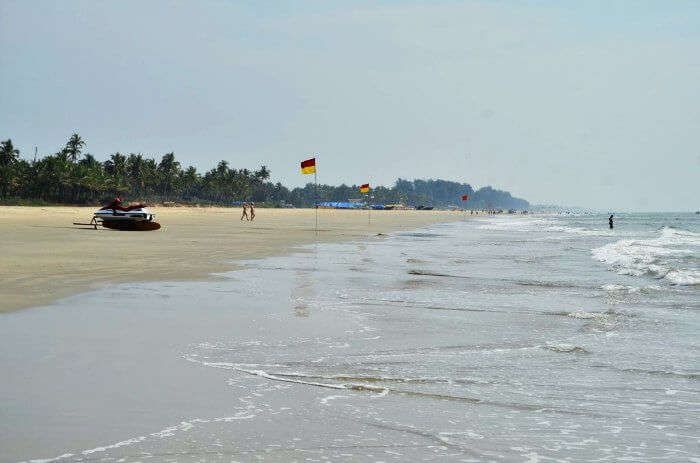 Majorda is yet another South Goan beach famous for its breathtaking beauty, bakeries, and toddy that is found in abundance here. It is one of the most beautiful beaches in India that offers luxurious sea-facing accommodation options. That's not it, Majorda has been associated with Hindu legend, as per which Lord Rama was brought here after being kidnapped during his childhood.
Suggested Read: 28 Water Sports To Experience The New Goan High!
10. Agonda beach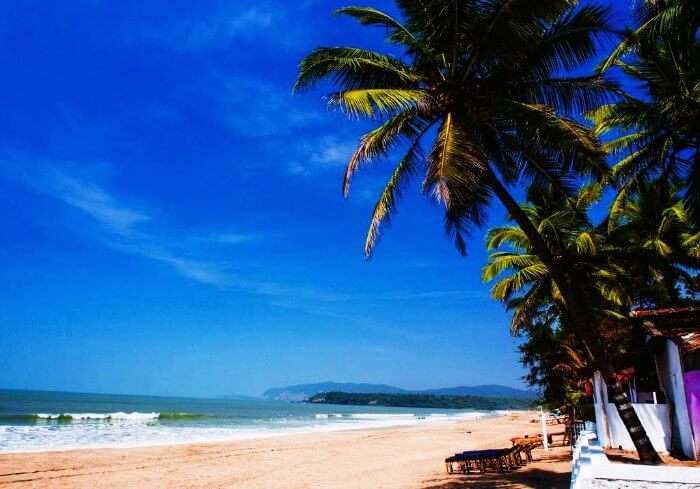 Considered among the most picturesque beaches in Asia, Agonda Beach is serene and quiet clean compared to the beaches in North Goa. It is also moderately less crowded, which means you can enjoy solitude and have a relaxing time. The beach is popular as a Ridley turtle nesting site, which is actually endangered. So make sure that you're not running out of batteries when heading to this beautiful spot.
Suggested Read: 14 Reasons Why A Trip To Goa In Monsoons Will Be Your Best Trip Ever
11. Vagator Beach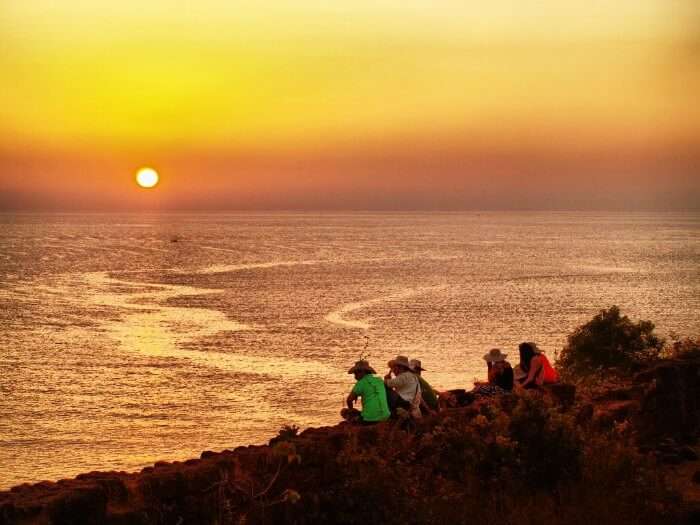 Vagator beach is the center of Goa's trance party scene. The beach is situated at the bottom of a steep cliff and the famous fort Chapora is also located on the beach. It is definitely one of the best beaches in India, especially due to the rugged rocks that make the shore stand apart from most of the other beaches of Goa. Sit on any of the rocky formations and let the waves play with you.
12. Mandrem Beach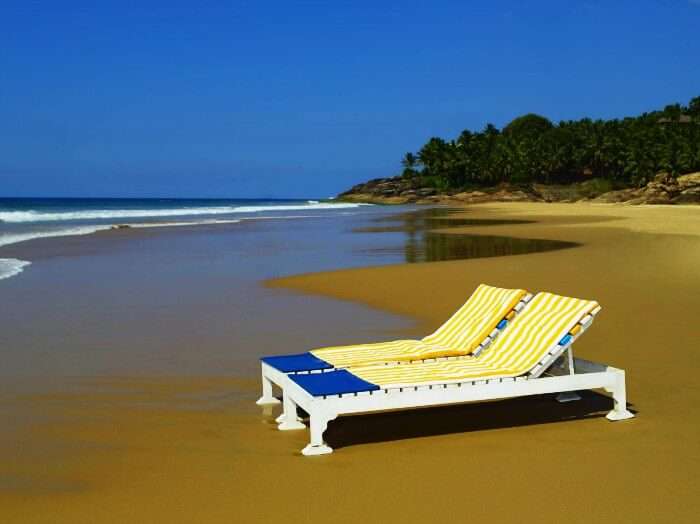 Situated in North Goa, Mandrem is a tranquil and serene beach that is counted among the best beaches in India. It is a highly preferred beach by honeymooners. The seclusion and the beautiful beach provides the much-needed privacy to couples which makes it one of the best beaches in India for honeymoon. So all you need to do is get on your rented scooter and hit the road to Mandrem, the journey is in fact as beautiful as the destination.
13. Arambol Beach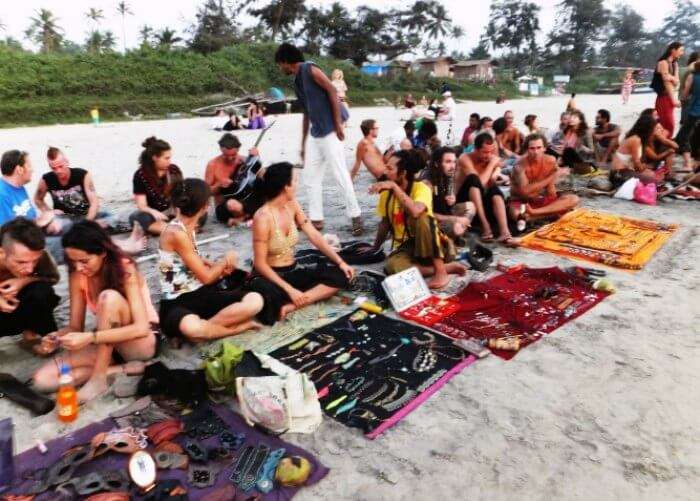 Arambol is hippie's paradise in all of Goa. The quintessential scene of Arambol beach is a laid back environment where musicians are jamming and foreigners selling trinkets. It is undoubtedly one of the top beaches in India where I love to spend my time. Take a short stroll near the sea and spend quiet moments around the freshwater lake. Of you're into sports and activities this beach won't disappoint you either. Kite surfing, paragliding, meditation, Yoga, and classes for dance and musical instruments are some of the activities you can indulge in when you're visiting Arambol Beach.
Suggested Read: 25 Best Beaches In Andaman & Nicobar Islands Water Babies Must Visit
Beaches of Kerala
The natural bounty of Kerala includes mountains and beaches both which is why they say, you haven't seen anything till you've seen 'God's own Country'. Check out the best beaches in India that are located in Kerala.
14. Varkala Beach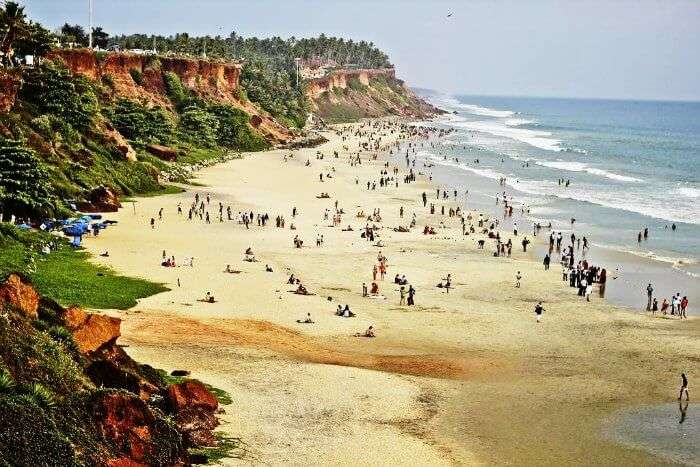 Varkala is the only beach in southern Kerala where the cliffs run adjacent to the sea. Many travelers claim to have witnessed the most breathtaking sunset at this beach. Nonetheless, it is counted among the best beaches in India. Varkala Beach is also known as Papanasham Beach, which means washing the sins away. The water of this beach is said to have medicinal properties owing to the fact that many medicinal herbs are found around the beach.
Suggested Read: These 10 Breathtaking Places In Kerala Come Alive During Monsoons
15. Marari Beach, Alleppey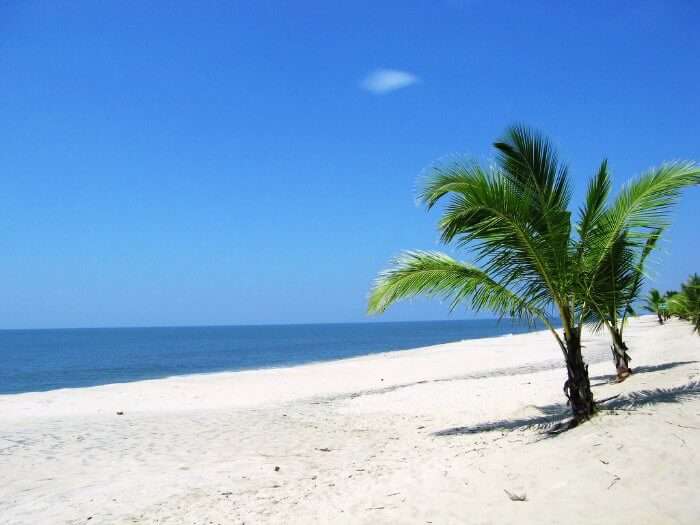 Marari Beach in Alleppey is well known for its unmatched cleanliness and stunning environs. The water here is ideal for swimming, snorkeling and at times even some surfing. At Marari beach, unlike other popular beaches in Kerala, you can catch a glimpse of the quintessential Kerala village life. There are many beach resorts around the beach where you can enjoy a pampering and unforgettable stay.
16. Lighthouse Beach, Kovalam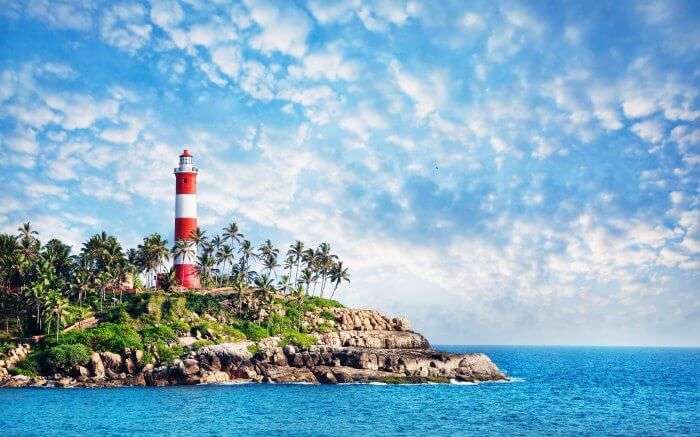 The most popular out of the three beaches in the Kovalam cove, the Lighthouse Beach to Kerala is what Baga is to Goa. It is where all the action and the crowd is. The beach is also replete with numerous leisure hotels and staying in one of these will do the trick for a relaxing holiday for you! The main highlight of this beach, undoubtedly, is the striking red and white lighthouse that's 35 m tall and stands on Kurumkal Hill.
Suggested Read: In Pictures: 20 Places To See Stunning Sunsets In India
17. Cherai Beach, Kochi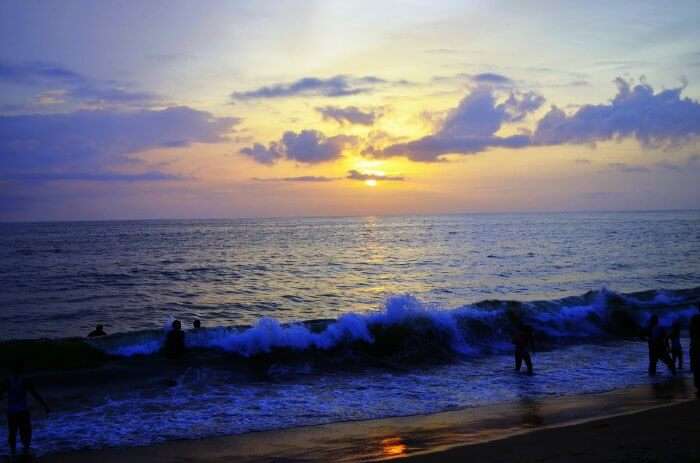 The best part about Cherai Beach is the point where the backwaters meet the sea. The tides are generally low here and even rookies can easily swim and have fun. Apart from that the beach is also famous for the multihued sea shells found here.
18. Poovar beach, Thiruvananthapuram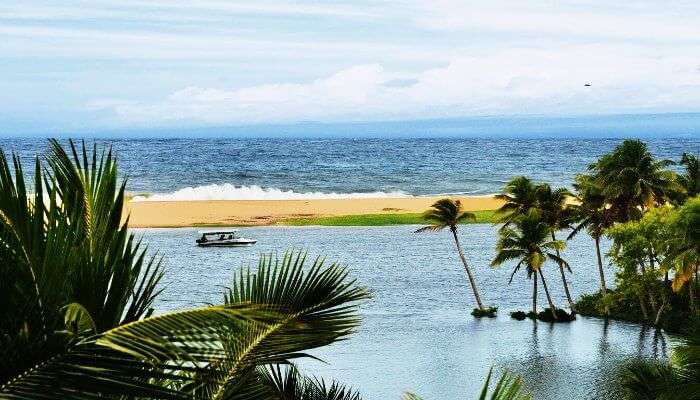 Poovar beach is the most unusual, unspoilt and charming beaches in Kerala. Enveloped by serene backwaters, an estuary that leads out to the sea and a dreamy golden sand, this beach is definitely one of the best beaches in India. In the foregone era, this beach acted as a major trading point and today this is a traveler's paradise.
Suggested Read: 15 Things To Do In Port Blair That Will Urge You To Plan An Andaman Holiday Now
19. Kozhikode Beach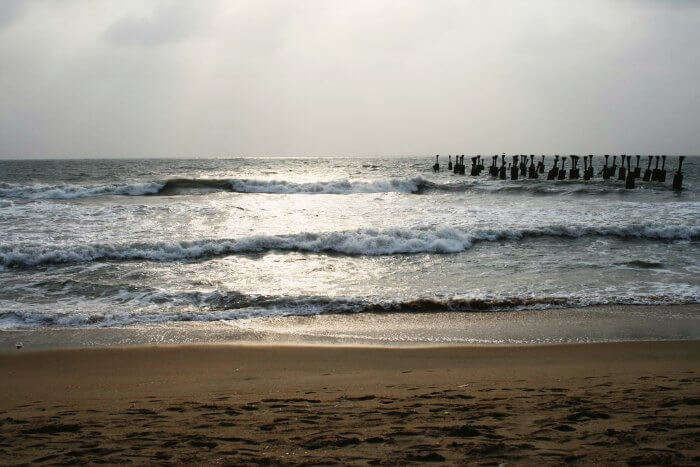 Kozhikode Beach is the best hunt for sunset views in Kerala. Adding to the beauty of the place are two crumbling piers more than a century old and a lighthouse retaining its old world charm. Visit this beach to titillate your taste buds with some of the most delicious seafood, specially kallumekaya (mussels). In the evening, head straight to the Dolphin's Point to witness the sight of frolicking dolphins.
20. Muzhappilangad Drive-in Beach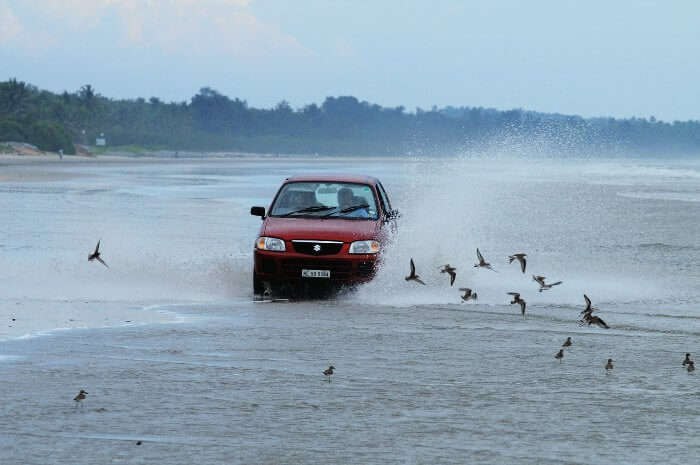 Muzhappilangad Beach is one of the few drive-in beaches in the country which makes it one of the most famous beaches in India. Situated between Kannur and Thalassery, the long coastline can be driven through. Activities like parasailing, microlite flights, paragliding and catamaran ride can be enjoyed here.
Suggested Read: 37 Amazing Things To Do In Kerala For An Incredible Holiday
21. Munambam beach, Ernakulam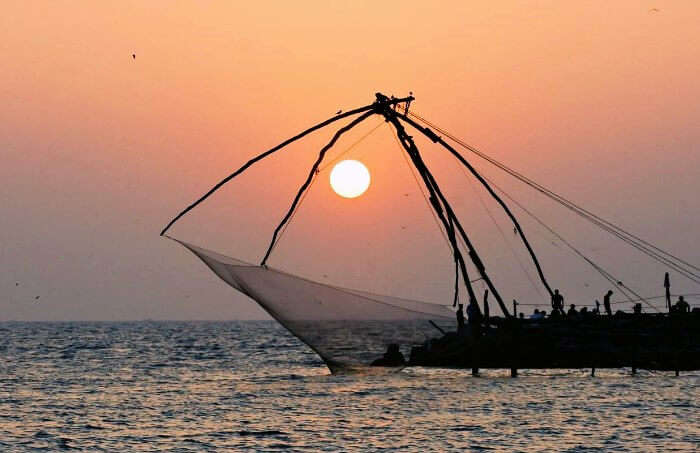 A long beach, situated near Vypeen Island in Ernakulam district, Munambam beach is worth paying a visit in Kerala. The Munambam beach is also one of those beaches in Kerala where you can see the huge fishing nets. It is also known as Muziris Golden Beach and it's famous for kite flying as well.
Beaches in Karnataka
With less crowd the beaches in Karnataka are cleaner and more serene than neighboring Goa. Here are some of the best beaches in India located in Karnataka.
22. Om Beach, Gokarna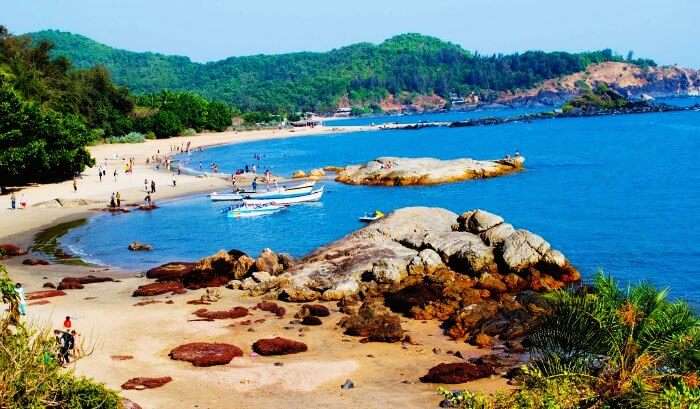 Image Source
Om beach is the most popular beach in Gokarna. The shape of the beach actually resembles the shape of an Om in Sanskrit which makes it quite interesting. The place, for obvious reasons have religious importance but has lately has turn into a hippie haven.
Suggested Read: Goa vs Gokarna: What's your pick for the Long Weekend?
23. Half-moon Beach, Gokarna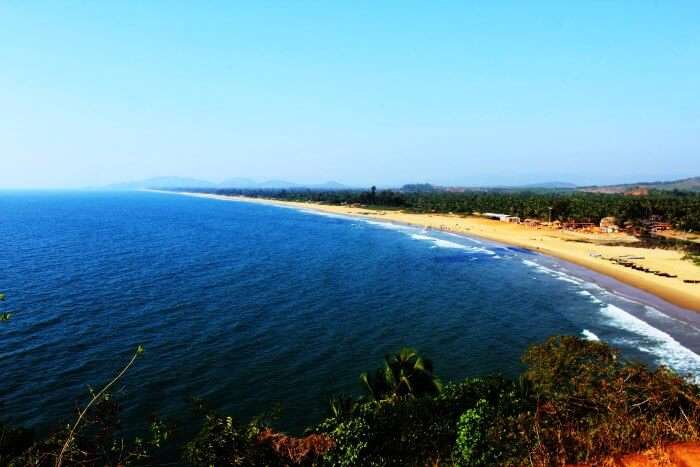 Disjointed by a cliff from the Om Beach, the Half Moon Beach offers spectacular views of the sea. The entire beach is dotted with typical Indian style village huts or shacks. The umpteen hammocks set amidst trees offers great opportunities for relaxation.
24. Kaup beach, Udupi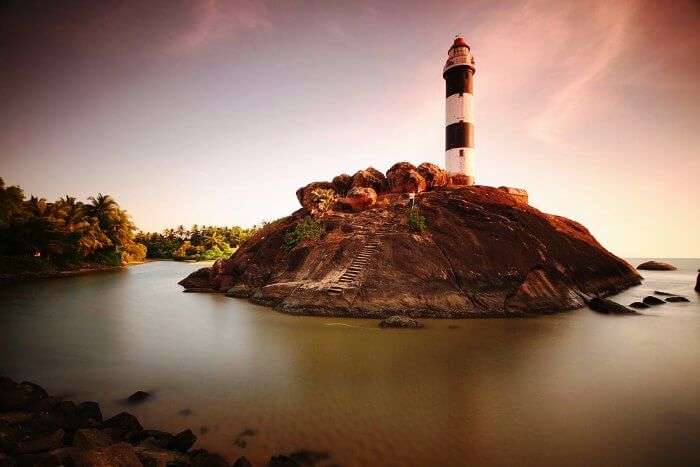 Kaup beach of Karnataka is one of the most popular beaches in Karnataka. The beach is famed for its serene environment and cool atmosphere. This is another beach in India where you can surf in the high tides. The black and white lighthouse on the beach totally steals the show. This lighthouse was built in 1901 and still serves the sailors. If you wish to enjoy a bird-eye view of the locale then you should climb the lighthouse by giving a small fee.
Suggested Read: Cruise To Andaman: 2022 Guide To Fares And Ferries From Kolkata, Chennai, Vizag
25. St. Mary Island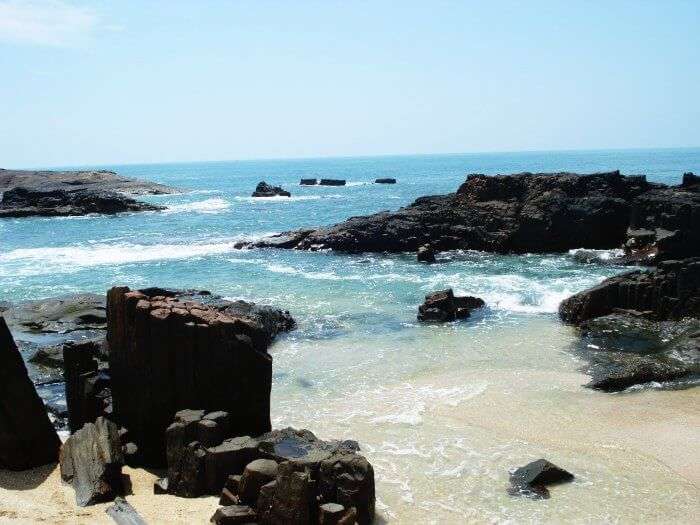 St. Mary's Island is a group of small islands on the coast of Malpe of Arabian Sea in the Udupi district of Karnataka. It is famed as the place where Vasco Da Gama landed in 1498. Quite strangely these beaches are not available for swimming or strolling, however, you can watch the unique formation of volcanic rocks here.
Suggested Read: 15 Places To Visit In India While You Are Still Young
26. Ullal Beach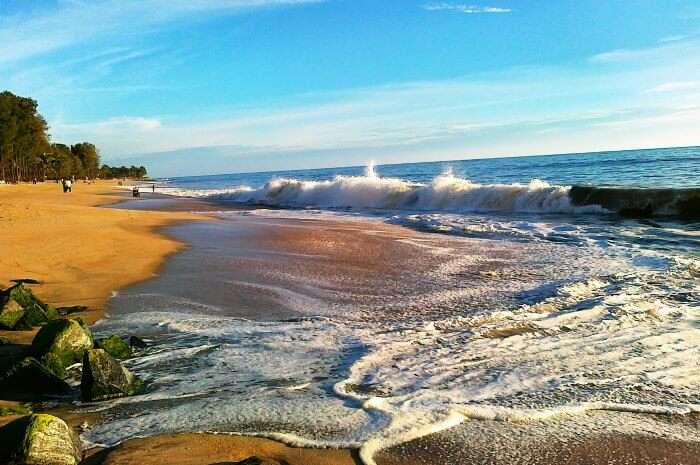 The picturesque casuarinas groves in Ullal Beach offer a spectacular view when the sun sets. The well-furnished cottages with palm-thatched roofs along the beach provide a perfect hideout. When taking a lazy stroll you'll find many spectacular historical sights like Someshwara Temple, Queen Abbakka's Fort and St. Sebastian Church, in close proximity to the beach.
Beaches in Pondicherry
27. Auroville Beach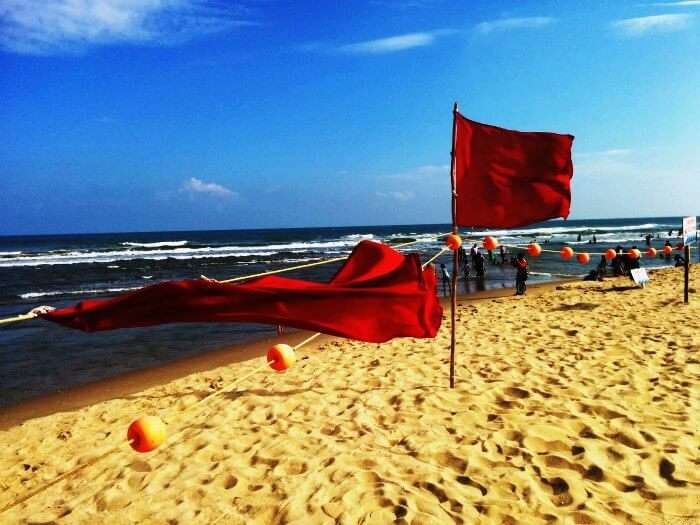 Located in the Auroville region of Pondicherry, the Auroville beach is one of the coolest beaches in South India. Frequented both by tourists and locals, the beach normally remains crowded, however, it's a popular hangout spot among youth.
28. Serenity Beach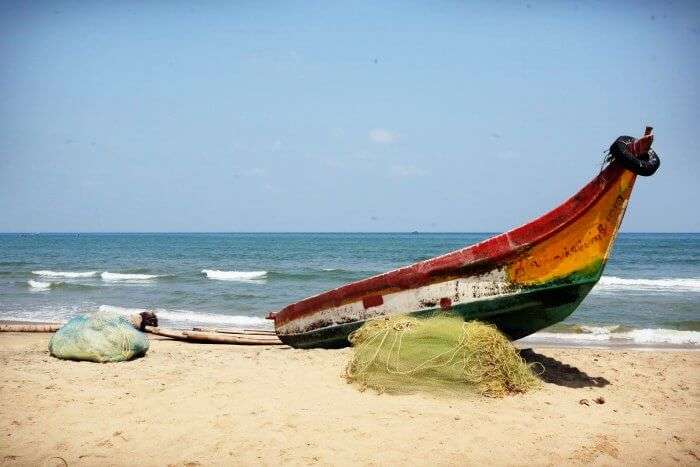 Aptly named Serenity Beach in Pondicherry is known to be a marvellously tranquil beach. Attracting scores of tourists for its idyllic beauty of this virgin beach is becoming the premier attraction of Pondicherry. The waves, however, in this beach are bigger and ideal for surfing. So, don't forget to try your hands on it, there are surfing schools too to teach you the skill. The weekend flea market will bring out the shopaholic in you, so go prepared.
Suggested Read: 42 Amazing Places To Visit In India's French Colony : Pondicherry
29. Plage Paradiso Beach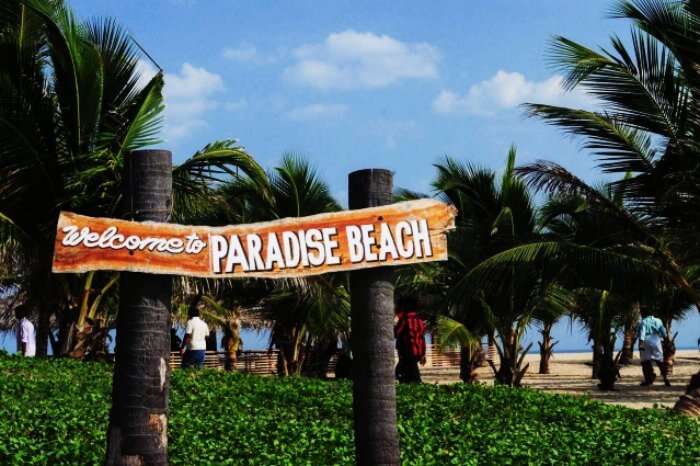 Another charming beach in Pondicherry, the Plage Paradiso Beach is a popular beach. The golden sun kissed beach is merging with the deep blue sea offers quite a sight for the visitors. Laying under the shade of the palm trees after a long sunbathe is a divine experience.
Beaches in Tamil Nadu
The golden sand and huge surfs makes the beaches in Tamil Nadu popular among tourists. Here are some of the best beaches in India located in Tamil Nadu.
30. Covelong Beach, Chennai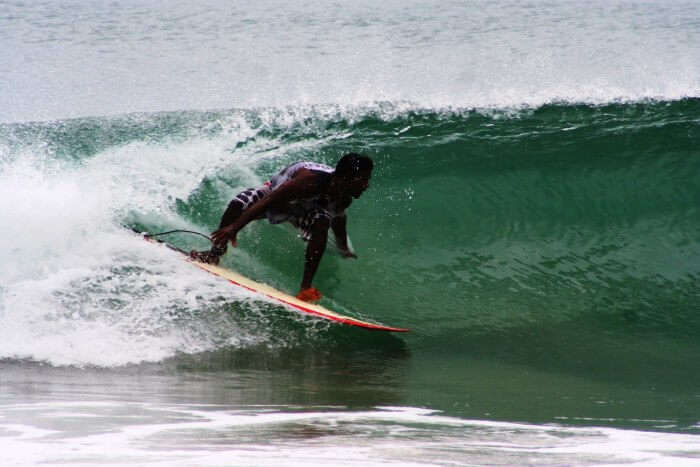 Historically one of the most prominent beaches of the Nawabs of the Carnatic, the Covelong beach is one of the most captivating beaches in Chennai. Various water sports like swimming, surfing, and windsurfing, etc. are quite popular here.
Suggested Read: 6 National Parks In Andaman That Lets Every Traveler Get Up & Close With Nature!
31. Mahabalipuram Beach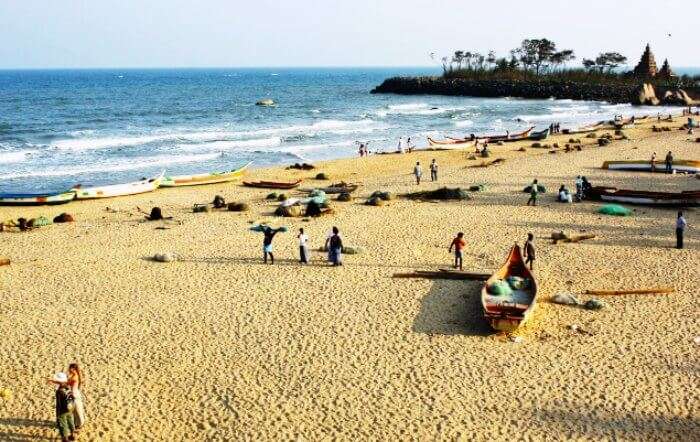 The surfing mecca of India, Mahabalipuram beach is famous for watersports across the county. The most beautiful aspect of this beach are the rock cut sculptures. There are many breath taking monuments like the Caves, Monolithic Rathas and Chariots as well as temples.
Suggested Read: 16 Reasons Why You Should Never Visit Chennai
32. Marina Beach, Chennai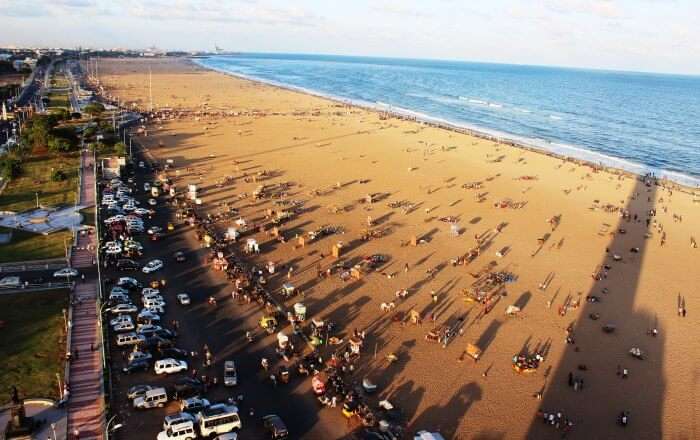 Being the second longest beach in the world and the largest in the country, Marina Beach in Chennai is one of the biggest crowd puller and one of the most famous beaches in India. You can enjoy leisurely evening and morning walk with crispy sundal and murukku available at food stalls on the beach.
33. Elliot's Beach
One of the cleanest beach in Chennai, Elliot's Beach is a popular hangout spot among the local youths. The beach is nicknamed as the Night Beach because young people gather here to enjoy in late evenings and nights. Do not worry about the hunger pangs as there are many restaurants and cafes that serve mouth-watering delicacies that will make your experience unforgettable.
Suggested Read: 53 Reasons To Look Forward To The Weekends If You Are in Chennai
34. Dhanushkodi Beach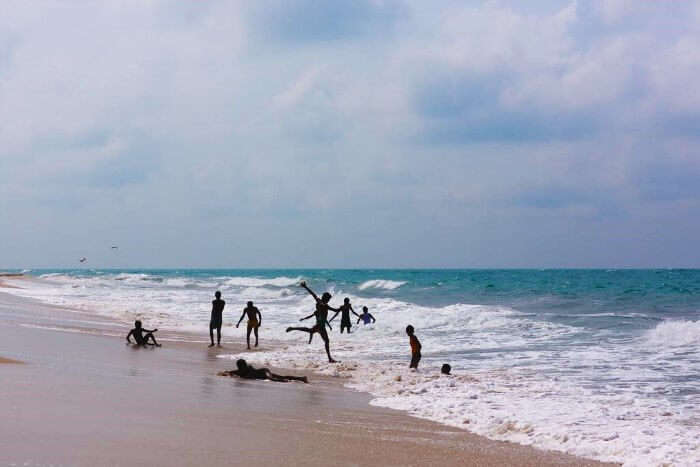 Dhanushkodi Beach located in Rameshwaram of Tamil Nadu is perhaps one of the most unusual beaches in South India and among the most beautiful places to visit in Rameshwaram. It is one of the places that was severely affected in the cyclone of 1964. You can view breathtaking views of the mighty Indian Ocean from the beach that is the closest point to Sri lanka from India.
35. Muttom Beach, Kanyakumari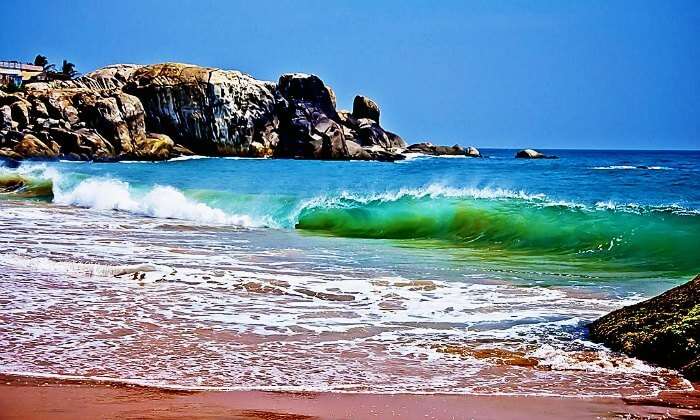 Muttom beach in Kanyakumari is without a doubt one of the most beautiful beaches in India. It's a rocky beach famous for its caves and is surrounded by a quaint fishing village. The cleanliness of the beach and the huge boulders scattered across the shore offers a striking and dramatic picture.
Explore The Ultimate List Of Places Near Chennai
36. Kanyakumari Beach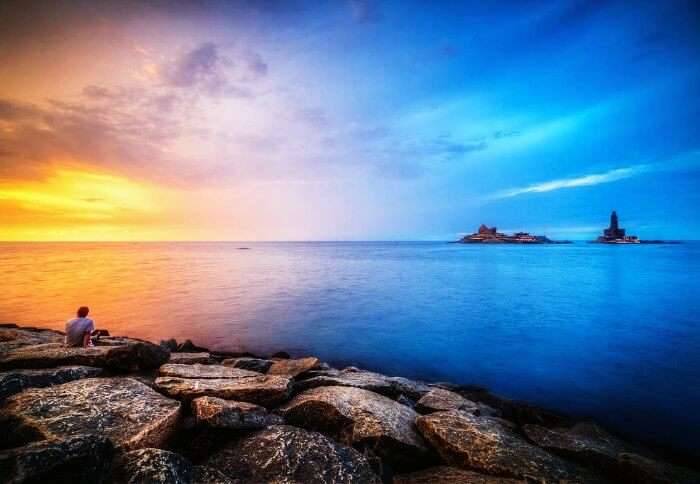 The southernmost tip of the country, the Kanyakumari beach is breathtakingly gorgeous. The beach is usually less crowded and but during the full moon days of April when it's said to offer awesome views of sunset and sunrise people gather to have a look. Besides, it's the confluence of the Bay of Bengal and Arabian Sagar with the Indian ocean, hence called Triveni. The gigantic Vivekananda Rock & Thiruvalluvar statue is also a treat to eyes.
Beaches in Maharashtra
Contrary to popular belief, the largest state of the country indeed has a serene and beautiful coastline. Here are some of the best beaches in India, located in Maharashtra.
37. Ganapatipule Beach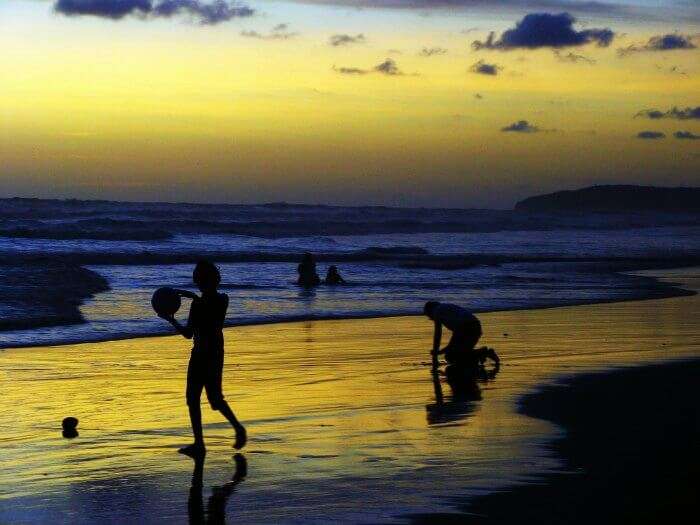 Unlike the crowded and dirty beaches of Maharashtra, Ganapatipule beach is a gorgeous and clean beach in the Konkan coast. It is an ideal getaway from Mumbai and Pune as it's some 300 plus km away from both the major cities of Maharashtra.
Suggested Read: 42 Best Resorts Near Mumbai For A Quick Relaxing Getaway
38. Tarkarli Beach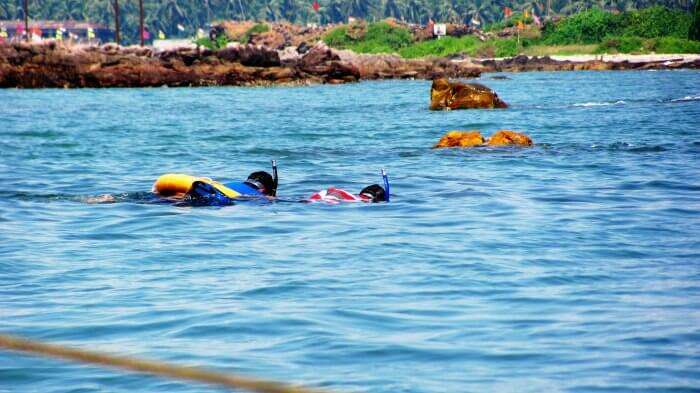 Tarkarli beach is the only scuba diving and snorkeling training center in Maharashtra. It is an attractive beach but it mostly attracts tourists because of its various water sports. The beach is enveloped with soaring Shuru trees, and the hamlets around it flaunts beauty in all its simplicity. You must not head back home without relishing the popular Malvan delights, it would be cherry on the cake if the meal is served and cooked by a local.
39. Alibaug Beach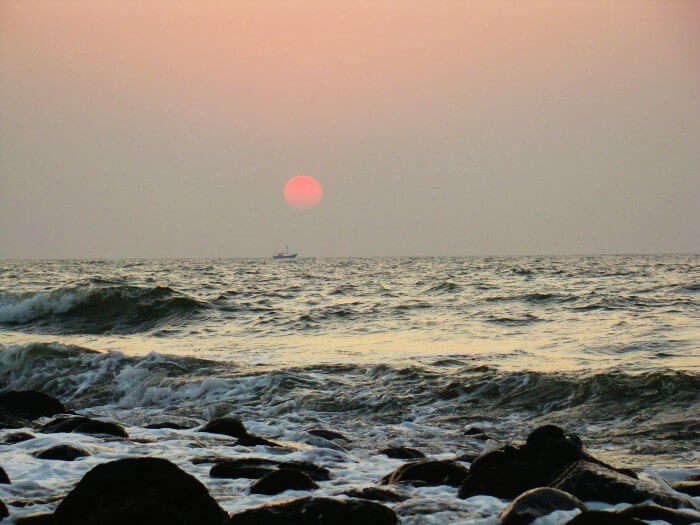 The Alibaug beach is a famous beach in Maharashtra where you can find the Sea Fort Kolaba built by Shivaji the great. Kashid Beach is also located nearby and both the beaches offer great views of the Arabian Sea. This also happens to be one of the most favorite and popular weekend getaways from Mumbai. In fact, one willing to do can also do a day trip from Mumbai.
Suggested Read: 29 Monsoon Destinations In India That Will Make You Dance In The Rain!
40. Juhu Beach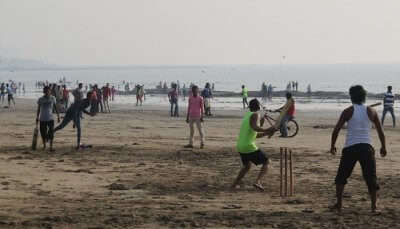 Image Credit: Manas46951 for Wikimedia
Located in Mumbai, Juhu is one of the most famous beaches in India. It is a posh beach and also one of the most crowded one offering tourists everything from watching film shoot to horse or donkey rides. Surrounding the beach, there are various eatables like chaat and the famous bhelpuri available for the visitors. The highlight of the beach is that many famous bollywood celebrities live near to this beach.
41. Madh Island Beach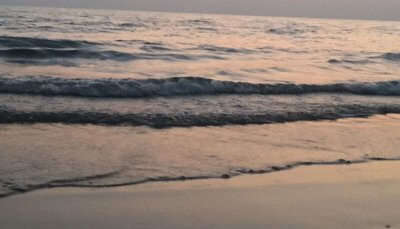 Image Credit: Krish1423 for Wikimedia
Disclaimer: The image is for representation purposes only.
Planning to visit Mumbai? Don't miss visiting Madh Island, one of the famous Indian beaches. It is a must-visit place to take a break from the bustling city life. Enjoy walking along the clean seashore and soak in the serene vibe of the beach. You can also visit popular attractions near the beach like Madh Fort, St. Bonaventure and more.
Suggested Read: Your Handy Guide To Mahatma Gandhi Marine National Park In Andaman
42. Velneshwar Beach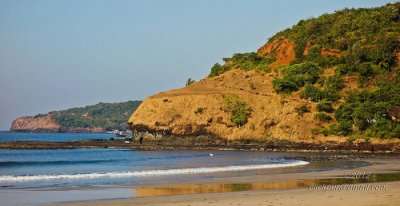 Image Credit: Udaykumar PR for Wikimedia
Velneshwar Beach is one of the other best beaches in India. An ideal place for swimming, the beach gives peaceful vibe to its visitors. Other activities you can indulge in at the beach are sun bathing, snorkelling, sun basking, surfing and boat ride. The destination is also famous for old Shiva temple.
Beaches in Andhra Pradesh
Another tropical region in India with lush greenery overlooking the sea is home to some of the best beaches in India. Add them to your list for an offbeat experience.
43. Rishikonda Beach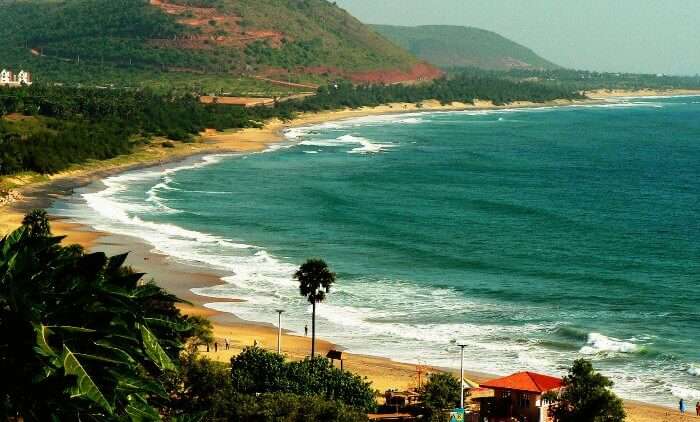 Jewel of the east coast, Rishikonda beach is one of the cleanest beach in India. The beach is located 8 km from in Vizag and is very popular among tourists and locals alike. It is also a haven for watersports lovers and is popular among windsurfers and jet skiers.
44. Ramakrishna Beach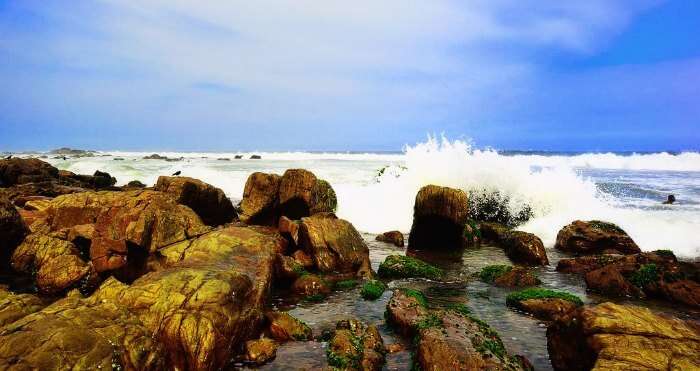 Named after the famous Ramakrishna Mission, the Ramakrishna Beach is another amazing beach for water sport lovers. Offers great opportunities to surf and jetski, the beach is also popular for the archaic Dutch cemeteries located along the beach.
45. Yarada Beach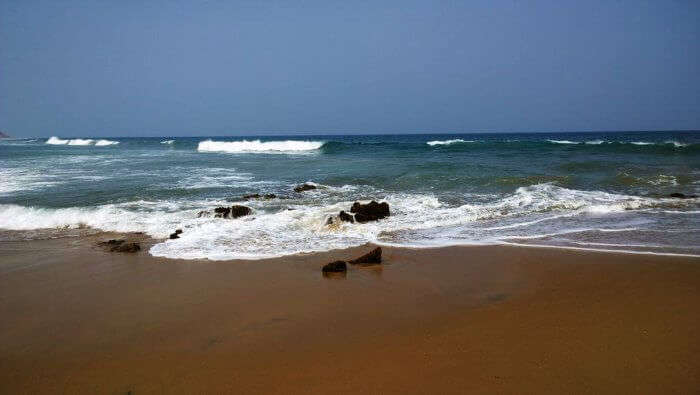 Yarada Beach is a true beauty- clean, pristine, and comparatively less crowded. It can easily be counted as one of the most beautiful beaches in India. Located some 15 km from Vizag, it is frequented by visitors from nearby cities. This is one of the calmest beaches where you can listen to your favorite songs, read your favorite book, or click some pictures that would be admired by all.
Suggested Read: The Definitive Weekend Getaway Destinations For Mumbaikars
Beaches in Gujarat and Daman & Diu
The 1600km long coastline of Gujarat is home to some of the most gorgeous beaches in India. Daman & Diu located right next door, is also famous for the most peaceful beaches in the country. Check them out here:
46. Jampore Beach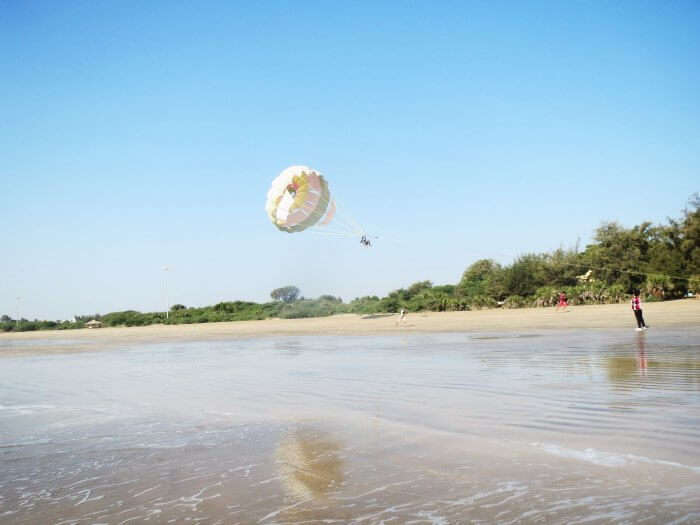 Jampore Beach is an awesome destination for a beach holiday in India. The beach is ideal for casual swimmers and various other adventure sports like parasailing, jetskiing, etc. The beach is regarded as one of the most magnificent beaches in Daman. Coconut groves are found in abundance along the shores, and the historical monuments in the region add on to an awesome vacation.
47. Nagoa Beach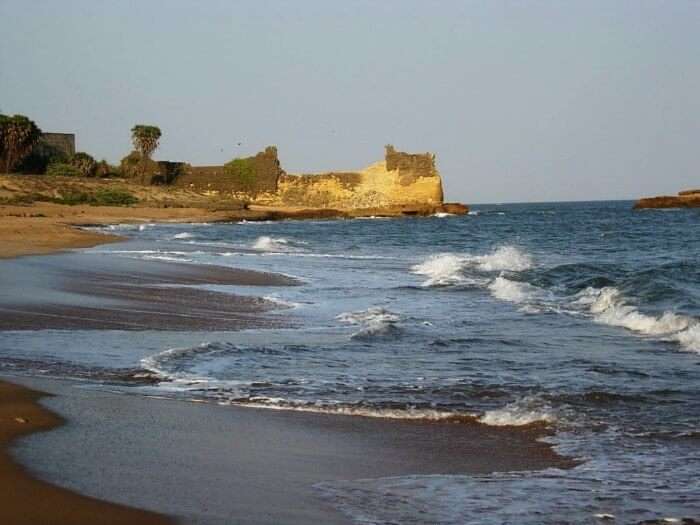 Nagoa beach in Diu is the best beach that you can visit in Daman and Diu. Comparatively less crowded with blue crystal waters, the beach offers various options for water sports and leisurely activities – Such as parasailing, bumper boating, speed boat, banana boat and jet skiing. When glanced at from the top, the beach somewhat resembles of the shape of horse shoe.
48. Mandvi Beach, Gujarat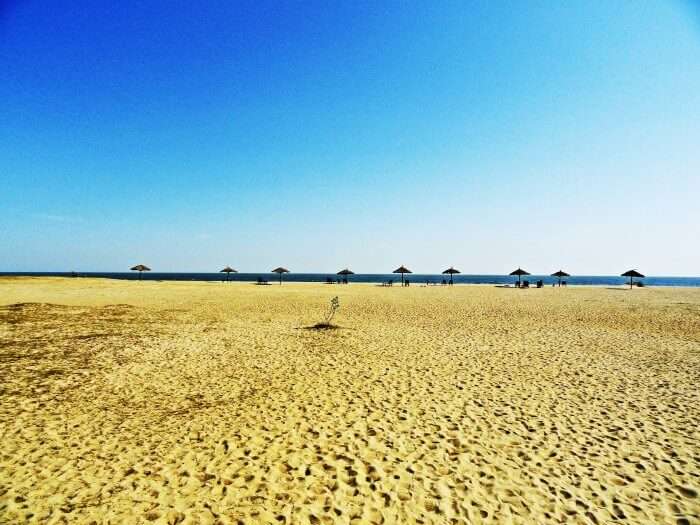 Mandvi Beach is located in the Kutch region of Gujarat. The beach offers incredible views of the sea and is a popular beach getaway in India. The serenity and cleanliness of the beach is something that attracts scores of tourists to the beach.
Beaches in Lakshadweep
The tropical archipelago of 36 atolls and coral reefs in the Laccadive Sea, off the coast of Kerala, Lakshadweep has some of the most beautiful beaches in India.  Check them out here:
49. Agatti Island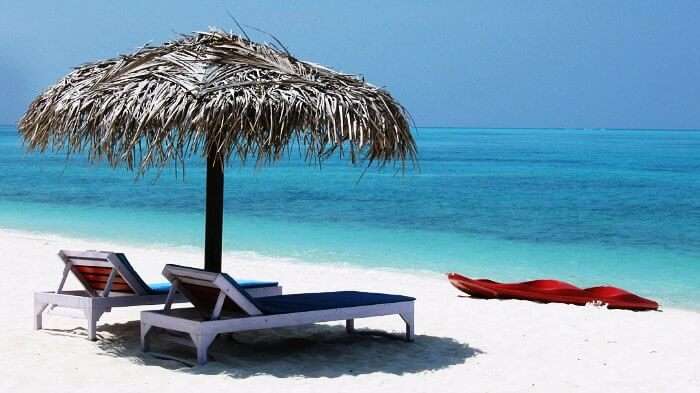 A breathtaking spectacle of dazzling coral reefs, silvery sand, turquoise blue waters and lush green coco-palms- that's Agatti island for you. A picture right out of your dreams, Agatti Island has the best beaches in India that one must visit.
Suggested Read: 60 Incredibly Romantic Honeymoon Destinations In India
50. Minicoy Island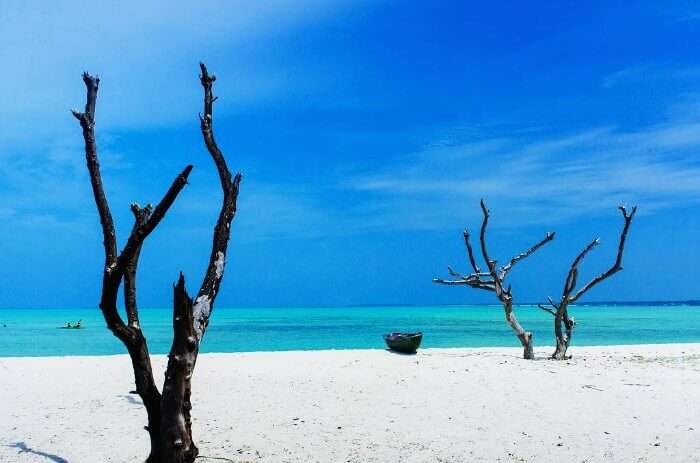 The lagoons of Minicoy Island are the largest in the Lakshadweep. The southernmost island in the group of islands, it is a crescent shaped island. The unique Maldivian character of the island sets it apart from other islands in India. This is where photographers dream shots and a poet's fascination come to life.
51. Kavaratti Island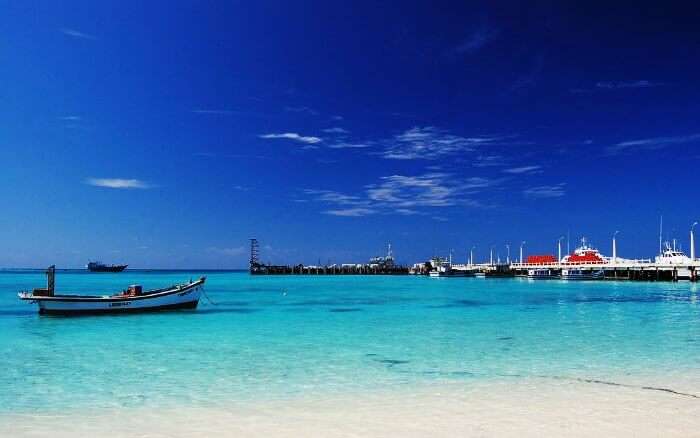 Kavaratti Island has some of the most famous beaches in India. It's a beautiful and calm lagoon that forms an ideal spot for water sports, swimming and basking on warm sandy beaches. Marine life exhibits can be seen at the new marine aquarium of Kavaratti Island. Kayaks and sailing yacht are also available on hire.
52. Bangaram Island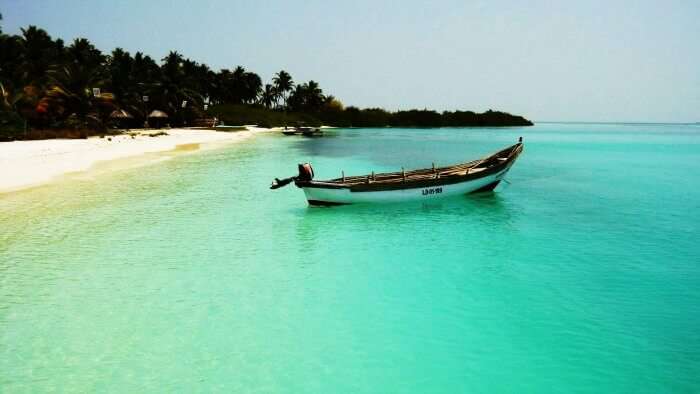 Bangaram Island is an uninhabited island that is only open to foreign tourists. It's a teardrop shaped island and one of the most beautiful islands in India. When you're about to visit this place prepare yourself to witness a post-card perfect landscape, calm blue waters of the ocean, and striking white sands.
Beaches in Odisha
Last but not the least, Odisha is another one of the best beach destinations in India. Here are two of our favorite picks listed below:
53. Konark Beach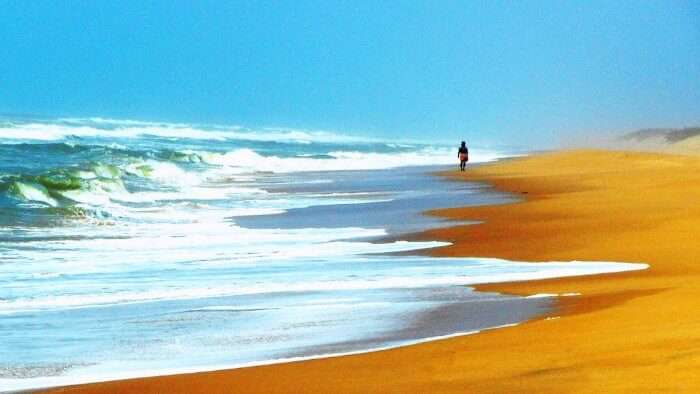 The spectacularly beautiful Konark beach is one of India's finest beaches. The famous Ramchandi Temple is located some 10 km along the beach. The Konark sun temple also stands on this beach, hence it has got great religious importance for the Hindus as well.
Suggested Read: 10 Surreal Places In India That Are Too Dangerous To Visit
54. Puri Beach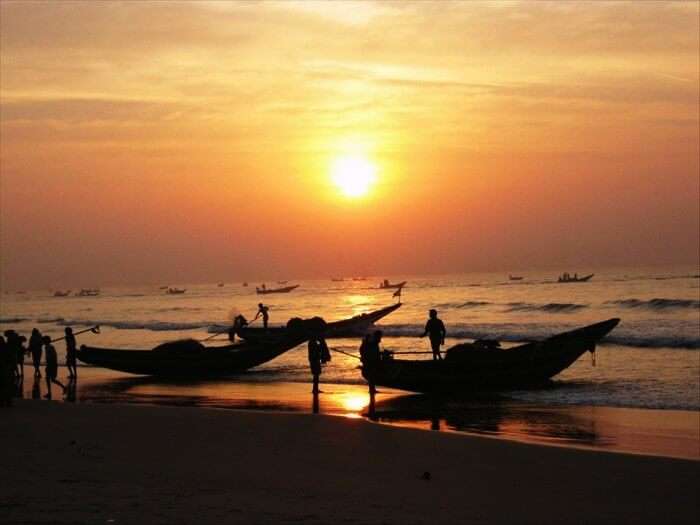 Literally, one of the most famous beaches in India the Puri Beach is visited by scores of tourists all year round. The roar of the breakers rolling in from the Bay of Bengal and countless devotees flocking to take a dip of purification is the quintessential scene of the Puri beach.
What To Pack For A Beach Holiday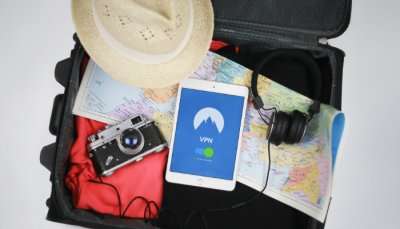 Image Credit: Stefan for Pixabay
Disclaimer: The image is for representation purposes only.
Some of the basic items you must include in your beach holiday pack are as follows –
Carry sunscreen, hat and sunglasses
Pack comfortable and loose attire. Also, remember to carry fun accessories but at the same time make sure that you do not over pack
Casual shoes and flipflop
Opt for comfortable swimwear
Carry your camera and make sure it is fully charged
Further Read: 15 Romantic Beach Resorts In India For The Summer Of Love
With amazing coastlines that offer some of the best beaches in India, the country has a lot to explore. If you think we forgot to mention any gorgeous beach in India, do mention in the comments section. Also, on your next holiday across India, which tropical beauty would you choose?
Disclaimer: TravelTriangle claims no credit for images featured on our blog site unless otherwise noted. All visual content is copyrighted to its respectful owners. We try to link back to original sources whenever possible. If you own the rights to any of the images, and do not wish them to appear on TravelTriangle, please contact us and they will be promptly removed. We believe in providing proper attribution to the original author, artist or photographer.
Frequently Asked Questions About Best Beaches In India
Which is the most dangerous beach in India?
Chowpatty beach in Mumbai is not only one of the dangerous beaches in India but in the world. The area surrounding the beach have untreated sewage and garbage.
Which are the famous beaches in Goa?
Vagator Beach, Baga Beach and Agonda Beach are listed among the top beaches in Goa.
Which beach is famous amongst foreigners in Goa?
Some of the beaches in Goa which are popularly visited by foreigners are - Baga Beach Candolim Beach Morjim Beach Anjuna Beach
Which are the best beaches in India for honeymoon?
To spend a memorable honeymoon vacay, some of the top beaches include: Radhanagar Beach, Havelock Agonda Beach, Goa Candolim Beach, Goa Yarada Beach, Visakhapatnam Lighthouse Beach, Kovalam Devka Beach, Daman and Diu
Which are the beaches in India with crystal blue water?
Some of the serene beaches in India with clear blue water are - Lighthouse Beach, Kovalam Butterfly Beach, Goa Elephant Beach, Andaman & Nicobar Islands
---
Looking To Book An International Holiday?
---