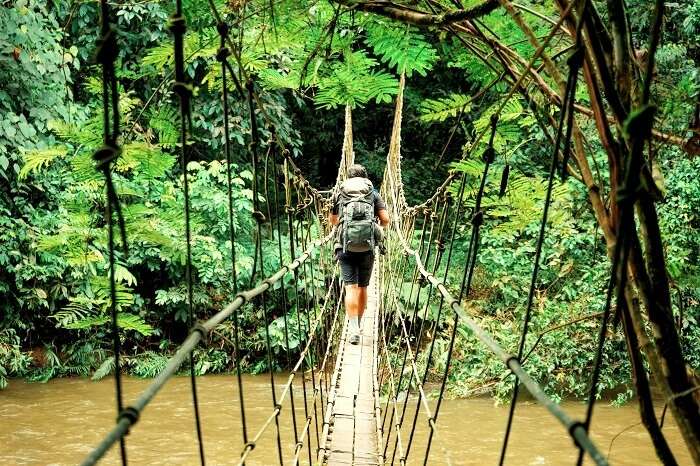 The Borneo Island which is the third largest island in the world and largest island in Asia has a few famous national parks with their own unique feature of which, the Loagan Bunut National Park is one located in Sarawak, Malaysia. This beautiful national park was gazetted in January 1990, and in the very next year it was opened for public. The National Park is spread over an area of 10,736 hectares, including the Loagan Bunut lake which occupies 650 hectares of the total area.
About Loagan Bunut National Park
The Loagan Bunut is the largest freshwater lake, and the hence the name of the National Park remains so, having been named by the local Berawan fishermen. As the Loagan Bunut Lake is well connected to Sungai Bunut, Sungai Baram and Sungai Tinjar hence it is greatly affected by them. This is a shallow lake which eventually drains when the water level of the nearby Tinjar river falls low. The National Park is a known name due to its biodiversity and unique aquatic ecosystem.
Things To Do At Loagan Bunut National Park
1. The Hydrology Trail
The Loagan Bunut National Park has a variety of forest type and hence a lot of trekking activities can be experienced here. The 2 kms Hydrology Trail passes directly takes you to peat swamp forest and presenting the insight of a unique ecosystem. Again, the 260m Tapang Trail showcases a unique collection of trees. The smooth-barked tapang is the world's third tallest tree and the belian is a medium-sized tree that produces one of the world's hardest, most durable, and most valuable timbers that can be seen in this national park.
Suggested Read: Hiking In Malaysia: 10 Best Places That'll Add More Thrill & Adventure To Your Experience
2. Selambau Nets
Get to know the Selambau scoop nets developed by the fishermen of the local Berawan tribe which is a unique method of fishing. Huge scoop nets mounted on large rafts are used to catch migrating fish. As the bamboo cages remain submerged in water hence helps the fishermen to keep the fishes alive till they can be transported to market.
3. Birdwatching
This National park is also a paradise for Birdwatchers. Near the lake, one can watch many large and unique species of birds like the darters, bitterns, egrets, herons, hornbills, malkohas, Stork-billed kingfishers, magpies, robins, doves, bulbuls, racket-tailed drongos, and kites etc. The park also includes animal like barking deer, bearded pigs, sambar deer, long-tail macaques, black banded langurs, lesser mouse deer, giant squirrels, provost squirrels, Bornean gibbons etc which can be easily spotting here and there.
Suggested Read: Malaysian Cuisine: 10 Delicacies Which Will Let You Taste The Authentic Flavors Of Malaysia!
Best Time To Visit Loagan Bunut National Park
This part of Malaysia experience heavy rainfall during the monsoon or the rainy season which starts from mid-November and lasts till late February. As the area is heavily flooded and it almost turns into a swampy land hence it's better to avoid planning for these months. The best season to visit the Loagan Bunut National Park is between May end to October end, when the weather is quite pleasant.
How To Reach Loagan Bunut National Park
The Loagan Bunut National Park is about 130 Kilometres away from Miri and is well connected through tar sealed road. At Miri, there are several travel agencies that plan a trip for the National Park which provides good service at a reasonable price. One can also hire a cab can take 4WD service from Miri to Long Lapok, which is a small town about 15 km from the Park Headquarters. From Lapok bridge one can take another bus or a shared taxi (that costs you Ringgits each person) that drops you in front of the Park entrance.
The private transport service costs you around RM50 per person between Miri and Loagan Bunut National Park (one way) via the Belura town (Pekan Beluran) or Kampung Lapok. Travelling from Pekan Beluran usually takes couple of hours. While from Kampung Lapok it takes about 1 ½ hour long via a long boat to reach the National Park.
Suggested Read: 8 Places Every Backpacker Must See On Their Trip To Malaysia
Other Details About Loagan Bunut National Park
In order to enter the park, the visitors must obtain a certified permit from the nature reserves, wildlife centers or the nearest booking offices which are absolutely mandatory. If you are visiting the park for filmmaking or on an expedition than you must seek a Prior special permission which can be obtained from the Sarawak State Secretary.
1. Photography Fee/Permit
For Still Camera: RM5.00
For Video Camera: RM10.00
Filming: This can cost RM200.00 or more
2. Entry Fee For Foreigners
Adult: RM20
Disabled: RM10
Children above 6 years: RM7
3. Entry Fee For Locals
Adult: RM 10
Disabled: RM 5
Children above 6 years: RM 3
Suggested Read: Mount Kinabalu National Park: Get Closer To Nature On Your Next Malaysian Holiday!
Where To Stay At Loagan Bunut National Park
The accommodation facility is also present in The Loagan Bunut National Park which consists of lodges, hostel-style rooms, camping site, and Mutiara Bunut Homestay. The rooms can be booked from the National Parks Booking Office or one can also visit the online portal of the National Park here. There are also many four and five-star properties available at a fair distance from the park like Pullman Miri Waterfront, Meritz Hotel, ParkCity Everly Hotel, and more.
Further Read: 6 Villas In Malaysia That Are Perfect For An Escape With Your Loved Ones
Mesmerized much? While a full day trip is essential to unfold the many hidden layers of this unique national park, make sure you visit the enchanting Loagan Bunut National Park on your next trip to Malaysia.
---
Looking To Book An International Holiday?
Book memorable holidays on TravelTriangle with 650+ verified travel agents for 65+ domestic and international destinations.
---