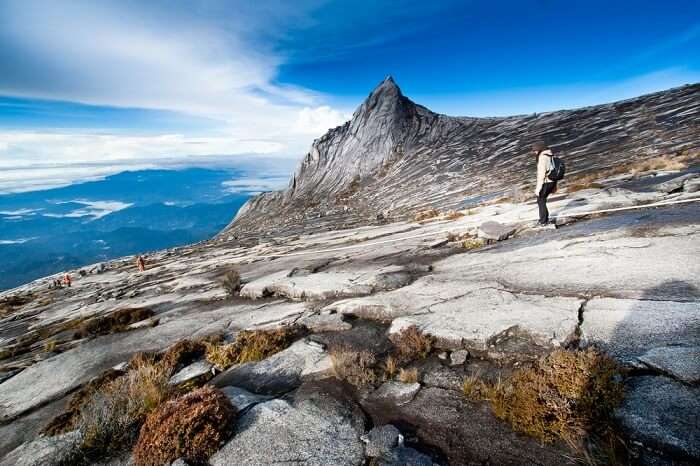 One of the best places of tourist destinations of southeast Asian nations is Malaysia. And apart from the interesting destinations to hang out with your friends or family, hiking in Malaysia could be one of the most amazing activities to do. Hiking is such a relieving activity that charges you and has so many fun elements to its side. It tests your patience, energy and the thirst to get on the high spot. The freedom you feel after reaching the desired destination is simply great. So coming to the options one would choose to hike his/her way, these are top 10 spots for hiking in Malaysia that you must consider while visiting there. Read on!
10 Best Places For Hiking In Malaysia
Here's a list of 10 best places in Malaysia that are perfect hiking spots. Take a look and take your pick so that you can indulge in ultimate adventure and thrill while trekking and hiking in Malaysia.
1. Gunung Lambak
It's a place with interesting name and scenic hiking tour will let you feel simply amazing energy by your side. This is a hill and you need to hike your way to the peak. It would be one of the most wonderful hiking in Malaysia experience of your life. The best period of visiting this place is somewhere between November to march. The lush green surroundings invite to experience freshness.
Time to reach: 3-5 hours round trip
Turtle Island National Park: A Guide To Explore The Best Of Wildlife In Malaysia
2. Gunung Tuhan
It is a step higher than the simpler trek at the above place. This is said to be the world's most toughest hiking and trekking options. But it could be divided into three smaller treks starting from the area named as Sungai Relau to Gunung Tahan, the second one from Sungai Relau to Gunung Tahanand to Kuala Tahan, while the last one from Kuala Taha to Sungai relau via Gunung Tahan. The best time for this Malaysia hiking would be from the months of June to September. A fees of RM 100 is required to be paid as a permit charge.
Time to reach: Different trails take different time
3. Mount Kinabalu
If there is hiking, there has to a mountain to climb. Since you will climb a mountain top, it is imperative to view picturesque and breath-taking scene. Another fascinating feature is the fact that you will hike your way up to the tallest mountain of the south east Asian region. There is a climb permit to be paid for kids and adults too. It is a part of national park so you get to move around the greenest surroundings. You must try to visit between February between and April to enjoy Malaysia trekking here.
Time to reach: 2 days
6 Best Things To Do In Taiping On Your Next Fun-Filled Vacation In Malaysia
4. Bukit Tabur
Hiking is an activity which shouldn't be fixed to few typical locations only. It is a thing which gets you to the best and unexplored locations. This place named bukit tabur is one of those unexplored locations in the region. It is located nearer to the famous national zoo. An interesting characteristic of this hiking in Malaysia is that you get to hone your rock-climbing skills. There are permit charges and one must visit it from September to February.
Time to reach: Around 3 hours (one side)
5. Bukit Broga
Another name for this place is bukit Lalang. It is famous for the lush green and tall grass grown abundantly. Basically this is a hill located in Semenyih. The place is situated nearer to Kuala Lumpur and takes around 40 minutes to reach. The fantabulous and refreshing views that one gets is simply awe-inspiring. The breeze amidst the greenery everywhere allows one to rejuvenate in the beautiful natural setting.
Time to reach: 30 to 40 minutes (one side)
Malaysian Cuisine: 10 Delicacies Which Will Let You Taste The Authentic Flavors Of Malaysia
6. Cameron Highland Trails
It is one of the most largest hill station of Malaysia. Amidst the rain forests, the chill yet soothing weather drags you to complete the journey. It captivates you so much that probably spending a whole day would also seem less. One important tip is that it requires only watchful hikers as the area is not so much developed for hiking. The starting and ending months of the year could be the best time to hike there.
Time to reach: 3 to 4 hours (one side)
7. Penang Hill Top
It is yet another tourist hotspot destination. It gets you to hike your way from the multiple routes available to reach the final destination. Anytime between the months of December to February could be the best visiting time. It has so many interesting things to adorn along the way. One can spot amazing food stalls with the local cuisine, religious places and a lot of such fantastic places to aid you along the journey. So it takes about 4-5 hours to complete the journey and reach the top spot. An interesting feature is the train which goes up the hill.
Time to reach: 1 to 1.5 hours (one side)
8 Places To Visit In Georgetown That Make Penang A Jewel In Malaysia's Crown
8. Gunung Gayong
This wonderful hiking experience gets you to one of the mountain from the Titiwatsa mountain range. This hiking experience could take around 4-5 days to travel to the peaks of the mountain range. Therefore it is suggested that only professional hikers must test themselves. The earlier quarter of the year could be the best time to hike at this place.
Time to reach: Different trails take different time
9. Gunung Jerai
Another spot for hiking in Malaysia is Gunung Jerai. It is one of those mountains which could be visited at any time during the year. It just needs your time, energy and spirits to complete the hike. Usually it is a 9-10 hour long hiking experience. You could spot prehistoric buddhist and hindu temples at the base of this mountain. The only spooky thing about this hike is the news of missing people in the past. So one must take along a well-known guide or experienced hiker along to return safe and happy.
Time to reach: 9 to 10 hours
7 Haunted Places In Malaysia That Will Scare The Hell Out Of You
10. Penang National Park
Sometimes national parks are located at such natural heights that moving around makes it a trekking or hiking experience. This one is located at the north western side of the penang island. There are few other adventurous activities to explore. There is a time frame within which one must visit this park, i.e. from 7:30 AM to 6:00 PM. Head here if you want to experience hiking in Malaysia.
Time to reach: 1 to 1.5 hours
8 Places Every Backpacker Must See On Their Trip To Malaysia
Aren't these amazing places for hiking in Malaysia? The next time you plan your trip to Malaysia, try to experience the joy and fun of hiking. The energy, funny experiences along the way and the solace of having completed the journey is so much satisfying to one's soul.
---
Looking To Book An International Holiday?
---
People Also Read:
Hiking in Scotland Hiking in Edinburgh Hiking in Australia
Comments
comments