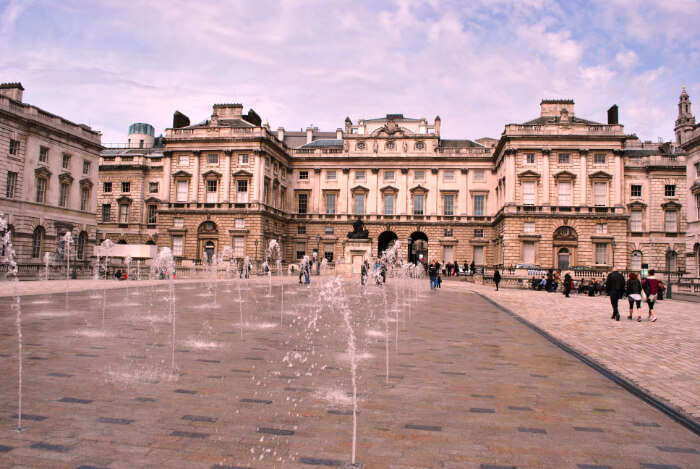 Cover Image Credit: Wikipedia
London is the capital of England and The United Kingdom and has its roots stretched back to the Roman times. At its heart you will find the Houses of Parliament, talking about London's heart and not mentioning the iconic Big Ben clock tower and Westminster Abbey will be a big mistake.
Right across the beautiful Thames River, London observation wheel stands proud because of the rejuvenating views it reveals of the South Bank cultural complex and the entire city. Visiting London in January is one thing that everyone should do. The snow-covered trees at London's famous parks and roads seaming as if painted all white is an experience which cannot be compared to anything.
The weather at London in January will please you and will make you feel like a cup of hot chocolate and being curled up in your cozy blanket, London weather in January remains cold enough for you to wear those woolen socks and gloves and sit by the fire. Who doesn't like a glass of wine on a cold evening sitting by the fire and listening to your favorite music?
London In January: 12 Places To Visit
By visiting London in January you enable yourself to the most desirable experiences of the places, London has for you. Here's a list of top 12 places to visit in London in January.
Fireworks: For A Different Colored Sky
Hyde Park Winter Wonderland: Have Lots Of Fun
Southbank Centre Wintertime Festival: That Warms You Up
Borough Market: A Top-Rated Place
Spitalfields Music Festival: Heat Things Up
Hamleys: Cherish Childhood Memories
V&A Museum Of Childhood: For Old-School Gifts
Tobacco Dock: Enjoy Some Great Views
Somerset House: Witness The Beautiful Surroundings
Kew Gardens: For A Fairy Tale Walk
The London Sales: Get Anything And Everything 
Greenwich Market: For A Wonderful Evening
1. Fireworks: For A Different Colored Sky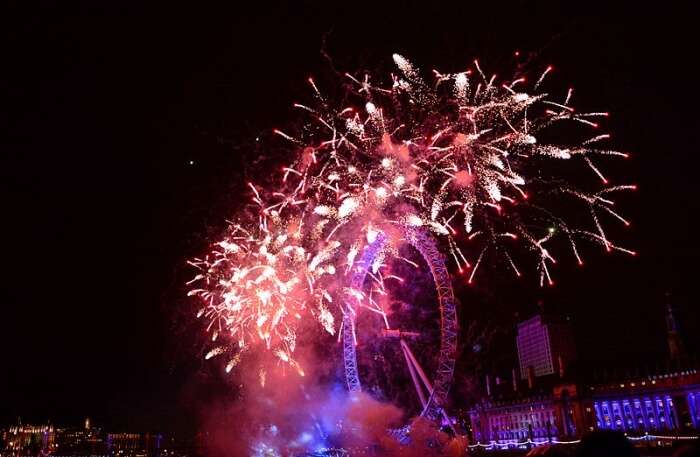 Nothing's better than fireworks to start your year. This is something you should definitely be present at while starting the new year. The different colored sky at the night of the new year seems as if it is God blessing us in different colored blessings. The major part is lit up with the lights and you could see these lights reflecting on the river alongside. This is a great start to the new year and a huge mass people gather to witness this outstanding show of lights.
Must Read: 8 Cottages In London For Best Of Hospitality & Comfort
---
Looking To Book An International Holiday?
---
2. Hyde Park Winter Wonderland: Have Lots Of Fun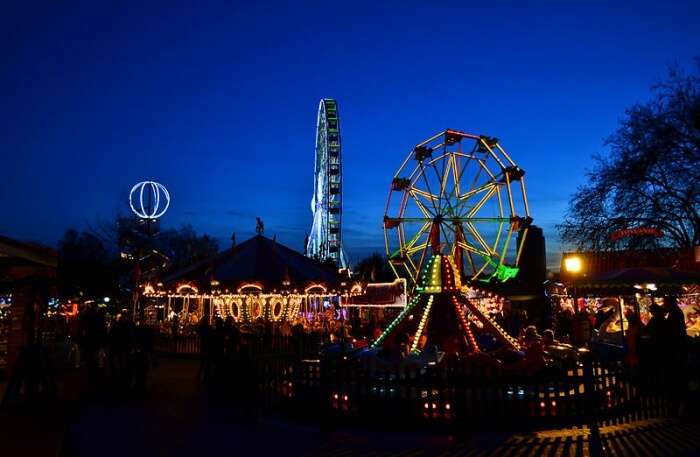 This place takes place high in people's list of things to do in London during winters. If you love to skate, this place is the right destination for you. Moreover, if you are also a fan of mulled wine, bright lights, and fancy little things in a winter market, this place is the one-stop destination for you. To add to its attractions, there is also a circus that you can witness while sipping from the glass of mulled wine.
Suggested Read: 10 Exquisite Places To Party On New Year In London And Welcome With A Bash! 
3. Southbank Centre Wintertime Festival: That Warms You Up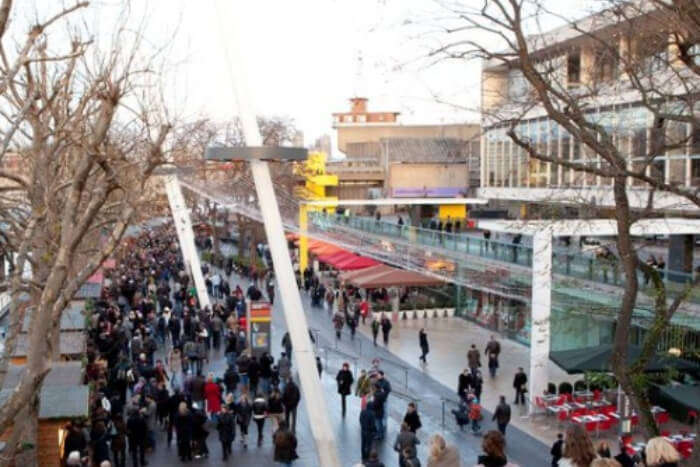 There are only a few places in London that are as lovely as the Southbank on a cold, grey day. This place, during January, is decorated beautifully and the riverside bars serving the drinks to warm you up makes it even more desirable. You can also shop from the chalets selling crafts and winter goodies. This festival only takes place during the winter time and should definitely be given a visit if looking for some good time.
Suggested Read: 10 Best Day Trips From London To Explore This Extravagant Capital City In England!
4. Borough Market: A Top-Rated Place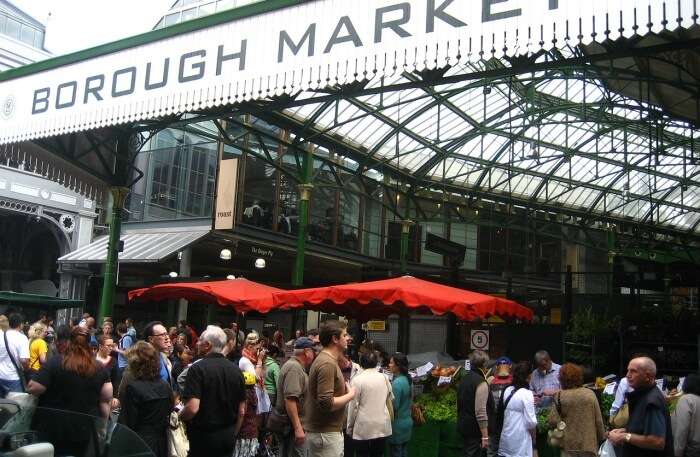 This is London's top-rated food market during winters. You can try before you buy which makes this place even more appealing. Here, you can get gifts like jams from Rubies in Rubble. Starters at Bianca e Moda are a must try, gingerbread at the Cinnamon Tree Bakery and mulled wine at Borough just fills you up with happiness and satisfaction. An evening spent around great food and wine can never go wrong. This places can serve to be the best stop during weekends and to eat all you want and can.
Suggested Read: 10 Best Hostels In London For Holidaying In The Lavish City Like A Pro!
5. Spitalfields Music Festival: Heat Things Up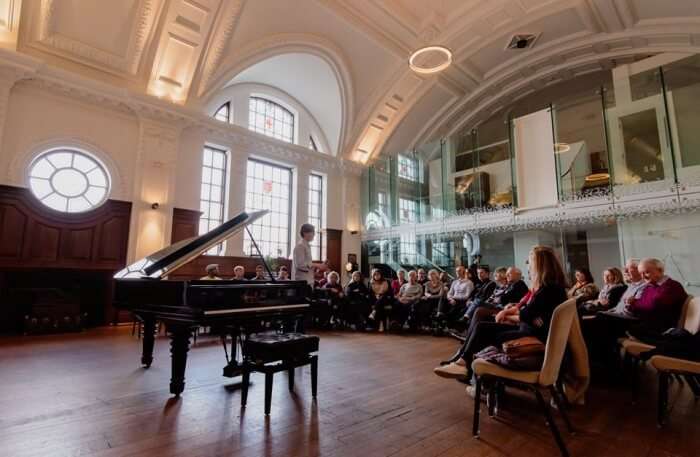 Don't like mainstream music? Experiencing the musical performances in the great venues in Spitalfields is the solution. Experiencing the cold weather in London in January and heating things up a bit by the lit performances at the Spitalfields Music Festival is a must. Feeling the warmth while the performers perform their music on a cold winter night is one feeling you must witness.
Suggested Read: Historical Tours In London: An Encounter With The History And Culture Of This British City!
6. Hamleys: Cherish Childhood Memories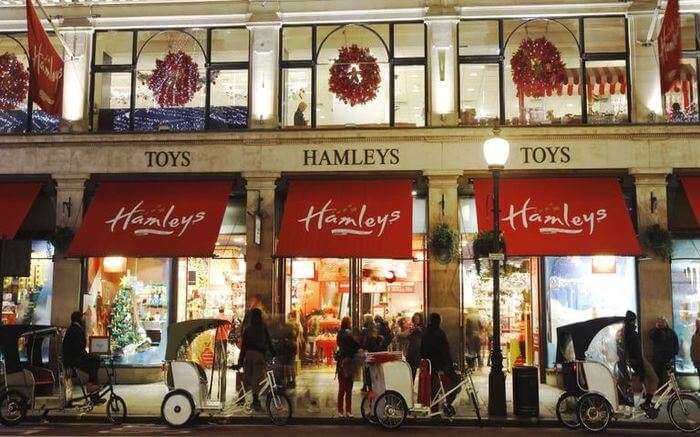 Want to relive your childhood visit Hamleys, the oldest toy shop in the world. Thousands of kids visit its Regent Street Store in London, England and make memories they will cherish when they are grown-ups. Hamleys have a wonderful window display and is definitely a dessert for the eyes. Hamleys is a kid's dream and definition of the worldly pleasures.
Suggested Read: Churches In London: A Tour Of 10 Historic Churches In London That You Must Not Miss
---
Planning your holiday but confused about where to go? These travel stories help you find your best trip ever!
---
7. V&A Museum Of Childhood: For Old-School Gifts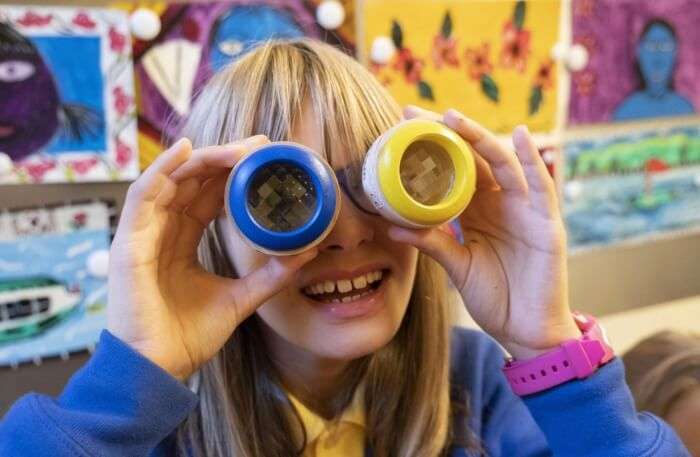 Visit this spectacular museum and be inspired by its old-school gifts. This museum displays a number of retro gifts that will take you back to your childhood and will make you remember all the gifts you were given when you were a kid. In today's world kids tend to love these places at young ages, and such places are exactly the place to remember the innocent childlike person inside you.
Suggested Read: 10 Historic Churches In London That You Must Not Miss On Your UK Tour
8. Tobacco Dock: Enjoy Some Great Views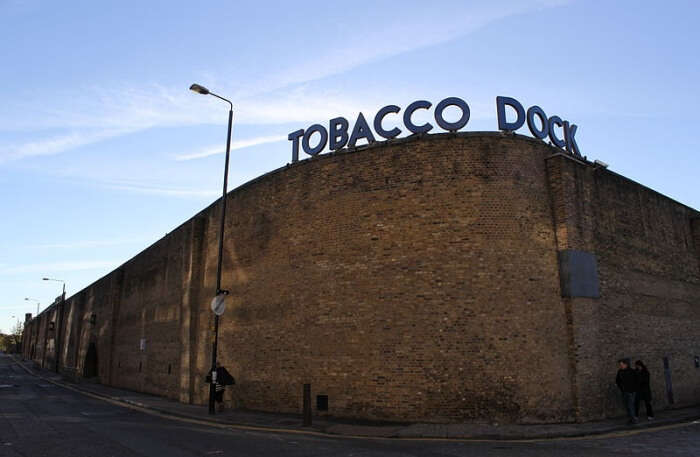 If you want to know what winter tastes like, visit Tobacco Docks. Not only it serves the best in taste food but also it offers some great views. The food here is prepared by the top chefs and some of the rising stars can also be seen there. It is basically a combination of all good things there are. An evening dinner at Tobacco Dock is what people look for, some great food, great views and someone to talk to.
Suggested Read: Christmas In London 2021: Top 10 Experiences For A Lively Celebration Like Never Before!
9. Somerset House: Witness The Beautiful Surroundings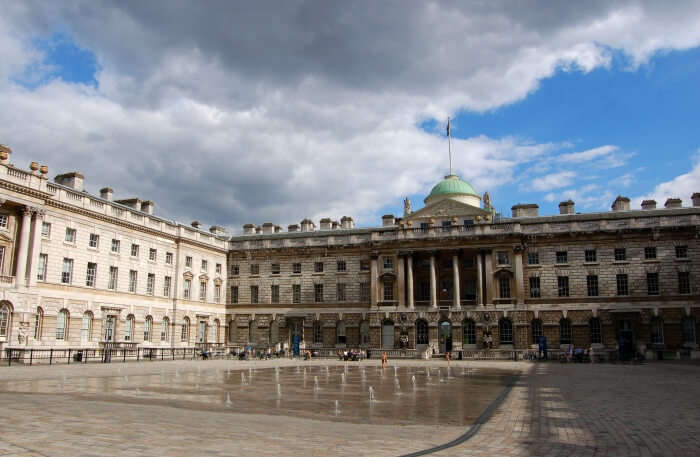 Love for ice skating is a thing. Who would not love skating on ice? The feeling of cutting the smooth ice under the blades of your skate as you take a turn and push yourself further ahead. This ice skating rink offers not only skating on the ice but also lets you witness the beautiful surroundings and the weekend club nights. What would be better than looking at the surroundings and feeling that buss from the clubs right in your heart?
10. Kew Gardens: For A Fairy Tale Walk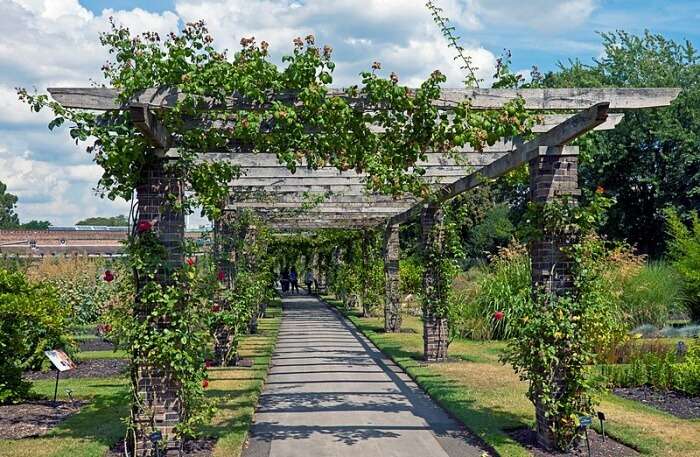 This garden is host to outstanding night time with your loved one, walking amidst the sculptures, buildings, and trees present in a totally different way. This garden offers you a fairy tale walk and also has roast chestnut and another delicious treat along your way. This is place is a must visit for those couples you do not like the loud music at the clubs and they just want a quiet and slow night with their loved one. During the weather in London in January, this place is a bliss.
11. The London Sales: Get Anything And Everything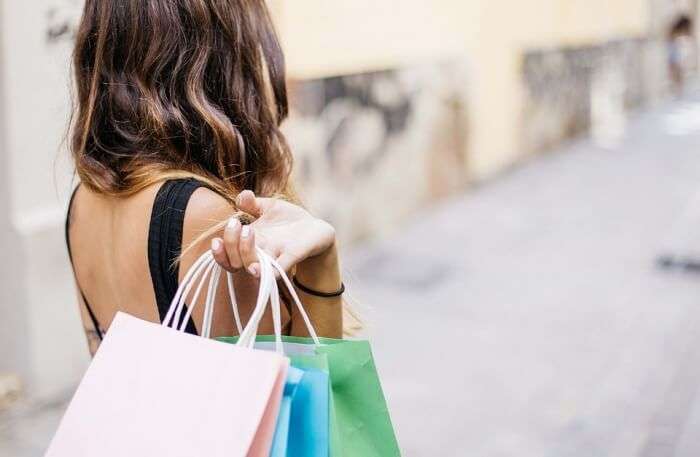 If you are wondering, what to wear in London in January. The London sales are the best places to know the answer to your query. You can get anything and everything at dirt cheap prices. Be it any kind of fashion, you name it, they have it. And the most attractive things about these sales are their prices. You will feel as if you have never shopped ever before in your life and will want to buy everything. Visit these stores to buy all you want. The weather in London in January is cold and you'd definitely need to buy some cozy woolens, this is a one-stop destination for all your winter clothing needs.
Suggested Read: 22 Places To Visit In Nuwara Eliya: The Mini London Of Sri Lanka
12. Greenwich Market: For A Wonderful Evening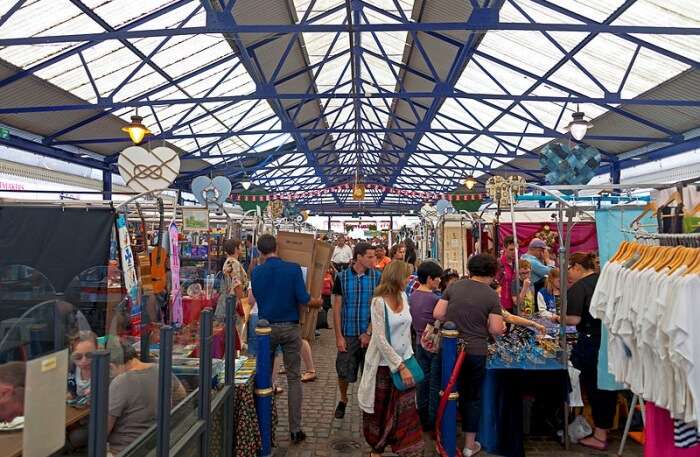 Greenwich has all the things necessary for a wonderful evening. Be it, romantic riverside pubs, beautiful buildings, and markets selling the most unique art and crafts. Imagine an evening, in which you sit in the most fantastic pub looking at the river and sipping on your drink which warms your body from the inside on a cold evening in London in January and buying those cute little arts which would look great on your desk. Desirable, isn't it?
All in all, London in January offers experiences that no other place can give. You can visit London with your family, friends or your loved one and go back with some great memories. London has a culture that is very welcoming, warm, and embracing. You would not want to leave London, once you pay a visit during January. The grey and cold evenings it has to offer are the best to sit by the woods and read your favorite novel or look at some old album. People from all parts of the world come to London and none of them leave with disappointment or unhappiness.
Further Read: 7 Best Zoos In Las Vegas That Can Not Be Missed When You Are On A Vacation In This Paradise!
So, there are plenty of things to do London in January. The clubs, pubs, restaurants, markets, museum, and whatnot that London keeps in its heart makes it one of the best places to be visited during January and the rest of the months. At London, you can go to a skating rink and witness a circus and also buy arts, you can walk along beautiful trees and building on a cold evening, you can eat at restaurants, looking at the river and drink mulled wine. There's nothing that London does not offer during winters, especially January, the start of the year. So, plan your trip to London for an extravagant holiday experience like never before!
Frequently Asked Questions About London In January
Is it good to visit London in January?
Yes. January is the quietest time of year to visit London. Top January events include the New Year's Day Parade and activities for Chinese New Year.
What is London like in January?
January in London is cool and wet but somewhat milder than many other northern European cities. Daily high temperatures tend to average in the upper 8 – 9 degree Celsius.
Does it snow in January in London?
You may expect precipitation for at least 18-19 days in January. Although, the chances of snowing are rare.
How cold is England in January?
You can consider January to be a cold time in England as the country has an average temperature that ranges from 3-13 degree Celsius. You can also expect precipitation during the time.
What is the cheapest month to travel to London?
Currently, the cheapest month for flights to London is September. This has the lowest inflow of tourists and is not the peak season.
What's the coldest month in London?
The coldest month is usually January when temperatures can sink to around 1 degree Celsius. Snow is pretty rare in London.
Is London Expensive to visit?
London is notorious for being one of the most expensive places in the world to visit. Therefore, a trip here does cost a lot and hence you need to plan accordingly.
---
People Also Read:
Auckland In January Sydney In January Czech Republic In January