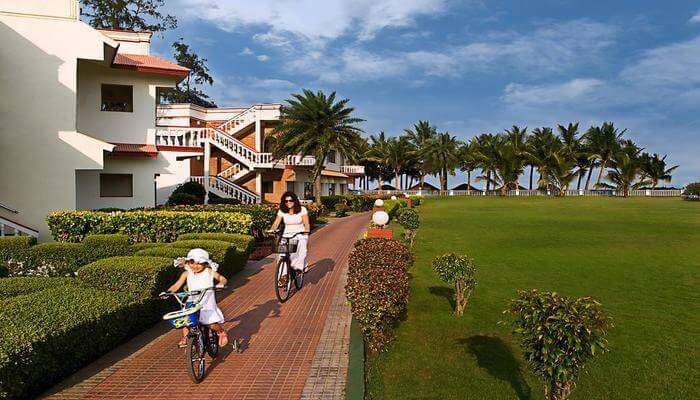 Crowded with numerous temples and visible records of the footfalls of great kings, this coastal town of Mahabalipuram, or the land of the seven pagodas, is worth a visit. The scenic beauty of this ancient town in Tamil Nadu coupled with the song of the waves makes it a very prominent tourist destination. There are a large number of tourist spots scattered all over this ancient town. Covering all these spots in a single day is an impossible task. One needs to spend a day or two here to fully luxuriate in the beauty of this place. For this, there are many budget and luxurious Mahabalipuram resorts to choose from when you are planning a visit here.
9 Famous Mahabalipuram Resorts
Here is a list of the best resorts in Mahabalipuram that you can choose from when planning your holiday to Tamil Nadu. Find options for all kinds of budgets here.
1. The Radisson Temple Bay
Among the many Mahabalipuram resorts, this is one of the most well-known ones. Spread over a large area this resort offers you the best of comforts and luxury. Located along the shores of the Bay of Bengal, this Mahabalipuram resort lets you indulge in its graceful and stylish rooms, cottages and villas, and banquet and conference facilities. When it comes to staying here, one can choose from the Chalet, the Villas, or the Suits. The resort provides you with valet parking. Not only that you can also avail airport shuttle that runs from this resort.
Starting price: ₹9000
Location: 57 Covelong Road, Mahabalipuram, Tamil Nadu 603104
Facilities: Business center, concierge, restaurants, babysitting, kids club, pool
Mahabalipuram In Tamil Nadu: Explore The Unique Culture Of Southern India
2. The Grand Bay Resort
This is another one of the best resorts in Mahabalipuram. Being located near the beach it is able to offer the guests the serene beauty of the sea. If you are looking for a few days of absolute relaxation and a first-class stay then this luxury resort in Mahabalipuram is the right place. The place has WiFi facilities and the rooms are very cozy. All of them are air-conditioned. The place is well known for the platters it serves. The overall services are very professional which draws people to come back again and again. This hotel has a shuttle service of its own.
Starting price: ₹5000
Location: Kovalam Road ( Off ECR ), Mahabalipuram, Tamil Nadu 603104
Facilities: Conference room, restaurants, pool
3. MGM Beach Resort
This is one of the most famous resorts in Mahabalipuram near beach. It is located only 7.3 km from Uthandi Beach. It is one of the best resorts in Mahabalipuram for a family vacation. The resort has an airport shuttle that runs from the hotel. All the rooms here are air-conditioned and are differently priced. However, all the rooms have LCD TV, tea/coffee maker, electronic safe and minibar. It has a multi-cuisine restaurant that serves the flavors from all over the world. The "Purple Lounge" provides customers with a taste of the choicest brand of cocktails and mocktails.
Starting price: ₹4000
Location: 1/74, East Coast Road, Muttukadu, Chennai, Tamil Nadu 603112
Facilities: Free Wi-Fi, pool
Monsoon In Tamil Nadu: See The 8 Most Wonderful Places To Explore
4. Chariot Beach Resort
This is one of the best resorts in Mahabalipuram near the beach. It has a soothing and welcoming sea view that greets you from your window every morning. This is a very well-planned resort with the sea view in the front and the backdrop of maintained grounds and palm treetops swaying in the light breeze. Every detail has been taken care of in this resort. One can find gym and yoga facilities at the resort along with the trainer to train them.
Starting price: ₹7000
Location: Five Rathas Road, Behind Five Rathas Monument, Mahabalipuram, Tamil Nadu 603104
Facilities: Wifi, parking, non-smoking rooms, 24-hour front desk
5. Ideal Beach Resort
This is a haven of luxury. Among Mahabalipuram resorts, this provides one of the best luxuries to its guests. The in house specialty of this resort is the exotic preparation of seafood that one comes across here. This one is located 50km away from the city of Chennai. His resort is fully air-conditioned and special care has been taken to ensure your privacy. There are exclusive balconies and verandas provided and added to that you get personalized service for any of your needs. On a typical day, if you wish to dine under the palm trees, the resort will arrange for your sudden whims.
Starting price: ₹6000
Location: Devaneri, ECR Road, Mahabalipuram, Tamil Nadu 603104
Facilities: Fitness center, restaurants, pool
9 Best Hotels In Tirupati For A Tranquil Retreat In The Heart Of Tamil Nadu!
6. Indeco
Built in the historic surrounding of Mahabalipuram, this is one of the best resort in Mahabalipuram for family that has a museum to treasure artifacts and objects left behind by the British. It is surrounded by lush greenery and radiates positive energy. The resort is adjacent to a Shore Temple. There are three types of rooms here for the guests to choose from. The resort has a shuttle service of its own that takes customers to the airports. There are great scopes for recreation here at this resort – you can indulge in various sports like Sand cycling track, Beach kabaddi, Tennicoit, Shuttle, Throw ball, Frisby, Carom, Chess, Table tennis, Snooker, pool, Water Polo, Rain Dance, Bullock Card Ride
Starting price: ₹4000
Location: 6/30 B – Agraharam, Thimmakudy Village, Post, Baburajapuram, Kumbakonam, Tamil Nadu 612302
Facilities: Eco-friendly rooms, Restaurants, pool and more.
7. Esthell Village Resort
Located in Thirukazhukundram Taluk of Mahabalipuram, this is a three-star Mahabalipuram resort. It is just 40kilometres away from the airport and only 20 kilometres away from the Chengalpattu railway station. The Mahabalipuram tourist attractions nearest to the resort are Thirukazhukundram Shiva Temple, Mamallapuram shore & Temple, Dakshinachitra Craft. The resort may be three-star properties but provide all the services a 5-star resort generally does. The resort has a shuttle service running to the airport.
Starting price: ₹3000
Location: No. 93/8, Sadras Road, Egairathinapuram, Tirukazhukundram, Tamil Nadu 603109
Facilities: Yoga room, restaurants, pool
35 Exotic Places To Visit In December In India To Enjoy A Surreal Vacation
8. Taj – Fisherman's Cove
This resort is built on the remnants of an old Dutch fort. Today it is one of the most sought after resorts in Mahabalipuram. The live music every evening is sure to enthrall you so much that you might break into a gig at the reception area like so many other guests do. The chef here eagerly fascinates you with a number of interesting dishes that keep you asking for more. The renewed cottages and villas of the resort are very attractive. The resort boasts of having the best spas and you must surely believe them and indulge yourselves. There are a lot of surprises awaiting those who plan to stay at one of the best luxury resorts in Mahabalipuram.
Starting price: ₹11000
Location: Covelong Beach, Kancheepuram District, Chennai, 603 112
Facilities: Tower dining, spa, sea view rooms, fitness center, pool
9. Confluence Banquets And Resort
This resort promises its guests an elegant and interesting stay. This place is only a few kilometers away from the station. The rooms are furnished with all the modern amenities that one can ask for. There is a children's play area with staff specially trained to look after and take care of the kids. The resort has a restaurant where varieties of delicacies are found. There is an adjoining bar where one can relax and socialize over a drink.
Starting price: ₹8000
Location: Ecr – Omr Junction 603104 Mahabalipuram India
Facilities: Restaurants, babysitting, kids club, pool
17 Impeccable Food Trucks In India That Serve Scrumptious Food With A Twist!
We bet you're unable to pick one from all these awesome options of Mahabalipuram resorts in Tamil Nadu! Well, once you're done, don't forget to get in touch with TravelTriangle's expert agents to book you an awesome-sauce getaway to Tamil Nadu so that you can experience pure bliss while staying in the resort you have picked!
For our editorial codes of conduct and copyright disclaimer please click here.
Frequently Asked Questions About Mahabalipuram Resorts
What is the best time to visit Mahabalipuram?
The best time to go to Mahabalipuram is between October to March when the weather is pleasant and ideal for exploring this town.
Which are the best places to visit in Mahabalipuram in 2 days?
India Seashell Museum, Shore Temples, Five Rathas, Krishna's Butterball, Tiger Caves, Mahabalipuram Beach, Arjuna's Penance, Alamparai Fort, Crocodile Bank, Covelong Beach, Mahishasura Mardini Cave Temple, Krishna Cave Temple, Ganesh Ratha Temple, Trimurti Cave, etc. are the most popular places in Mahabalipuram to explore on a 2 days trip.
Does one have to pre-book these resorts in Mahabalipuram?
Whether you have to book a place beforehand or not depends entirely on the time you are planning to take the trip. It is advised to have your rooms booked before-hand as you now have one thing less to worry about on your trip.
What is the cheapest time to fly to Mahabalipuram?
June to September is the cheapest time to take a trip to Mahabalipuram as it's the monsoon season.
Is Pondicherry close to Mahabalipuram?
Yes, a trip to Pondicherry would be possible when you go to Mahabalipuram. It is just a 1-hour journey from here.
---
Looking To Book A Holiday Package?
---
People Also Read:
Resorts In Palakkad Resorts In Mahabaleshwar Resorts In Hyderabad