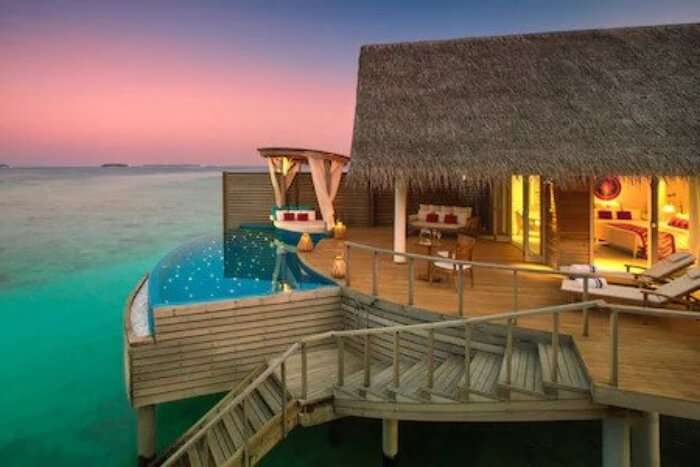 Overview
The Maldives also called officially the Republic of Maldives is a South Asian Country smallest in Asia in terms of both land and population. As pleasing it is for the eyes, the Maldives is not only famous for its beautiful beaches but also a varied range of water sports. The Island resorts and hotels are not just luxurious in their making but also budget friendly with tourism providing most of the country's economy. One of the well known Maldives Hotels and Resorts is Biyadhoo Island Resort Maldives which gives a full package including excellent boat themed dining, dolphin watching and various fishing themes at affordable prices. If one is planning for a paradise worthy experience, Paradise Island Resort and Spa located at North Male Atoll can be the right destination for one providing one with luxurious rooms, outdoor pools, and spa treatment.
Special Experiences
An experience to remember for the lifetime is a must while traveling. The Maldives offers guests with various options in this category with water excursions, kid's corner, romantic private dining and even relaxing therapies like yoga and spa. Bandos Maldives with its candlelight dining beaches and professional photo shoots stand out as one of the best Maldives hotels and resorts. It even provides with free children stay facilities for the little ones. From catamaran sailing and snorkeling to underwater diving, the fun has a whole new level of meaning at Fun Island Resort. Aaaveee Nature's paradise Maldives is another one of the standard resorts which not only provides with water sports but keeps in mind of traveler's entertainment with a karaoke room setup. All these lifetime experiences at such reasonable prices sure might make travelers change their destination to the Maldives for their next holiday.
Facilities
Most Maldives hotels and resorts provide with all the necessary facilities including a spa, friendly servants, and comfortable rooms for a cozy experience. Getting all that at such low costs sure attracts a lot of tourists making Maldives one of the most excellent places to vacate. Adaaran Select Hudhuranfushi is another one of the resorts which offer all kinds of facilities for all sorts of vacationers like spa treatments, excursions, and even fishing and surfing. Facilities, of course, include not only basic amenities but also services and behaviour of staff. Amari Havodda Maldives makes sure one can get best of experience with their warm welcome, friendly spaces, poolside games and a vast variety of cuisines. So, great experiences await travelers at these Maldives Hotels and Resorts.
Dining
Fine dining is the basic facility a resort or hotel can provide with. At Maldives hotels and resorts one gets a vast variety in cuisines and exotic themed bars. Not only are the dining areas well versed with great views but also the bartenders are friendly and food flavours unique. Fihalhohi Island Resort is one of the best regarding food with restaurants like Fishermans bar, Blue Lagoon Bar, Palm Groove Restaurant and Beach hut. Wine and dining at Reethi Beach Resort are also remarkable with so many options like The Rehendhi, Moodhu Bar and Restaurant, Reethi Grill, Alifaan Restaurant, Saima Garden, Veyo bar, Rasgefaanu Bar, Beach Bars and many more. Travelers might get short of time, but they won't get short of options in dining and bars. The restaurant and bars at The Sun Siyam Iru Fushi Maldives also serve with exquisite food like Vietnamese cuisine, French cuisines, La Cremeria a special ice cream parlour, Indian cuisine, fluid bar, and even a spa café to ensure healthy eating.
FAQs
Q1. What is the best season to visit the Maldives?
A. The best season or the best time to visit the Maldives is from November to April.
Q2. Which Island Resort is the best in the Maldives?
A. Cantara Grand Island Resort, Paradise Island Resort, and Spa, Adaaran Prestige Water Villas, make it to the list of the best Island resorts in Maldives.
Q3. Which resorts and hotels are best at low prices?
A. Ethereal Inn, Triton Beach Hotel and Spa, Summer in Thoddoo, are the best hotels and resorts available at affordable prices.
Q4. What is the budget range to travel to the Maldives?
A. The price range is from INR 7000 to INR 40000 for decent budget based hotels and resorts.
Q5. Do these hotels provide with all necessary amenities as well as experiences?
A. Almost all resorts and hotels offer essential amenities and even unique experiences including sports activities, underwater dining and much more.
Maldives hotels and resorts price offer all the luxuries and experiences for tourists. The various hotels like Centara Ras Fushi Resort and Spa Maldives, Kuredu Island Resort and Spa, Komandoo Maldives Island Resort etc. are some of the most exceptional experiences one can get while visiting the Maldives. All of these hotels make sure one gets the best of experience to relish for lifetime. They not only make visiting the Maldives a joyous experience but also imbibes a sense of relaxation from daily chaos of life.