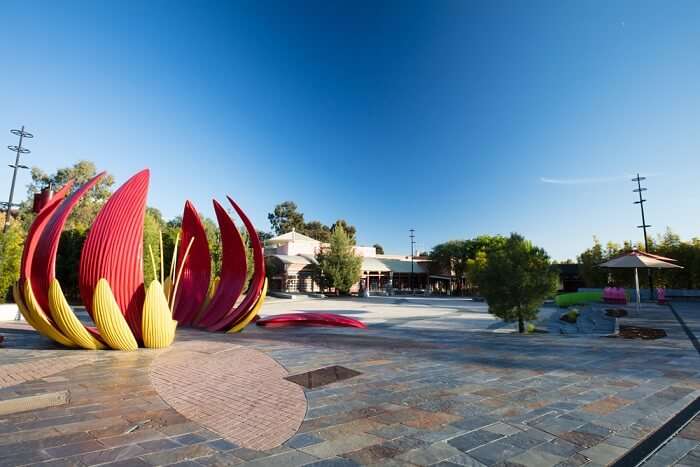 We might have said this earlier, but taking to the roads on hired wheels, or your own vehicle for that matter is the best way to know and experience a certain place. Thus today we will talk about the best Melbourne road trips. We will discuss the best road trips around Melbourne, the best road trips from Melbourne. While letting loose and letting the roads take you wherever it may is the primary thrill of a road trip, not all of us might have the time and resources to manage one such trip.
For those of you, we will also give to you some short road trips from Melbourne. While you could think of deciding the route as you go ahead with the ride, it is very much practical if you decide earlier the roads you will be taking. You don't have to decide how far you will let the roads take you, but at least you should have an idea of the region you would like to drift off to. Leave it to us to guide you through some of the best road trip routes in Melbourne.
5 Best Melbourne Road Trips
So here we are again. And this time we have a list of some spectacular road trips for you in Melbourne. While a long road trip is always enjoyable more, we have also included some day road trips from Melbourne. After all, exploring the terrain takes the priority here. Traditions can take the back seat for a while.
1. Great Ocean Road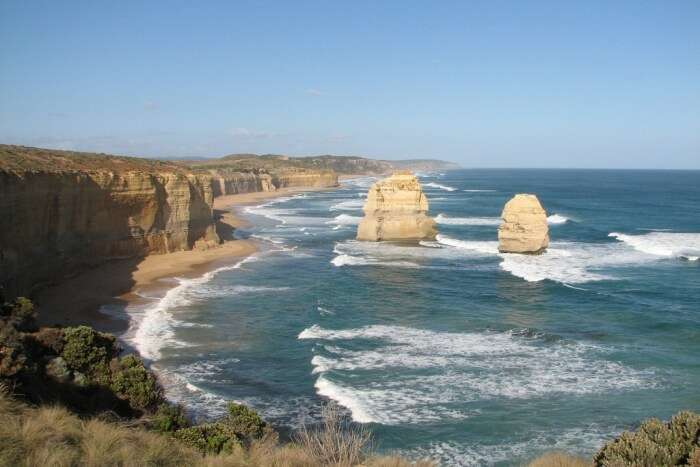 In the beginning, we present to you a trip with potentials to be covered in a day, or even longer. You could choose to drive from Melbourne, and then return back from the destination to Melbourne, or you might want to book a resort at the destination. Just a couple of drive from Melbourne, the Great Ocean Road has some of the world's best drives, be it scenery wise, or be it the terrain. The road makes its way along the South West coast of Victoria and by some of the famous rock formations around there. While you take each turn you will be presented with a new, stunning view.
However, the biggest thing about the Great Ocean Road are the 12 Apostles, that lay about 230kms from Melbourne, at a place called the Visitor Centre. It is a 3 hours journey along the Ocean Road to reach the Apostles. The Apostles basically are limestone pillars. These pillars were at a time part of the mainland. But with time, they got submerged, and now dot the ocean.
You might decide to return back to Melbourne. If you have decided to give the south of Melbourne detailed exploration, you might want to book a resort in either Lorne or Torquay. If you, however, decide to return back, you should take a detour at the Otway Fly Tree Top Walk, especially if you are an adrenaline junkie. It is the highest, and the longest treetop canopy walks in the world. You can climb up, then climb or zip-line through it.
Must Read: Alaska In Winter: A Peek Into The Land Of Midday Moon In Its Full Glory
2. Mornington Peninsula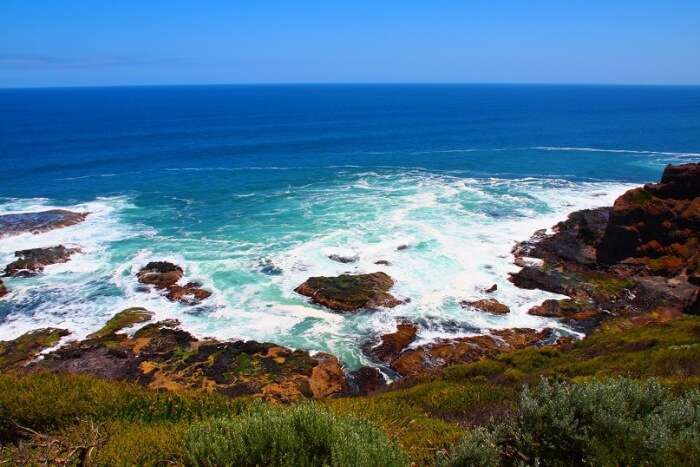 Suitable mostly for the girls out there, this is a road trip destination that you would love settling down in. it is a drive of just 90 minutes to the Mornington Peninsula from Melbourne. But it has much quieter beaches and boutique wineries. You would love the colorful boxes at the beaches of Mount Martha. Or just head to the Red Gum BBQ for the best BBQ in the whole of Australia.
But the most exciting thing about the Mornington Peninsula is the first ever natural hot spring resort in Victoria. Time would pass just like that in these 20 outdoor lunge pools. While this is suitably a day road trip, you could also decide to stay the night over either in Rye, or the seaside town of Sorrento.
Suggested Read: Restaurants In Alaska: 7 Places For A Lip-smacking Classic American Experiene
3. Daylesford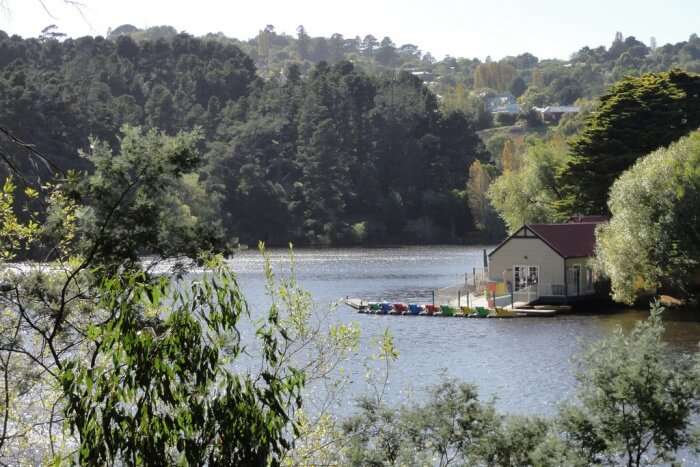 Are you looking for a drive ending in a weekend of laidback relaxation, good food, and lots of health care? Daylesford is your desired destination. At present, Daylesford is officially called Victoria's Spa Country. From natural hot springs to mineral treated spa facilities, this place has it all. Apart from these excellent spa facilities, and state of the art gourmet restaurants, the country atmosphere will pull you towards itself, not willing to let go of you so easily.
This is truly a retreat, a completely laidback weekend destination, to be enjoyed at an extremely lazy pace. You just need to let it all loose. This place just seems to take care of all. As, for the ones that love eating, and trying out new food items, Daylesford Macedon Produce Trail is your thing. It is a trail that is specifically designed to help the foodies enjoy the best products of the region. On this trail, you will find in abundant quantities, artisan cheese, truffles, and trout. You will definitely find more food items there. You just need to stick around.
To make it a perfect weekend destination, there are a number of boutique hotels, home stays, and homely bed and breakfasts in Daylesford in Australia . If not here, in nearby Hepburn Springs. If you wish to up the ante, stay in one of those luxurious spa villas.
Suggested Read: National Parks In Alaska: 10 Places To Experience The Untamed In The Land Of Noonday Moon.
4. Silo Art Trail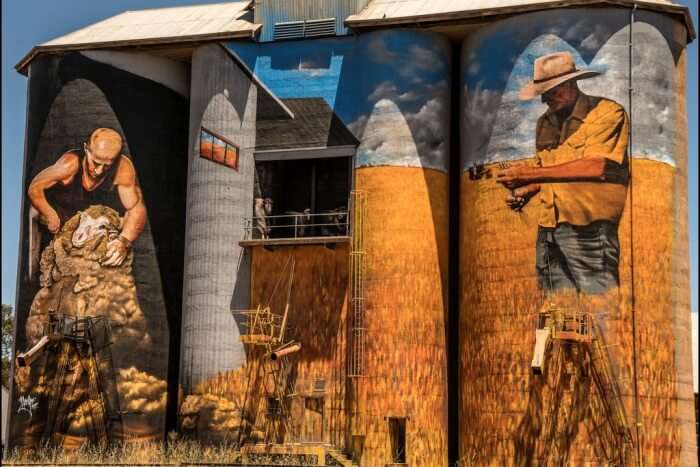 It is a fairly new addition to the Australian arsenal; the Silo Art Trail. This trail follows what is now called Australia's largest outdoor gallery. This form has seen the transformation, and fusion of an art form with another; street art being done on silos. The Silo Art Trail will show you the street art form being presented in a totally different light.
Along with a stretch of 200kms, all wheat and other stuff silos have been painted with large murals. They cover the entire visible surface of the silo. In the art, rural life is being depicted. Rural communities, their heroes, and their hard work are celebrated through these murals. Over a short period of time, these murals have been able to attract a huge crowd from the mainland. These are people that would never otherwise visit these parts of Victoria. The paintings have been however participated upon by some legends of Australian street art, in the likes of Fintan Magee, Matt Adnate, Rone, etc.
You could make a day road trip to the nearest silo to Melbourne, called the Rupanyup Silo. It is about 300kms from Melbourne and thus can be driven to and returned back in approximately 8 hours, after spending some time at the silo. However, if you wish to study the murals up close, and follow them to the very last one of them, it is highly advisable that you buy yourself a second hand camper van. You should do this as accommodations are sparse or nil along many of these destinations. You can buy cheap, second hand campervans on Gumtree. This really sounds adventurous by now.
Suggested Read: 10 Incredible Lakes In Alaska That Make It A Hot Destination For Nature Lovers
5. Melbourne's North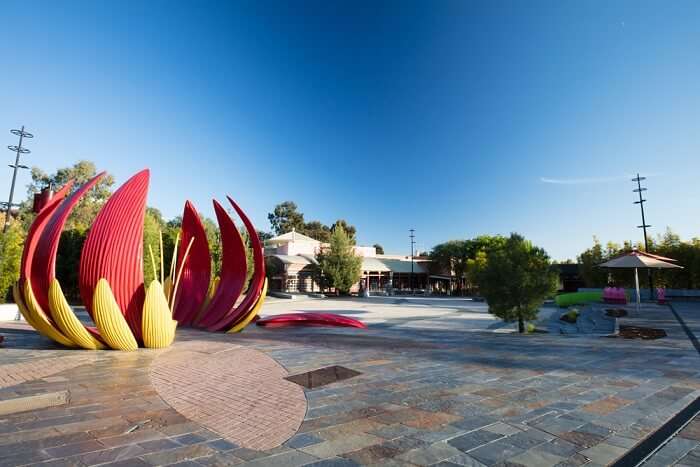 We shall like to end our list with an exciting prospect. Take a long week out, rent a car, take a few gallons of gas along, just for emergencies, and start driving North of Melbourne. You will learn a lot about Australia that way, and feel like you are an explorer, at least for a week. We are also listing down the towns, and settlements that you should stop by, or stay the night, however time permits.
Additionally, the North trip would be golden during the winters, when the ocean side is not so much of a welcoming sight. Popular for its food and drinks, especially the bakeries, Bendigo is a cultural hub of the North. As we have discussed earlier, this place is most popular among the beauty and comfort enthusiasts. This place has Victoria's earliest natural hot spring spas. More of a place for the creative lot, and the artisans, this place is live all around the year with music festivals, and world class restaurants.
Embrace the country life here with its excellent coffee, vintage shops, galleries, and classic bars.
These are the primary halts and stays we suggest along this route. However, you might choose to increase halts, and extend the trip further.
Further Read: Alaska In December: A Handy Guide For A Rejuvenating Holiday Experience In This Land!
So, these are our ideas for a road trip in and around Melbourne. Feel free to choose one and get on with it. What are you waiting for? Book your trip to Melbourne for a fun packed holiday with your family and friends! Make sure you pack a few extra bunch in case you change your mind about extending your vacay!
---
Looking To Book An International Honeymoon?
Book memorable honeymoon on TravelTriangle with 650+ verified travel agents for 65+ domestic and international destinations.
---