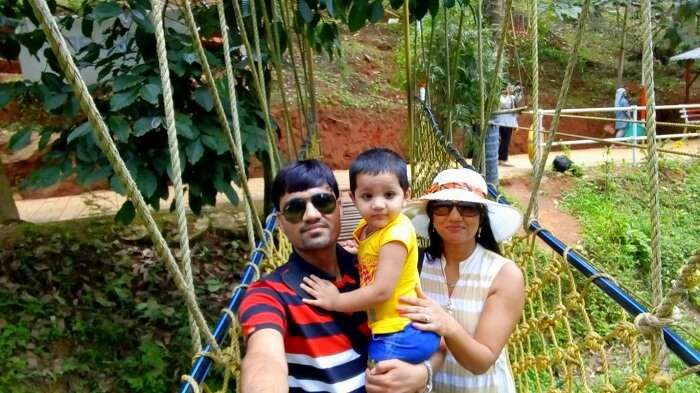 Mukesh Sharma talks about his incredibly relaxing and rejuvenating trip to Kerala that he took with his wife and daughter. Elaborating on the beauty of the place, he tells us why Kerala is the perfect destination for all those wanting a perfect blend of hills and coastal! He booked his Kerala family tour package from TravelTriangle for 18,400/- and it included their hotels, sightseeing, transfers, and breakfast.
Trip Type: Family
Destination: Kerala (Munnar, Thekkady, Alleppey, & Cochin)
Cost: 18,400/- (Land Package)
Inclusions: Hotels, sightseeing, breakfast, transfers, and houseboat

My family trip to Kerala was a special one. It was the first trip with our daughter 'Gaarvi' and the memories that we made with her will forever be cherished.
Coming over to our trip, we wanted to visit a place that would offer us serenity, nature, and a combination of hills and coastal area. Kerala turned out to be a destination that matched everything perfectly and so our choice was made. All that we needed now was a Kerala Family Package and that was also sorted soon.
After browsing a lot of travel websites for packages, we finally settled on TravelTriangle since it promised a hassle-free experience, options to customize our trip, and excellent value for money (18,400/-). So I filled in our requirements and was soon contacted by a representative from the company who understood my needs and connected me to various local travel agents for a perfect package. We soon finalized our quote and were now all set for our family vacation to Kerala.
Day 1: Munnar – Experiencing the charm of Kerala

37 Amazing Things To Do In Kerala For An Incredible Holiday In 2022!
We landed at the Cochin Airport  around 12:45 pm and were welcomed by the Mr. Rajendren who was our cab driver and guide for the tour. He was a nice fellow and after we had settled in the cab, our journey to the beautiful town of Munnar began.
The cab journey to Munnar was a very scenic one and full of greenery. We visited the Cheeyappara waterfall, tea garden, and a spice & herbs garden on our way and every experience was a mesmerizing one. We loved every bit of what nature had on offer.
In the evening, we reached our hotel 'New Whispering Meadows' which was at a pretty location. The staff of the hotel welcomed us warmly and also offered us drinks and other refreshments. Post our check in, we decided to relax at the hotel and spend the remaining time here only. We were happy that our vacation had begun on such a pleasant note and were also particularly in awe of the peaceful vibe that Munnar offered.
Day 2: Munnar – Feeling the love of Munnar

We began our day with a delicious breakfast at the hotel, got ready, and then proceeded on for a local sightseeing tour of Munnar. Our first stop was an 'adventure park' which was a fun and thrilling experience, especially for my daughter. Moving on from here, we visited the Mattupetty Dam, a beautiful place that offered marvelous views and picture perfect photographs for photographers.

We did boating here which was once again enjoyed by everyone in the family. Next was the Echo Point followed by a few other places. Overall, our whole day was spent making happy memories amidst nature and we loved everything that Munnar offered us.
Day 3: Thekkady – Feeling the magic of nature

This day, we got up early morning, had breakfast, and then proceeded on for Thekkady. The roads on the way were curvy, greenish, and surrounded by tea gardens, mountains, and valleys. It was an incredible ride since everything felt pristine and fresh.
We checked into our hotel 'Sandra Palace' which was located in front of a beautiful church and proceeded on to rest and freshen up before leaving for the sightseeing that was planned.
Our first stop was Periyar Lake. This lake was surrounded by lush green forest and being here was an out of the world experience. This was followed by an elephant ride post which we went shopping at a local market.
Again, this was an awesome day for us and we will never forget the beautiful memories we made here.
Day 4: Alleppey – Witnessing a perfect blend of blue and green

57 Best Places To Visit In Kerala For A Vacation To Remember In 2022!
This day post breakfast, we proceeded on to Alleppey for our houseboat stay and the backwaters experience. Upon our arrival in Alleppey, we checked into our houseboat 'Cosy House Boat' and the boat was comfortable and well decorated.
We, later on, proceeded for the backwaters tour and it was a serene, calm, and relaxing experience for us. The combination of blue waters and green landscape was truly mesmerizing and by the end of it, we felt completely rejuvenated. Later post some snacks and a delicious dinner, we called it a night.
Day 5: Cochin – Kerala, we will miss you!
This was our last day in Kerala and we began our day with a delicious breakfast at the houseboat. Post this, we checked out and proceeded on for Cochin to catch our flight. And yes, there was sightseeing also planned in Cochin also, but we only managed to visit the museum due to lack of time since our flight was scheduled for 4:30 pm.

Bidding farewell to Kerala was difficult because of the beautiful memories we made here. It was hard to let go of all the natural beauty that we had got accustomed to but nonetheless, it was time for us to depart. However before leaving we did make one promise, a promise to come back to this heaven and witness all its charm and glory, once again!
High Points: All the hotels, sceneries, nature, food, and the overall friendly ambience of the place.
Low Points: The elephant ride was a bit on the expensive side.
Tips for future travelers:
Go there with ample time so as to witness Kerala and its beauty in a satisfying manner.
Be prepared to spend long hours on road since the cities are a bit far.
Feel the pristine vibe of nature in Kerala. Experience mind-blowing natural beauty and sceneries with your loved ones! Book your family vacation to Kerala now!