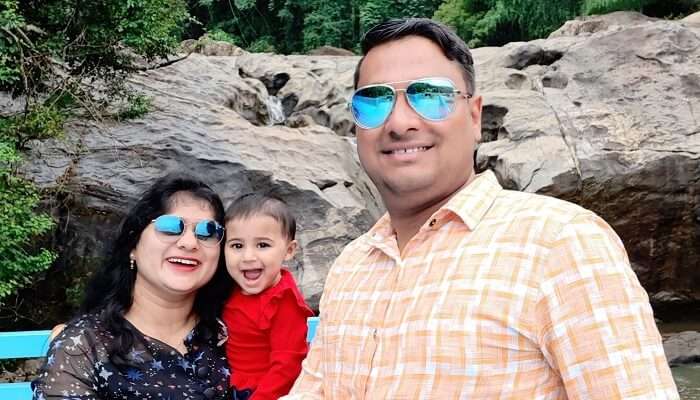 A hill station that forms when three mountain streams unite. That's Munnar for you. 1600 metres above sea level, this destination which is now a popular tourist destination was once a summer resort of the British government. Surrounded by emerald green plantations and always misty, this South Indian hill station is made of the same stuff dreams are made of. This phenomenal destination should be on every traveler's list and when Aditya was looking for a place to take a family trip to he came across Munnar. He says Munnar with kids is lit, and we couldn't agree more.
We wanted to take a trip that will disconnect us from the world for a while and a place which offers cascading waterfalls, obscure mountains and that will make us feel connected to nature in a way that we haven't felt before. We always have been ardent fans of train journeys and this trip was not going to be any different. We took one of the best Bangalore to Thiruvananthapuram trains for our commute and then took a cab to Munnar and reached our destination comfortably. What followed was two full days of exploring this beautiful destination.
Weather In Munnar In July
Although there were fables of rain that we had heard, we would say the weather in Munnar in July was great and comfortable. Yes, there were showers and some drizzling here and there but that did not stop us or made it in any way unpleasant. The destination and the weather overall was enjoyable and a great experience.
Details Of Our Munnar With Kids Trip
Trip Type: Family Trip
Cost: INR 12,100
Duration: 2 Nights and 3 Days
No. Of People: 2 Adults, 1 Child
Inclusions: Breakfast, Transfers, Accommodation, Sightseeing
Exclusions: Lunch, Dinner and Personal expenses
Travel Agent From TravelTriangle: Pacifica Vacations
Customised Itinerary For Our Munnar With Kids Trip
Day 1: Arrival; Sightseeing
Day 2: Exploring Munnar
Day 3: Departure
Winter In Kerala: 11 Best Places To Visit For A Blissful Vacation In 2022!
Our Experiences In Munnar
The most beautiful part about a trip is the experiences you have and the memories you make. We will share our best and favourite experiences from our Munnar with kids trip.
1. Cheeyappara Falls & Valara Falls



Two of the most beautiful waterfalls in Munnar, the Cheeyappara Falls and Valara Falls offer an unforgettable experience. The best part was the journey because the views along the way were beautiful and very awe-inspiring. We were so happy because of what we were seeing that we didn't even realise when we reached the falls. The falls however were something from the other world. The ever-so-present mist only added to the beauty of the place.
Entry Fee: Nil
Timings: NA
10 Majestic Photography Places In Kerala Which Are A Heaven For Everyone
2. Elephant Ride & Tea Plantations



One of the most amazing experiences that we had on our Munnar with kids trip was taking a safari where we went to many interesting places such as the hanging bridge and a mountain peak. We are die-hard fans of waterfalls and Munnar has plenty of them so even when we took a safari we visited some two or three of them. We also took an elephant ride in Munnar which was very exciting.
Entry Fee: Variable
Timings: NA
3. Eravikulam National Park







Eravikulam National Park is considered to be one of the top places in Munnar for kids and we wanted to visit the place for the experience. Munnar with kids is fun but it's even more fun if you visit exciting places and that is what we did. Popular for being home to Nilgiri Tahr, an endangered species of goat and many other rare animals, this park offered a very unique experience and made our trip unforgettable.
Entry Fee: INR 65 (For Indians); INR 245 (For Foreigners)
Timings: 7:30 AM-4 PM
Hotels In Munnar
We stayed at the Summit Birds Valley Resort & Spa on our trip to Munnar with kids and the location of the hotel was brilliant. The great service and world class facilities added to our experience and we were happy with the experience. The only thing we didn't enjoy as much was the breakfast but other than that it was a fine experience.
Kerala In November 2022: Places And Events Not To Be Missed Out!
Food In Munnar
As we took a short budget trip to Munnar we didn't have much time to explore the best restaurants in Munnar we had heard so often about but we did visit some. However neither of us remember any names in particular.
Shopping In Munnar
Shopping in Munnar was a okayish experience. Although there is a lot to shop, we had very limited time and we wanted to explore the place more. We bought some special Munnar ayurvedic medicine from a spice plantation shop which was very effective and worth it on our Munnar with kids trip. However, if you are on a budget trip in Munnar, we suggest don't indulge in shopping as such.
How To Reach Munnar
Although we are people who like train journeys, we know taking a flight would have been the best thing we could have possibly done. The nearest airport is Cochin International Airport which is around 140 kilometres away. So, you can get down and take a cab. If you plan for a journey by road then the nearest bus stop is in Aluva which is 110 kilometres away from Munnar.
7 Days In Kerala With Kids: The Experience Was Beyond Impeccable
Munnar Travel Tips
There are so many places to visit and many of them are very similar, so it's better to choose and prepare your itinerary carefully.
It's better to see and check the pictures of the places you plan on visiting and use Google Maps to check the distance between two attractions, or you will end up using most of your time for commute.
Manage well and have one day just to stay at the resort.These resorts offer wonderful views and many things to do.
If you or anyone you are traveling with suffers from altitude sickness, then keep medicines handy.
Rains are very common so pack accordingly.
Our Experience With TravelTriangle
Our experience with TravelTriangle was absolutely amazing. Our trip was such a hassle-free and pleasant experience that we loved it and our trip to Munnar with kids actually was absolutely worth it. The staff is very cordial, co-operative and well mannered and assisted us throughout. Not just that, even our cab driver and all the other people at our destination were really good too. It overall was a value for money experience. Definitely coming back to them for more.
10 Most Famous Islands In Kerala You Must Visit For An Extraordinary 2022 Experience
We think Aditya's experience and his trip to Munnar with kids was pleasurable to read about. They had a lot of fun and recommend everyone to visit Munnar once in their lifetime to know what real happiness and being disconnected with the world and connected to nature feels like. If reading about Aditya's experience has prompted you and you want a similar experience then without further ado check out these customizable options for a trip to Kerala and plan your trip with TravelTriangle.
Common Queries For A Munnar With Kids Trip
What is special about Munnar?
From the enticing tea plantations to the exciting safari, there are many things that are really special about Munnar.
Are there beaches in Munnar?
No, there are no beaches in Munnar. However, there are many beaches near the vicinity that you shouldn't miss out on.
Is it good to visit Munnar in August?
As Munnar is technically a hilly area, it's a great place to visit in August. The month is great to enjoy the Cheeyappara Falls & Valara Falls. Your vacation will be all about leisure and adventure, at the same time.