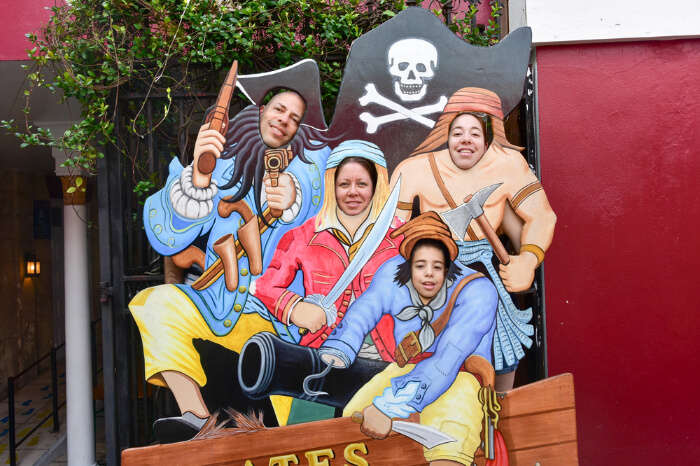 Bahamas, an island nation in the Atlantic Ocean, is a coral-based archipelago (group of islands). This place is famous for its pink sand beaches and vibrant seashells. Another highlight is its rich wildlife, especially the birds and marine life. The lush tropical foliage and clear blue sky together blend in to give a breathtaking scenery which surely is a beauty to behold. The subtropical climate of Bahamas makes it a great holiday destination. But these are not the only factors that attract travelers to this island. The rich culture and history of this Bahamas also attract a lot a visitors every year. The museums in Bahamas best testify the history and cultural heritage of the island nation.
12 Best Museums In Bahamas
Bahamas is famous for not only its varied wildlife but also for its rich cultural heritage. Since so many different religions persist here, one can easily find a blend of influence of cultural influence in the music's and festivals of this place. The locals here are warm and welcoming. They are very friendly to the outsiders. Bahamas also has a unique history showcasing its colonial past. As a result so many museums can found here which will take you through a journey of their rich past. For people who are interested can visit these places to know more about Bahamas. Here is a list of some of the top museums of Bahamas that will help in exploring the history of this place!
1. Bimini Museum

The sole purpose for starting this museum was to preserve the island's historical past. This place honours and celebrates all those people who made a positive contribution in the development of this place. You can find pictures and memorabilia of Ernest Hemingway beautifying the walls of these museums. Other than that you can also find several historic arts and sculptures that are now used to glorify this museum.
Location: Saunders Street, Queens Hwy, North Bimini Alice Town Bimini, Bahamas
Contact: +1 242-347-3201
2. Long Island Library & Museum

This museum will take you back in time by showcasing houses which are built in the style of the past. You will get to see thatched roofs, oil lamps and goose irons. This place is located in village area but is highly maintained special care is taken for the tourists. The historic cottages and Catholic churches are quite an attraction of this place. This place screams of the rich cultural history that this place has and the ambience and the vibes of this place are very positive.
Location: long island, Bahamas
Contact: +1 156-934-4507
3. The Dolphin House

This is a unique museum which was started in 1993 with a great initiative in mind. This small yet admirable museum features all the things that made after recycling the old material. This place was built by a local Bimini historian named Ashley Saunders which at present is also his home. Here you will get to see old cannon balls and other historical artefacts as well!
Location: Saunders Street, Queens Hwy, North Bimini Alice Town Bimini, Bahamas
Contact: +1 242-347-3201
4. Pompey Museum of Slavery & Emancipation at Vendue House

This museum is dedicated to a courageous slave named Pompey. He lived on the Rolle Plantation in Steventon, Exuma, Bahamas. This place was built in the 1700 and was used in the late 1800s to capture enslaved Africans. This place is open from Monday to Saturday from 9:30 am to 4:30 pm.
Location: Bay Street, Nassau, Bahamas
Contact: +1 (242) 326-1007
5. Wyannie Malone Historical Museum

This museum was officially opened in March 1978. It is one of the oldest museums of this place. This is a museum that showcases exhibits on local Hope Town history. It also has an archive on genealogy. The main purpose of building this museum was to preserve their history and educate their future generation to come about how they originated. It showcases several manuscripts, photographs, artefacts, pottery and many other household antiques.
Location: Queen's Hwy, The Bahamas
Contact: +1 242-366-0293
6. Spanish Wells Museum

This museum is located on island of Eleuthera. As you make your way through this museum it takes you through a journey of the island's rich historical past. The museum displays artefacts and photographs that shows the culture of the past which they have been carrying on for generations. It basically aims on the local history and also the slave culture.
Location: Spanish Wells, the Bahamas
Contact: +1 242-333-4710
---
Planning your holiday but confused about where to go? These travel stories help you find your best trip ever!
Real travel stories. Real stays. Handy tips to help you make the right choice.
---
7. Albert Lowe Museum

This museum was established on November 6, 1976. It was founded by Bahamian artist Alton R.Lowe. The whole museum is inspired by the Victorian era and has a rich cultural influence of the local history. The model ships, artefacts and other exhibits are what together beautify this place. The aim is to preserve the history and development of the Abaco area. This place is full of things which are from the time of the Loyalists. Other than these photographs, paintings and writings are a few things that add even more beauty to this place.
Location: Parliament St, the Bahamas
Contact: +1 242-721-5631
8. Heritage Museum of the Bahamas

This museum is located in the capital city of Nassau. This is a museum that is located in a building called Mountbatten House built in the early 1850s. This is a compact museum and has everything that is related to the Bahamas history. It specializes in showcasing the good and artefacts of the Bahamian history. It also features some important documents that played an important role in the past of the Bahamian politics and culture. Also it provides its visitors with an audio tour which is quite educational and fun to listen as well!
Location: W Hill St, Nassau, the Bahamas
Contact: +1 242-302-9150
9. Man-O-War Heritage Museum

This museum is located on the island of Man-O-War Cay in Abaco Bahamas. This museum is basically a small wooden home that was built in the 1800's. It showcases several historical materials that are related to their legacy of building boats. It opens on Tuesday, Thursdays, Fridays and Saturdays. And the timing is from 10 am to 12 noon. One can also find pre-Columbian inhabitants and other archival records. Thus exquisite historical materials are what make this place worth visiting.
Location: Pappy Ben Hill, the Bahamas
Contact: +1 242-424-6509
10. Bahamas Historical Society Museum

This is basically a very modest museum. It features various exhibits which are related to the history & culture of the Bahamas. It opens at 10 am and closes at 4 pm. So it is highly recommended to visit this place at the earliest. It was opened for the first time in 1959 by Sir Raynor Arthur his wife, Lady Arthur. Here Sir Raynor Arthur was the Governor of The Bahamas. It is an educational project and a completely nonprofit organization. The main purpose of opening this museum was to let people know about the Bahamian history and culture.
Location: Shirley St, Nassau, the Bahamas
Contact: +1 242-322-4231
11. Pirates of Nassau

This is a museum that displays city's history as 18th-century pirate base. You can find replica of pirate ships & several other exhibits. This museum was built here because at one point of time Nassau was a pirate's republic. So if you want to get an insight of the lives of pirates of that era then you must surely visit this place.
Location: King and, George St, Nassau, Bahamas
Contact: +1 242-356-3759
12. National Art Gallery of the Bahamas

This place was established in 1973. It was a first institution of its kind and also one of the oldest museums of this place. The museum is located in the Villa Doyle that was built in the early 1860s. This museum has four galleries that display various artefacts and documents related to the past. The walls are decorated with photographs of that era and this place gives an insight of the political views of the past.
Location: West St. & West Hill St., P. O. Box N 711 Nassau, Bahamas
Thus for all the people who not only enjoy knowing the culture of this place but also like its historical pasts, the museums of the Bahamas are the best way to learn that. They give an in depth knowledge of their past by their historical artefacts and other important documents. Theses museums also depict the influence of various cultures of this place. So, plan an international tour, head to Bahamas and make sure that you take a tour of theses astonishing and beautiful museums as well.
---
Looking To Book A Holiday Package?
Book memorable holidays on TravelTriangle with 650+ verified travel agents for 65+ domestic and international destinations.
---