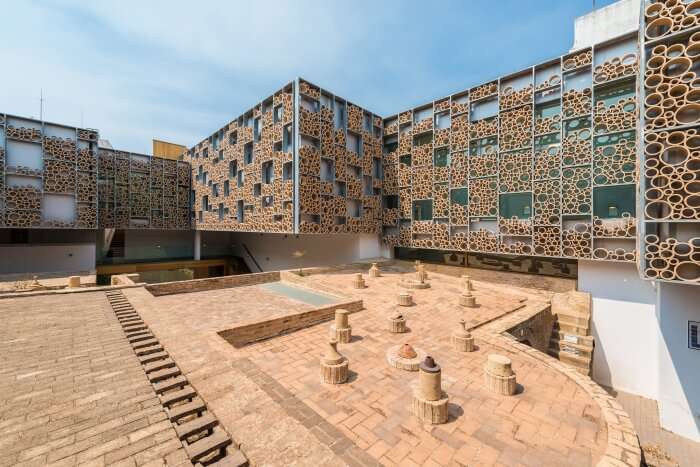 As the hub of Andalusian history and culture, Seville also offers a wonderful layout of antiquity and art from the Neolithic era to the ever-evolving age of modern art. Formed in buildings that symbolize the beauty and culture of the journals of Andalusian predecessors as well as those that describe challenging consequences in history, these must-visit museums in Seville will be essential parts of your experiences across the culture-rich town of Seville.
9 Great Museums In Seville
Seville is a treasure trove of Spanish art and history. Regardless of the time of the year, here are a few noteworthy museums that you should visit when in town
1. Museum of Arts and Traditions of Seville (Museo de Artes y Costumbres Populares)

On the opposite edge of Maria Luisa Park's Plaza de America, The Museum of Arts and Traditions of Seville holds the Anibal Gonzalez devised Mudéjar Pavillion, a wonderful structure formed in the year 1914. Space initially attended as an art arcade through the Ibero-American Exposition of the year 1929, for that Anibal González was provided with the chance to invent a range of permanent structures for the plaza. The museum itself incorporates of stories and objects that describe a captivating social history and an enthralling glimpse into the everyday lives of diligent Andalusian predecessors.
Must Read: Your Stays Made Easy With These Hostels In Spain
2. Flamenco Museum of Seville (Museo de Baile Flamenco)

Established by the legendary Sevillan flamenco hoofer Cristina Hoyos, the idea to visit the Flamenco Museum in Seville is unquestionably a great idea. Although the museum place itself is short, it proffers an influential understanding of flamenco history via 18th-century sketches, paintings, photos, and numerous legendary garments. No history of flamenco, particularly in the town where the source is so intense, is impeccable without enduring the charm and unconditionally passion up approaching and person. Purchase permits previously, come early to have a look at the best museums in Seville & then take foremost chairs as soon as probable to experience every foot patch and charismatic turn that amplifies your adventure.
3. Archaeological Museum of Seville (Museo Arqueológico de Sevilla)

Established in a 1920's arcade in Plaza de America inside the gorgeous Maria Luisa Park, the acquisition of Seville's Archaeological Museum is recognized Andalusia's most prominent archaeological acquisition and museums in Seville, as it comprises a preponderance of artifacts from the Roman cavity of Italica, unimaginable ruins just outside the town. With deeds dating following to the Neolithic Age via Roman profession and the Moors time, this museum successfully and tastefully confirms the various verdict periods of Spain and provides an interesting window inside the history of the Andalusians who owned the territory 1500 years past. Recognized for its statue of a Phoenician fertility goddess identified Astarte-Tanit including the Carambolo Treasures, jewelry of gold from the 6th century that illustrates an Oriental magnetism, this museum is an outstanding one to view.
Suggested Read: Winter In Spain: A Guide That'll Help You Curl Up Amid The Country's Eternal Charm
4. Museum of Fine Arts (Museo de Bellas Artes)

Established by St. Peter Nolasco through the reign of King Ferdinand III of Castille and formerly house to the nunnery of Merced Calzada de la Asunción. It is the Museum of Fine Arts in Seville and is recognized as the second most crucial Spanish art museum in Seville Spain. Since its customary commencement in 1841, the museum has created a gathering significant to the acquaintance of Sevillan Baroque portraits, with performances by entertainers of the 17th century, Sevillan painting's 'Golden Age' with performances by Francisco de Herrera the younger, and Zurbarán, Murillo, Valdés Leal. Not only is the acquisition impressive, but the patio gardens and structures are as fresh, so exert a couple of moments out of your trip to the miracle at all the Museo de Bellas Artes possesses to offer.
5. Andalucian Museum of Contemporary Art (Centro Andaluz de Arte Contemporáneo)

In a former monastery turned ceramic factory The Andalucian Museum of Contemporary Art (CAAC) is housed which is interesting blended into the area of the museum, mounting block kilns and whole. Now undividedly an up-to-date art museums in Seville Spain, it is appreciated as a breathtaking art building in and of itself, placed on its own utterly convenient island. Depart from the bustling city hub to traverse the clean and peaceful environment of ancient and contemporary architecture and observe out for the holidays on which they host constant performances of flamenco and jazz. In extension to being an astonishing space to saunter, the acquisition highlights the history of modern art in Andalusia as well as it acknowledges the creative inclinations and concerning matters of artistic conception now and overhead time in Seville and all across Europe.
Suggested Read: Trekking In Spain: 10 Best Places For Indulging In An Ultimate Adventure Like Never Before!
6. Inquisition Museum (Castillo San Jorge)

On the edge of the shoveled 12th century Castillo de San Jorge, the Museum of Inquisition grew the original headquarters of infamous inquisition of Spain in the 15th century. You can observe the wrecks of the castle in this museum and even the situation of the jail blocks. It is recognized everywhere as a spot of reflection for its appearance of compelling tales that should not be overlooked. A short trip to the best museums in Seville is imminent and is the absolute segue to the spectacular Triana market connected to the construction in the rear.
7. Roman Ruins (Itálica)

If you are excited to have a tour the place from where the artifacts Of various Archaeological Museum's can be seen, take a drive out approaching the contemporary town of Santiponce to have a tour at Itálica, once the third biggest town in the Roman Empire and even the Roman emperors Hadrian and Trajan's birthplace. There is not a lot of direction or signage, but no requirement, because of the wrecks articulate for themselves. Drive along its routes as you perceive a palpable sense of what journal was like so long before, wonder at the well-protected beautiful floor pastiches and the interior of dwellings or the conserved neighborhood oven. On the head of that is the considerable amphitheater that formerly sat 25,000 observers and however stands sound today.
Suggested Read: 10 National Parks Of Spain That Will Take Travellers To Another World
8. Carriage Museum of Seville (Museo de Carruajes)

It originated on the October 17th, 1999 to make personages recognize the world of the horse wagon. Among all the museums in Seville, this has a certain peculiarity. It would astonish you to view how thoroughly staged are the wagon in distinct historical times. Furthermore, nothing more than to watch the nunnery of the 16th century in which it is established, it is meriting touring this unique museum in Seville Spain. If you possess the time to drive out to this museum in Seville, we profoundly promote the visit.
Suggested Read: 10 Sensational Wedding Venues In Spain That Will Give You Major #WeddingGoals
9. Naval Museum of Seville

Image Source
This museum is positioned inside of the Golden Tower, and its function nowadays has blank to view with its preceding ones; it is practiced to be adopted as a chapel, office of the harbormaster, prison. Between its parts can be observed fossilized remains of aquatic beasts, ancient nautical charts, and ancient records. Last but not least, it spotlights as well a generation of the primary 16th-century scientist Mapamundi.
Further Read: 8 Best Spanish Cuisines That Will Make You Fall In Love With Spain All Over Again!
Your search ends here if you are seeking for the some of the best museums in Seville. We have prepared a list of highly visited and most famous museums in Seville. These are the destinations where you can plan a trip anytime to experience ultimate peace and silence around them. After visiting Spain, people will depart with a memorable experience of exploring ancient art and history.
---
Looking To Book An International Holiday?
Book memorable holidays on TravelTriangle with 650+ verified travel agents for 65+ domestic and international destinations.
---