Thailand is one of the most popular backpacking destinations in the world and for good reason. It is a truly amazing place that has some of the most exotic islands and beaches in the world. Thailand also enjoys great weather all year round; the temperatures never dip below 20 degrees even in winter! Whether you are looking for a romantic getaway, or a trip down memory lane, or an adventure vacation surrounding long tail boats, Thailand has it all.
8 Best Museums In Thailand
However, take a look at these 8 interesting museums in Thailand that you must add to your itinerary when holidaying in this tropical paradise.
1. Jim Thompson House Museum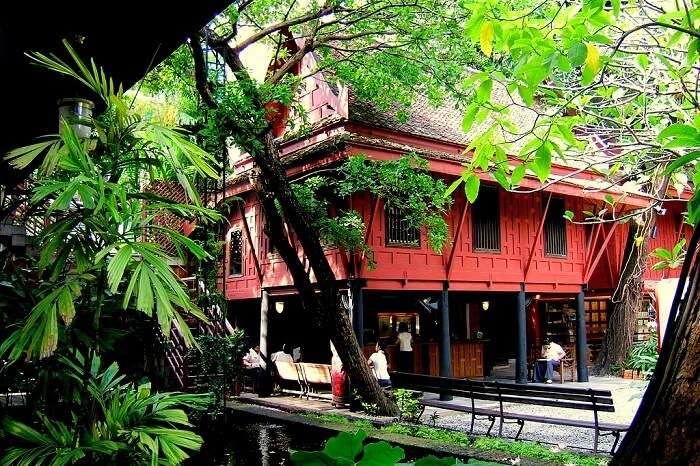 A New York architect who lived in Thailand and served as a soldier in the World War II was instrumental in establishing the silk industry in Thai. Jim Thompson's beautiful traditional Thailand home was renovated and turned into a museum to pay homage to the man who was given the royal Order of White Elephant. This Thailand art museum houses a priceless and rare collection of Asian art silk. This site is a series of 6 traditional Thai style wooden homes that have curved roofs and beautiful Naga serpent motifs. The Thompson house has an art center where you can pick up stuff from the ongoing exhibitions that are set up all year round. Another interesting art museum Bangkok that you can visit is the 100 Tonson Gallery that isn't too far from the Thompson museum.
Location: 1 Wang Mai, Pathum Wan, Bangkok, Thailand
Timings: daily: 9am–6pm
Entry Fee: up to $ 3.07 USD
Suggested Read: 9 Ayutthaya Temples That Are A Must-Visit To Experience The Best Of Thailand
2. The National Museum Bangkok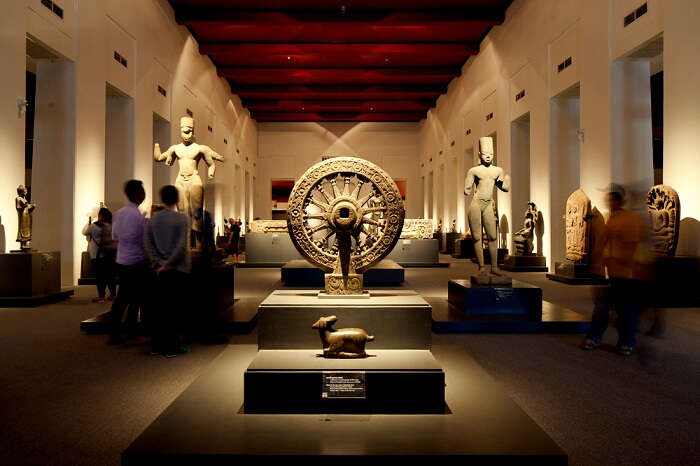 Whoever said museums were dull? Thailand national museum is one of the most interesting museums that is home to the rich art, history, and culture of Thailand. Located within the former Wang Na Palace, this museum boasts of a rare ethnological collection of shadow puppets, Khon masks, classical dance costumes, and traditional musical instruments from the past. The museum is spread across 6 different buildings and is home to sculptures and rare busts from the Sukhothai and Ayutthaya periods in Thai history. The Buddha Jawan Chapel in specific is worth a visit where you will get to see the famous inscription #1 from King Ramkhamhaeng in the Sivamokhapiman gallery.
Location: 4 Na Phra That Alley, Phra Borom Maha Ratchawang, Phra Nakhon, Bangkok
Timings: daily: 9am–4pm
Entry Fee: $5.75
Suggested Read: 10 Amazing Places To Visit In South Thailand For Your Next Tropical Vacation
3. Chiang Mai National Museum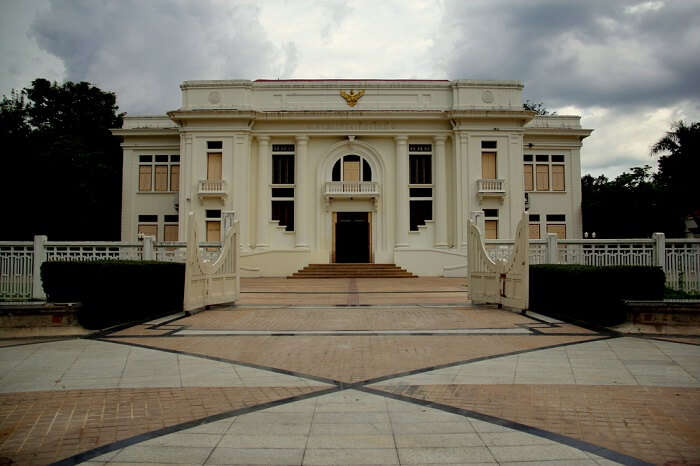 Chiang Mai city reigned as the capital of the Lanna Kingdom during 1296. This was the largest city in Northern Thailand and flourished until it was invaded in 1557 by the Burmese. You will see a number of ancient relics of this kingdom at the Chiang Mai National museum, which may be small in size, but is rich in its collection of Lanna style artifacts, ceramics, art, and handicrafts. This is one of the best museums in Thailand that gives visitors an insight of the economic and educational development of this erstwhile royal city.
Location: 5, Jalan Perdana, Tasik Perdana, 50480 Kuala Lumpur, Wilayah Persekutuan Kuala Lumpur, Thailand
Timings: daily: 9am–4pm
Entry Fee: $0.92
Suggested Read: 7 Enchanting Monasteries In Thailand That Will Take You A Step Closer To Nirvana
4. Thai-Burma Railway Centre Museum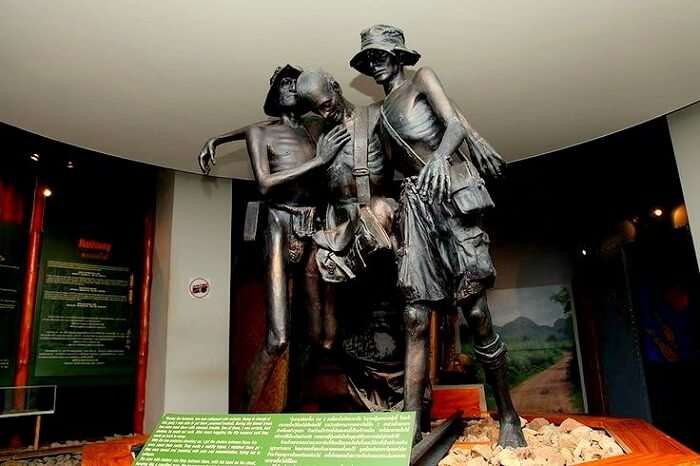 This one of the best museums in Thailand, located just beside the Kanchanaburi War Cemetery. It showcases a unique exhibition about the glorious history of Thailand – Burma railway, a 145 km train track that ran between Bang Pong and Thanbyuzayat during the World War II period. It was built during the invasion of the Imperial Japanese Army, by the prisoners of the war. There are a number of photographs that show the planning and construction of the railway as well as the living conditions of the prisoners in the camps, summary of deaths, medical aspects, operation of the railway, and also the bombing and the end of the railway.
Location: 73 Jaokannun Road, BanNua, Amphoe Muang, Kanchanaburi 71000, Thailand,
Timings: daily: 9am–5pm
Entry Fee: $3.45 and $1.70 for children 7-12
Suggested Read: 10 Most Romantic Thailand Wedding Venues That Are Perfect For Your Big Day
5. Condom Museum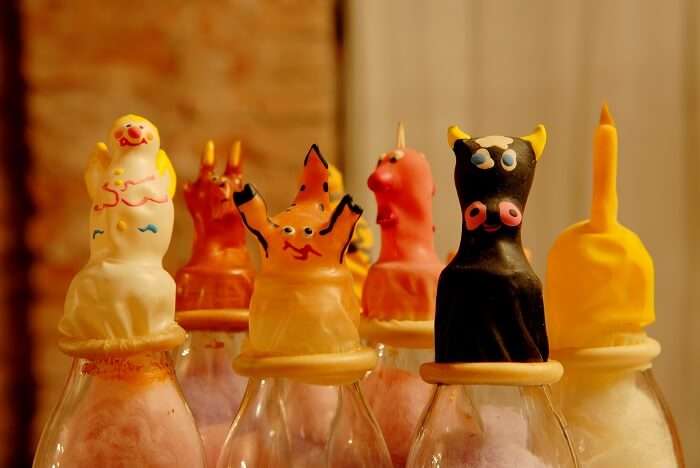 One of the most-quirky attractions in Bangkok, the Condom museum greets a number of curious tourists all year round. This museum was opened by the Ministry of Health as an effort to overcome the negative images of condom usage among the population. This Bangkok museum is tucked away in a quiet corner of the sprawling Ministry of health complex. It has a number of small rooms that showcase the history of condoms and its manufacturing process. You will find condoms of all colors, flavors, and sizes on display. You will also be taken on a tour of the rooms where the strength and endurance testing rooms, where the staff of the museum will show you how far a small piece of rubber can stretch!
Location: Ministry of Public Health, Building 9, Department of Medical Sciences, Bangkok,
Timings: Mon–Fri: 9am–5pm
Entry Fee: Free
6. Museum of Siam: National Discovery Museum Institute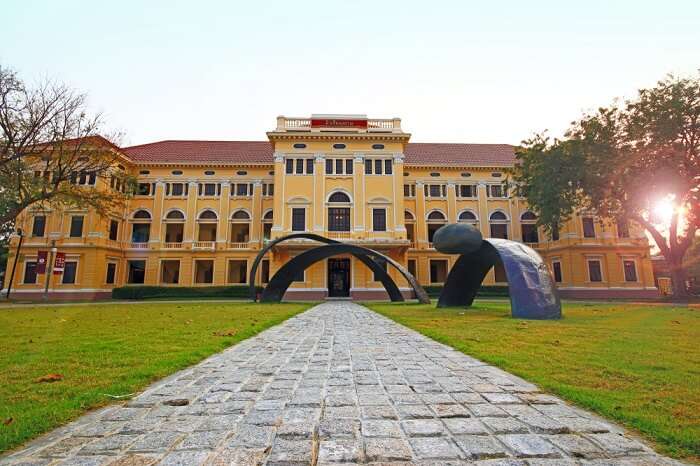 it if you are traveling with kids. Also, known as Discovery museum, this is a well-designed museum that gives an insight into Thai culture. It chronologically traces the history of the country from past to present, as you go from one room to another. Each room in this museum Siam, has a number of digital exhibits that visitors can interact with. There are a number of video exhibits too, that explain the history as well as the ethnography of Thailand. The videos have English subtitles and the friendly staff leave no stone unturned in ensuring every visitor has an enriching experience at this – 'Please Touch Everything' museum.
Location: 4 Maha Rat Rd, Khwaeng Phra Borom Maha Ratchawang, Khet Phra Nakhon, Krung Thep Maha Nakhon 10200, Thailand
Timings: 10am – 6pm closed on Monday
Entry Fee: $ 3.07 USD
Suggested Read: Celebrate Christmas In Thailand To Bask In The Joys Of Festivities
7. Erawan Museum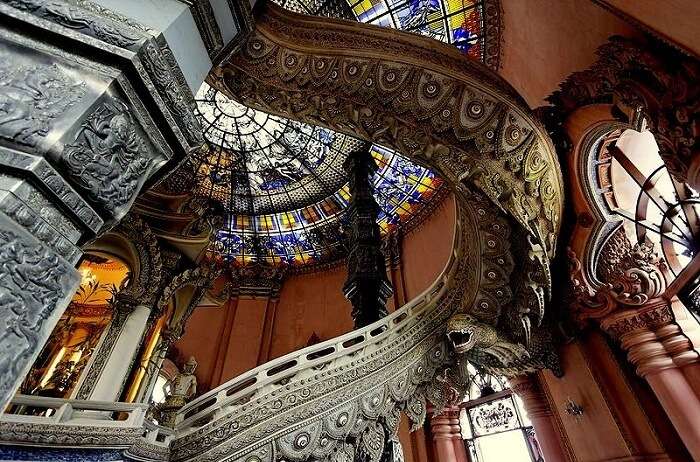 This unique three headed museum is located on the outskirts of Bangkok in Samut Prakan. It is just a few kilometres from the famous Bang Na station and hence rather easy to access. Erawan museum in Bangkok, Thailand, has an enormous 3 headed elephant that reaches a whopping height of 43.6 meters and is said to weigh nearly 150 tons! There is more to the museum than just the gigantic elephant, which is truly an incredible sight. Erawan museum was built and commissioned to be a site that preserves the rich Thai heritage via visual arts as well as religion. Around the bases of this museum that features Thai scriptures, is a stream of flowing water. Locals buy lotuses and float it in these waters, as it is believed to bring good luck.
Location: 99/9 Bang Mueang Mai, Mueang Samut Prakan District, Samut Prakan 10270, Thailand
Timings: Daily: 9am–7pm
Price: From $9.44 onwards
8. Siriraj Medical Museum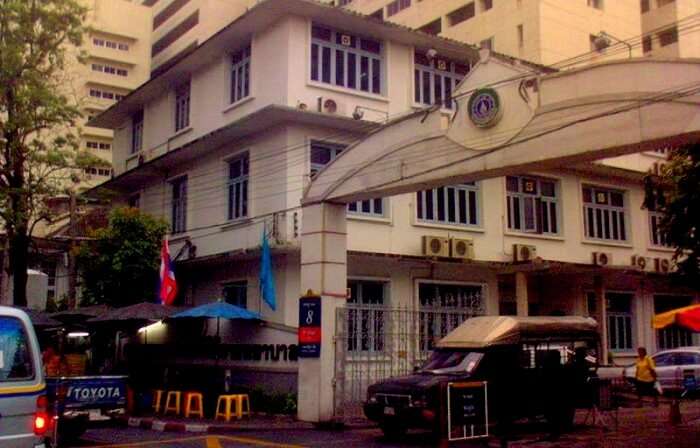 There is no dearth of interesting attractions in Thailand, and Siriraj medical museum is one of them. This museum serves as an educational site for medical students as well as tourists from across the globe. This unlikely museum has weird exhibits such as dead bodies of killers and rapists, preserved fetuses, murder weapons, and victims of unusual victims that can make the weak hearted squeamish!
Location: 2 Thanon Wang Lang, Khwaeng Siriraj, Khet Bangkok Noi, Krung Thep Maha Nakhon 10700, Thailand
Timings: daily: 10am–5pm
Price: $9.45
Further Read: 10 Best Beaches In Koh Tao That Are Worth Exploring On Your Next Thailand Trip
From fun museums to delicious eats to other amazing attractions, Thailand has all the ingredients to make a perfect holiday destination for the young and old. So make sure you do not miss out on these interesting museums on your next holiday in Thailand with your loved ones!
---
Looking To Book An International Holiday?
Book memorable holidays on TravelTriangle with 650+ verified travel agents for 65+ domestic and international destinations.
---
Comments
comments