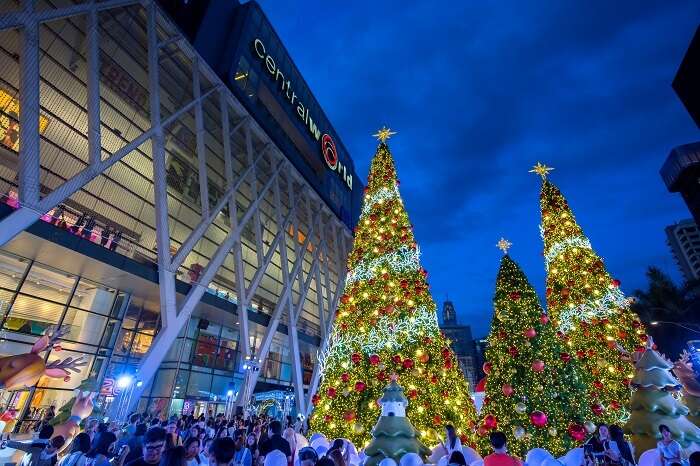 Christmas is a time to rejoice, enjoy and also have a great time to travel. Though Thailand doesn't celebrate Christmas as a traditional festival, it is one of the best places to visit during the festive season. Being about 85 percent Buddhist and 14 percent Islamic, the remaining 1 percent covers other religions in Thailand that makes Christmas a working day in Thailand. However, the country does a fabulous job at Christmas. If you are planning to visit Thailand over Christmas and New Year, it is a great decision to spend your holidays.
Holiday in Thailand during Christmas is a jovial time. Every mall in Bangkok is lit up with lights and decorations while all the major hotels and cities recreate the magic of Christmas in different ways. From Christmas trees to dedicated shops, and from discounts to free services, here's how you can enjoy during Christmas in Thailand.
Best Time To Visit Thailand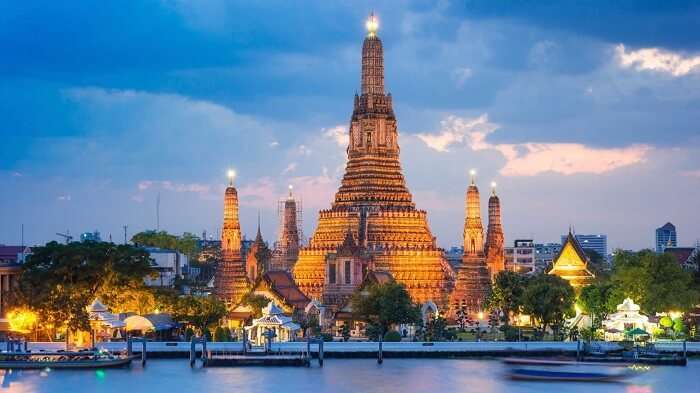 There is something uniquely different and special about Christmas holidays in Thailand and other parts of Thailand. Sure, this is a Buddhist country, but it still boasts of great tropical weather and the Thais know just how to put on a good party. When in Thailand, celebrate Christmas by exploring the beautiful countryside. Thailand weather at Christmas is pleasant and ideal for sightseeing and other adrenaline-pumping outdoor activities. Do not restrict yourself just to things to do in Bangkok, instead explore some of the other cities when spending Christmas in Thailand.
22 Exciting Things To Do In Bangkok – Thailand On A Holiday In 2022
6 Reasons For Celebrating Christmas In Thailand
While you don't need a reason to visit this beautiful land of beaches, it is always good to know a few things beforehand for a hassle-free Thailand Christmas holiday with your friends and family.
Christmas Shopping
Beaches
Bar Crawling
Authentic Thai Food
Budget Holiday
The Weather
1. Christmas Shopping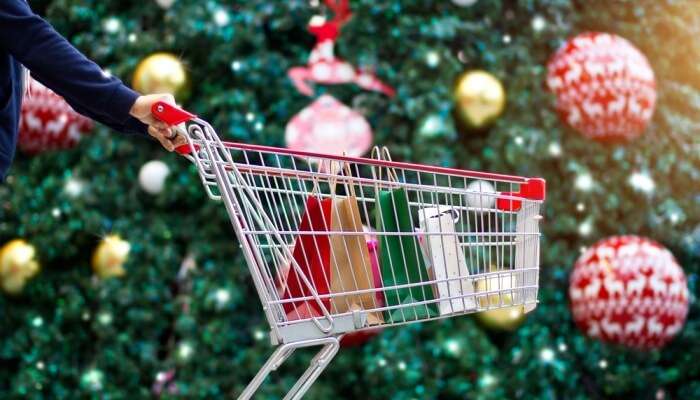 The biggest challenge we often face during Christmas is to buy the right presents for our loved ones and make sure they like them. Thailand is a shopper's paradise that will come to the rescue for every person planning to do something thoughtful on Christmas, you can indluge in an excitng experience while shopping in Phuket and satisfy your urges. There's something for everyone in the markets of Thailand. From designer bags to handicraft items, Thailand has got your Christmas shopping adventure all covered.
Famous markets in Thailand for Christmas shopping: Pratunam Market, Chatuchak Market
A Sojourn In Thailand Or Bali For Honeymoon In 2022? We'll Help You Decide
2. Beaches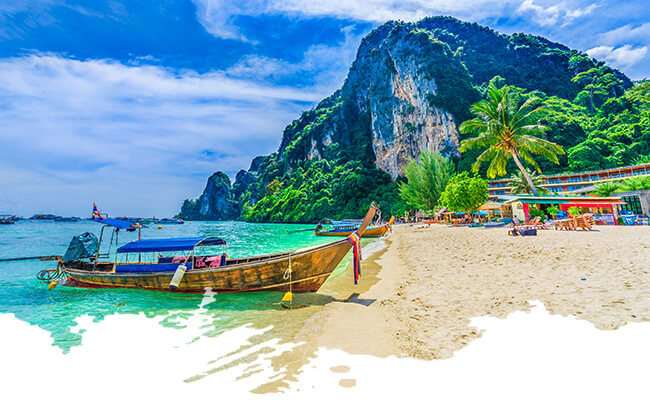 It's time you swap snow for sand this Christmas and spend your Christmas whilst getting a perfect tan and dipping your toes in the white sand. Visiting these serene beaches is one of the best things to do in Thailand during Christmas. Spend a Christmas amidst the ocean waves and palm trees, the salty air and the cool breeze while you stroll around the best beaches in Karbi, home to some of the best beaches in the world.  
Famous beaches in Thailand to spend Christmas at: Sunset Beach, White Sand Beach, Chaweng Beach, Bottle Beach
Thailand 7 Days Trip: There's So Much To Learn From Rakshita's Experience
3. Bar Crawling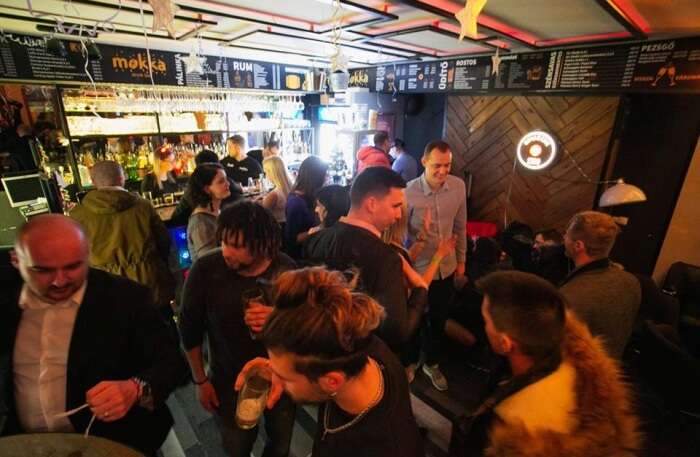 Start your Christmas celebration in Bangkok with an exciting nightlife in Thailand that is the ultimate adventure to endure. Khaosan Road is known as the backpacker street where most party-goers gear up to join the pub-crawl and party it up like there's no tomorrow! You can expect free shots, free beer, and lots of drinking games to keep the party going until Christmas eve!
Famous pub-crawls in Thailand: Khaosan Pub Crawl, Bangkok Pub Crawl
7 Attractive Cruises In Thailand For A Wonderful Trip To The Land Of Smiles
4. Authentic Thai Food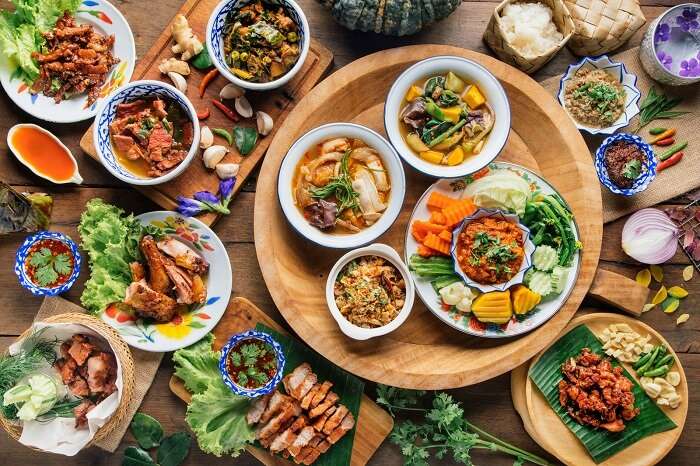 Choose to indulge in Thai curry as a better alternative to Turkey while celebrating Christmas in Thailand. There are many best hotels in Thailand that curate a special Christmas menu and dish out the best Oriental delicacies for you to feast on. Lookout for the lavish meals and gorge on mouth-watering dishes at swanky Udon Thani restaurants that are winning hearts all over Thailand, switch to oriental dishes this holiday season and enjoy your Christmas in Thailand.
Best restaurants for Christmas food in Thailand: Mandarin Oriental, The Rain Tree Cafe, Bistro 33
Take Down The Best Ideas From Deepak's Summer Vacation In Thailand To Beat The Heat!
5. Budget Holiday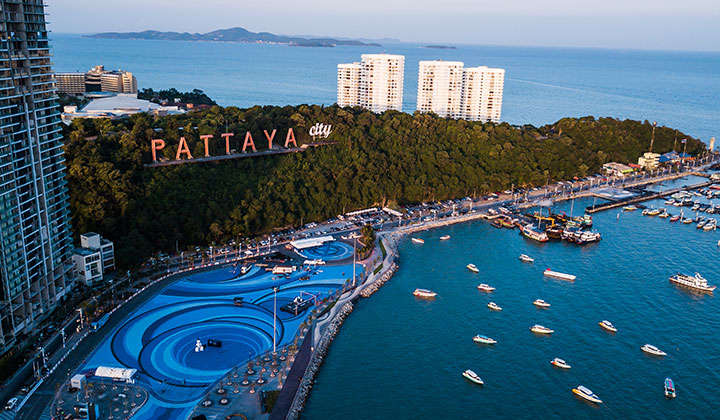 We all know that Christmas is an expensive holiday season that requires you to shell out money essentially. Hence, Christmas in Thailand is a great way to celebrate the holiday season in a budget without burning a hole in your pocket while spending on all the Christmas shenanigans like gifts, christmas tree, decorations, drinks and food. Once you get to Thailand, everything becomes cheaper and makes you experience the feel of it without having to spend a bomb amount!
13 Best Places For Shopping In Phuket That Prove Thailand Is The Ultimate Paradise!
6. The Weather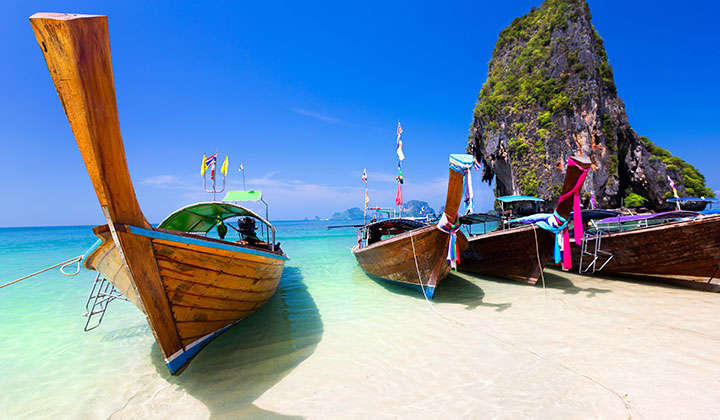 If you're someone who would despise winters, but love the festivities, then this is the perfect chance to unwind at a destination that has a tropical climate all year-round. Enjoy the moderate climate, imagine you won't have to wear multiple layers to cover yourself from the cold, you can enjoy a bar crawling session in your flip flops and a sundress with light makeup on! The warm climate is definitely an advantage of spending Christmas in Thailand.
12 Tips For Backpacking In Thailand: A List Of Do's & Don'ts
Top 9 Places For Christmas In Thailand 2022
Christmas in Thailand is just pure fun, sun, and relaxation. Do away with the hassles of cooking a Christmas meal for a large gathering, instead kick off your shoes and let down your hair, and enjoy Christmas in style in Thailand. if you are wondering where to spend Christmas in Thailand 2022, here are a few of the best place to enjoy the Christmas spirits.
Bangkok
Chiang Mai
Koh Phangan
Phuket
Koh Samui
Krabi
Pattaya
Koh Kood
Koh Lipe
1. Bangkok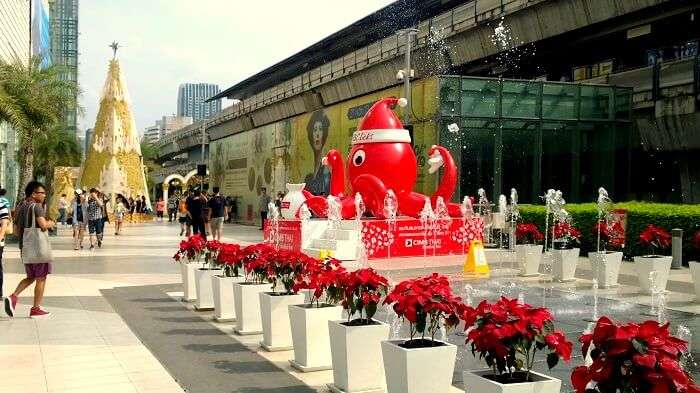 There is a lot to do in Bangkok in December when most luxury hotels and shopping centers roll out exciting discounts, and get ready to dress up and impress you with festive displays that is sure to get you into a holiday mood. Aside from the many malls dressed in bright colors, city also hosts a number of outdoor, weekend, floating, and train markets during Christmas in Bangkok. These markets are a great place to pick up Christmas gifts for friends and family and to enjoy a sumptuous meal. Those who wish to participate in a religious service are welcomed with open arms at most Christian churches open on Christmas eve in Bangkok.
A number of best Indian restaurants in Bangkok that put up a sumptuous gala buffet dinners to celebrate Christmas. If you are willing to splurge, head out to Grand Hyatt or InterContinental for a gastronomic experience. If you are on a budget, you may dine at Robin Hood or Huntsman pub, that tempt the taste buds of tourists with their exciting Christmas meals.
Where To Stay – The St. Regis: 5-star hotel in Rajadamri with a pool, gym, restaurants, and wine bars; Mandarin Oriental: 5-star riverside hotel with pool, yoga lessons, gym, Thai cooking classes, multi-cuisine restaurants, bars, and lounges
Special Events: Christmas Day Brunch, Special Christmas Eve & Christmas Day dinners
10 Best Cafes In Thailand For Indulging In The Best Thai Food & Drinks!
---
Planning your holiday in Thailand but confused about what to do? These Thailand travel stories help you find your best trip ever!
---
2. Chiang Mai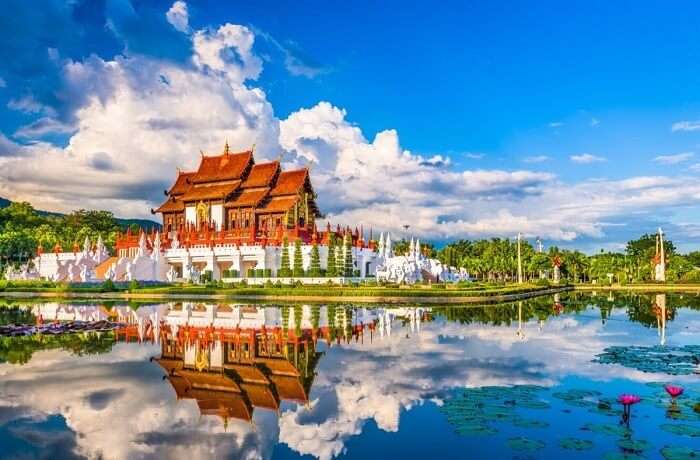 Located in the North of Thailand, Chiang Mai is pleasant in December than most cities in the South and offers expats and tourists, several options to celebrate Christmas in a regal manner. Many malls play Christmas carols, and larger hotels host special events for both Christmas as well as New Year. A number of bars and restaurants offer Christmas themed dining experiences, though they can be a tad bit expensive.
Duke's restaurant in specific is a fun place to be during Christmas in Chiang Mai. The restaurant cum bar puts out a fabulous spread of classic American dishes on 25th December every year. Be sure to book a table to avoid disappointment.
Where To Stay – Akyra Manor: 5-star hotel with rooftop infinity pool, restaurant, and rooftop bar; Anantara Chiang Mai Resort: Set on the banks of River Mae Ping, it is a 5-star hotel with a pool, spa, fitness center, and a cigar lounge.
Special Events: Christmas Eve entertainment, traditional Italian menu for brunch, buffet dinner, and more
Thailand Travel – Land of White Elephants Invites You For A Ravishing Thai Vacay
3. Koh Phangan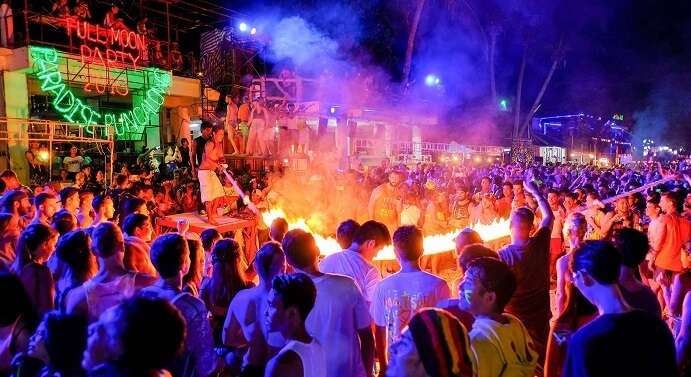 This may not seem like an ideal Christmas getaway to many. But, this Christmas party in Koh Phangan island has a number of haunts to spend Christmas day. Escape from the maddening crowds and head to the tranquil beaches on the North of the island that is honestly the best place to spend Christmas in Thailand with your loved ones, it is the best weather in Thailand at Christmas. If you aren't keen on attending religious ceremonies on Christmas, you may also book a night at the Anantara Rasananda resort to enjoy a relaxing weekend chilling out on the beach, having massages, and sipping on exotic cocktails.
Where To Stay – Anantara Rasananda Koh Phangan Villas – 5-star Villa Resort with private pool shared fitness room, and a terrace with stunning views
Suggested Read: 10 Best Thailand Island Resorts That Look Like A Dreamy Paradise
4. Phuket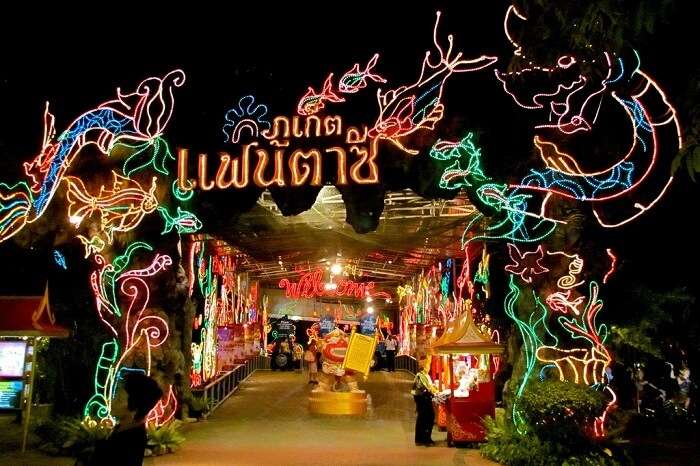 If you're wondering where to spend Christmas in Thailand then Phuket is should be on top of the list. A vacation in Phuket during Christmas in Thailand 2022 is truly blissful. If you do not want to spend a lot traveling to exotic locales during Christmas, Phuket is the best place for Christmas in Thailand. During Christmas in Phuket, a number of hotels and resort cater to families, couples, and solo backpackers during the festive season. You can either sit back and soak in some sun, or party on Patong beach, or even explore the many island temples. A trip to the national park is a fun way to spend Christmas day with a twist. Lookout for the lit Thailand Christmas decorations in Phuket on your evening stroll.
Where To Stay – Pullman Phuket Arcadia: 5-star hotel on Nai Thon Beach with spa, gym, multiple pools, bars, bakery and a restaurant
Special Events: Christmas breakfast buffet, traditional Christmas dinner, Christmas dinner, barbecue buffet
Nightlife In Thailand: 7 Best Thailand Bars And Clubs That'll Evoke Your Inner Party Animal
5. Koh Samui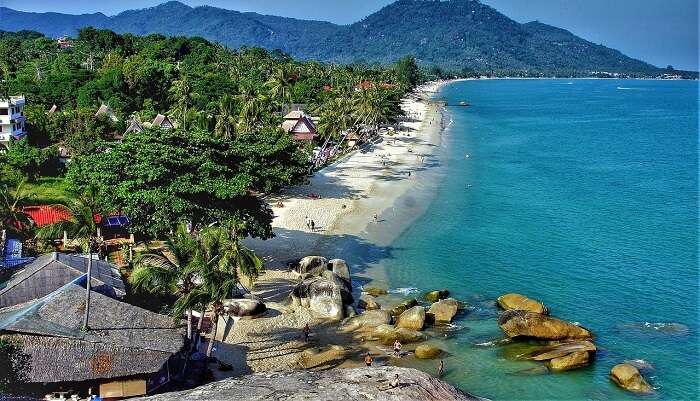 Christmas in Koh Samui is all about how one can celebrate this vibrant festival in a laid-back and more relaxed manner. From luxury resorts offering amenities with that little extra touch and spas providing travelers with opportunity to rejuvenate to white sandy beaches to enjoy the peaceful vibes and jungle treks for that refreshing aura, Koh Samui is a destination like no other. If one is looking for ways to celebrate Christmas this year in the most offbeat and unusual manner, heading to Koh Samui could be a plausible option. Waterfalls, lush green foliage, and clear blue waters that are spread as far as the eye can see offers a great chance to travelers to enjoy Christmas with mother nature.
Where To Stay – Melati Beach Resort & Spa: 5-star resort with restaurant, private pool, spa, private beach, pool and beach bars; Anantara Lawana Koh Samui Resort: 5-star hotel with private plunge pool, tree top restaurants, beach front, and spa.
Special Events: Christmas entertainment with cocktail reception, carol singing, tree lighting ceremony, Christmas Eve buffet, Santa Claus arrival and gift ceremony, kids fashion show, and much more.
New Year Party In Thailand (2022): 17 Top Venues & Events
6. Krabi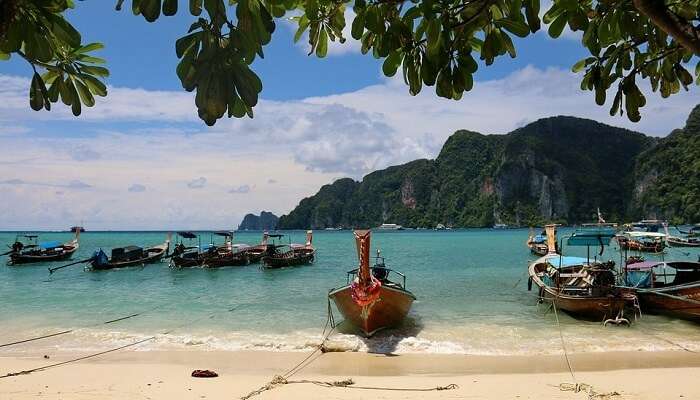 Sitting on the southern region of Thailand is this another relaxing and tranquil destination, Krabi. Celebrate Christmas in Thailand at this land of unspoiled beaches, azure clear waters, limestone karsts, colorful coral reefs, and soft white sand. Krabi is a destination to travel for those who are seeking to enjoy a typical tropical experience. Travelers get to engage in various water sports such as kayaking or stroll and chill around the beach witnessing the sun setting down and listening to the light sounds of waves rushing by. For those who wish to enjoy a romantic getaway during Christmas can surely think about traveling to Krabi. Located just a few kilometers from Krabi are the Ko Phi Phi and Koh Lanta Islands that one can visit on a boat quite easily.
Where To Stay – Centara Grand Beach Resort & Villas: 5-star hotel with open, ocean view restaurant and bar, private beach, swimming pool with jacuzzi and waterfall, spa, club lounge, and fitness centre; Rayavadee: 5-star hotel with terrace pavilion, pool pavilion, spa, activities centre, beachside dining, and boutique.
Special Events: Christmas eve dinner buffet, kids activities, carol singing, and more.
Thailand In September: A Pocket Guide For An Amusing Vacation In 2022!
7. Pattaya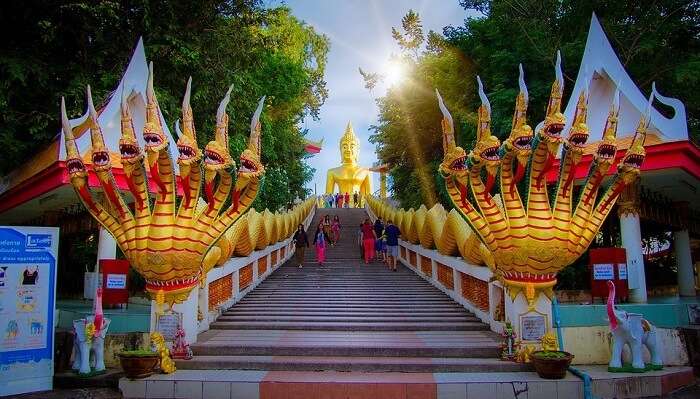 One of the famous resort cities of Thailand, Pattaya is a destination that appeals to couples and families alike. Not only home to some of the most beautiful beaches, Pattaya is a great place to travel to for some lip-smacking cuisine to enjoy Christmas dinner in Thailand and awe-inspiring accommodations. The nightlife scenes of this destination is something that takes away the breath of travelers. 24-hour cabaret bars and clubs make it difficult for guests to resist shaking their legs. When traveling to Thailand for Christmas and you wish to engage in an absolute experience, Pattaya is a destination that should definitely be your stop. Along with vibrant nightlife, one also gets a chance to take part in watersports like windsurfing, jet skiing, waterskiing, and more.
Where To Stay – Dusit Thani Pattaya: 5-star hotel with an ocean view restaurant, suites with a living room, green space, beachfront views, and club room; Mytt Beach Hotel: 5-star hotel with rooftop swimming pool, spa, restaurant, bar, and fitness center.
Special Events: Christmas entertainment includes carol singing, craft activities for kids, tattoo making, Santa Claus visits, and much more.
8. Koh Kood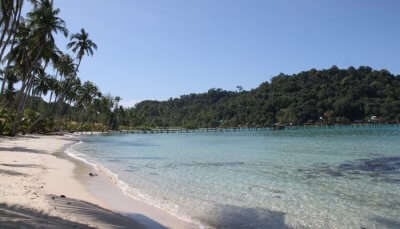 Image Credit: Kat Galamay for Pixabay
Koh Kood is an amazing place to celebrate Christmas in Thailand if you are looking for a deserted island. This pristine island is quite easy to reach and is a perfect Christmas eve venue for family vacations or for couples looking for a romantic break. So, head to this island to take a break from the fire dances and the loud parties. Enjoy your holidays by staying at a 5 star resort along with provate beaches for the best experience.
Where To Stay – Shantaa Koh Kood: An excellent 3-star hotel with airy villas, private beaches and fine dining
Special Events: Christmas special inculde spending time in peace and the enjoying the beauty of the beaches with your loved ones
Is Thailand In October Really A Good Time For A Vacation? Here's Your Answer
9. Koh Lipe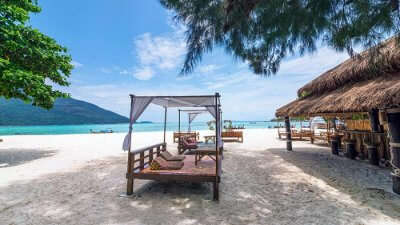 Image Credit: Koh Lipe Thailand: Koh Lipe Beach Resort for Wikimedia
Koh Lipe is another top destination for Christmas celebration in Thailand. It is an amazing destination for diving and due to its serene vibes, it is a dream destination for many tourists out there. It is recommended to make your bookings early due to the limited number of rooms available on this tiny island. So, plan your escape to this private paradise surrounded by beautiful coral reefs and celebrate the holiday season in style.
Where To Stay – Lipe Beach Resort: An amazing 3-star resort offering bamboo bungalows, restaurant, basic amenities and serene vibe
Special Events: Enjoy time with your closed one at the private beach
Christmas In Thailand: Feast

Though there is no Christmas in Thailand traditions, several restaurants in larger cities such as Chiang Mai and Bangkok cater to expats and tourists and offer a fancy holiday meal for the best Christmas in Thailand. If you wish to celebrate Christmas in Thailand 2018, head to Dukes for a holiday feast that has a wide variety of American dinner dishes for a mere $40. Many of the islands in Thailand have a mandatory Christmas gala and dinner for all guests. This is a great way to partake in some festivities if you wish to celebrate Christmas day in Thailand.
Further Read: Paragliding In Thailand: 6 Spots For The Adventurer In You In 2022!
Still thinking it can't be fun during Christmas in Thailand? Well, it's time you check on your plans again as this beautiful island hosts Christmas with an equal fervor as any European country would. So, why not do away with the monotony this year and celebrate Christmas during your holiday in Thailand!
Disclaimer: TravelTriangle claims no credit for images featured on our blog site unless otherwise noted. All visual content is copyrighted to its respectful owners. We try to link back to original sources whenever possible. If you own the rights to any of the images, and do not wish them to appear on TravelTriangle, please contact us and they will be promptly removed. We believe in providing proper attribution to the original author, artist or photographer.
Frequently Asked Questions About Christmas In Thailand

Q. Where can I spend New Year's Eve in Thailand?
A. There are many places and ways where you can spend your new years eve in Thailand. Attend the Lantern Festival in Chiang Mai, raise your hands and get high on life at the rooftop bars in Bangkok. Surin Beach is also where you can spend New Year & Christmas holidays in Thailand.

Q. What is Songkran in Thailand?
A. Songkran festival is one of the most famous festivals in Thailand which marks the beginning of traditional Thai New Year. It takes place in April and is celebrated by splashing water on each other. So, don't get surprised if you are splashed with a bucket load of water. That is their way of saying 'Happy New Year' in Thailand.

Q. Is Christmas Day a holiday in Thailand?

A. Thailand is a nation that is overwhelmingly Buddhist, with very few Christians, and Christmas Day on 25 December is only a public holiday in certain provinces of the country.

Q. What is the most important holiday in Thailand?
A. New Year's Day is most celebrated in all parts of Thailand and is one of the most awaited holidays.

Q. When can you not buy alcohol in Thailand?
A. In Thailand, you can only buy or be served alcohol between the hours of 11 a.m. – 2 p.m. and 5 p.m. – midnight.

Q. Is Thailand busy at Christmas?
A. Yes, Thailand is one of the popular destinations during the festive holidays of Christmas and New Year. Travelers usually see these holidays as an advantage to take some time off and travel to a vibrant yet laid-back destination.

Q. Is Christmas a good time to go to Thailand?
A. With amazing weather, festive vibes, crowded streets, and colorful decorations, Thailand is an amazing time to pay a visit to Thailand.

Q. Do people in Thailand celebrate Christmas?
A. Christmas might not be a traditional holiday for locals in Thailand but it is still celebrated just like any other destination. With lighting up trees, decorating the streets, and indulging in some delicious delicacies, celebrations of Christmas in Thailand is pretty vibrant.

Q. What do they eat for Christmas in Thailand?
A. The Christmas special feast usually includes mango and sticky rice, pork belly, spiced broth, friedn tofu, eggs, salt crust fish stuffed with lemongrass, and much more.
---
People Also Read:
Christmas In Singapore Christmas In Vancouver Christmas in Alaska